CBD Capsules Near Me: Finding The Best CBD Oil Pills Online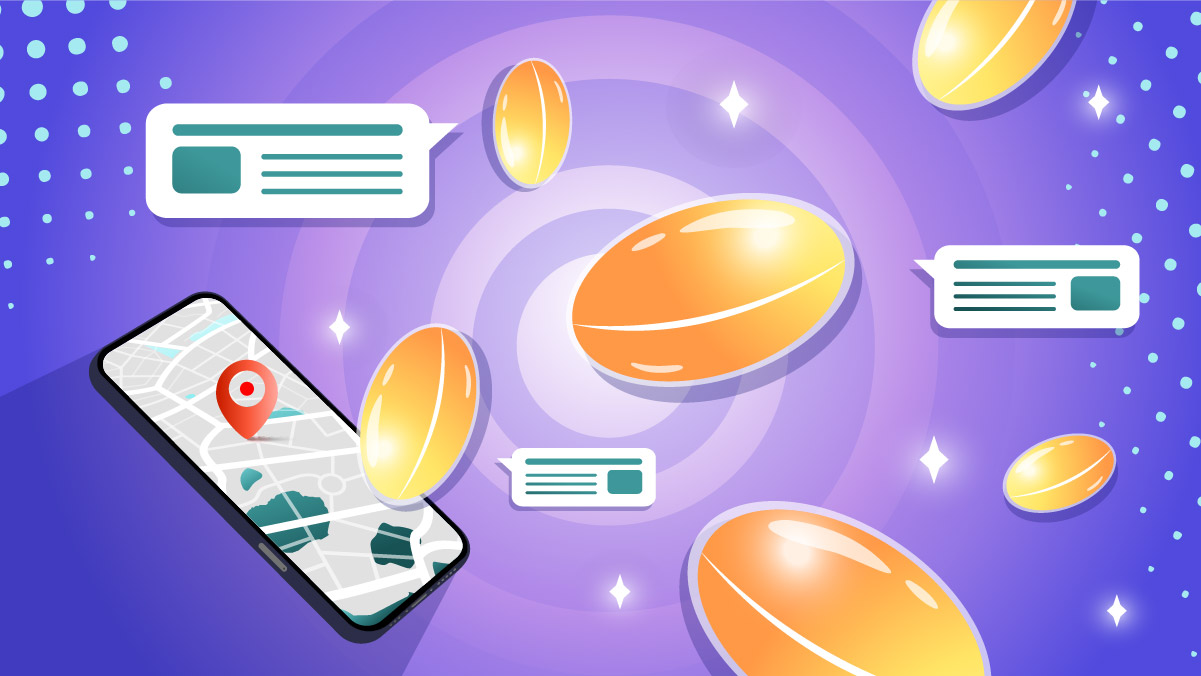 Capsules are a popular way of taking many health supplements — including CBD oil.
Recently, we explored some of the tips and tricks I use when shopping for CBD oils online, so today we'll cover the same principles again for CBD capsules — which has some slight differences.
If you're looking for high-quality CBD capsules for sale, here's some good news — it follows many of the same principles to buying CBD oil.
There are some distinct features you should look for in CBD capsules, though, so in this article, I'll cover everything you need to know about finding high-quality CBD pills online or in-store. We'll cover what to look for, how much you should pay, and offer some sources to get you started right away.
What Are CBD Softgel Capsules?
If you're looking for the simplest way to use cannabidiol, CBD capsules will be your best bet.
Manufacturers came up with these capsules, so they are as simple to consume as any other pill. However, there are different types of CBD capsules.
The most common form is a CBD capsule consisting of CBD oil mixed with MCT oil (medium-chain triglycerides). The MCT oil bulks up the size of the capsule and allows for faster absorption of CBD through the gut lining.
What Makes CBD Capsules & Pills Different from Oil Tincture?
The most apparent difference between these two products is the route of administration.
All you need to do with a capsule is swallow it down with water — and wait for the effects.
CBD oil users, on the other hand, have to measure out each dose with the provided droppers and add it to their favorite shake or smoothie. Many choose to place their product beneath the tongue for maximum efficacy. All of this makes CBD oil more difficult to consume in certain conditions (e.g., at work or during travels).
Moreover, CBD capsules come with a fixed CBD dose per piece, making dosing easier. At the same time, it's harder to tweak the dose you want to take since each capsule comes pre-measured with specific doses of CBD. Unlike with CBD oils, you can't take a 12 mg dose if the capsules you bought only come in 10 mg sizes.
Best CBD Capsules & Pills For Pain, Sleep, & Anxiety – Top Brand Recommendations
I've been using CBD products for quite some time now, and I know the pain of researching different companies to find the perfect match. After a few years of trial and error, I've been able to select the top 3 vendors I'm regularly buying CBD from.
All these companies use high-quality ingredients in their products, provide lab reports for each batch, and sell CBD capsules with unique formulas to suit the needs of different consumers.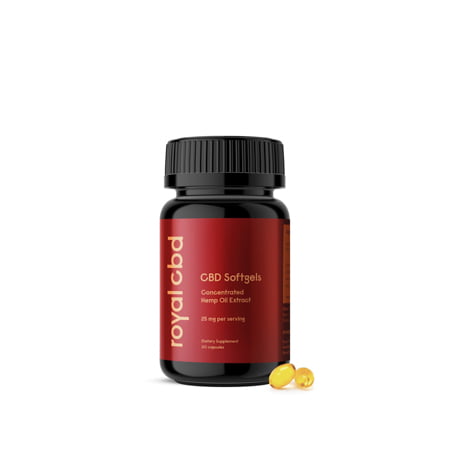 Get 15% off all Royal CBD products.  Use code "CFAH" at checkout.
Pros:
Its hemp is organic and comes from American-grown farms
Available in an easy-to-take softgel form
Contains the full spectrum of cannabinoids
25 mg of CBD per capsule
Suspended in premium MCT Oil for improved absorption
Each batch of product was tested in a 3rd-party laboratory
Free shipping available
Cons:
Slightly more expensive than other brands
My Thoughts On Royal CBD:
Royal CBD is a relatively new brand that has already made big headlines in the industry by providing CBD users with premium CBD oils in different formats, including standard drops, capsules, and gummies Its products are sourced from organically grown US hemp.
I like how convenient they are. There's no need to make any measurements, I take a capsule in the morning and another after lunch, and I'm covered for the day.
I've also noticed they work remarkably well for sleep. Out of sheer curiosity, I've read through the lab analysis of these capsules and found out they have more CBN — a cannabinoid with strong sedative properties — than capsules from other brands.
Read my review on Best CBD Capsules for Pain for more information.

Pros:
Made from premium US-grown, non-GMO hemp
Contains full-spectrum CBD
Suspended in hemp seed oil
Very potent; 40 mg per capsule
Vegan and gluten-free
Lab-tested for purity and potency
Cons:
My Thoughts on Gold Bee CBD Capsules
These premium CBD capsules also come from a California-based brand. Gold Bee has partnered with farmers from Colorado to create their own blend of organic CBD-rich hemp strains, which they infuse into products such as CBD oil, gummies, or capsules.
The Gold Bee capsules are the best for people who need higher doses of CBD throughout the day. Each capsule packs a healthy dose of 40 mg full-spectrum CBD suspended in organic hemp seed oil for improved bioavailability. They come in an easy-to-swallow softgel form; the outer shell is 100% vegan; the guys at Gold Bee use only plant-derived ingredients to maintain their ethical philosophy in every aspect.
I would love to see some low-strength options in the future, but for now, this is my go-to option whenever I need CBD to calm myself down, whether after a tiring day at work or for extra sleep aid.
Read my review on Best CBD Capsules for Sleep for more information.
3. Hemp Bombs

Pros:
This company uses certified organic hemp sourced from European farmers
Their CBD isolate is made utilizing CO2 extraction
Each batch of product has been lab-tested for potency and safety
Sold as broad-spectrum CBD or isolate
Available in two potency options: 15 mg and 25 mg of CBD per capsule
Cons:
Not as high quality as some of the others on this list
The isolate-based capsules don't give you the synergy from other cannabinoids
The pill form is too large for some people to handle
My Thoughts On Hemp Bombs:
While Hemp Bombs doesn't offer the quality of brands like Royal CBD, they specialize in making decent 99% pure CBD isolates on a broad scale at a good price.
However, their CBD capsules are available as either pure CBD or broad-spectrum CBD. If you want to get synergy from other cannabinoids but without any THC in your product, Hemp Bombs is a great option to choose.
The only problem I have with their capsules is the size they come in. They rather resemble large vitamin C tabs, so the whole experience may be far from enjoyable.
4. CBDistillery
Pros:
Their CBD comes from Colorado-grown hemp
Sold as full-spectrum CBD or isolate
Available in two potency options: 25 mg and 30 mg per capsule
They come in an easy-to-swallow softgel form
Lab-tested for potency and safety
Very affordable
Cons:
My Thoughts on CBDistillery Capsules:
CBDistillery offers a wide range of CBD gummies, both available as softgels and pills.
You can choose between full-spectrum or isolate-based capsules, each with 25 mg or 30 mg of CBD per piece — so these are the most potent caps in this ranking. CBDistillery is the first company I bought CBD capsules from, and it remained one of my all-time favorites.
I do, however, have some objections. First of all, their hemp isn't organic, but that can be justified by the price of all CBDistillery's very affordable products. Nevertheless, in their pill form, these capsules are problematic for some to take, which is why I switched to softgels after my first purchase.
5. CBDPure Softgels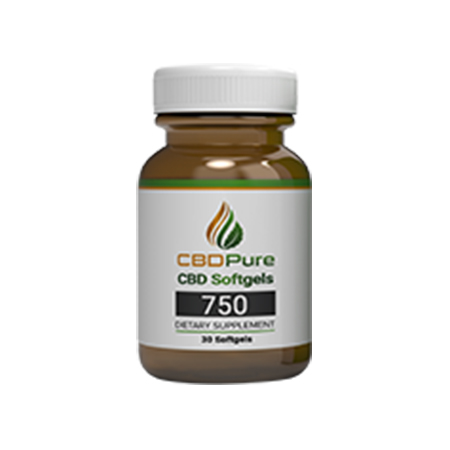 Pros:
Organic, US-grown hemp

Full-spectrum CBD

750 mg of total CBD

Third-party tested

90-day money-back guarantee
Cons:
Only one strength is available

No formulas that would address specific health needs
My Thoughts on CBDPure Softgels
CBDPure is one of those artisan brands that give big companies nightmares. Focused on mastering its traditional full-spectrum CBD formula, CBDPure offers a humble selection of products — but their quality is among the best in the industry.
For those who dislike the natural hemp flavor, CBDPure offers an alternative in the form of capsules. The entire bottle contains 750 mg of total CBD, breaking down into 25 mg of full-spectrum CBD per capsule. This way, you're getting the entourage effect from cannabinoids and terpenes but without the hempy aftertaste.
These capsules are made from organic hemp and tested in SC Labs, one of the most reputable third-party laboratories in the USA. I wish CBDPure had more potency options in stock or some formulas that could target specific health needs.
6. Medterra CBD Gel Capsules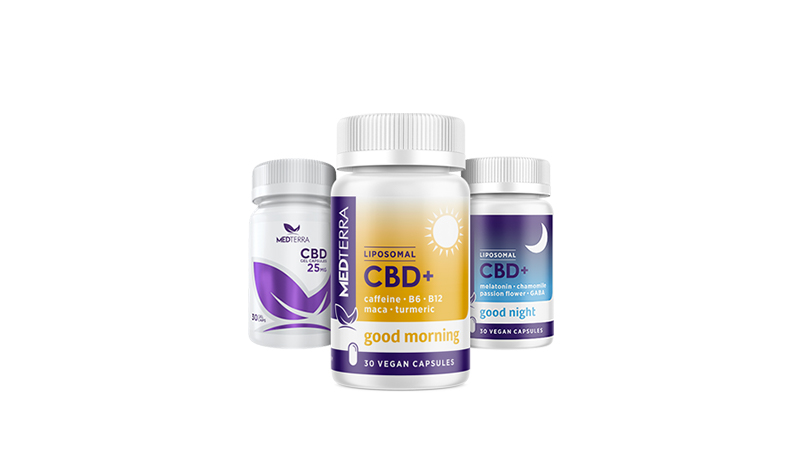 Pros:
Non-GMO, organic hemp

Certified by U.S. Hemp Authority

25 or 50 mg per capsule

THC-free

Batch-specific third-party lab reports
Cons:
Only one formula available (classic)

No entourage effect

Non-vegan
My Thoughts on MedTerra:
Medterra offers some of the best CBD capsules that are made from CBD isolate. You can choose between two concentrations: 25 mg or 50 mg; the latter option is better suited for heavyweight users or those with higher CBD requirements. The isolate is suspended in MCT (coconut-based) oil to improve the bioavailability of CBD.
 Medterra is one of the best hemp brands if you're looking for just pure CBD. The company uses organic hemp from local farms in Colorado; it's also certified by U.S. Hemp Authority and makes its products according to the Good Manufacturing Practices (GMP) standards.
However, since the capsules contain isolate, they don't offer the entourage effect, so you won't benefit from the whole-plant synergy. They also use gelatin as a base, so they're not vegan-friendly.
7. Joy Organics CBD Softgels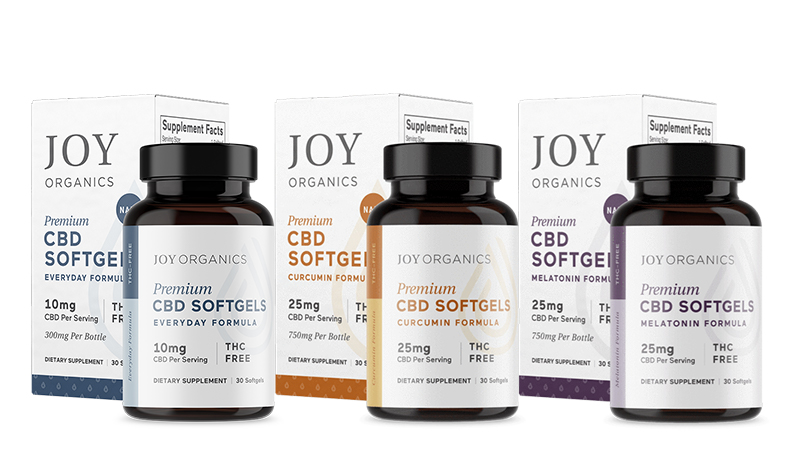 Pros:
Locally grown hemp

Broad-spectrum CBD

10 or 25 mg of CBD per capsule

Lab-tested for quality and safety
Cons:
Non- vegan

Some users report decreased effects over time
My Thoughts on Joy Organics CBD Softgels:
Joy Organics offers CBD softgels with melatonin. They are designed to support healthy circadian rhythm. While CBD can be used either as a wake-inducing agent and sedative (depending on the dose), melatonin has been shown to promote relaxation before sleep, so when used alongside CBD, it offers complementary benefits.
Each capsule from Joy Organics has been tested in an independent laboratory to prove there's no THC in the formula. The remaining phytochemical profile remains untouched, so you can benefit from the presence of other cannabinoids and terpenes.  If this is your first time with the combination of CBD and melatonin, you may want to start with the low-strength version so you don't get overly sedated.
Similar to Medterra, Joy Organics doesn't make vegan-friendly capsules; its softgels are covered in a gelatin shell.
8. Charlotte's Web CBD Liquid Capsules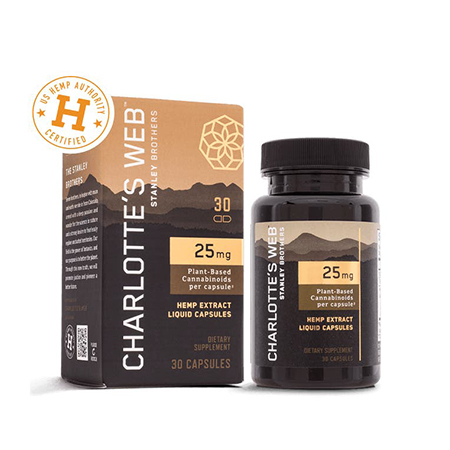 Pros:
Well-known brand

Full-spectrum CBD

15 or 25 mg of CBD per capsule

Third-party tested for potency and purity

Exceptional terpene profile
Cons:
Olive oil extraction

Received a few warning letters from the FDA regarding compliance issues
My Thoughts on Charlotte's Web:
Charlotte's Web is known for its line of high-quality full-spectrum CBD extracts sourced from American-grown hemp and extracted with olive oil. These capsules have a remarkable terpene profile, contributing to the full entourage effect, which — combined with 15 mg or 25 mg of CBD in each capsule — makes them easily one of the best picks on the market.
The company has received a few warning letters from the FDA regarding some health claims about its products over the last few years, but it still has a strong community of returning customers. Quality-wise, they are in my personal top 10 CBD capsules.
9. Bluebird Botanicals Concentrated CBD Capsules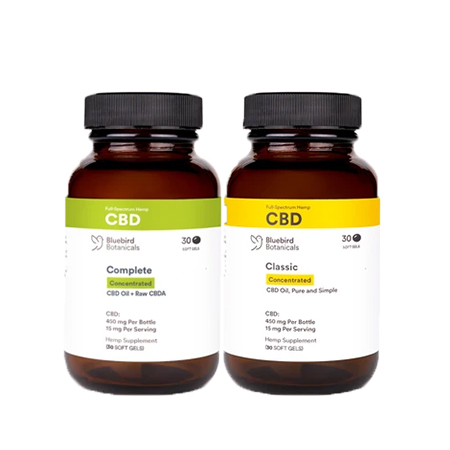 Pros:
Organic hemp from the USA and Canada

Full-spectrum CBD

15 mg of CBD per capsule

Batch-specific certificates of analysis

GMP-certified

Suspended in hemp seed oil
Cons:
One of the most expensive capsules out there
My Thoughts on Bluebird Botanicals:
These potent CBD capsules contain a blend of full-spectrum CBD with organic hemp seed oil. Similar to Royal CBD and Gold Bee, Bluebird Botanicals offers batch-specific certificates of analysis for each product it sells. The company is also certified by the U.S. Hemp Authority and received a 100% score in a GMP audit in 2019.
This product contains 15 mg of CBD per softgel, alongside other cannabinoids and terpenes that come in this full-spectrum formula; each jar contains 30 capsules. Bluebird Botanicals' CBD softgels are one of the few products in the company's line that's not made from US-grown hemp. Bluebird uses Canadian hemp in its Classic and Signature collection. You can check out our article about Bluebird Botanicals CBD's full review to learn more about this brand.
These capsules are also priced at the higher end; fortunately, Bluebird Botanicals has an assistance program for people with low incomes.
10. Lazarus Naturals Energy Blend CBD Isolate Capsules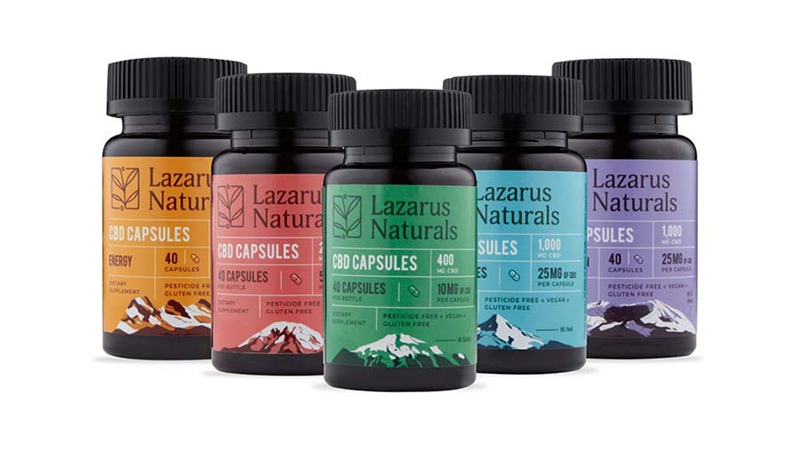 Pros:
THC-free

25 mg of CBD

10 or 40 capsules per container

Vegan-friendly

Low price
Cons:
Not as potent as the company's CBD oil

No entourage effect

Could offer more options for specific health needs
My Thoughts on Lazarus Naturals Energy Blend CBD Isolate Capsules:
Lazarus Naturals offers some of the best low-cost CBD capsules on the market. Its energy CBD isolate softgels contain 25 mg of pure CBD, with an option to choose between 10 or 40 capsules per container. The product is gluten-free and vegan-friendly, so you can take it even if you have dietary restrictions due to allergies or ethical aspects.
Lazarus Naturals has its own hemp farms, where the farmers grow their plants using organic practices — without pesticides or synthetic growth boosters. The hemp is then processed with CO2 extraction and turned into CBD isolate via fractional distillation.
All of the company's CBD capsules are third-party tested for potency, pesticides, and heavy metals. That being said, residual solvents have no results, so the testing profile is incomplete. Lazarus Naturals also offers fewer potency options for its isolate capsules than its full-spectrum counterpart, so users have a limited choice.
Why Use CBD Softgel Capsules?
Once again, convenience is the name of the game. However, there are also other reasons that may convince you to change the way you take CBD. Capsules come with the following advantages:
1. You Don't Need to Take Any Measurements
As mentioned before, CBD capsules offer a fixed dose of CBD per piece — what you see is what you get.
For example, if you need 50mg of CBD per day, and your capsules have 25 mg of CBD each, you take two capsules. This eliminates second-guessing and reduces the chance of taking too much CBD at once.
2. You Can Plan Your Supplies Ahead
Once you've made up your mind on the dosage, it's easy to find a capsule with an equal amount of CBD. This way, you can buy six months' worth, knowing that your capsule will last this exact period. It also allows you to manage your budget more efficiently.
3. You Can Take CBD Capsules Everywhere With You
CBD capsules are a traveler's best friend. You can take them with you no matter the destination (as long as CBD is legal where you're going). You can keep a bottle on your desk, in the medicine cabinet at home, or in your gym locker. Plus, unlike CBD oil, capsules are perfect for flying as you don't have to take them out of your bag at airport security.
Where Can I Find CBD Capsules for Sale Near Me?
Finding CBD capsules is pretty straightforward. There's a myriad of companies offering their goods both online and locally. In this section, I will break down the potential sources of CBD capsules and indicate where to buy CBD capsules for the best quality and safety.
Buy CBD Capsules Online
Most CBD companies sell their products online because that's where we do most of our shopping nowadays. Buying CBD capsules online is fast, easy, and safe if you know how to look for high-quality CBD products.
Although you can't physically view the product or ask questions about its quality, there's always a way to verify your vendor's reputation.
You can make a background check on the manufacturer by reading their website — how they make their products and whether or not they provide lab reports — or read reviews from customers in a few different sources.
A reputable company will give you a detailed insight into their activity to prove what's advertised on the labels of their products or refer you to a customer service employee who can answer your questions.
Visit Dispensaries to Find CBD Capsules Locally
Buying CBD capsules online is my go-to choice, but if I had a cannabis dispensary somewhere near me, I would be a returning customer — no doubt about that.
Dispensaries are the safest of all local options because they're regulated by state authorities that have previously done background checks on them. Cannabis dispensaries are required to meet strict security and safety requirements, so there's no room for cutting corners.
However, there's one downside to buying CBD capsules in dispensaries. Namely, these places don't always have the best products, and some of them have been sitting on the shelves for months before being stored. When you buy from a dispensary, you can't be sure whether the batch of products you want to purchase is actually fresh.
What Should You Know When Looking for The Best CBD Pills?
Now that you know where to buy CBD capsules near you, it's time to highlight the key features every new user should pay attention to before making the final decision.
1. Cannabinoid Spectrum
Remember when I mentioned there are two types of CBD products?
Well, there are actually three types, based on their cannabinoid profiles:
Full-spectrum CBD: contains pure CBD, other minor cannabinoids, and trace amounts of THC (less than 0.3%)
Broad-spectrum CBD: very similar to full-spectrum extracts save for the lack of THC.
CBD Isolate: pure CBD — there are no other cannabinoids or terpenes inside these extracts.
Cannabis experts argue that full-spectrum extracts are superior to isolates because they produce better effects in lower doses. This is due to the entourage effect — which is a concept describing the synergy achieved by all cannabis compounds when taken together.
Still, some people can't consume full-spectrum products because of allergies, negative interactions with other drugs or supplements, or periodic drug tests for THC at work. In these cases, CBD isolate is the best option.
2. Extraction Method
The best and most expensive extraction method involves using CO2 in its supercritical state. In this process, CO2 is exposed to high pressure and temperatures to pull CBD from the sourcing material without bringing contaminants to the final product. When the CO2 is released from pressure, it dissipates, leaving behind pure hemp extract.
The contaminants I'm talking about are residual solvents left by shortcut extraction methods, such as butane or propane extraction. These solvents are used because they produce quick and cheap extracts — but may compromise the quality of the final product.
3. Hemp Source
Hemp is a bioaccumulator, meaning it will take both the good and the bad from the environment it's grown in.
You need to make sure you only get the good qualities and avoid the bad. So when buying CBD capsules, it's important to pay particular attention to the source of hemp.
The best CBD products are sourced from American-grown hemp and farmers who use organic practices to cultivate their crops — pesticides, heavy metals, or herbicides are out of the question.
4. Third-Party Testing
Every company has the option to send a sample of their product to a third-party laboratory for content analysis.
These lab tests check for the cannabinoid profile of the extract — the amount of CBD and other cannabinoids — and can also detect over 200 common contaminants.
If a brand is honest with its customers, they make its lab reports available on its website to prove what they claim is what you get.
5. Prices
It's not that you have to give an arm and a leg for high-quality CBD capsules, but expecting bargain prices for a product like this is wishful thinking.
Quality CBD extraction often uses expensive equipment, let alone the cost of qualified employees. This, in turn, may lead to a higher price tag because companies have to profit from their sales.
If you ever encounter suspiciously low prices when trying to find CBD capsules for sale, check first whether they have been made with CO2 extraction and if they use organically-grown hemp.
Final Thoughts on Buying The Best CBD Capsules Nearby
Like all CBD products, CBD capsules are available for sale or locally. Don't take my word for it, just type in "where to find CBD capsules near me," and you'll see plenty of results.
I recommend buying CBD products online because it's fast, convenient, and relatively safe if you know what to look for.
Always pay attention to factors like hemp source, extraction method, third-party testing, and the product's price. This way, you can make a well-informed purchase decision and enjoy the benefits of cannabidiol to the full extent.
Do you take CBD capsules? In what aspects you think they're better than CBD oil?
Let me know in the comments below!