Best CBD Cream for Neuropathy (Nerve Pain) in 2023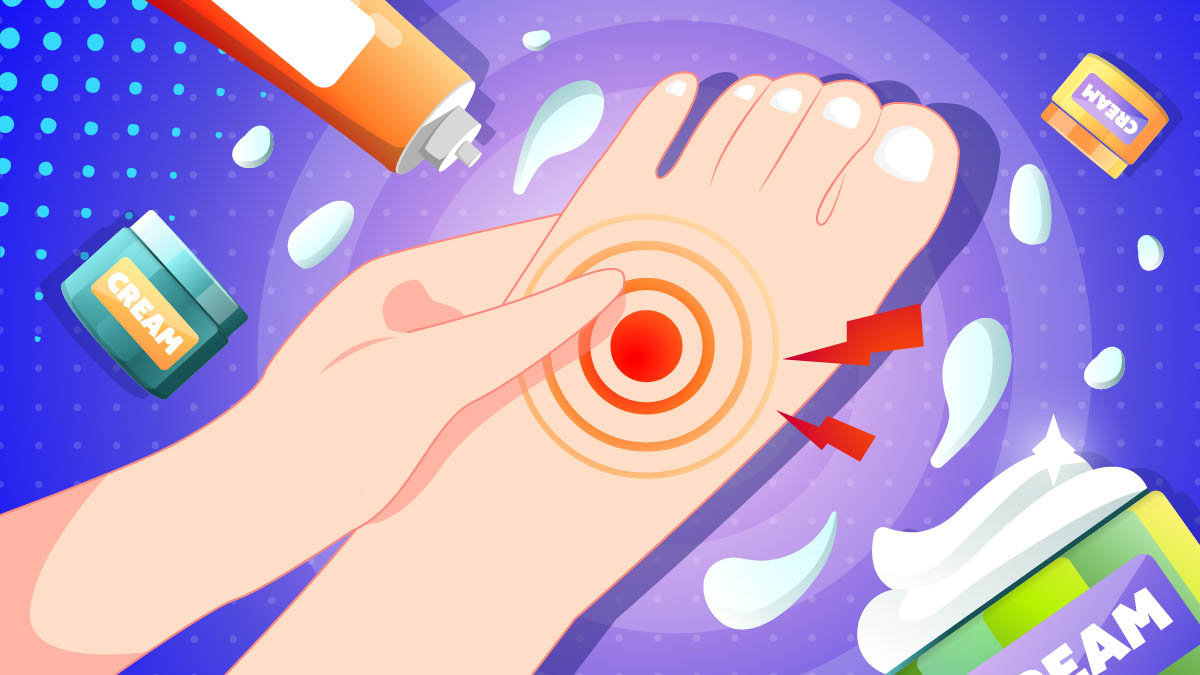 Chronic pain, especially the one coming from neuropathy, can make your life difficult on so many levels.
From being in a low mood to not being able to perform in the same condition as you did before to getting hooked on prescription painkillers that are known for their harmful side effects and addiction potential.
If you're looking for a safe and effective way to manage neuropathy pain, CBD cream is a decent option to consider.
CBD cream is a remarkable anti-inflammatory with the potential to alter pain signaling in the brain and increase your natural resistance to pain.
Without the side effects of the said prescription drugs.
Here are the best CBD creams for neuropathy and an all-around guide to naturally treating nerve pain.
CBD & Neuropathy: Highlights
Neuropathy is damage or dysfunction of one or several nerves that typically causes tingling, muscle weakness, pain, and numbness in the affected area.
Neuropathies usually begin in the hands and feet, but other parts of the body can be affected as well.
Diabetes is the most common cause of chronic nerve pain. If you have diabetes, the chances of neuropathy increase significantly.
Neuropathic pain stems from damaged nerve cells; impaired communication between neurons causes them to fire up, triggering discomfort.
CBD is a natural compound from Cannabis sativa plants. It's known for its anti-inflammatory, neuroprotective, and analgesic properties.
Several studies indicate CBD may be useful for treating neuropathy pain, although more clinical research is needed to confirm the preliminary findings.
Unlike conventional neuropathy treatments, CBD has a good safety profile and a low incidence of side effects.
However, CBD may interact with other medications for neuropathy, so it's best to consult your doctor if you take any meds; this way, you'll avoid potentially dangerous cross-side effects.
You can use CBD cream for neuropathic pain to relieve localized discomfort from the flare-ups. For internal support of the nervous system, choose products like CBD oil or vapes.
Only purchase CBD cream from high-quality brands that provide batch-specific certificates of analysis (CoA) proving the potency and purity of the product.
Best CBD Cream for Neuropathy Pain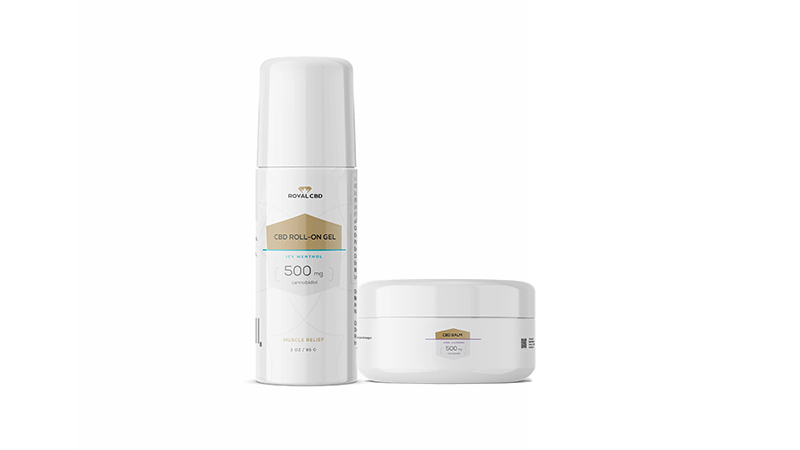 Get 15% off all Royal CBD products. Use code "CFAH" at checkout.
Pros
Cons

Locally-grown, organic hemp
Supercritical CO2 extraction
Broad-spectrum CBD
Special formulas for pain
Very potent (500 mg CBD)
No greasy texture
Batch-specific certificates of analysis

No full-spectrum CBD creams
Royal CBD comes from Nevada and specializes in full-spectrum and broad-spectrum CBD extracts from organic hemp grown in Colorado.
The brand offers two topical products: a CBD Cooling Cream and Pain Freeze Roll-on Gel.
Both formats contain broad-spectrum CBD so that you can reap the benefits from the whole-plant synergy, but without any THC in the formula.
The roll-on gel is one of the best CBD products for neuropathy. It comes with an easy applicator and quickly absorbs into the skin, providing relief from physical discomfort. The effects are strengthened with menthol, the second most abundant ingredient in the formula.
The CBD cream offers higher bioavailability than the gel because it has a higher fat content. The menthol crystals inside give it a gentle cooling touch upon application. The product works extraordinarily well for muscle relaxation thanks to the infusion with lavender.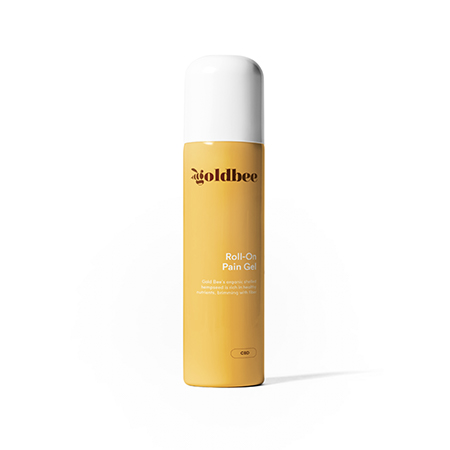 Pros
Cons

Organic hemp
Broad-spectrum CBD
2000 mg of CBD per stick
Rich in terpenes
Third-party tested for potency and purity
Gold Bee is a superfood manufacturer turned CBD brand. The Gold Bee product line focuses on all-organic formulas infused with MCT oil and raw honey.
Recently, Gold Bee expanded its product line-up with an ultra-potent CBD roll-on stick that packs 2000 mg of broad-spectrum CBD per container. The hefty dose of CBD is accompanied by menthol, providing fast relief from different types of physical discomfort, such as irritation, pain, swelling, and stiffness.
Unfortunately, the company doesn't have any CBD creams for neuropathy.
Similar to Royal CBD, Gold Bee shows batch-specific certificates of analysis. They're available on the company's website.
Does CBD Help with Neuropathy?
CBD is one of the cannabinoids found in hemp plants. Cannabinoids are special compounds that interact with your endocannabinoid system — a complex network of receptors, endocannabinoids, and enzymes that promotes homeostasis in the body.
Several studies have looked into the health benefits of CBD and other cannabinoids. Among the plethora of other benefits, pain relief is the most common reason why people use CBD creams.
The majority of research on CBD and neuropathy focuses on multiple cannabinoids, where CBD coexists with THC, CBG, CBC, and other cannabis compounds such as terpenes and flavonoids.
According to older studies, products containing CBD and THC may relieve pain in people with nerve damage, chronic neuropathy, and peripheral neuropathic pain.
One 2016 study investigating the effects of a CBD gel in rats with neuropathy concluded that it could reduce pain and inflammation.
A 2020 study found that CBD may ease neuropathic pain by reducing inflammation in the brain. CBD may also change the way immune cells build up in the spinal column, translating into lower inflammation as well.
Finally, in a 2014 study on rats, CBD appeared to reduce neuropathic pain from chemotherapy treatment.
Nevertheless, the research is so limited that it's not yet clear how CBD may work for neuropathy in humans. There's still a lot of uncertainty despite positive anecdotal reports from neuropathy patients who self-medicate with CBD oil or cream.
Is THC or CBD Better for Neuropathy?
That depends on the area of neuropathy you're looking to address.
THC appears to have a greater effect on the way the brain perceives pain signals, while CBD seems to be more effective at easing pain at the trouble spot.
Rather than looking at the couple as "THC vs. CBD," we should look at them as "THC and CBD" because the two have a unique relationship.
CBD counteracts the psychoactive effects of THC, limiting the risk of anxiety, paranoia, and racing heart from getting too high.
At the same time, it can enhance the nociceptive (pain-killing) properties of THC.
THC, on the other hand, boosts the anti-inflammatory potential of CBD.
Both compounds work in tandem to address nerve pain from different angles — but there's a point where they synergistically act on the physical discomfort.
This phenomenon is known as the entourage effect and reaches beyond CBD and THC. Other cannabinoids and terpenes also take part in the whole-plant synergy.
That's why full-spectrum and broad-spectrum CBD creams are more effective for neuropathy than CBD isolate.
How CBD Cream Works for Neuropathy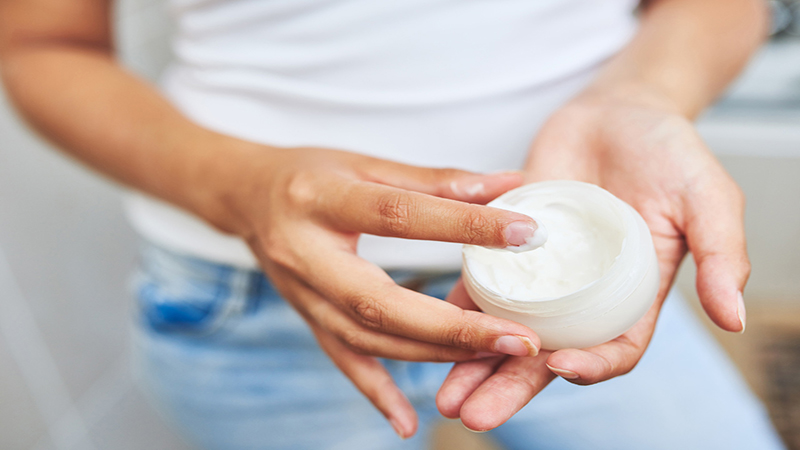 The therapeutic versatility of CBD derives from its interaction with the endocannabinoid system (ECS).
The ECS is the master regulatory network in all mammals; it promotes and helps maintain homeostasis in the body.
Endocannabinoids, receptors, and enzymes in the ECS control the essential physiological and mental functions, such as mood, memory, fear, stress, pain perception, immune function, sleep cycles, body temperature, fertility, appetite, etc.
When your ECS is optimized, so are the other systems and organs.
In contrast, a flawed ECS may pave the way for imbalances and disorders in those areas.
When neglected, these disorders may become diseases – as may be the case with neuropathy.
CBD signals the ECS to produce more of its natural endocannabinoids; it also inhibits the FAAH enzyme that breaks them down. As a result, more endocannabinoids can circulate in your body – working more efficiently to restore homeostasis.
On top of that, CBD uses over 65 molecular pathways to reach its targets — hence so many potential applications in medicine.
CBD Oil vs. CBD Cream for Neuropathy
CBD oil is intended for sublingual use. In other words, you take it under the tongue. From there, it absorbs through the tiny capillaries in your mouth – reaching the cannabinoid receptors and easing pain.
Regular supplementation with CBD oil improves overall well-being, but it can also help you manage neuropathic pain by improving communication between neurons and taking part in the formation of new ones (neurogenesis).
This makes CBD oil a decent daily supplement for dealing with neuropathy.
CBD creams work differently.
When you apply CBD cream to the affected area, it reaches the cannabinoid receptors in the skin, reducing localized pain. Therefore, CBD cream is better for neuropathy flare-ups.
You can use both forms of CBD to get the most out of your natural treatment.
What Are the Different Types of Topical CBD for Neuropathy Pain?
There are several different types and formulas of CBD creams for neuropathy pain available on the market.
You can choose from the following formats:
CBD cooling creams
Creams with essential oils
Full-spectrum CBD creams
CBD organic creams
Try different types for several weeks and decide which one works best for your nerve pain.
How to Apply CBD Cream for Neuropathy
It's easy peasy. All you need to do is take a small amount of the cream and rub it on the affected area until it completely absorbs into the skin.
Then, if you don't feel any relief from pain, grab a larger dose and reapply the cream to the same spot. You should feel the first improvements in up to 60 minutes, although some formulas get absorbed faster than others.
When it comes to neuropathy, apply CBD cream as needed; it's good for the flare-ups, not for managing neuropathic pain in your nervous system.
Is CBD Safe for Neuropathy?
Yes, CBD cream is safe for neuropathy as long as it comes from a trustworthy source that provides batch-specific certificates of analysis (CoA) from a third-party laboratory.
Studies on the safety and efficacy of CBD have concluded that doses up to 1,500 mg of CBD daily are safe and well-tolerated by humans.
CBD can produce a few mild side effects in large doses, such as sedation, dry mouth, dizziness, changes in appetite, and diarrhea.
However, since none of the CBD from your cream enters the bloodstream, these reactions are usually nonexistent.
The best you can do to ensure your CBD cream for neuropathy is safe is to run a patch test on your wrist to see if its ingredients trigger an allergic reaction.
If they don't, you can use the cream on a larger area.
What to Look for When Buying CBD Cream for Neuropathy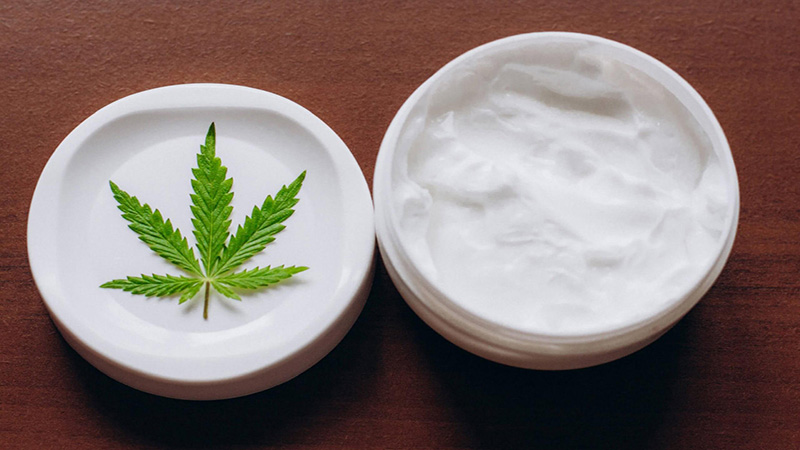 There are a lot of misconceptions and false claims about CBD. When you're shopping for the first time, the following list will help you maneuver in the sea of mediocre products to find a high-quality CBD cream for neuropathy pain.
Potency
The potency of CBD products varies widely, and the declared amount of CBD may be different from the actual concentration. Don't confuse the doses per bottle with the overall potency stated on the label.
The amount of CBD per serving is usually 5 mg, which may be difficult to measure precisely with CBD creams.
Start with a smaller dose and gradually increase it until your nerve pain becomes more manageable.
Type of CBD
Full-spectrum CBD: this is the least processed form of CBD oil. It contains all cannabinoids and terpenes from hemp, including trace amounts of THC (0.3% or less). Full-spectrum CBD products are considered the best form of CBD for neuropathy pain because they leverage the aforementioned entourage effect.
Broad-spectrum CBD: it's a similar type of CBD as full-spectrum, but with no THC. The psychoactive cannabinoid is removed after the initial extraction.
CBD isolate: isolate is highly purified and contains no THC, other cannabinoids, or beneficial organic molecules like terpenes. Although it comes with the highest dose of CBD per serving, it's devoid of the whole-plant synergy and thus considered inferior to the two above versions.
Lab Testing
The Food and Drug Administration (FDA) doesn't regulate CBD products, so there's no agency controlling the claims these products and companies make.
The only way to verify the quality of your CBD cream for neuropathy is to look for third-party certification.
Reputable CBD brands run thorough tests on their product samples and post certificates of analysis (CoA) either on their website or via email.
The results from the CoA will confirm the claims about the product, and if there are any impurities or dangerous ingredients, the lab analysis will spit it out.
Other Ingredients
Carefully read labels for additives like artificial colorings, fragrances, parabens, formaldehyde, and aluminum in CBD topicals. These products are toxic for your body and shouldn't be used in high-quality creams. Opt for all-organic formulas to provide your skin with valuable nutrients instead.
How to Shop for CBD Cream for Neuropathy
Before you buy a CBD cream for nerve pain, read this section and take notes:
Read Labels
If you're allergic to any of the ingredients found in CBD products, it's important that you examine the label before buying. This is especially true if you have extra-sensitive skin.
Don't Buy On the Cheap
Cheap CBD oil is a bad oxymoron. Whenever you see a suspiciously cheap CBD cream for neuropathy, it's either an overpriced hemp seed oil cream or a scam. In the latter scenario, you may never see your order because the brand will disappear with your money and sensitive data.
Compare Different Formulas and Prices
CBD users are spoiled for choice these days, so you shouldn't settle down for the first option – unless it's a great deal that provides good value for the money. You can find a variety of CBD creams in local stores and online. Explore different options and find a product that offers the best price/quality ratio.
Choose Broad-spectrum or Full-spectrum Products
As we said in the earlier section, CBD creams for neuropathy work best when they contain full-spectrum or broad-spectrum CBD. The presence of other cannabinoids and terpenes amplifies the therapeutic potency of CBD, providing better results for nerve pain than pure cannabidiol.
CBD & Neuropathy FAQ
Want to learn more about CBD and neuropathy? Here's what you need to know.
What is neuropathy?
Neuropathy is a condition involving damaged or dysfunctional nerves.
Common symptoms of neuropathy include:
Pain in the affected area
Numbness
Tingling
Muscle weakness
It typically starts in the hands and feet. However, neuropathy can affect other parts of the body, too.
If you suffer from neuropathy, it means your nervous system has lost its optimal function, and there's flawed communication in the peripheral organs.
The damage to neurons disrupts the way they convey their messages to one another and to the brain.
How is nerve pain different from other types of pain?
Neuropathic pain is a different issue than most types of pain. It may cause burning, stinging, and shooting pain throughout the body or in particular areas.
The condition turns chronic and may get worse over time. Certain conditions, such as diabetes, may put you at a higher risk of developing neuropathy.
Is CBD cream best for neuropathy?
There are many potential remedies that help manage neuropathy pain, but most of them come with severe side effects when used long-term.
CBD, on the other hand, has a decent safety profile and a very short list of side effects. Most of them are mild and shouldn't occur in normal doses.
Although the research on CBD and neuropathy is in the early stage, preliminary studies and anecdotal reports from patients point to CBD cream as one of the best natural strategies for managing nerve pain.
You can use it together with CBD oil to tackle neuropathy from the inside while easing localized pain with the cream.
How much CBD should I use for neuropathy?
There is no such thing as the best universal CBD dose for neuropathy. Everybody is different, and so will their response to various doses of CBD cream.
It's best to follow the manufacturer's instructions. They know their serving sizes, so they can easily provide you with a general dosage framework that you can later adjust to your needs.
Start low and slowly increase the dose until you find the amount that makes nerve pain manageable.
Do other cannabinoids also work for nerve pain?
Yes, CBD isn't the only pain-relieving cannabinoid. THC, another major compound in cannabis, has remarkable pain-killing and anti-inflammatory properties, too.
Minor cannabinoids, such as CBG, CBC, and delta-8 THC, can modulate the pain-relieving effects of CBD by engaging in the entourage effect and lending their own therapeutic qualities.
That's why broad-spectrum and full-spectrum CBD creams are the best for managing neuropathy pain.
Key Takeaways on the Best CBD Cream for Neuropathy
People with neuropathy may experience pain, numbness, and tingling in different parts of their bodies.
The discomfort is annoying and may contribute to anxiety, sleeplessness, and depression.
Although more research is needed, some studies suggest that adding CBD, in particular, full-spectrum CBD, in combination with other ingredients, may help reduce the pain caused by nerve damage.
It's also worth noting that other CBD products, such as oils, capsules, or gummies, can also reduce the symptoms of neuropathy and protect nerves against further damage.
Sources:
 Perez J. (2006). Combined cannabinoid therapy via an oromucosal spray. Drugs of today (Barcelona, Spain : 1998), 42(8), 495–503. https://doi.org/10.1358/dot.2006.42.8.1021517 [1]
Hammell, D. C., Zhang, L. P., Ma, F., Abshire, S. M., McIlwrath, S. L., Stinchcomb, A. L., & Westlund, K. N. (2016). Transdermal cannabidiol reduces inflammation and pain-related behaviours in a rat model of arthritis. European journal of pain (London, England), 20(6), 936–948. https://doi.org/10.1002/ejp.818
Nichols, J. M., & Kaplan, B. (2020). Immune Responses Regulated by Cannabidiol. Cannabis and cannabinoid research, 5(1), 12–31. https://doi.org/10.1089/can.2018.0073
Ward, S. J., McAllister, S. D., Kawamura, R., Murase, R., Neelakantan, H., & Walker, E. A. (2014). Cannabidiol inhibits paclitaxel-induced neuropathic pain through 5-HT(1A) receptors without diminishing nervous system function or chemotherapy efficacy. British journal of pharmacology, 171(3), 636–645. https://doi.org/10.1111/bph.12439 [4]
Russo E. B. (2011). Taming THC: potential cannabis synergy and phytocannabinoid-terpenoid entourage effects. British journal of pharmacology, 163(7), 1344–1364. https://doi.org/10.1111/j.1476-5381.2011.01238.x [5]
Kaur, R., Ambwani, S. R., & Singh, S. (2016). Endocannabinoid System: A Multi-Facet Therapeutic Target. Current clinical pharmacology, 11(2), 110–117. https://doi.org/10.2174/1574884711666160418105339
Deutsch D. G. (2016). A Personal Retrospective: Elevating Anandamide (AEA) by Targeting Fatty Acid Amide Hydrolase (FAAH) and the Fatty Acid Binding Proteins (FABPs). Frontiers in pharmacology, 7, 370. https://doi.org/10.3389/fphar.2016.00370 [7]
de Almeida, D. L., & Devi, L. A. (2020). Diversity of molecular targets and signaling pathways for CBD. Pharmacology research & perspectives, 8(6), e00682. https://doi.org/10.1002/prp2.682 [8]
Iffland, K., & Grotenhermen, F. (2017). An Update on Safety and Side Effects of Cannabidiol: A Review of Clinical Data and Relevant Animal Studies. Cannabis and cannabinoid research, 2(1), 139–154. https://doi.org/10.1089/can.2016.0034