Best HHC Pre-Rolls of 2023 Reviewed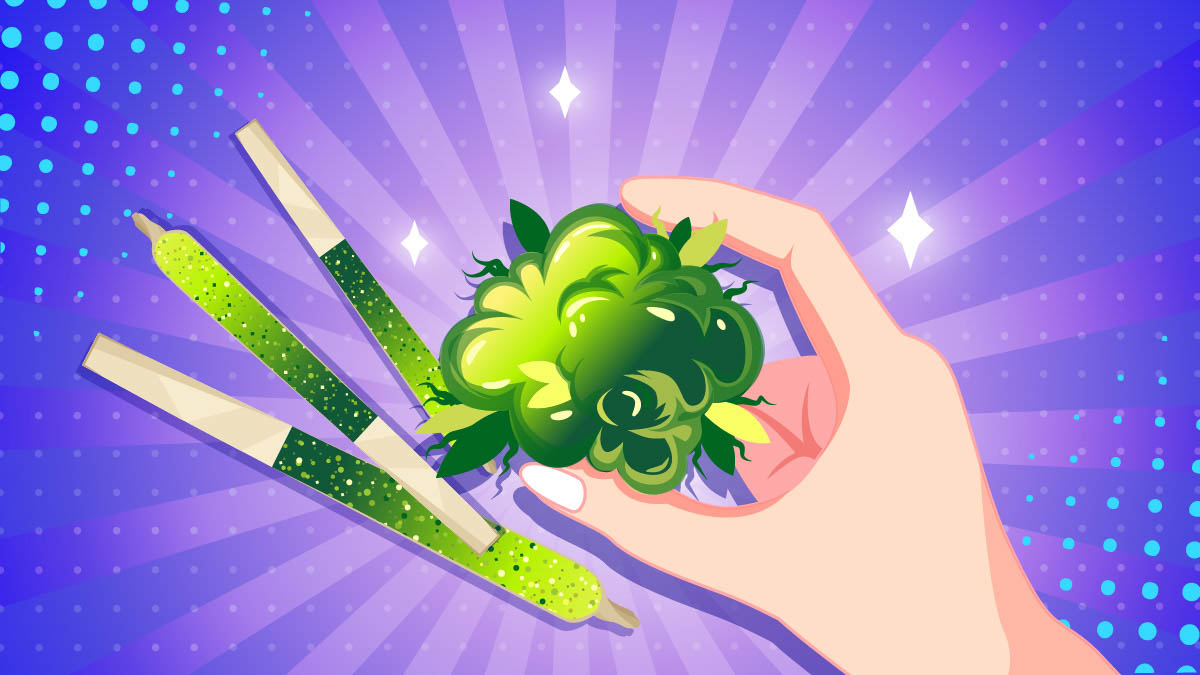 Have you ever considered trying HHC flowers in the form of a pre-roll? If not, this article will bring you closer to this novel cannabis product.
Since you're here, you probably know a lot about hemp and its basic cannabinoids. THC, CBD, and even delta 8 THC have already established their position in the cannabis market.
But with HHC, it's a different story. This highly processed form of THC is made using a hydrogenation process, something identical to how vegetable seed oils are hardened and turned into margarine.
HHC has a more stable molecular structure and is more resistant to heat, light, and air than THC. And the best part about this cannabinoid is that it's federally legal — at least for now.
Today, I'll show you the best HHC pre-rolls from reputable brands and help you understand what HHC is, how to use it for the best results, and what to watch out for.
Best HHC Pre-Rolls in 2023
Area 52 – Best HHC Pre-Rolls on the Market Overall, Editor's Pick
Finest Labs – Best-Tasting HHC Pre-Rolls
Delta Extracts – Best-Burning HHC Pre-Rolls
Hollyweed CBD – Best Variety
1. Area 52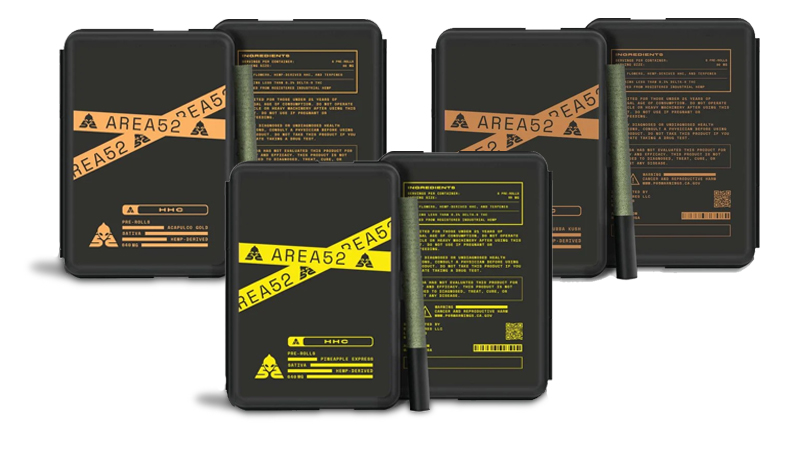 Get 15% off all Area 52 products. Use code "CFAH" at checkout.
Area 52 is one of the first hemp brands that started to leverage the potential of newly discovered cannabinoids. First, the guys at Area 52 offered only delta 8 THC products, but they soon expanded their collection with CBN and CBG. Now, the company also has HHC products in its lineup.
Aside from gummies and vapes, Area 52 offers pre-rolled joints infused with HHC. These are available in three different strains: Bubba Kush, Acapulco Gold, and Pineapple Express. Each strain provides a unique bouquet of terpenes, translating into different effects. Whether you're looking for the best HHC pre-rolls for relaxation or something to provide a jolt of positive energy and a creativity boost, you can easily pick something for your needs.
What separates Area 52 from other companies experimenting with HHC is the quality of the final product. In order to maintain safety and quality, Area52 has been working on a process that doesn't require the use of toxic heavy metals and solvents. The company has also partnered with leading testing centers in the US, providing a detailed lab analysis that confirms the potency and purity of every product batch.
2. Finest Labs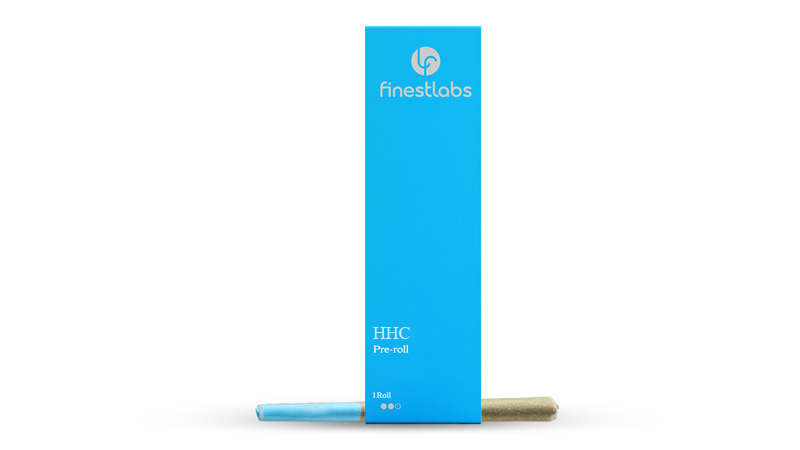 Finest Labs is a California-based brand specializing in delta 8 THC extracts. It's also one of the largest manufacturers of plant-derived terpenes in the US. After succeeding with its collection of delta 8 products, the company has stepped up its game by adding a range of HHC formats, such as gummies, vapes, and pre-rolls.
The Finest Labs HHC pre-rolled joints are among the best-tasting products on the market. The flavors feel natural and reflect the original terpene profile of the source strain. Thanks to this, you can enjoy the unique benefits of HHC while experiencing a similar palette of effects to what you get when smoking your favorite weed buds.
Like Area 52, Finest Labs uses cannabiripsol to produce HHC. Cannabiripsol naturally occurs in cannabis sativa, which only adds to its safety profile. The company sends its lab reports as a QR code attached to the product. The lab testing is done using high-performance gas chromatography and mass spectrometry (GC-MS) which only specialty labs can run.
3. Exhale Wellness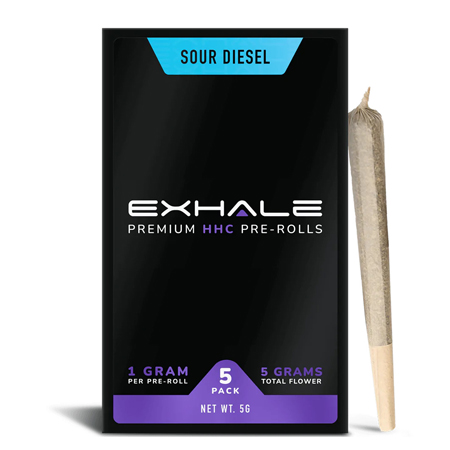 Exhale Wellness already boasts a broad range of HHC products, and this collection of pe-rolls is perhaps the icing on the cake. Made with non-GMO, pesticide-free hemp, each 1g joint is aesthetically rolled and sure to provide you with a nice cognitive buzz.
You can choose from single pre-rolls or cartons containing 5 joints, which is equivalent to 5 grams of HHC flower — all of this for less than $40. That's a decent deal for customers who are shopping on a lower budget. The brand offers three classic strains: Skywalker OG, Northern Lights, and Sour Diesel.
Unfortunately, Exhale Wellness doesn't provide certificates of analysis for its range of HHC pre-rolls. That's a serious downside due to the aforementioned purity problems and the lack of standardization of extraction methods.
4. Hollyweed CBD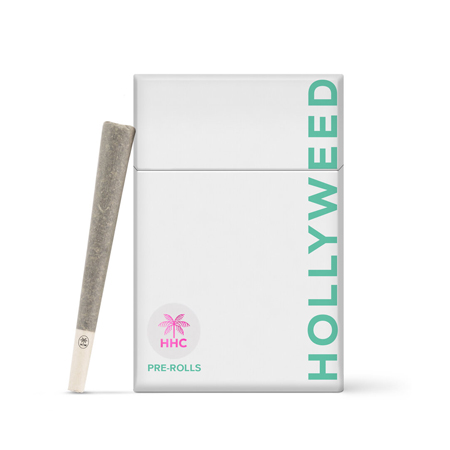 Hollyweed CBD makes smoking HHC pre-rolls classy and convenient. These artistically rolled joints smoke smoothly and evenly in low-profile cartons of six joints, ensuring an enjoyable experience with this premium US-grown hemp flower.
All of Hollyweed's strains have high levels of terpenes, amplifying the effects of HHC and helping mitigate potential unwanted reactions — not to mention delicious flavors.
Like Exhale Wellness, Hollyweed CBD has three strains in its collection: Skywalker OG, Sour Diesel, and Northern Lights.
This brand scores lower than the others because it doesn't provide the lab reports for some of its pre-rolls. There are also no lab reports for the HHC distillate, undermining Hollyweed's transparency.
5. Utoya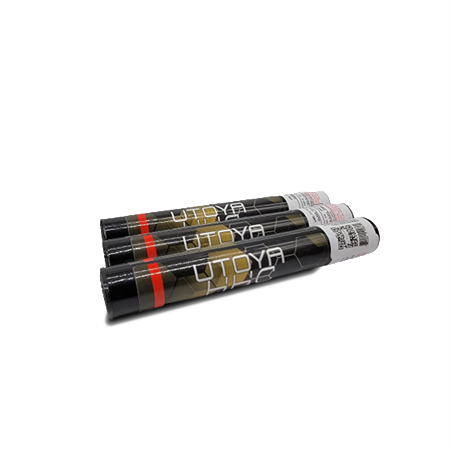 Utoya is a relatively new brand that has quickly become popular thanks to its unique pre-rolls containing a blend of CBD and HHC. The company offers mostly indica strains, which are Sour Lifter and Forbidden V. Both pre-rolls work best as an evening smoke.
Each strain contains 20% CBD with 16% HHC, leading to a mellow and soothing high. The effects aren't as pronounced as with pure HHC products; the high CBD content makes it easier for more sensitive users to enjoy the psychoactive effects of HHC without getting paranoid and anxious.
Utopia is also one of the most transparent brands in the HHC space. It provides third-party lab reports from Ritually Pure and Northeast Processing to confirm the products are free from pesticides, heavy metals, solvents, and mycotoxins.
How I Picked the Best HHC Pre-Rolls
It's difficult to find the best HHC pre-rolls with so many companies. You can rest assured I didn't pick these products at random. The brands from the above list went through a meticulous quality control process to provide you with an unbiased picture of the top vendors in the industry.
Here are the most important criteria I followed:
Brand Reputation
In choosing the best HHC pre-rolls for this ranking, I evaluated every company in terms of its track record. While it's good that a company offers a broad range of potent and effective products, we shouldn't ignore it if it's facing a lawsuit or has received a warning letter from the FDA.
The best thing you can do is look for HHC pre-rolls from experienced brands who already offer some other newly discovered cannabinoids, such as delta 8 and delta 10. But if you want to try a newer brand, make sure to check reviews from verified customers first. I also recommend diving deeper into the company's structure: who's behind it, what extraction methods are used to make HHC, and whether or not the company tests its pre-rolls for purity.
Potency
The potency of your pre-rolls is important, but it shouldn't be attributed to HHC alone. Studies have shown that higher levels of pure HHC wouldn't make a person high. Instead, you should look for a decent blend of cannabinoids and terpenes to achieve a so-called "entourage effect" to amplify the benefits of the whole product. When reading third-party lab reports, pay attention to the section with terpene profiles; this will help you determine if the company uses high-quality buds to make their pre-rolls.
Price
Prices vary between brands, but know one thing — buying a top-shelf pre-roll at a low cost is a pipe dream. Of course, that doesn't mean you should look for the most expensive products out there. The key is to aim at a reasonable price-to-quality ratio. Brands need to make a profit too, so expect high-quality companies to put a higher price tag on their goods than mediocre manufacturers.
Hemp Source
The best HHC pre-rolls come from organic, non-GMO plants that have been grown without pesticides or chemical fertilizers. Such hemp yields clean, resinous flowers that make for a perfect material for drying and curing CBD buds, which are then dipped in, or sprayed with distillate. Steer away from mass-produced hemp because such plants often come from poor-quality soil and are treated with the aforementioned additives.
Customer Reviews
Nothing can beat an opinion from real users who tested the product themselves. I looked at the reviews from third-party websites that aren't affiliated with any of these companies. This way, I could minimize the risk of bias that you can experience when looking solely at the reviews on the company's website (yes, they can filter opinions).
How to Buy HHC Pre-Rolls: Beginner's Guide
Buying HHC pre-rolls is a serious thing. Buying from the wrong vendor can ruin your experience, but frankly speaking, there are a lot of other factors you should take into account when searching for the best pre-rolled joints for your needs.
Strains
Hemp companies blend HHC with some of the most popular cannabis flower strains. Terpenes and flavonoids, molecules that provide cannabis plants with their color, fragrance, and flavor, are unique to each strain. Your choice should be based on your favorite aromas and flavors, as they will most likely give you the best experience. Experiment with different strains to locate the best HHC pre-rolls for your needs.
Terpenes
Terpenes appear in all-natural products, including those sourced from hemp. For those who have wondered why some cannabis strains make you feel energized and awake while others make you feel drowsy, the answer is simple — terpenes.
While sativa-like terpenes provide HHC products with an uplifting and energizing high, some of the indica-leaning terpenes will give them a relaxing profile. If you're looking for the best of both worlds, hybrid strains; they come with different ratios of sativa and indica terpenes.
Other Ingredients
The best HHC pre-rolls are made with just two ingredients: non-GMO hemp and HHC distillate that is infused into the flower before grinding and rolling it into a joint. Alternatively, they may contain some CBD buds to create more calming effects. However, if your HHC pre-roll contains tobacco or some strange additives, this may be a way of cutting costs for the manufacturer — a big no-no for buyers.
Dosage
Lung capacity varies between individuals, so gauging the exact amount of HHC in every puff is challenging. What I can suggest is looking at third-party lab tests for the exact potency of a one-gram pre-roll. For example, if the certificate of analysis shows a 30% strength per joint, then your pre-roll contains 300 mg cannabinoids. Smoking combusts about 30% of the content, so you eventually inhale 210 milligrams of HHC, which is still beyond what most people can tolerate.
Beginners should avoid using up one joint in a single sitting. Once you feel you've had enough, store your HHC pre-rolls in an airtight container away from direct heat and sunlight. HHC has a longer shelf-life than THC, but doing so can extend it even more.
Side Effects
Nobody has died from overdosing on HHC. However, you shouldn't ignore the fact that HHC has a very similar side-effect profile to THC. Because of this, typical side effects include red eyes, dry mouth, increased appetite, dizziness, confusion, anxiety, and paranoia. The best you can do to optimize your experience with HHC is to follow the recommended dosage. You can always take more but can't take away too high a dose. Start from a low amount to avoid adverse reactions.
Third-party Testing
Third-party testing ensures that you know exactly what you're buying. The cannabinoid space is unregulated, so no manufacturing or labeling standards are in place. If a company wants to be trusted, it should provide batch-specific certificates of analysis (COA), detailing the product's HHC content, its cannabinoid and terpene profile, as well as results for contaminants such as heavy metals, solvents, pesticides, and microbial impurities.
Where to Buy HHC Pre-Rolls
A trusted online store is the best way to shop for HHC pre-rolls today. HHC is a relatively new product, so it may take time until licensed dispensaries and other cannabis stores hop on the bandwagon and start to offer such projects.
Online stores are run directly by brands that specialize in making HHC extracts. Some of these manufacturers, such as Area 52 and Finest Labs, have developed heavy metal-free and solvent-free extraction methods — ensuring purity and customer safety.
Again, whenever you're buying from a new company, take a look at its lab reports section to check if it provides up-to-date COAs.
Read more:  Where Can I Buy Quality HHC Products Near Me?
How to Store HHC Pre-Rolls
HHC pre-rolls are best stored in the tube or carton or until you're ready to smoke them. Keep them in a cool, dark, and dry place to prevent exposure to UV ray degradation and the joints getting excess moisture and developing mold. Keep them away from children.
FAQs: The Best HHC Pre-Rolls for Sale
As mentioned earlier, there are a lot we don't know about HHC yet, but here I've put together the basic information about this cannabinoid, how it's different from THC and other analogs, and whether or not it's legal in your state.
What is HHC?
HHC means hexahydrocannabinol — a psychoactive cannabinoid with an effect profile similar to THC. The chemical is sourced by hydrogenating THC, making HHC federally legal.
Yes, you've read that right. You can get that funny buzz, legally, with a compound that's just like THC. Although some caveats in the 2018 Farm Bill put HHC in the gray area — federal regulators haven't banned HHC federally.
That's because the Farm Bill states that restrictions only apply to THC, which shouldn't exceed more than 0.3% in a product. The THC limit has created a window of opportunities for entrepreneurs and consumers.
All that matters for brands producing HHC pre-rolls is that the THC concentration remains under 0.3%. HHC pre-rolls with more than 0.3% would be categorized as regular cannabis and thus banned from use under the Controlled Substances Act.
How is HHC Different from THC?
If marijuana users had the choice, they would probably lean toward natural THC. Unfortunately, the current reality prevents many Americans from accessing marijuana legally as the plan is still banned at the federal level.
Buying HHC pre-rolls allows you to experience almost the same effects as a legal substance.
When it comes to its psychoactive potential, HHC has around 80% of THC's strength. This means that you're less likely to experience anxiety and paranoia at high doses. However, we wouldn't take it as a green light for burning one pre-roll in a single session. Once again, knowing your tolerance and sensitivity to THC is key.
HHC vs Delta 8 THC
Delta-8 was the first analog of THC to make waves. Since delta 8 THC is about half as strong as delta 9, HHC is more appealing for those wanting psychoactive effects as similar to marijuana as possible.
When comparing delta 8 THC with HHC, delta 8 makes you feel more invigorated and its effects are focused more on the mind. HHC, on the other hand, provides relaxing euphoria. Therefore, you can combine the two by smoking delta-8 pre-rolls during the day and HHC pre-rolls after work for evening relaxation.
Will HHC Show Up On a Drug Test?
One study has shown that HHC doesn't convert into 11-hydroxy-THC in the liver — a metabolite that could make you fail a drug test. Some companies use this as the main selling point for their HHC pre-rolls. However, keep in mind that this is only one study, and the results haven't yet been replicated on large populations.
HHC pre-rolls are made with CBD hemp flowers which are infused with HHC. CBD buds still contain up to 0.3% THC, so we don't know how a combination of these two may influence your drug testing results.
Use HHC responsibly, and if you know of an upcoming drug test at your workplace, it may be a good occasion for taking a T-break.
Is HHC Legal?
Earlier I mentioned that HHC pre-rolls are legal at the federal level, which is true because all hemp-derived products are legal under the 2018 Farm Bill, as long as they contain 0.3% of THC or less.
However, as with any federal law, individual states may impose their own restrictions on the availability of HHC. In 2020, the DEA issued a statement on the legal forms of THC, claiming that these are synthetically derived tetrahydrocannabinols, and as such, they should be treated in the same way as delta-9 THC. The spokesman for the DEA used an argument that HHC doesn't appear in hemp in usable amounts, which is why manufacturers add various chemicals to extract it from the plant — and that makes it illegal in their eyes.
Nevertheless, no federal court has yet taken a stance on the legality of HHC. So, until the court rules or gives an opinion on this subject, HHC remains in the legal gray area.
Is HHC Safe?
There are no studies on the short-term and long-term side effects of using HHC. However, since the cannabinoid is just a hydrogenated form of THC, we may assume that it has a similar safety profile and side effects.
In regular doses, HHC should deliver a wave of relaxation, euphoria, a boost of appetite, an altered perception of time, and a giggly mood.
At higher doses, especially those that go beyond one's tolerance, HHC may backfire, causing the following reactions:
Anxiety
Paranoia
Increased heart rate
Dizziness
Impairment of motor coordination
Considering the above, always use HHC pre-rolls responsibly to enjoy its benefits and avoid side effects.
What Other HHC Products Are There?
HHC pre-rolls are one of the best ways to consume HHC, but other formats are on the market. Usually, high-quality HHC products come in the same range as other hemp-derived extracts, including:
HHC Tinctures
HHC Vapes
HHC Topicals
Manufacturers are looking for new infusion methods for HHC, so we may expect a greater product variety.
Key Takeaways on the Best HHC Pre-Rolls
HHC is the new kid on the block. With almost the same effects as THC and a better legal status, it's definitely worth the hype — but are all products worth buying?
Not at the current state of the market. Many companies still use hazardous solvents and toxic heavy metals to extract HHC from hemp. Some manufacturers also keep their lab reports undisclosed, meaning they might have something to hide about the purity of their products.
When shopping for the best HHC pre-rolls, pay attention to the source of hemp, extraction method, and your vendor's transparency. Choose reputable companies that already have some experience with novel cannabinoids, such as delta 8 or delta 10 THC. Read user reviews, compare different potencies and strains, and evaluate the price-to-quality ratio.
Doing so will help you find the best product for your needs — and most importantly, one that's free from toxic additives.