CBD for Burns and Scalds: Does It Help?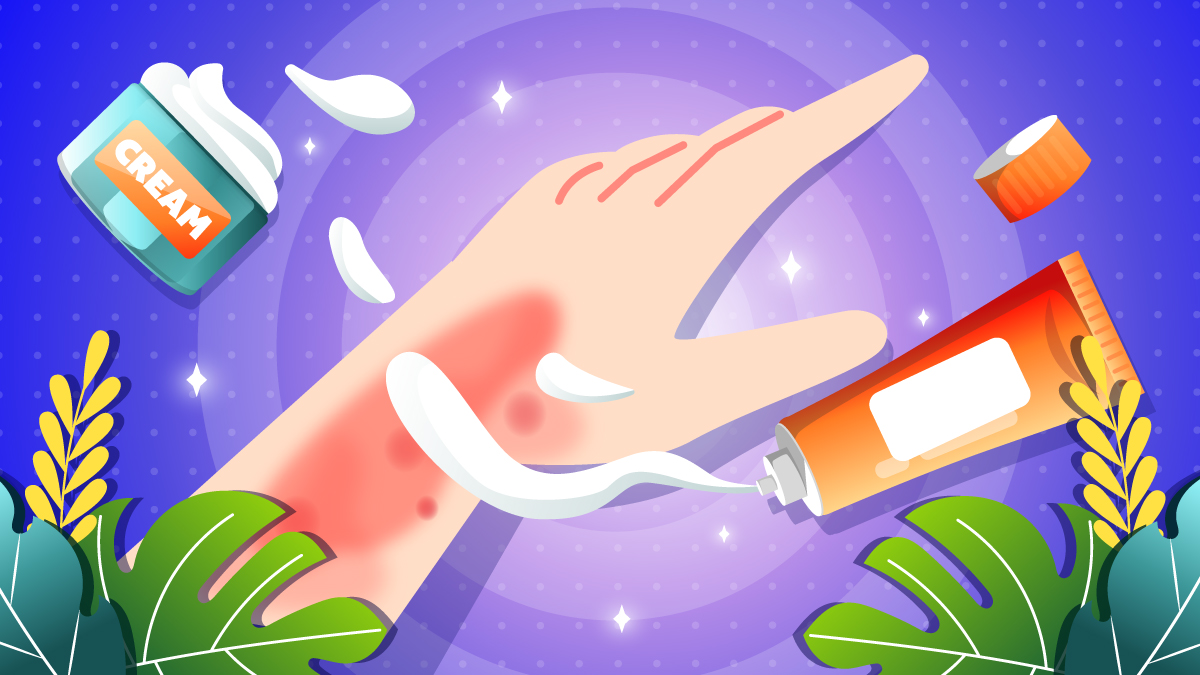 CBD has a wide range of applications, but one question I keep receiving in my mailbox from you is whether you can use CBD for burns to help the damaged tissue heal faster.
Yes, CBD has the potential to treat burns and improve regeneration; in fact, several studies have investigated these properties, and in this article, I'll dive deeper into the subject, following evidence-based medicine.
First, let's cover some basic information about burns, including the different types of burns categorized by their severity.
A Primer on Burns: What Are They?
Burns are tissues that have been damaged by overexposure to heat, radiation, sun, or by chemical or electrical contact. Some burns are mild, but some can cause life-threatening medical complications.
For many people, recovering from burns goes smoothly without negative health consequences, depending on the cause and size of the damage. More serious burns require medical or surgical intervention in order to prevent the said complications.
The treatment of burns can take different forms depending on the damaged area and how severe the burn is. In essence, sunburns and minor scalds can be managed at home. When it comes to deep and widespread burns, you should always go to an emergency room and ask for medical attention, especially if you suspect your wound may require surgery. Some people need to be treated at a specialized burn center and require a caregiver for the time of recovery.
When you accidentally burn yourself, the affected area usually gets inflamed and starts to hurt. However, deep burns may not hurt as much because the nerves get damaged and lose sensation. These conditions manifest themselves as the body's natural protective mechanism. When you suffer from an injury, your body sends an army of immune cells to the problematic area to deal with the foreign bodies.
That being said, excess inflammation mitigates the healing process and triggers pain.
Different Types of Burns
Burns, although usually random, are a very common occurrence. They range from mild to life-threatening. CDC states there are three major categories of burns:
First-Degree: the least severe of all burns, this type affects only the top layer of the skin. Such burns become red, painful to the touch, and possibly a bit swollen. You can easily manage these burns with a wet compress or a damp clean cloth.
Second-Degree: in this type of burn, the two top layers of the skin are affected. Symptoms include severe pain, blisters, and possible loss of skin. If you want to treat second-degree burns, you need to immerse the affected area in cold water and make sure not to break the blisters.
Third-Degree: these burns penetrate all layers of the skin, destroying tissue. They're the most severe type of burn injury and can be fatal, so medical attention is required immediately.
Cannabis for Burns: A Brief History of Use
Cannabis has been used to heal wounds in humans and animals for thousands of years. However, our ancestors didn't use isolated CBD; instead, they were reaping the benefits from using the whole hemp plant.
In the 1st century BC, the Greeks used cannabis to treat wounds and injuries in horses (1). In many historical medical texts, there are also mentions of cannabis as an antiseptic to treat burns and cuts. However, today, the democratization of CBD has opened completely new avenues for treating burns, especially with low-THC cannabis varieties.
Is CBD Effective for Burn Treatment?
To understand the benefits of CBD for burn treatment, we must first look at the mammalian endocannabinoid system (ECS).
Cannabinoids such as CBD and THC interact with the ECS — more specifically, they either activate or modulate its receptors in the central nervous system and peripheral organs. The ECS is involved in cell growth, proliferation, hormone balance, and apoptosis. Cannabinoids have demonstrated anti-inflammatory, antioxidant, and analgesic properties, meaning they could help speed up the healing of burns — at least in theory.
In a 2010 study by Zhao et al., cannabinoid receptors have been analyzed at the wound sites of mice. The research team found that CB1 receptors were prevalent in the location of the injuries on fibroblastic and mononuclear cells. Moreover, CB1-rich cells were found in the wounded area 5 hours after the injury — remaining there after 14 days (2).
The authors concluded that the CB1 receptors are activated during the healing of wounds, which means they're also involved in inflammation and pain signaling. In other words, cannabinoids that interact with these receptors may provide anti-inflammatory, painkilling, and antibiotic effects.
While the availability of THC is limited due to the legal status of marijuana, hemp-derived CBD is federally legal. The passing of the 2018 Farm Bill removed hemp from the list of controlled substances, making a clear distinction between low-THC and high-THC cannabis (marijuana).
Like THC, CBD has remarkable anti-inflammatory and pain-relieving properties. Let's take a look at the science behind using CBD for burns.
How CBD Works to Relieve Burns
Although research into CBD's effects on burns is still in its infancy, the current findings have been very promising. The first evidence of CBD's efficacy in treating burns and related issues comes from a 1976 study that highlighted CBD as bactericidal (3).
When it comes to burns, CBD could potentially sterilize the affected area. Its antibacterial properties could prevent bacteria and other pathogens from affecting cells via broken skin.
Inflammation is another major problem with burns. While the body is designed to eliminate the pathogens, excessive inflammation leads to pain and slows down the healing of wounds.
CBD's anti-inflammatory properties stem from its interaction with CB2 receptors, and can also contribute to weaker pain signals. In a 2010 study published by Nagarkatti et al. in Future Medicinal Chemistry, the authors found that CBD works as an anti-inflammatory. One year earlier, scientists from the University of Aberdeen discovered that CBD helps regulate calcium levels in celps, protecting them from trauma (4).
Long story short, there's still a lot to discover about the medical potential of CBD when it comes to treating burns and related issues, but initial studies indicate that the cannabinoid can address the problem from several angles.
Other Benefits of CBD for the Skin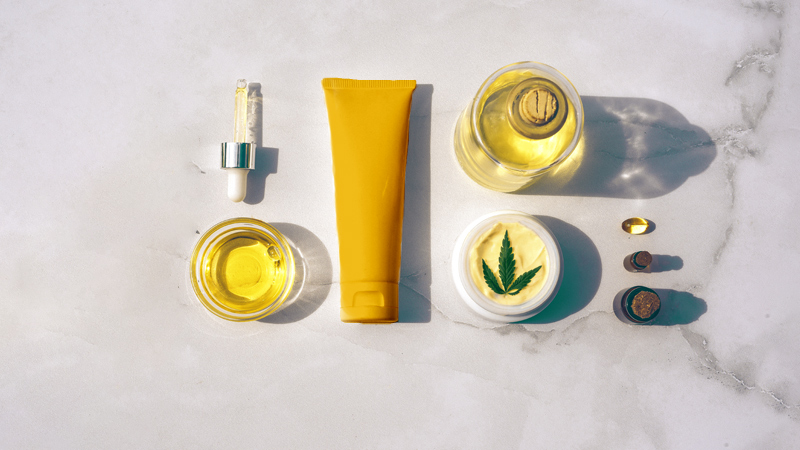 Improved wound healing and reduced inflammation aren't the only benefits of CBD for the skin. Here are some other ways you can use CBD to improve its health:
Insect Bites and Itching
Insect bites often cause inflammation and itching. Again, CBD — especially when applied topically — can help you relieve those itches that sometimes get really annoying. Whether it's a simple mosquito bite or an infection of the skin, CBD may help with its anti-bacterial and anti-inflammatory properties.
Eczema and Psoriasis
These two chronic skin diseases are caused by an accumulation of inflammatory cells or excessive growth of the dermis. For these diseases, research claims that CBD helps to reduce inflammation and combat dryness — the two most common symptoms of both diseases.
Most recently, Korean scientists praised CBD for its ability to activate mast cells and thus, reduce the symptoms of skin diseases such as eczema and psoriasis. Among the health benefits, the authors mentioned soothed itching, reduced redness, and fewer inflammatory cells in the skin.
Acne (Pimples & Blackheads)
If your skin is sensitive and prone to pimples and blackheads, CBD can be a great addition to your skincare routine. You've probably picked it up in recent years, as CBD has become one of the most sought-after products in the beauty segment. Even the biggest cosmetic players are jumping into hemp-based products.
And there's a good reason for that.
A CBD-based moisturizer can reduce clogged pores, curb inflammation, and help you get rid of acne-related scars. Moreover, taking sublingual products like CBD oil may regulate sebum production in your system, preventing acne outbreaks.
Of course, using just CBD without proper hydration and a healthy lifestyle won't solve your problem. But, adding a CBD cream is a good way to replace chemical creams with a natural solution — providing a biologically appropriate formula free of dangerous side effects.
How to Use CBD for Burns
The smartest thing to do when treating skin problems is to choose a CBD cream or roll-on stick and apply it directly to the affected area.
This way, CBD and other cannabinoids will be absorbed by the different layers of the skin, interacting with CB2 receptors and producing their anti-inflammatory, analgesic, and antibacterial effects.
For a more complex effect, you can add some form of vaporized or sublingual CBD. Although such products won't have a significant effect on the skin, they will help you balance your endocannabinoid system and strengthen your body on its way to recovery.
Is CBD Safe for the Skin?
Yes, CBD is generally considered safe for the skin and the entire body. Numerous health organizations, including the WHO, have confirmed that CBD has a very good safety profile and is well-tolerated by humans — even in very high doses (1,500 mg daily) administered for several weeks (5).
If you're using a high-quality CBD cream for burns, it shouldn't cause any adverse reactions — unless you're allergic to the other ingredients in the formula. That's why you should always carefully read the list of ingredients.
Should you experience signs of an allergy, discontinue using the product, and if the symptoms don't disappear, visit your doctor immediately.
Best CBD Products for Burns: Top Brands in 2023
Choosing the best CBD cream for burns can be challenging, especially with the abundance of different brands pushing their products as "the best on the market." Unfortunately, not all CBD topicals are made the same; in fact, there's a large discrepancy between different products when it comes to the quality.
When buying CBD online or near you, make sure to pay attention to the following factors:
Hemp source: hemp plants are effective bioaccumulators, meaning they absorb every substance from their environment, including the good and bad substances. The best CBD creams for burns come from non-GMO, pesticide-free hemp.
Extraction method: CO2 extraction is the golden standard in the industry because it yields pure and consistently potent products without using toxic solvents or adding high temperatures during the production process.
Cannabinoid spectrum: there are three main types of CBD products: full-spectrum, broad-spectrum, and isolates. Full-spectrum CBD is the most desired format because it contains all beneficial compounds from hemp, including cannabinoids, terpenes, and flavonoids; these chemicals work synergistically to help your body process CBD more efficiently. This phenomenon is known as the entourage effect.
Third-party testing: reputable companies send samples of their products to independent laboratories for complete testing. The certificate of analysis includes the potency of CBD, the entire phytochemical profile (cannabinoids and terpenes), and results for common contaminants, such as pesticides, heavy metals, mycotoxins, and solvent residue.
If you're in a rush, here are my two recommendations for the best CBD topicals for burns. Both brands meet all of the above criteria and provide reasonable prices for their products.
1. Royal CBD
Get 15% off all Royal CBD products. Use code "CFAH" at checkout.
Pros
Cons

Organic, US-grown hemp
Supercritical CO2 extraction
Broad product range
High-strength options are available
Well-designed formulas
Flavored with natural ingredients
Complete third-party testing profile
30-days Money Back Guarantee

A little bit more expensive than the market's average (but still worth the price)
Not available locally
Royal CBD was founded in 2018 by a team of biohackers, scientists, and hemp aficionados with a mission to elevate the quality standards in the industry. Started as a small craft company, the brand is now a true powerhouse that offers a broad range of different CBD formats.
Aside from high-potency full-spectrum CBD oils and edibles, Royal CBD offers two types of topical products that may come in handy for treating burns. The first formula is a CBD warming cream that contains 500 mg of broad-spectrum CBD supported with other healing ingredients, such as lavender, rose seed oil, ginger, cloves, and menthol.
If you're looking for a fast-acting and mess-free formula, I recommend the Royal CBD roll-on stick. It contains the same amount of CBD, but it also has more menthol, potentiating the analgesic effect.
All Royal CBD products come from non-GMO, pesticide-free hemp and are triple-tested in an ISO-compliant laboratory for potency and purity.
2. Gold Bee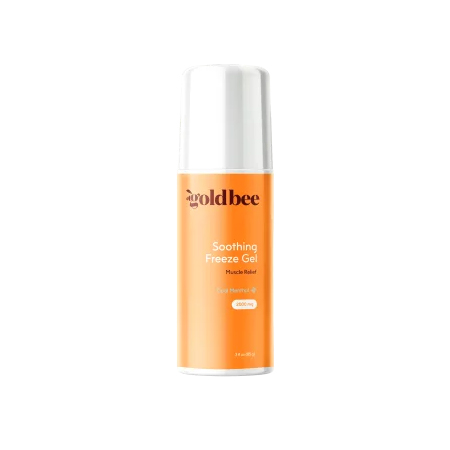 Pros
Cons

Organic hemp
CO2 extraction
Infused with superfoods
Full-spectrum and broad-spectrum CBD
Up to 2500 mg of total CBD
Flavored with natural ingredients
Pet products
30-day Money Back Guarantee

Limited potency options
No isolate-based products
Gold Bee is known for its cutting-edge CBD products infused with organic superfoods, such as honey from Brazillian rainforests and virgin coconut oil. These well-thought-out formulas come from high-terpene hemp strains which the company created in cooperation with local farmers.
When it comes to topical products for burns, Gold Bee offers only one formula — a high-potency roll-on stick that packs a whopping 2000 mg of broad-spectrum CBD infused with menthol. At this strength, the product can be used to target severe inflammation and pain that stem from burns.
Like Royal CBD, Gold Bee offers batch-specific certificates of analysis for its entire collection; you can view them directly on the company's website.
Final Verdict: Can CBD Help with Burns?
Although there are no direct clinical human trials that would examine the efficacy of CBD in treating burns, initial evidence from human and animal models, as well as an extremely long record of historical use in traditional medicine, show it in a very promising light.
CBD has anti-inflammatory, antioxidant, and pain-killing properties, all of which can be useful for relieving pain and irritation caused by burns. The best way to address these symptoms is to use a topical product that will cause the CBD to interact with CB2 receptors in different layers of the skin.
Just make sure you're buying your CBD creams from a trusted source because there are many fly-by-night vendors who sell fake products for exorbitant prices. Use my mini buyer's guide to do your own research on different CBD companies and let me know if CBD has helped you ease the discomfort.
Sources: