Is CBD Oil Legal in Kansas? KS Hemp Oil Laws (2023)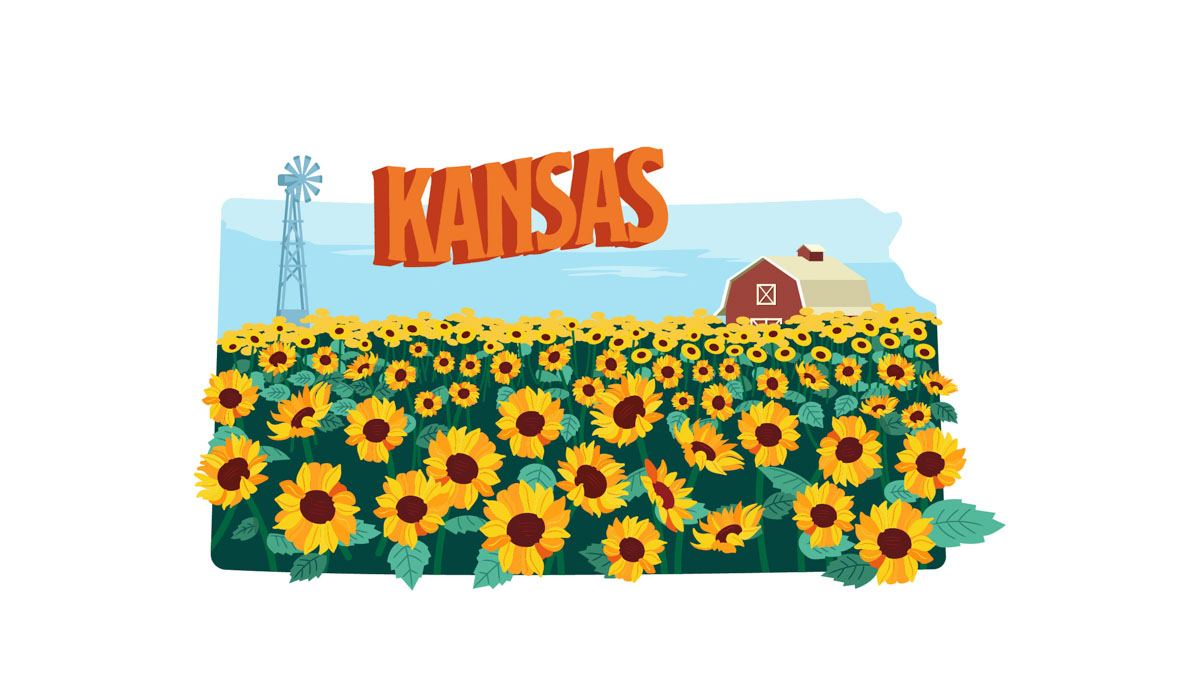 This article provides a complete overview of CBD laws in Kansas. We distinguish between hemp and marijuana regulations, elaborate on the acceptable THC content in CBD oils, and highlight the best deals on high-quality products in Kansas stores and online.
CBD is a versatile health supplement that helps you achieve better health by reducing symptoms such as pain, anxiety, seizures, and inflammation.
The market is lucrative, but the laws and legality surrounding CBD products may vary between states. In some places, the availability of CBD is quite limited.
Kansas has strict cannabis laws — but what does the CBD space look like there?
Here we explain the laws regarding CBD, hemp, marijuana, and other cannabinoids in Kansas.
Is CBD Legal in Kansas in 2023?
Yes, but there's a catch. CBD is legal in Kansas as long as it contains zero THC. Senate Bill 282 removed CBD from the list of controlled substances, but didn't allow for any THC in CBD supplements.
This significantly limits the availability of CBD products in Kansas.
Depending on how CBD is processed, the laws in Kansas vary. CBD can be extracted from hemp and marijuana plants, which is where the road is getting bumpy.
Related: Map of Cannabidiol Legal States
Hemp CBD in Kansas
If your CBD comes from hemp, it's legal in Kansas. Hemp-derived CBD products contain less than 0.3% delta-9 THC, making it federally legal under the 2018 Farm Bill.
However, individual states retain their right to regulate federal laws on their territories. And Kansas took advantage of this right.
The only legal CBD products in Kansas are those that contain zero THC.
That means only broad-spectrum and isolate-based CBD supplements are approved by state law.
You may have a hard time trying to find full-spectrum CBD oil in Kansas' local stores.
Marijuana CBD in Kansas
If your CBD is made using a mature marijuana plant, it will contain higher levels of THC, the active ingredient that makes you feel high.
If your CBD supplements have any THC and are sourced from marijuana, it's illegal to possess them in Kansas, unless you've been diagnosed with a debilitating condition. Only patients suffering from a severe disease can purchase CBD oil containing 5% THC.
Related: Kansas Marijuana Laws
Penalties for Marijuana Possession in Kansas
Kansas hasn't yet decriminalized marijuana possession. If you're caught even with a small amount of weed, you can end up in prison for six months. If you have more than 450 grams, the charges will be classified as "Intent to Distribute," which is a felony punishable by up to 42 months in prison and $100,000 in fines.
Kansas treats the sale of any amount of cannabis as a felony, with up to 51 months in prison. You will also receive a fine of up to $300,000. Selling more than 25 grams is a serious felony, including a maximum jail term of 83 months.
Growing marijuana can land you a prison sentence of 46-83 months.
Can Doctors Prescribe CBD in Kansas?
Doctors can't legally prescribe any cannabis-related substance because cannabis is a Schedule I substance at the federal level. They can, however, recommend cannabis-based medications and give patients their written certification. That's how you can obtain the CBD oil with 5% THC.
Tips for Buying CBD in Kansas
The loud buzz surrounding CBD has resulted in hundreds of different products flooding the market in the nick of time.
Some of them are great, some are sketchy. The latter may contain unwanted additives or be contaminated with pesticides or heavy metals.
The good news is that you can protect yourself against scammers using these simple tips:
Choose organic hemp: hemp plants effectively absorb every substance from their environment as dynamic bioaccumulators. Organic farming ensures that the product is free from pesticides, heavy metals, and other natural toxins.
Make sure the product has been checked by a third-party lab. These labs can check the potency and purity of the tested sample to confirm it's free from foreign substances.
Watch out for brands claiming CBD is a miracle drug. CBD is remarkably versatile as a health supplement and can provide relief for a wide range of symptoms. However, it won't mend broken bones and raise the dead.
Opt for CO2-extracted products: CO2 extraction doesn't use high temperatures or additional solvents, helping to keep the end product clean and potent.
If your CBD product meets the above criteria, it's a sign of high quality.
Where to Buy CBD in Kansas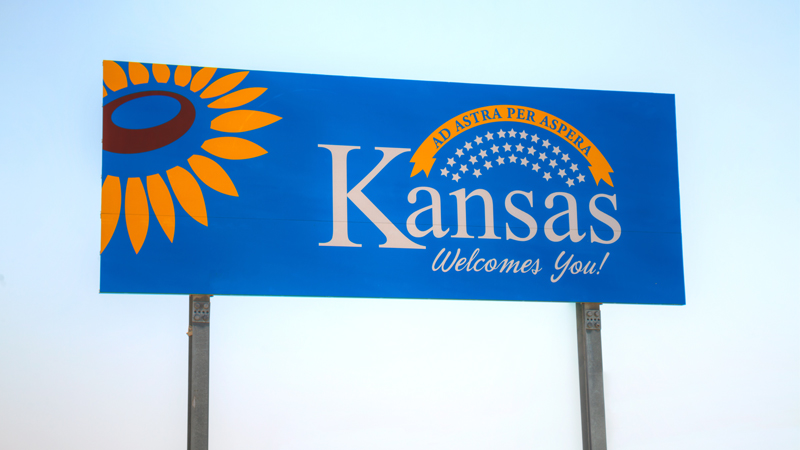 With Kansas law allowing CBD products, you should be able to find several local CBD suppliers near you.
However, if you prefer safety and convenience, the best way to buy CBD in Kansas is from online stores.
Doing so comes with several advantages.
Benefits of Buying CBD Online
Shopping online makes your supplements cheaper than local CBD retailers because online stores can offer discount deals, reward programs, subscription orders, and other offers that you won't find in traditional stores.
Running a background check on your potential vendor is also easier when you buy online. Most online stores provide detailed information about their products, farming practices, and lab testing. You can also see these lab reports yourself to verify your company's credibility.
Not to mention that online stores usually offer a more extensive product selection than in-store vendors. You can browse through hundreds of formulas to meet the one that will work for your individual needs.
Best Online CBD Stores in Kansas
In a rush? Here are my recommendations for the top two brands that make premium-grade CBD oils and supplements at reasonable prices. Both companies provide batch-specific lab reports and have hundreds of positive reviews on independent websites.
PRODUCT
DETAILS

Royal CBD

Royal CBD – Full Spectrum

Rated #1 overall
Highest quality hemp oil on our list
100% organic, free from pesticides and artificial ingredients
Established brand with 24/7 customer support
30-day 100% money-back guarantee

Click for Best Price

Gold Bee

Gold Bee

Sourced from US-grown organic hemp
Contains full-spectrum CBD
Up to 80 mg/mL
Great product range for beginners
Third-party tested for potency and purity
Delicious Kiwi and Lychee flavors

Click for Best Price
Is Delta-8 THC Legal in Kansas?
Delta-8 THC is legal in Kansas, but its attorney general has recently stated that the use, possession, and sale of delta-8 products is unlawful, even if derived from industrial hemp.
It's true that delta-8 THC is categorized as a Schedule I substance along with other tetrahydrocannabinols under Kansas law, but at the same time, hemp-derived products infused with delta-8 THC are federally legal.
And so are the other isomers such as delta-10, THC-O, and HHC.
Buying CBD in Kansas: Bottom Line
Although marijuana remains off-limits under Kansas law, there are still many ways to get your hands on high-quality cannabis products by trying CBD and delta-8 legally.
After the amendment of the 2018 Farm Bill, Kansas introduced legislation that legalized industrial hemp and its derivatives, provided that the end product doesn't contain more than 0.3% delta-9 THC.
If you're buying hemp-derived CBD supplements in Kansas, the most convenient method is to place an order online. However, there are also plenty of local retailers in the states as well.
Enjoy shopping for CBD in Kansas!