CBD Oil for Lung Cancer: Is Cannabis A Potential Treatment?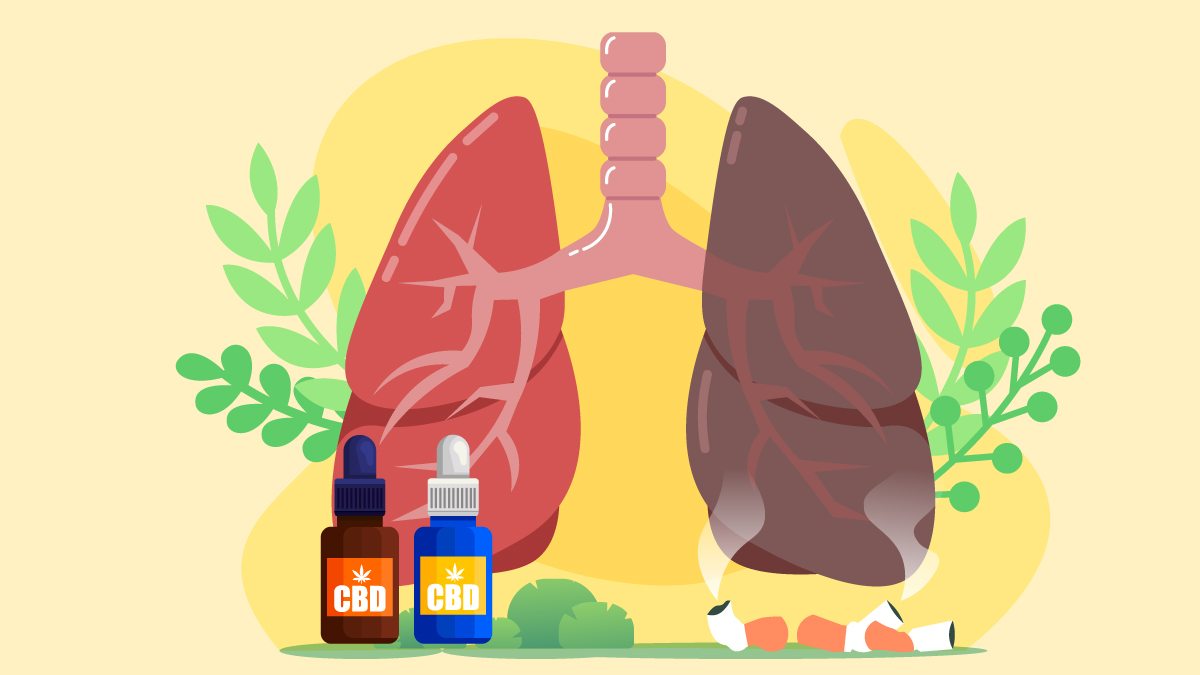 Lung cancer is the second most common form of cancer in the U.S. Sadly, it is estimated that more than 130,000 Americans will succumb to lung cancer in 2021.
Traditional treatments are widely regarded as being extremely difficult and painful to undergo. This fact, combined with the deadly threat posed by cancer, has contributed to a surge in research into new therapies and treatments for cancer worldwide.
One such area in treating cancer is the promising use of CBD oil. Several research studies have provided insight that using CBD oil may help prevent cancer growth. While more research is needed in this area, CBD oil is already being used to help manage the symptoms of cancer and the adverse health effects of various cancer treatments.
 Are All Cannabis Oils the Same?
There are many different types of cannabis oils:
CBD Oil. This oil is nonpsychoactive, meaning that it will not produce any feeling of being "high." This is due to the fact that CBD oil doesn't contain THC, which is the compound responsible for giving users such a sensation. CBD is valued for its many health benefits, which include easing pain, anxiety, and the side effects of going through chemotherapy.
There are three main types of CBD oil:
Broad-spectrum CBD oil
Full-spectrum CBD oil
CBD oil derived from CBD isolate
Hemp Seed Oil. Hemp is a plant that is very similar to cannabis, with the key difference being that it does not contain THC or other important cannabinoids. Hemp seed oil is mainly used in skincare products or as a cooking oil.
Marijuana-derived oil. This type of oil is made from dried marijuana buds and leaves. As a result, it has a higher ratio of THC than other types of cannabis oils like CBD oil or hemp-derived oil.
Rick Simpson Oil. This type of oil features high levels of THC with a varying CBD content depending on the formulation.
For Health and Safety, Choose CBD Oil
When you're looking for health benefits, it is CBD you want to emphasize when choosing a cannabis oil. Broad-spectrum CBD oil does not contain any THC, whereas full-spectrum CBD oil will have some THC present — but not more than 0.3%. CBD oil made from isolate involves a process of extracting all compounds from the cannabis plant. This process produces pure CBD in a crystal form which may be ground into a powder so that products are more convenient for consumption.
Can You Use CBD Oil to Treat Cancer?
There has been a push for research on whether CBD oil can help cure cancer. To date, there are many reports that CBD has helped people in dealing with this disease. But most of these reports are anecdotal evidence rather than scientific research. There isn't any way to confirm the reliability of these stories or whether other treatments may have contributed to these positive experiences.
Most of the scientific research is still in its early stages in exploring whether CBD use is an effective cancer treatment. But there have been some positive findings.
A 2019 study found that CBD and cannabis extracts may cause the death of cancerous cells and may enhance the efficacy of radiation treatment. Other studies have also found that CBD in conjunction with THC may improve the effectiveness of radiation treatment in patients.
A specific case was reported in 2019 concerning a man with lung cancer. He declined traditional treatments and opted for the use of CBD oil instead. His tumor seemed to react favorably to CBD oil treatment.
But it is too early to definitively declare that CBD has any positive effects on preventing or treating lung cancer.
However, there are other areas in which the use of CBD oil can help people cope with lung cancer.
Does the Use of CBD Oil Help with Cancer Symptoms?
It is difficult to say whether CBD oil can help in cancer treatment, given that there is limited research in this area. However, there are various research findings that suggest CBD use can be extremely valuable for patients dealing with cancer and cancer treatments.
Cancer treatment typically involves chemotherapy or radiation therapy. Both of these treatment options take a heavy toll on the human body.
The use of CBD oil can help with various side effects of lung cancer treatment, including:
Pain
Fatigue
Reduced appetite
Nausea
CBD has been found to provide relief from chronic pain. This benefit of CBD use can be extremely valuable for cancer patients undergoing intense chemotherapy or radiation treatments.
Nausea is another common side effect of cancer treatment options. CBD has been found to lower the symptoms of nausea resulting from chemotherapy.
Does CBD Oil Use Come with any Side Effects?
CBD oil is generally safe to take. When using CBD, the side effects are predominantly mild and may include:
Dry mouth
Drowsiness
Diarrhea
Anxiety
Changes in appetite
Like any compound, CBD oil may interact with any medication you are currently taking. As a precaution, you should consult with your doctor if you are considering using CBD while already taking prescription medication.
How Is CBD Oil Used?
Products infused with CBD generally fall into one of four categories that depend on the way they are used.
Ingesting CBD
There are many benefits to consuming CBD, which may help explain why there are so many options to choose from on the market today. Ingesting these products means that the CBD passes through your digestive system and gets metabolized by your liver. This enables the CBD you ingest to be provided all over your body over a period of a few hours.
Products in this category include capsules, tinctures, or drops and can be added to food or mix with coffee or tea.
Sublingual CBD
Alternatively, you can take CBD oil using a sublingual method. This involves placing a few drops of CBD oil under your tongue and holding it there for up to 60 seconds. This method allows the important compounds to be quickly absorbed into your bloodstream and dispersed throughout your body.
Topical CBD
To reduce any inflammation or relieve the pain you may experience, look for topical CBD products as they work the best. They give you the flexibility to apply them directly to whichever parts of your body need some relief. Topical CBD products include salves, shampoos, lip balms, creams, patches, suppositories, personal lubricants, and bath salts.
Inhaled CBD
Another popular way to take CBD is to inhale its vapors using vape carts and pens. This way, CBD enters your bloodstream quickly through your lungs and avoids the digestive system altogether. In particular, vaping has been growing in popularity with CBD use due to its ease of use and variety of flavors and options.
For CBD use with lung cancer, it is important to discuss your options with your doctor. This is particularly important for inhaling CBD.
Where Can I Buy CBD Oil?
With the passing of the 2018 Farm Bill, cannabis products are legal, theoretically, at the federal level as long as they contain less than 0.3% Delta 9 THC. As a result, many dispensaries and stores now carry a wide selection of CBD oils and other products.
If you prefer the many advantages of online shopping for your CBD oil, you have countless options to choose from. But keep in mind that CBD oils, for the most part, are largely unregulated. Therefore, you need to guarantee that your product is safe and effective.
According to a recent study, less than one in three CBD products that were sold online had a correct label, with many of these products having less CBD content than advertised or had a significant concentration of THC.
So be sure to carefully research the company and its products before buying.
Key Takeaways on Using CBD Oil for Lung Cancer
There isn't enough research to declare that CBD oil is effective as a treatment option for cancer. However, CBD may be able to offer some relief from the side effects of traditional treatments and from the symptoms of cancer.
It is a good idea to continue following the advice of your health care provider, even if your CBD oil seems to be giving you positive effects. Otherwise, stopping ongoing procedures could make future treatments more difficult and negatively impact your ability to treat tumors.
CBD oil is a promising ally in your battle with lung cancer. As more research becomes available, CBD oil may prove to be a viable treatment for your health needs.
References:
Dariš, B., Tancer Verboten, M., Knez, Ž., & Ferk, P. (2019). Cannabinoids in cancer treatment: Therapeutic potential and legislation. Bosnian journal of basic medical sciences, 19(1), 14–23.(1)
Ivanov, V. N., Wu, J., Wang, T., & Hei, T. K. (2019). Inhibition of ATM kinase upregulates levels of cell death induced by cannabidiol and γ-irradiation in human glioblastoma cells. Oncotarget, 10(8), 825–846.(2)
Scott K., Dalgleish A, & Liu W. (2014).The Combination of Cannabidiol and Δ9-Tetrahydrocannabinol Enhances the Anticancer Effects of Radiation in an Orthotopic Murine Glioma Model. Mol Cancer Ther December 1 2014 (13) (12) 2955-2967; DOI: 10.1158/1535-7163.MCT-14-0402 (3)
Sulé-Suso1 J., 2, Watson N., van Pittius D., & Jegannathen A. (2019). Striking lung cancer response to self-administration of cannabidiol: A case report and literature review. Sage Open Medical Case Reports.First Published February 21, 2019. (4)
Argueta, D. A., Ventura, C. M., Kiven, S., Sagi, V., & Gupta, K. (2020). A Balanced Approach for Cannabidiol Use in Chronic Pain. Frontiers in pharmacology, 11, 561. (5)
Rock, E. M., Sticht, M. A., Limebeer, C. L., & Parker, L. A. (2016). Cannabinoid Regulation of Acute and Anticipatory Nausea. Cannabis and cannabinoid research, 1(1), 113–121.(6)
Bonn-Miller, M., Loflin, M., Thomas, B., Marcu,J., Hyke, T., Vandrey, R. (2017) Labeling Accuracy of Cannabidiol Extracts Sold Online. JAMA. 2017;318(17):1708-1709. doi:10.1001/jama.2017.11909 (7)