Is Delta 8 Legal in New Jersey? NJ State Laws 2023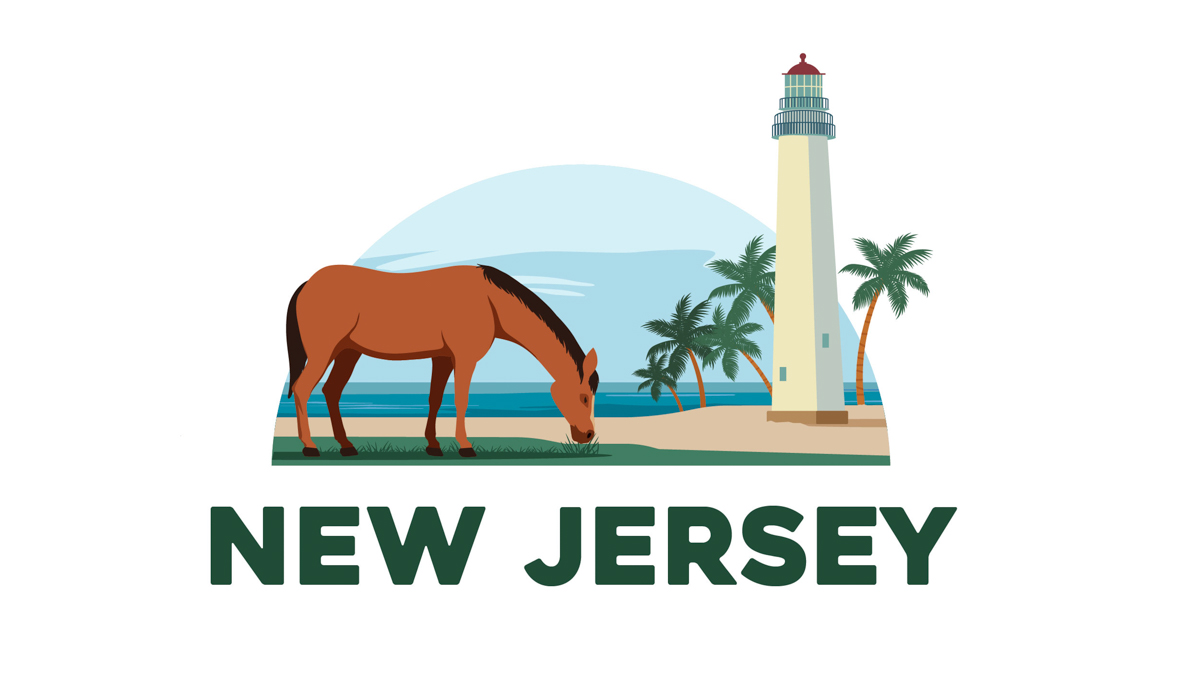 This article covers the legality of delta-8 THC in New Jersey. We discuss the difference between hemp- and marijuana-derived delta-8 products, explain potential traveling issues, and highlight the best delta-8 THC brands for 2023. You'll also learn how to safely buy delta-8 THC products and how to use them to get the most out of your buzz.
Delta-8 THC is legal under New Jersey state law.
New Jersey uses the same provisions as the 2018 Farm Bill, which legalized hemp at the federal level.
Hemp derivatives are legal as long as their delta-9 THC content doesn't exceed 0.3%.
Since delta-8 is converted from hemp, the end product meets the above criteria, making them federally legal, too.
14 states have restricted delta-8 THC products as a part of their right to make changes to federal regulations within their jurisdiction.
Here's what it looks like in New Jersey.
Is Delta-8 THC Legal in New Jersey?
Yes. In New Jersey, it's legal to possess, purchase, and distribute delta-8 THC products. However, they must come from hemp in order to meet the rules outlined by the Farm Bill.
This brings us to the differences between hemp and marijuana — they will help you better understand the legality of delta-8 products in New Jersey.
Related: Map of Delta 8 THC Legal States
Hemp vs. Marijuana Delta-8 THC
The Farm Bill clearly distinguishes hemp from marijuana by their concentrations of delta-9 THC.
Hemp is any Cannabis sativa L. plant with delta-9 levels below 0.3% on a dry-weight basis.
Marijuana, on the other hand, is any Cannabis sativa L. plant whose delta-9 THC levels exceed 0.3%.
Yes, a cannabis plant with 1% of delta-9 THC is technically marijuana. But the common range is 5–30%. This makes marijuana illegal at the federal level. So far, 19 states have legalized marijuana for recreational use, and 37 states have a medical marijuana program for qualifying patients.
Hemp is legal in all 50 states, and so are its derivatives.
At the federal level, hemp-derived delta-8 THC is treated the same as CBD. New Jersey follows the Farm Bill to the letter.
Do You Need a Medical Marijuana Card to Buy Delta-8 THC in New Jersey?
No. When you're buying hemp-derived delta-8 THC, nobody will ask you for a medical marijuana card. All you need to have is a valid ID confirming you're 21 or older.
You also don't need an MMJ card if you want to buy marijuana-derived delta-8 THC. You can purchase it from recreational dispensaries.
Where to Buy Delta-8 THC in New Jersey
New Jersey is home to many professional CBD stores where you can find some delta-8 THC products. Delta-8 THC has become popular that even gas stations sell it.
However, before you rush to the nearest local vendor for a bottle of delta-8 tincture or a bag of gummies, hold on for a second and reconsider your options.
If you're looking for honest deals on high-quality, lab-tested products, online stores are the way to go.
Benefits of Buying Delta-8 THC Online
Buying delta-8 THC online comes with several benefits that you won't find in a local store, such as:
Lower baseline prices: online stores can cut the price on the tag by avoiding the middleman.
Seasonal discounts: from coupon codes that can give you up to 20% discount, reward programs for returning customers, and subscription orders, there are plenty of ways to save even more money on delta-8 THC.
More transparency: you can read third-party lab reports and customer reviews
Better product selection: you can browse dozens of different formulas and compare them in the comfort of your home.
Fresher products: online stores don't hold them on the shelves for weeks or months, unlike local vendors.
Now you're probably wondering where to find a reliable delta-8 THC supplier.
Don't worry, I've got something for you.
Best Online Delta-8 THC Stores in New Jersey
If that's your first time buying delta-8 THC in New Jersey, you may end up overwhelmed by the abundance of different products. The fact that the market is unregulated doesn't make your choice easier.
As consumers, we must shoulder the responsibility for quality control. But combing through lab analyses and user reviews can be a time-consuming drag.
Fortunately, there are hemp dinosaurs like me who remember what the CBD space looked like just a few years ago. I've been following the delta-8 THC market since its emergence and have managed to make a strict selection of the top brands that provide the best value for the money.
Here are my two favorite picks that I've been buying from for the last three years.
1. Area 52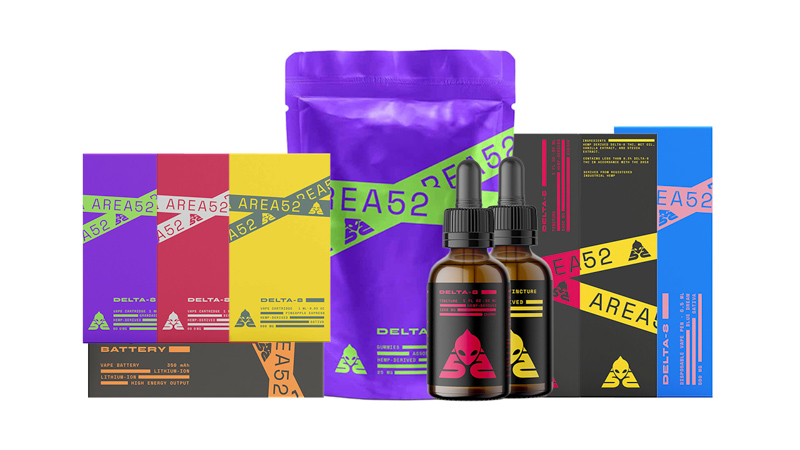 Area 52 is rooted in Nevada and specializes in delta-8 THC extracts based on pure distillate. You can choose from delta-8 THC tinctures, edibles, vape carts, and pre-rolls.
These products can pack a punch, with up to 40 mg of delta-8 per serving, and the selection of vapes and pre-rolled joints offers a great way to tailor the experience to your lifestyle. Area 52 infuses them with strain-specific terpenes to recreate their flavors, aromas, and effects.
Earlier this year, Area 52 released its new line of "true full-spectrum" products, featuring novel formats like HHC gummies and delta-8 THC honey, as well as some traditional products, such as energy gummies, sleep gummies, immunity gummies, and CBD oil.
All Area 52 products are triple-tested in an ISO-certified laboratory for potency and potential contaminants.
2. Finest Labs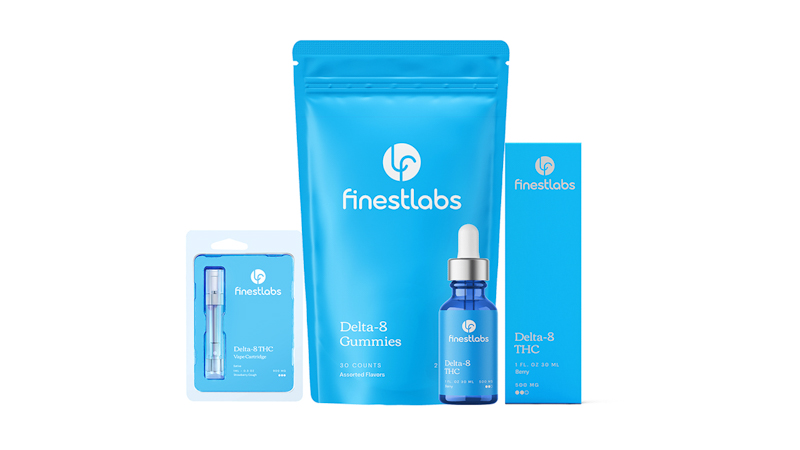 Finest Labs takes a scientific, no-BS approach to cannabinoid extracts. They want to destigmatize cannabis by helping people understand the benefits of blending cannabinoids and terpenes in specific ratios.
Its delta-8 THC lineup is rather humble, but Finest Labs puts quality over quantity. It offers delta-8 THC tinctures, gummies, and vapes.
The tincture is the optimal pick for beginner users. If you're highly sensitive to THC, you can start with this product to slowly gauge your sweet spot with 15 mg of delta-8 per mL.
The gummies are for more experienced users, packing 25 mg per serving. They come in a delicious medley of strawberry flavors and are sold in 30-count packets.
With vapes, you have the opportunity to adjust their terpene profiles to your liking. Finest Labs supports the idea of improving productivity with cannabinoids, so it offers mostly sativa and hybrid strains.
The company also has an impressive collection of botanical terpenes, offering 31 unique blends from various cannabis cultivars.
How to Buy Delta-8 THC in New Jersey
The delta-8 THC market is home to many great brands that make high-quality products and offer a high degree of transparency. However, there's also an equal number of fly-by-night companies trying to take advantage of unaware customers by selling them overpriced snake oil.
Fortunately, you can follow these 5 simple steps to help yourself make a well-informed decision:
Buy organic: organic ingredients carry fewer pesticides and heavy metals than their conventional counterparts. The same applies to hemp plants, which are dynamic bioaccumulators. In plain English, hemp absorbs every substance from its environment, including nutrients and toxins. The goal is to maximize the number of nutrients and avoid toxins as much as possible. That's why organic sources are the best for the job.
Opt for CO2-extracted products: CO2 extraction is by far the most effective way to pull the desired compounds from hemp. It yields clean and potent extracts without using aggressive solvents or high temperatures. It's also the most expensive technology out there, so companies that use it prioritize quality and are not afraid to invest more money in their customers' safety.
Read certificates of analysis (CoAs): these documents will tell you everything about the tested sample: its potency, additional ingredients, and purity. Third-party laboratories are unaffiliated with manufacturers, which provides unbiased insight into the product. Only purchase from companies that provide batch-specific CoAs.
Avoid bleaches: sometimes, manufacturers bleach their distillates to make them look cleaner and more appealing to customers. However, doing so may compromise the quality and safety of the end product. It's best to keep the distillate natural, in its amber and pinkish colors.
Choose reputable companies: many CBD brands with a well-established reputation are branching out with delta-8 THC extracts; they're more likely to deliver the desired quality and purity standards than no-name companies.
Is Delta-8 THC Safe?
Delta-8 THC is a milder analog of delta-9 THC, with around 50% of its potency. The psychoactive buzz is more easygoing and less likely to drive you anxious or paranoid, making delta-8 THC a safer alternative to marijuana.
How to Use Delta-8 THC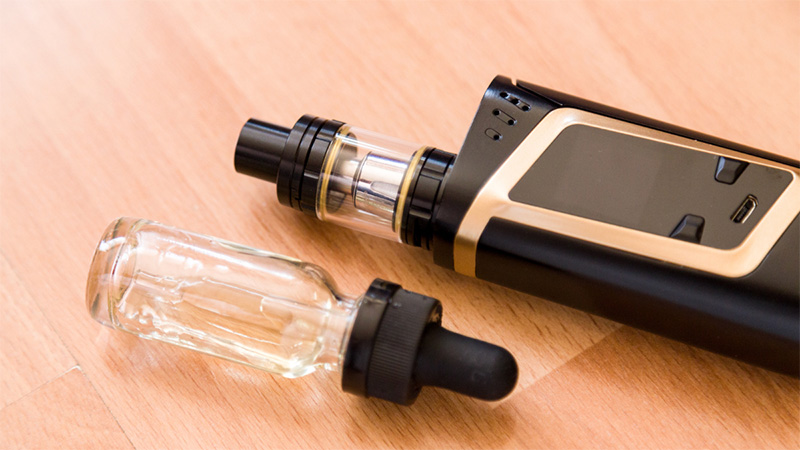 It's super easy, especially if you're familiar with CBD products.
Here are the most common forms of delta-8 THC:
Delta-8 THC tinctures: a tincture, like CBD oil, is taken under the tongue. You need to hold it there for about 60 seconds before swallowing. From there, the tincture will get absorbed through the sublingual membrane and reach the bloodstream. You should feel the effects after 30-40 minutes; they last for up to 6 hours.
Delta-8 THC distillate: this extract is the purest and strongest form of delta-8 THC out there. It's a thick, translucent extract that you can eat, smoke in a dab rig, or vape in a vaporizer.
Delta-8 THC edibles: edibles kick in with a slight delay after 60-90 minutes, depending on whether or not you have eaten something before. That's because they're first metabolized in the liver and then slowly released into the bloodstream. The effects develop gradually and last for up to 10 hours.
Delta-8 THC vape carts: these are small bullets filled with delta-8 THC distillate and terpenes. They can be attached to any 510 vape battery. To use the vape cart, place your lips over the mouthpiece and inhale the vapor for 2-3 seconds. Then, slowly exhale it. You should feel the effects within minutes of your last puff; they usually last for up to 3-4 hours.
Can You Fly Into New Jersey with Delta-8 THC?
Yes, you can legitimately fly with delta-8 THC into New Jersey. The 2018 Farm Bill legalized hemp at the federal level, allowing for cross-state transportation between states where delta-8 THC is legal.
Is CBD Legal in New Jersey?
Yes, CBD is authorized in New Jersey. As mentioned earlier, the state has fully adopted the rules created by the Farm Bill. The state has a robust CBD market; you can easily find CBD supplements on the shelves of organic food stores, wellness centers, dispensaries, pharmacies, and supplement shops.
However, since the market remains underregulated, the best way to buy high-quality, lab-tested CBD products is from an online store.
Related: Is CBD Legal in New Jersey?
Is Marijuana Legal in New Jersey?
Yes, weed is lawful in New Jersey for both recreational and medical use. Adults 21 and older can purchase up to one ounce of marijuana from state-licensed dispensaries and possess up to 6 ounces at home. However, growing weed remains illegal, even for medical marijuana patients.
Related: Is Marijuana Legal in New Jersey?
What About Delta-10 THC?
New Jersey treats all hemp-derived isomers of THC in the same way, meaning that delta-10 THC is fully legal there.
What's the Future of Delta-8 THC in New Jersey?
The future of delta-8 THC in New Jersey looks promising. The state doesn't restrict the sale and consumption of delta-8 products. Nothing seems that these laws will change anytime soon.
Delta-8 THC will likely remain legal in New Jersey. Alongside this, states that have banned delta-8 products should revoke their current laws as soon as the industry develops proper standards for manufacturing, lab-testing, and labeling practices.
New Jersey is one of the greenest states in the USA as of this writing. We can only expect the local cannabis market to thrive in the future, eventually contributing to the federal legalization of all forms of THC.