Is Delta 8 Legal in New Mexico? NM State Laws 2023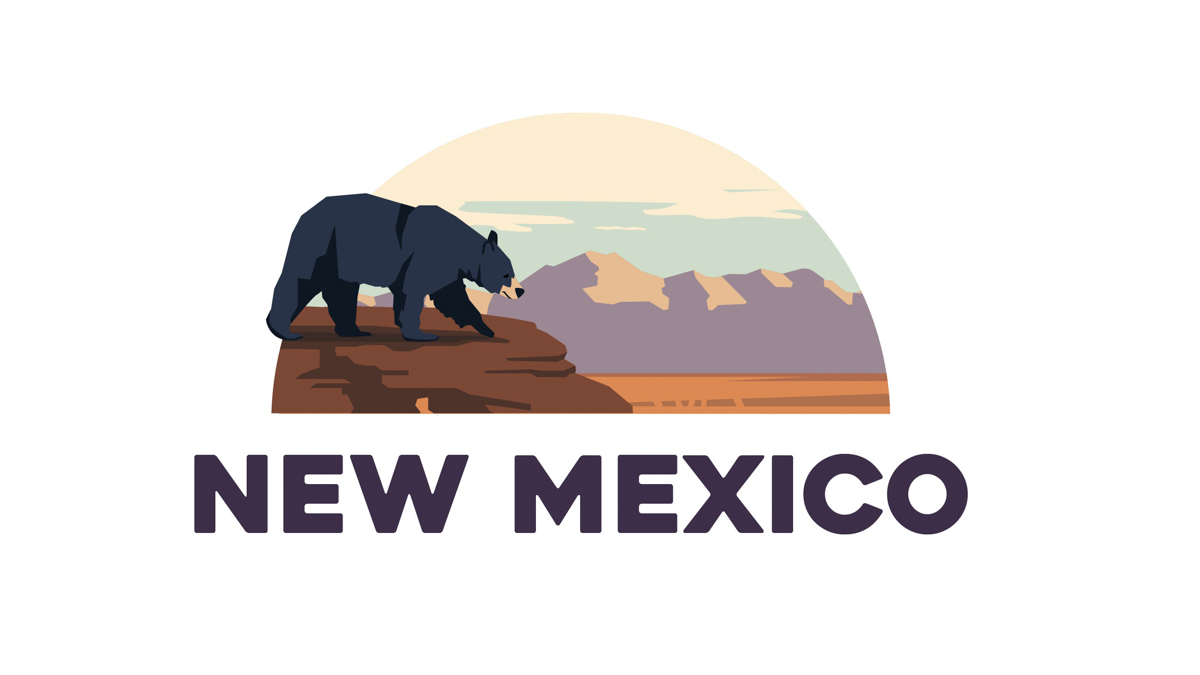 This guide contains a complete rundown of delta-8 THC laws in New Mexico. We explore the legal status of delta-8 THC from hemp, discuss the most burning questions (e.g. traveling, possession, and the legality of other cannabinoids), and point you to the best delta-8 THC vendors in New Mexico. You'll also learn how to shop for delta-8 THC to always get high-quality products and minimize the risk of getting scammed.
Delta-8 THC is a minor cannabinoid found in hemp that exploded in popularity over the last few years, with a promising safety profile and a wide range of potential health benefits.
While delta-8 THC is an analog of delta-9 THC from marijuana, it has less potency towards users and is known for a more relaxing experience.
Wondering if delta-8 THC is legal in Mexico?
This guide covers everything you need to know.
Is Delta-8 THC Legal in New Mexico?
Yes. New Mexico has legalized all hemp derivatives, including cannabinoids and their isomers, as long as they don't contain more than 0.3% delta-9 THC by dry weight.
The state has much better regulations regarding hemp products than Arizona, which established contradictory laws regarding "tetrahydrocannabinols."
In New Mexico, Delta-9 THC is the only tetrahydrocannabinol on the list of controlled substances.
Related: Where Is Delta 8 THC Illegal?
This brings us to the differences between hemp and marijuana.
Hemp vs. Marijuana Delta-8 THC
Hemp and marijuana are both members of the Cannabis sativa L. genus. However, they're different when it comes to their chemical makeup.
Hemp means any cannabis sativa L. plant, and any part of that plant, including seeds and all derivatives, extracts, cannabinoids, isomers, acids, salts, and salts of isomers, whether growing or not, with a THC level of no more than 0.3% on a dry weight.
Marijuana, on the other hand, is any cannabis plant whose THC concentrations breach the federally accepted limit. Marijuana plants can have anywhere between 5-30% delta-9 THC.
Unlike hemp, marijuana is federally illegal. 19 states have legalized it for recreational use so far, while 37 states have comprehensive medical marijuana programs for qualifying patients.
Do You Need a Prescription to Buy Delta-8 THC in New Mexico?
Not when you buy hemp-derived delta-8 THC. Such products are sold without a medical marijuana card and can be found in professional CBD stores, wellness centers, organic shops, and even at gas stations.
You may need a medical marijuana card when you try to purchase marijuana-derived delta-8 THC, but such products are a rarity because there's not much research regarding the health benefits of this cannabinoid.
Where to Buy Delta-8 THC in New Mexico
Much as I understand the desire to head to the nearest local delta-8 store and try out a few delta-8 THC products, you may want to hold your horses.
Local vendors, convenient as they are, don't always stock the best products; they're also not as fresh as those that you buy online due to being stored on the shelves for months.
Not to mention that you have limited options for verifying the quality of these products and the transparency of their manufacturers.
Online is where you can find the best deals on high-quality delta-8 THC extracts.
Benefits of Buying Delta-8 THC Online
Wondering why most transactions on delta-8 THC are made online these days?
Here are a few reasons:
You can take advantage of lower baseline prices because online stores can cut out the middleman
You have a few ways to save even more money with reward programs, subscription orders, and seasonal discounts.
Online stores offer a better choice of products, not to mention that they're fresher than their in-store counterparts.
It's easier to verify the credibility of your vendor by reading lab reports and user reviews.
Nothing can beat the convenience of shopping in the comfort of your home, unrestricted by the location and opening hours.
Best Online Delta-8 THC Stores in New Mexico
It may be challenging to find a trustworthy delta-8 THC store due to the lack of regulations on the market. With no manufacturing, testing, and labeling standards in place, many scammy businesses are taking advantage of unaware customers, selling them overpriced snake oils.
I understand you may not have the time to read hundreds of lab reports and verify every single manufacturer out there.
That's why I did the digging for you.
After analyzing the 30 most popular delta-8 THC brands on the market, I've found two mavericks that make high-quality products at reasonable prices. I've been using their products for 3 years now and couldn't be more satisfied with the results.
1. Area 52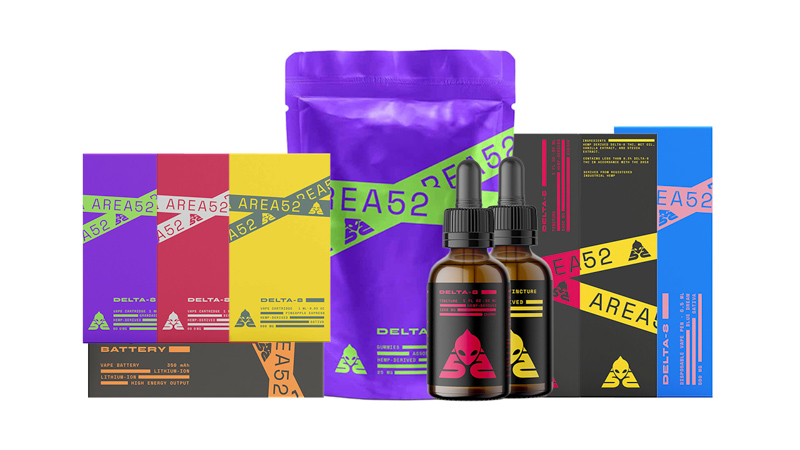 Get 15% off all Area 52 products. Use code "CFAH" at checkout.
Area 52 is rooted in Nevada and specializes in delta-8 THC products from the pure distillate. The company wants to help you "alienize your mind" and reach a new level of well-being with its hemp-derived cannabinoids.
You can choose between delta-8 THC tinctures, vape carts, edibles, and pre-rolled joints. The tincture and gummies are better for experienced users due to their high potency (up to 40 mg per serving). The inhalable products make for a decent pick for sensitive consumers who want to figure out their optimal dosage with delta-8 and leverage the entourage effect thanks to their high terpene content.
And if you're up for experimenting with different cannabinoids, Area 52 has got you covered with its line of "true full-spectrum" products that features classic forms like energy, sleep, and immunity gummies, as well as novel products like HHC gummies or delta-8 THC honey sticks.
All of Area 52 products are rigorously tested in an ISO-certified laboratory for potency and purity at different manufacturing stages.
2. Finest Labs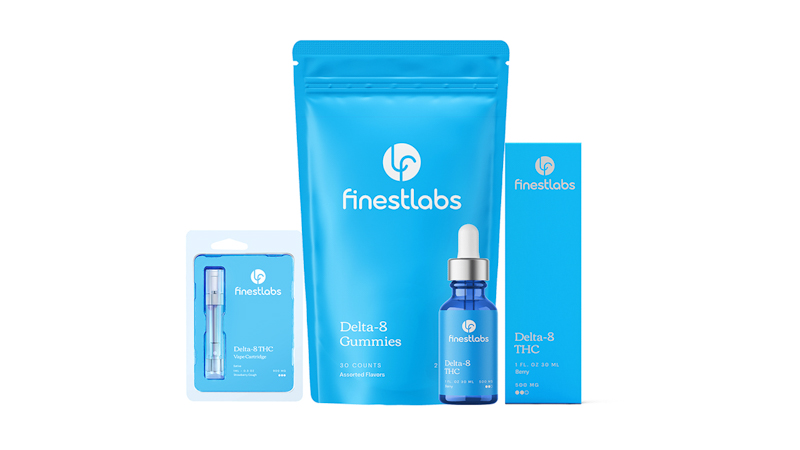 Finest Labs is a science-oriented brand that aims at destigmatizing cannabinoids and revealing their therapeutic potential to the public.
Unlike many other Delta-8 companies, this one focuses on three simple products — delta-8 THC tinctures, gummies, and vape carts.
The tincture is great for beginners, especially those with low tolerance and high sensitivity to THC because it packs 15 mg per serving.
The gummies will take your buzz a little higher (pun intended) with 25 mg in every piece. They also come in a medley of delicious strawberry flavors.
The carts are infused with terpenes from different cannabis strains — indica, sativa, and hybrid — allowing you to personalize your experience with delta-8 THC.
Finest Labs is also one of the most respected vendors of botanical terpenes in the country. It offers over 30 blends that recreate certain cultivars' aroma and flavor profiles.
How to Buy Delta-8 THC in New Mexico
Buying delta-8 THC seems difficult only at first glance. Once you know the basics, you'll be able to separate the wheat from the chaff right off the bat.
Here are 5 dead-simple steps you can steal from me if you want to ensure an educated purchase decision:
Go organic: organic hemp is the best for making cannabinoid extracts because it's free from pesticides and heavy metals. Hemp plants are dynamic bioaccumulators, meaning they absorb every substance from their environment. Organic farming maximizes the nutrients and minimizes the risks of contamination. The same applies to other ingredients in the formula. Whenever you have a choice between conventional and organic products — choose organic every time.
Opt for CO2-extracted products: CO2 extraction yields clean and potent extracts without relying on hazardous solvents and high temperatures. It's also the most expensive method out there, so if you find a manufacturer who uses this technology, it's a sign it prioritizes quality and is eager to invest significant resources to ensure the products are safe and effective.
Read third-party lab reports: a certificate of analysis (CoA) from a third-party laboratory will show you the whole content of the product, including the potency of the main active ingredient, the presence of other ingredients, and potential contaminants. A full panel from the CoA should list results for pesticides, heavy metals, mold, and solvents.
Steer away from bleaches: some manufacturers bleach their distillates to make them look cleaner and more appealing to the user. However, adding bleach to the process may compromise the quality and safety of the end product. Natural distillate can be anywhere from light amber to pinkish, and there's nothing wrong with that.
Buy from reputable brands: user reviews will tell you more about the brand and its products than what you can read on its website. Many CBD companies are expanding their lineups with delta-8 extracts; it's better to choose them over no-name brands or manufacturers with a suspiciously high number of negative reviews.
Is Delta-8 THC Safe?
The potency of delta-8 THC has been measured at around 50% of delta-9 THC. The psychoactive buzz is smoother, more relaxing, and less likely to drive you anxious or paranoid.
Of course, you can still experience these side effects, but their incidence is much lower.
This makes delta-8 THC safe and a better alternative to marijuana, especially for sensitive users.
How to Use Delta-8 THC
If you've ever used CBD products, using delta-8 THC is easy like a walk in the park. It comes in similar formats to CBD; the most popular products include:
Delta-8 THC tincture: similar to CBD oil, you take it under the tongue, hold it for about 60 seconds, and swallow. This way, the tincture will get absorbed through the sublingual membrane in your mouth, ensuring higher bioavailability and faster effects.
Delta-8 THC distillate: this is the purest and most concentrated form of delta-8 THC. It's a thick extract that you can vape in a vape pen, smoke in a dab rig, or eat it.
Delta-8 THC edibles: like cannabis edibles, delta-8 treats must be metabolized in the liver before the effects kick in, creating a 60-90-minute delay. On the other hand, the effects may last up to 10 hours. The most popular type of delta-8 THC edibles are gummies and honey sticks.
Delta-8 THC vape carts: these are 1-mL bullets infused with delta-8 THC distillate and various terpenes. To use a vape pen, put your lips over the mouthpiece and inhale the vapor for 2-3 seconds. Hold it for a while in your lungs and slowly exhale. This way, you can feel the effects of delta-8 within minutes after inhalation; they should last for about 3-4 hours.
Can You Fly Into New Mexico with Delta-8 THC?
Yes. Delta-8 THC is federally legal, so you can transport it between two states that have legalized hemp. Just make sure you carry the CoAs in case the security control wanted to check if your tincture, vape, or gummies really contain no more than 0.3% delta-9 THC.
Is CBD Legal in New Mexico?
Yes. New Mexico follows the language of the 2018 Farm Bill and allows hemp-derived CBD supplements. Similar to delta-8 products, CBD extracts are legal in New Mexico if they contain no more than 0.3% delta-9 THC by dry weight.
Related: Is CBD Legal in New Mexico?
Is Marijuana Legal in New Mexico?
Recreational and medical marijuana are both permitted in the state. You can legally purchase marijuana in New Mexico from licensed dispensaries if you're 21 or older.
Related: Is Marijuana Legal in New Mexico?
What About Delta-10 THC?
Delta-8 THC is legal under New Mexico state law along with other isomers of THC. However, delta-10 products are less popular than delta-8; again, I recommend checking out online vendors for a broader selection of delta-10 THC extracts.
What's the Future of Delta-8 THC in New Mexico?
With the majority of the states looking to legalize marijuana, the future of delta-8 THC and the cannabis industry as a whole is optimistic.
New Mexico, in particular, has already gone ahead of the other states, legalizing marijuana in its full spectrum.
As more users become aware of the benefits of delta-8 THC and its milder psychoactive profile, the market will only continue to thrive.
The greatest challenge as of today is to implement sufficient regulatory measures that will prevent scammy companies making contaminated products from entering the market.
Always make sure to purchase your delta-8 THC products from trustworthy vendors. Ask for certificates of analysis and read user reviews on independent websites to base your decision on verified information and opinions of real people.
Enjoy shopping for delta-8 THC in New Mexico!