Is Delta 8 Legal in Virginia? VA State Laws 2023
This article provides a complete overview of delta-8 THC laws in Virginia. Delta-8 THC is extracted by converting CBD from hemp, which makes it federally legal. However, individual states have the power to regulate cannabis within their jurisdictions. Here we answer whether or not delta-8 THC is legal in Virginia, what products you can buy, and where to get them.
The popularity of delta-8 THC has skyrocketed in the USA throughout the last two years.
The majority of delta-8 THC products are extracted from hemp, making them federally legal.
But since states have the power to regulate federal laws on their own, people in Virginia are curious if their state allows delta-8 THC.
Well, it's legal, but not in the whole spectrum.
In this article, we provide a complete rundown of delta-8 THC laws in Virginia.
Let's dive into it.
Is Delta-8 THC Legal in Virginia?
Yes, although the availability of certain hemp-derived delta-8 THC products has been restricted.
Lawmakers in Virginia stipulated that delta-8 THC is an illegal food adulterant, discouraging manufacturers from using it in edibles and drinks.
The only way to legally buy delta-8 THC edibles is through a state-licensed cannabis dispensary.
However, delta-8 THC products such as oils and vapes are still openly sold in local stores across the state.
Related: Legal Status of Delta 8 in the US
Hemp vs. Marijuana Delta-8 THC
The source of delta-8 THC is paramount for its legality.
Hemp is any Cannabis sativa plant whose concentrations of delta-9 THC don't exceed 0.3% by dry weight.
Marijuana is any Cannabis sativa plant that contains more than 0.3% delta-9 THC.
Under federal law, marijuana is a Schedule I substance, which involves steep penalties even for simple possession.
Hemp, on the other hand, was federally legalized in 2018 by the amended Farm Bill.
The only requirement is that hemp-derived delta-8 THC products contain no more than 0.3% delta-9 THC
Some states have fully adopted the provisions of the Farm Bill, while others banned it completely. As you can see, Virginia took the middle ground.
Do You Need a Medical Marijuana Card to Buy Delta-8 THC in Virginia?
No, a medical marijuana card isn't necessary if you want to buy delta-8 THC in Virginia. However, not all products are so freely available across the state.
As mentioned, you can only buy delta-8 THC tinctures, vapes, and flowers, but if you want to enjoy edibles, then you must visit a recreational dispensary.
Recreational sales are set to launch at the beginning of 2024.
Where to Buy Delta-8 THC in Virginia
Now you know that delta-8 THC edibles are off-limits in Virginia unless you live near a recreational marijuana dispensary.
However, other products are available in local head shops, vape stores, and wellness centers. You can also buy them online — which is what I do with all my cannabis stuff.
Here's why.
Benefits of Buying delta-8 THC Online
Buying delta-8 THC near you sounds tempting and convenient, but when you give it a second thought, it may dawn on you that you'll reap more benefits when buying delta-8 products online.
When you purchase delta-8 THC from online stores, you can take advantage of:
Lower prices
Seasonal discounts, reward programs, and subscription orders
Greater product choice
Shopping in the comfort of your home
Fresher products
Third-party lab reports and customer reviews
In short, you have a better toolset for vetting your potential suppliers.
Best Online Delta-8 THC Stores
The delta-8 THC is a wild, wild space — with no regulations surrounding the manufacturing, labeling, and lab-testing standards.
In plain English, people can sell you snake oil labeled as delta-8 THC, and you can't do anything about it but complain.
So, to save you the precious time you'd have to spend on researching different brands, I've come up with my personal recommendations of two brands that are a textbook definition of quality, integrity, and transparency.
1. Area 52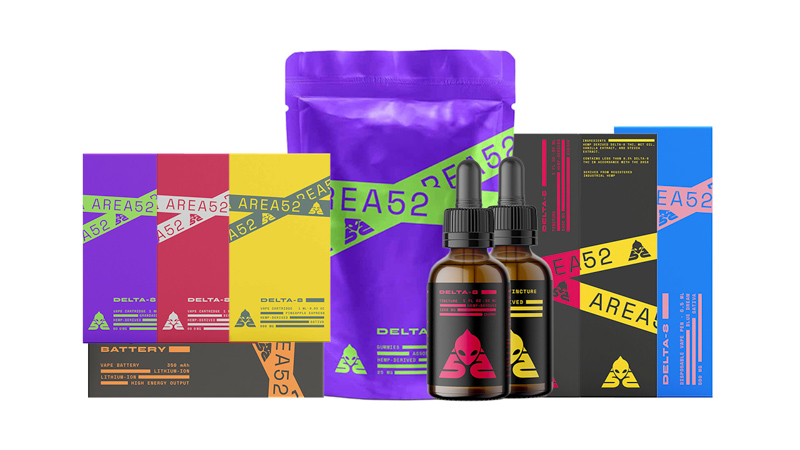 Get 15% off all Area 52 products. Use code "CFAH" at checkout.
Area 52 is rooted in Nevada and specializes in various extracts from unique cannabinoids, such as delta-8 THC, CBG, CBN, and CBC. Its mission, "alienize your mind" pretty much sums up how these products work.
Area 52 offers several delta-8 THC products, including tinctures, gummies, vape carts, and pre-rolls. They're made with pure distillate and infused with terpenes to create the synergy called "the entourage effect." This biological phenomenon enhances the psychoactive buzz and health benefits of delta-8 THC.
The Area 52 collection is suited for both beginners and experienced users alike, with 25-40 mg of delta-8 THC per serving. If you want to experiment with different cannabinoids, you can combine these products with the company's "true full-spectrum" line that features energy gummies, sleep gummies, immunity gummies, CBD oil, and delta-8 THC honey.
2. Finest Labs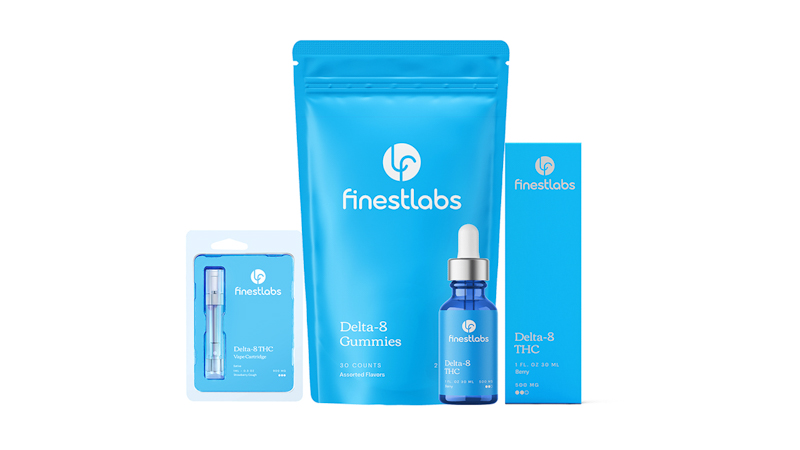 Finest Labs is a surefire pick if you're looking for a company that offers only a few simple formulas that focus on the ratios between delta-8 THC and terpenes. The brand was established by scientists and cannabis researchers with a mission to destigmatize cannabis.
You can choose from two product types: delta-8 THC tinctures and gummies. The tinctures are a better pick for beginners because they contain only 15 mg of delta-8 THC per serving. If your tolerance to THC is higher, check out its gummies; they pack 25 mg in one piece.
Finest Labs also has an impressive selection of terpenes, featuring 31 unique blends that resemble the aroma and flavor profiles of various cannabis strains (indica, sativa, and hybrid).
How to Shop for Delta-8 THC in Virginia
As mentioned in the previous sections, the delta-8 THC market lacks regulations in terms of manufacturing, labeling, and testing standards. Manufacturers shed the responsibility for quality control on consumers, adding more unnecessary burden to the table.
Fortunately, you can follow these dead-simple steps to increase your chances of finding a high-quality product in the sea of mediocrity.
Choose organic ingredients: hemp plants are dynamic bioaccumulators, meaning they absorb every substance from their environment. This includes nutrients and toxins. The goal is to maximize the former and minimize the latter. Organic ingredients are the best for the job, hence the importance of sourcing delta-8 from organic hemp and using all-natural ingredients.
Opt for CO2-extracted products: CO2 extraction is the golden standard because it yields clean and potent products without using high temperatures or aggressive solvents. It's also the most expensive technology out there, so companies that invest in it prioritize quality and safety.
Avoid bleaches: bleaches are sometimes used to increase the appeal of delta-8 THC distillates. However, adding bleach during the production process may compromise the quality and safety of the final product. Natural distillates can be anywhere from pinkish to lightly golden, and there's nothing wrong with them.
Read third-party lab reports: certificates of analysis (CoAs) from third-party laboratories list the entire chemical profile of the tested sample, including cannabinoids, terpenes, and common contaminants like pesticides, heavy metals, solvents, and mold. Never purchase from a company that doesn't deliver batch-specific CoAs with a complete testing profile.
Pick reputable companies: brands with well-established reputations are more likely to give you the expected quality than no-name companies. Many reputable CBD manufacturers are expanding their line-ups with delta-8 products these days.
Is Delta-8 THC Safe?
Delta-8 THC isn't as powerful as delta-9 THC. It's about 50% as strong, meaning you'd need to double your dose to achieve the same intensity of effects.
Because of that, delta-8 THC is also less likely to drive you anxious or paranoid, making delta-8 safe and a good alternative to marijuana.
How to Use Delta-8 THC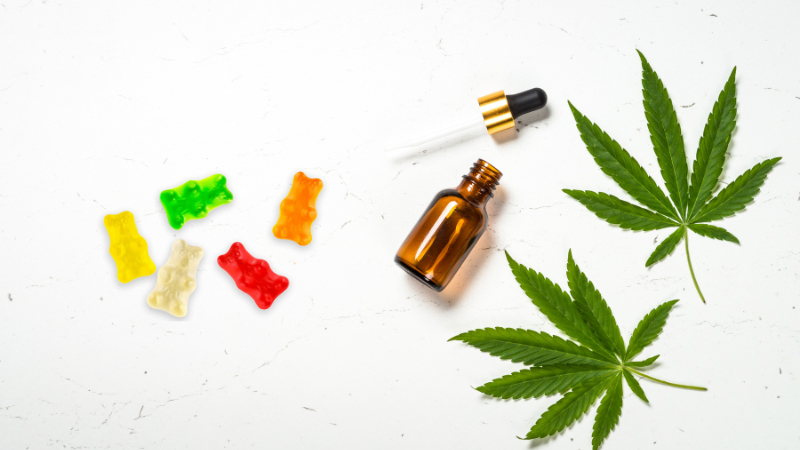 If you're familiar with CBD products, using delta-8 THC is easy-peasy.
Delta-8 comes in the same formats. The most popular ones include:
Delta-8 THC tinctures: you take them under the tongue, hold for about 60 seconds, and swallow. Tinctures get absorbed through sublingual membranes, ensuring faster absorption and higher bioavailability than oral products. The effects usually kick in after 30-45 minutes and last for up to 6 hours.
Delta-8 THC distillate: that's the purest and most potent form of delta-8 THC out there. You can eat it, vape it in a vape pen, or smoke it in a dab rig.
Delta-8 THC edibles: this form of delta-8 THC takes more time to kick in because the active compound must be metabolized in the liver before it enters the bloodstream and reaches your brain receptors. Edibles usually hit after 60-90 minutes, depending on whether or not you've eaten anything before. The buzz can last for up to 10 hours.
Delta-8 THC vape carts: a vape cart usually contains 1 mL of distillate blended with terpenes. You can screw it into any 510 battery and enjoy the effects of delta-8 THC within minutes from inhaling. To vape, the cart, place your lips over the mouthpiece, inhale the vapor, hold it in the lungs for a few seconds, and slowly exhale. The effects should last for up to 4 hours.
Can You Fly Into Virginia with Delta-8 THC?
Yes. You could legally fly with Delta-8 THC to Virginia as long as your product contains no more than 0.3% delta-9 THC.
Is CBD Legal in Virginia?
Yes. Virginia has fully adopted the rules laid out by the 2018 Farm Bill, legalizing hemp derivatives, including cannabinoids, terpenes, extracts, isomers, acids, salts, and salts of isomers.
CBD is widely available in Virginia's dispensaries, pharmacies, fitness centers, vape shops, and online.
Is Marijuana Legal in Virginia?
Yes. Virginia legalized marijuana for recreational use in 2021. However, the first recreational dispensaries won't open until 2024. This makes cannabis users dependent on home grow and hemp-derived delta-8 THC products.
Virginia also has a medical marijuana program. If you have a qualifying medical condition, you can register for a medical marijuana card and buy cannabis from licensed dispensaries.
Related: Is Marijuana Legal in Virginia?
What About Delta-10 THC?
Delta-10 THC is also legal in Virginia. It's an isomer of THC, so as long as your product contains less than 0.3% delta-9 THC, you won't be punished for possession.
What's the Future of Delta-8 THC in Virginia?
Delta-8 THC will most likely remain legal in Virginia, although it's unclear whether or not the state will change its stance on delta-8 THC edibles and beverages.
For now, you can legally enjoy delta-8 THC vapes, tinctures, and flowers — still better than the states that banned all forms of delta-8.
The rules regarding edibles and drinks could take a shift once recreational sales launch. But even when that happens, such products won't be allowed to resemble candies for children, such as gummy bears, fruits, worms, etc.
I hope this article has helped you wrap your head around Virginia delta-8 THC laws. You can use my recommendations for the best delta-8 THC products from this guide; in the meantime, I encourage you to do your own research. It's fun, and it will help you make a well-thought-out decision.