Is Weed Legal in Oklahoma? OK Cannabis Laws (June 2023)
This article contains a complete guide to the legality of marijuana in Oklahoma. We break down the state medical marijuana laws and discuss recreational legalization perspectives.
Oklahoma has legalized marijuana for medical use. If you have a qualifying condition, you can apply for a medical marijuana card and buy your medicine from one of the state-licensed dispensaries.
Adult-use (recreational) marijuana remains illegal. Currently, possession of any amount of weed is a misdemeanor punishable by up to one year in prison and a maximum fine of 1,000.
There's a decriminalization initiative pending in the Senate, which would have decriminalized certain marijuana-related offenses.
In this article, we discuss the legal status of marijuana in Oklahoma, the future of legalization, and a federally legal alternative.
Is Weed Legal in Oklahoma?
Weed is legal in Oklahoma only for medical use. Qualifying patients can buy marijuana from one of the state-licensed dispensaries.
However, things look different regarding the recreational use of marijuana.
Related: Where is Weed Illegal?
Here's what you need to know about marijuana laws in Oklahoma.
Is Recreational Marijuana Legal in Oklahoma?
No, recreational marijuana users can't legally smoke weed, or any other marijuana products, in Oklahoma.
Possession of any amount of marijuana is subject to fines and a prison sentence; more on that later in the article.
Is Medical Marijuana Legal in Oklahoma?
Oklahoma legalized medical marijuana in 2018 when State Question 788 was passed by the voters. The Oklahoma Medical Marijuana Association started accepting online patient applications in Augusts.
Patients need to obtain a board-certified physician's signature. There's no official list of qualifying conditions, meaning that you can receive recommendations from your doctor if they deem medical marijuana beneficial in your case.
Penalties for Marijuana Possession
Marijuana is strictly penalized in Oklahoma, although sentencing is quite simple for possession.
Having any amount of marijuana may result in misdemeanor charges, punishable by up to 1 year of incarceration and a maximum fine of $1,000.
Subsequent offenses are subject to similar punishments.
The sale or distribution of marijuana carries penalties between 2 years and a life sentence on top of $20,000 – $500,000, depending on the amount you're caught with.
Is Weed Decriminalized in Oklahoma?
No, Oklahoma penalizes marijuana possession regardless of the amount. You may try to defend yourself in court and reduce the severity of the penalty, but the trial will be inevitable.
What's the Future of Cannabis Legalization in Oklahoma?
Two legalization bills are pending in the Senate. The first one is known as the Oklahoma Marijuana Regulation Act.
The new law would legalize the possession of up to eight ounces of marijuana for adults aged 21 and older.
This measure is a constitutional amendment, meaning activists need to collect a minimum of 177,958 valid signatures from registered voters in order to put them on the ballot.
The other bill has been introduced by the group New Approach PAC. AQ 820 would allow adults 21 and older to purchase and possess up to one ounce of marijuana and grow up to six mature plants for personal use.
This proposal is statutory, meaning fewer signatures (94,911) are required to qualify it on the ballot.
Delta-8 THC: A Better and Legal Alternative to Marijuana in Oklahoma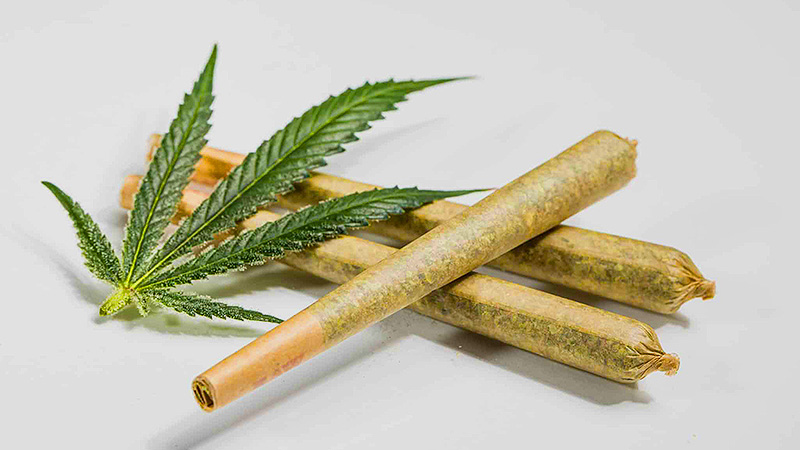 If you're not a medical marijuana patient, your hands are tied when it comes to buying weed in Oklahoma.
But! There's a federally legal alternative that you can find both in local and online stores.
Ever heard of delta-8 THC?
This hemp-derived cannabinoid is making waves on the market these days; it produces similar effects to delta-9 THC from marijuana, but it's less powerful, hence the lower risk of anxiety and paranoia.
Here's how delta-8 THC compares to regular weed.
Delta-8 THC vs. Delta-9 THC
Delta-8 THC and delta-9 THC are two variants of the THC molecule. They have a similar chemical formula, but their structure is slightly different.
Delta-8 THC comes with a double bond at the eighth carbon chain, while delta-9 THC has it at the ninth chain.
This subtle difference makes delta-8 THC about 50% as potent as delta-9, to which it owes the title of "diet weed" or "cannabis light."
Why is this feature beneficial for some users?
Here's the explanation.
Cons of Delta-9 THC from Marijuana
Delta-9 THC is a psychedelic compound with a biphasic nature.
Now back to the human language. This cannabinoid can get you high at certain doses, and this high can be either fantastic or not-so-pleasant, to put it mildly.
Low and moderate doses of delta-9 THC offer stress relief, cognitive boost, pain mitigation, and mood elevation.
Large doses get you high, altering your thinking patterns, and causing euphoria, laughter, increased appetite, and deep relaxation.
I've just described the fantastic feeling.
But for some individuals, delta-9 THC reveals its second face, especially at large doses. If you take too much THC, you may experience the following:
Anxiety
Paranoia
Feelings of discomfort
Cold sweats
Dizziness
Confusion
Increased heart rate
Short-term memory problems
That's where delta-8 THC comes into the picture.
Effects and Benefits of Delta-8 THC
Delta-8 THC produces similar effects to delta-9 THC, but they're not as potent. You're less likely to feel anxious or paranoid after delta-8 THC (but that can happen if you use it irresponsibly).
These delta-8 THC's health benefits are the reason why people use it:
Anti-nausea
Anti-inflammatory
Pain relief
Increased appetite
Feelings of calmness and relaxation
Euphoria
Neuroprotection
Is Delta-8 THC Legal in Oklahoma?
Yes! The law in Oklahoma aligns with the 2018 Farm Bill, which legalized hemp and its derivatives at the federal level.
Hemp-derived delta-8 THC is legal as long as the end product contains 0.3% delta-9 THC or less on a dry weight basis.
That's why the popularity of such products has skyrocketed over the last two years — giving rise to other isomers of THC, such as delta-7, delta-10, THC-O, THC-P, and HHC.
Benefits of Buying Delta-8 THC Online
There's a good reason why the majority of transactions on delta-8 THC are made online.
Online shopping offers three perks that you won't find in local stores.
The most important one — is lower prices.
Online stores can cut out the middleman, so they don't need to raise their price tags. They can also offer other ways to save money on high-quality products, including reward programs, subscription orders, and coupon codes.
Besides the financial argument, you can browse dozens of formulas and their prices without leaving home. You're also unrestricted by the opening hours, meaning you can shop for delta-8 online at 2 am in your pajamas.
And last but not least — transparency.
When you buy delta-8 THC online, you can look into third-party lab reports, analyze customer reviews, reach out to other users on social media groups and forums, and read the "About Us" section of the company to make an educated decision.
Best Online Delta-8 THC Stores
Finding a reputable online vendor can be a challenge, especially since the delta-8 THC space is unregulated.
You need to devote a serious amount of time to research if you want to avoid being scammed.
Feeling in a rush? Here are my personal recommendations for the two leading brands:
1. Area 52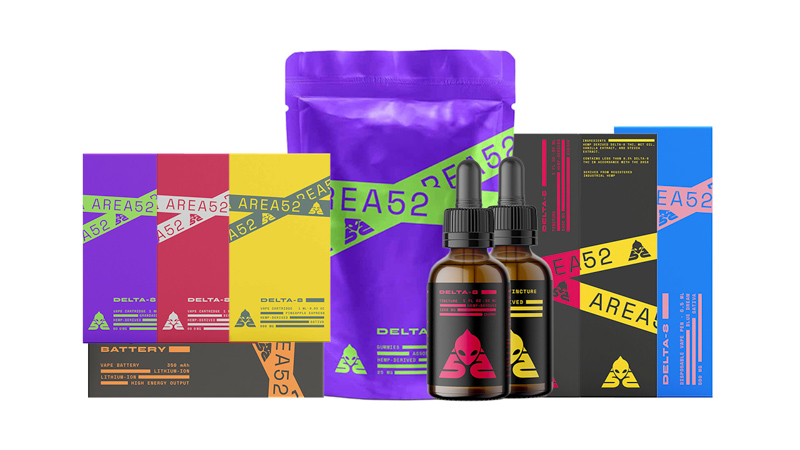 Get 15% off all Area 52 products. Use code "CFAH" at checkout.
Area 52 is a Nevada-based manufacturer offering a wide range of cannabinoid-based extracts. Its greatest expertise, however, lies in delta-8 THC products.
Area 52 makes delta-8 THC tinctures, gummies, honey sticks, vape carts, and pre-rolled joints. All products are potent, packing between 25–40 mg of delta-8 per serving; they're also rich in terpenes, enhancing the overall buzz from the product. Depending on the selected formula, the effects lean toward energizing or sedating.
The company has recently branched out with a new line of "true full-spectrum products," such as HHC gummies, CBG Gummies, CBN Gummies, Immunity Gummies, and CBD Oil.
2. Finest Labs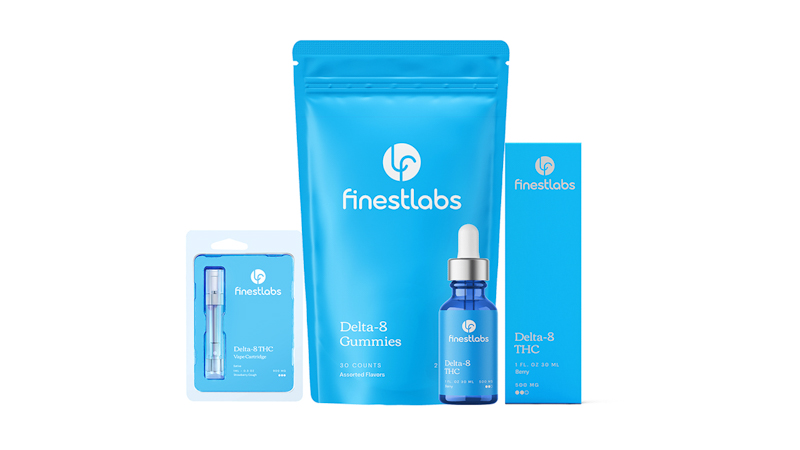 Finest Labs is one of the best options for beginner delta-8 users. This brand offers a humble product selection, but the formulas are mastered to perfection.
You can choose from tinctures, vape pens, and edibles — all crafted with premium-grade ingredients and infused with trace cannabinoids and terpenes for a more powerful effect.
Finest Labs is also one of the most reputable manufacturers of botanical terpenes in the USA. It offers single terpenes and special blends that recreate the flavor and aroma profiles of various cannabis strains.
FAQs
Who Can Use Medical Marijuana in Oklahoma?
Oklahoma boasts one of the most liberal medical marijuana programs and only requires that applicants be state residents 18 years or older with a recommendation from a board-certified physician.
There's no list of qualifying conditions, so if your doctor decides that your case could benefit from medical marijuana, they will give you their signature.
A medical marijuana card is valid for 2 years; you need to pay a $100 fee upon application.
Can You Grow Weed in Oklahoma?
You can grow weed in Oklahoma only if you have a state medical card and follow the state's legal limits: six immature plants and six mature plants. You must grow them on your property or receive permission from the landlord if you rent. The plants can't be visible from the street.
Can You Smoke Marijuana in Public?
Smoking marijuana in public is prohibited in Oklahoma, even for patients. Licensed cardholders must consume marijuana at home.
Can You Travel With Marijuana in Oklahoma?
Yes, Oklahoma residents with valid medical marijuana cards can drive with marijuana in their cars. They should be out of the driver's reach and kept in a closed container.
You can't cross state lines with your medicine. If you do, you may be charged with drug trafficking, which involves a 5-year prison sentence and up to $250,000 in fines if you're caught with less than 50 kg or fewer than 50 plants.
Is Buying Weed Online an Option in Oklahoma?
No, Oklahoma state law doesn't permit the delivery of medical marijuana products. Patients must go to their dispensary and present their medical marijuana card or caregiver's license to the budtender.
Is CBD Oil From Hemp Legal in Oklahoma?
Yes, CBD oil from hemp has been legal in Oklahoma since 2018. The amended Farm Bill removed hemp from the list of controlled substances, reclassifying it as an agricultural crop. Farmers began to grow and sell hemp for commercial uses, including clothes, paper, ropes, construction materials, biofuel, food, and health supplements like CBD oil.
However, since the market is unregulated, I recommend getting CBD products from reputable online retailers; this is for the same reason I buy delta-8 THC online: better prices and more tools for researching your vendors.
Buying Weed in Oklahoma: Bottom Line
If you're looking for weed in Oklahoma, you may end up disappointed. Oklahoma allows only medical marijuana, and even though the medical program is liberal, you can't say the same about recreational marijuana laws.
Adult-use marijuana remains illegal; you're risking one year in jail and a $1,000 fine for simple possession. The same applies to growing marijuana without a license.
So far, the only legal alternative to marijuana in Oklahoma is hemp-derived delta-8 THC. It comes with smoother effects and is less stimulating than delta-9 THC from marijuana. And best of all, it's legal here in Oklahoma.