Is Weed Legal in Arkansas? AR Cannabis Laws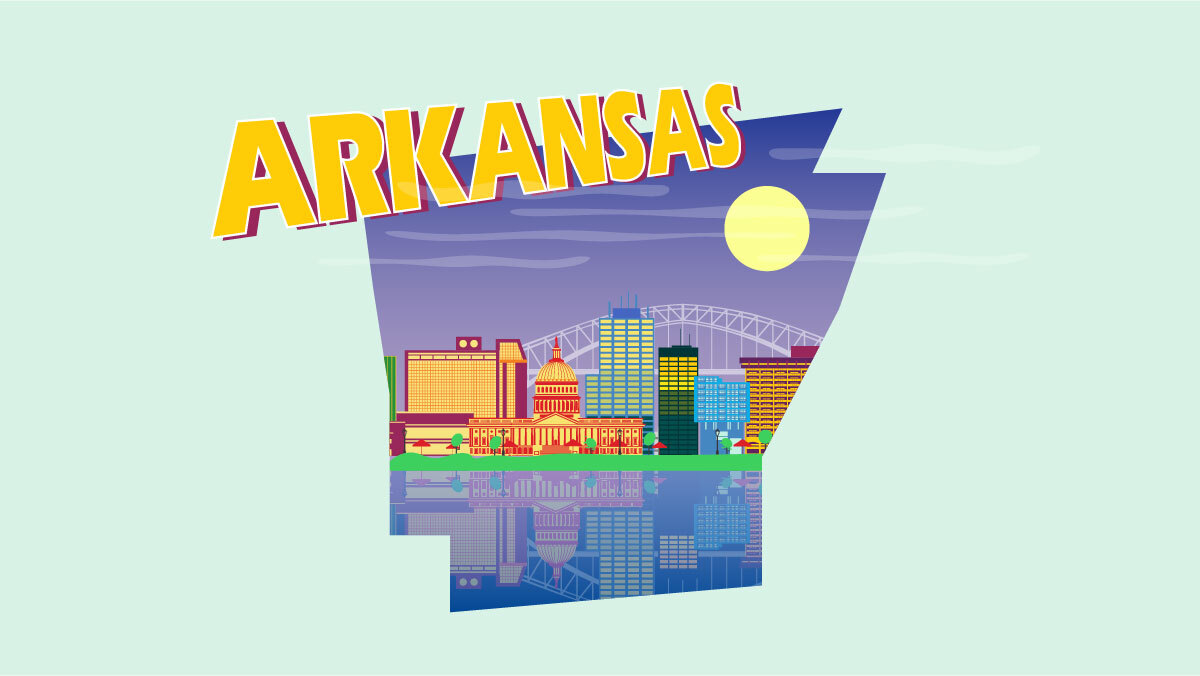 Marijuana remains illegal for adult use in Arkansas, though patients with eligible conditions can legally purchase and consume medical marijuana.
In 2020, the Arkansas Recreational Marijuana Initiative failed to gain enough signatures to make it to the general election ballot.
The measure received more than double the number of signatures required to appear in the 2022 election, making it possible to legalize marijuana for recreational use in the next term.
But what if you want to enjoy cannabis in Arkansas but don't want to wait for the whole legislative process?
Is the black market your only option?
Fortunately, it's not. People living in Arkansas can legally enjoy delta 8 THC as long as it comes from hemp plants.
In this article, we explore the marijuana laws in Arkansas and perspectives for the future, explain what delta 8 is, and highlight the best online vendors of hemp-derived cannabinoids.
Buying Weed Online in Arkansas: Is It Even an Option?
No, you can't legally buy marijuana online in Arkansas. As mentioned at the beginning, recreational use remains illegal.
Though there are certain profiles advertising on social media to offer weed for delivery in Arkansas, it's better not to risk your freedom for the sake of getting an easy smoke.
Not to mention that marijuana bought on the black market isn't tested for pesticides and heavy metals. Over 90% of seized illegal marijuana farms in California have been found to be contaminated with heavy metals and pesticides exceeding safe thresholds for human consumption.
A Better and Legal Alternative to Marijuana in Arkansas
Marijuana is heavily restricted in Arkansas, so it may take some time before residents and tourists become able to legally purchase weed for recreational use.
Marijuana is also federally illegal, so you can't buy it from one state and have it delivered to your doors.
But, thanks to the recent technological advancements in extraction methods, there's a new cannabinoid on the market. It's twice less potent than delta 9 from marijuana, and what's even better — you can buy it legally in Arkansas.
Does delta 8 THC ring a bell?
Cons of Delta 9 THC from Marijuana
Before we bring delta 8 THC into the spotlight, let's focus on why some people choose to abstain from regular marijuana.
Aside from legal reasons, some people are just sensitive to the psychedelic nature of delta 9 THC. In low and medium doses, this cannabinoid delivers a set of euphoric and relaxing sensations that are desired when it comes to easing different symptoms of physical and mental ailments.
Most people can enjoy the delta 9 THC high without any unpleasant reactions.
However, those sensitive users can struggle with anxiety and paranoia from marijuana because their cannabinoid receptors in the brain easily get overstimulated.
If you breach the safe dose of delta 9 THC for your tolerance, you may experience:
Anxiety
Paranoia
Feelings of discomfort
Cold sweats
Dizziness
Confusion
Increased heart rate
Short-term memory problems
The high from delta 8 THC is much smoother. Here's what it feels like in comparison with delta 9.
Delta 8 THC vs. Delta 9 THC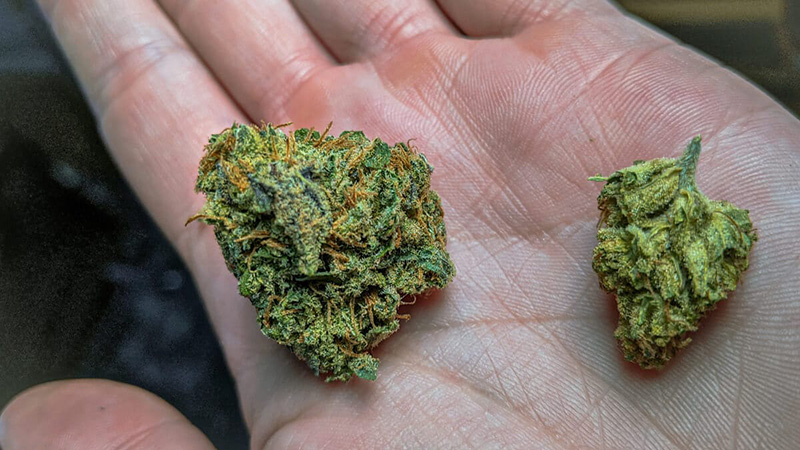 Delta 8 and delta 9 are different versions of the THC molecule.
On the surface, they have a similar chemical structure, but there's a subtle difference in the arrangement of their atomic bonds.
For delta 8 THC, the atomic bond is at the 8th carbon chain, while for delta 9 THC, the bond appears at the 9th chain.
This minor difference makes delta 8 THC about half as strong as delta 9. The psychoactive buzz is smoother and more clear-headed. It also carries a lower incidence of anxiety. In fact, this side effect is extremely rare among delta 8 THC users.
Delta 8 THC also offers similar health benefits, such as relief from anxiety, inflammation, pain, sleep problems, and appetite loss.
While delta 9 THC can be extracted only from marijuana, delta 8 can be produced from hemp by converting CBD with acids and heavy metal reagents.
Wondering where the best delta 8 THC products in Arkansas are?
Here's a buyer's guide for beginners.
Pros of Buying Delta 8 THC Online
Delta 8 THC is a new and booming market, with no regulations surrounding the quality standards of production and safety. This, in turn, gives room for fly-by-night companies who offer untested delta 8 THC products from shady sources.
Of course, there are plenty of great manufacturers out there, but you need to do your due diligence before trusting a local vendor with your money.
You can easily verify the quality of any delta 8 product by:
Looking into lab reports
Reading the company's "About Us" section
Combing through customer reviews
Reaching to other users on forums and social media
However, it's difficult to run this check locally. That's why we recommend finding a trustworthy online store if you're looking for good prices for high-quality delta 8 products.
Here's why buying online is better than shopping for delta 8 THC around the neighborhood.
Shipped to Your Door Legally in Your State
The best part about buying delta 8 from an online store is that these products are federally legal. As long as they contain 0.3% THC or less, you can order them from any state and have them delivered to your house in Arkansas, which is out of the question with regular weed.
Takes 2-3 Days to Deliver with the Convenience of Shopping at Home
Cannabis brands are known for timely delivery, so once you know what products you want to buy and place your order, they should arrive within 3 working days.
Buying delta 8 THC online is also more convenient because you can browse through different brands and compare their products in the comfort of your home.
It saves you a big amount of time on jumping from one local store to another only to find that none of them has what you need.
Less Anxious than Delta 9 THC
You need to take twice as much delta 8 THC to experience the same type of high as with delta 9 THC. Even when you take a high dose of delta 8, your chances of getting anxious and paranoid are awfully small.
Nevertheless, you can still experience some classic adverse reactions to marijuana, such as dry mouth, red eyes, an increase in appetite, and short-term memory issues.
Lasts Longer than Delta 9 THC from Marijuana
Although delta 8 THC products come with a delayed onset — tinctures can kick in after 1.5 hours — they last longer than with other cannabinoids. Some of these effects are also stronger, such as appetite stimulation. When you get high on delta 8 THC, you should prepare snacks ahead because the munchies will be gargantuan.
Best Delta 8 THC Online Vendors
Not all delta 8 THC products are made equal. In fact, there's a shockingly large number of low-quality extracts that are contaminated with pesticides, bleaches, solvents, and other chemicals.
Some of them also significantly exceed the legally approved limit for delta 9 THC.
If you don't have time to run your own market research, here are our two favorite delta 8 THC online brands that make premium-grade products at reasonable prices.
They test their products for pesticides, heavy metals, solvents, and microbial impurities.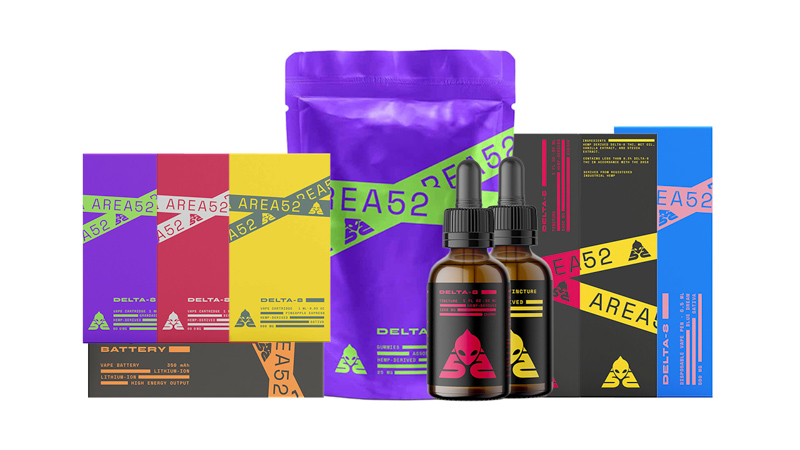 Area 52 is a California-based manufacturer that specializes in premium cannabinoid extracts. Recently, the brand has shifted its focus to delta 8 THC products based on distillates, which they source from organic hemp farms in Colorado and Kentucky.
These products are made without the use of harsh acids or dangerous solvents. The conversion process from CBD is performed by skilled lab workers to ensure the purity and safety of the final products. Area 52 is one of the best delta 8 THC brands out there.
You can choose between traditional delta 8 THC formats, such as gummies, tinctures, and vape carts. The entire collection comes with high concentrations of delta 8 THC, delivering pronounced psychoactive effects spiced up with natural terpenes that contribute to the whole-plant synergy in cannabis.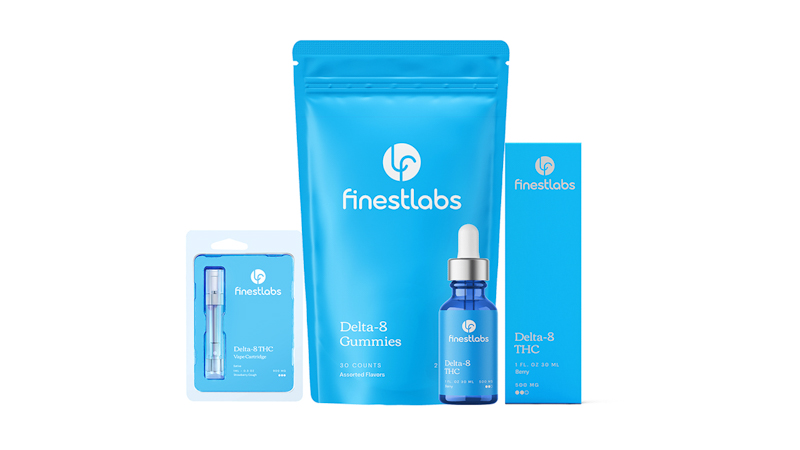 Finest Labs is the go-to choice for beginners and occasional delta 8 users who take lower doses in their routine. The brand offers a similar product range to Area 52 — tinctures, vapes, and gummies — but in lower concentrations.
This, in turn, translates into a lower cost per product, making Finest Labs a decent pick for those shopping on a lower budget.
And if you want to create your own cannabinoid blends, Finest Labs offers a broad range of botanical terpenes (both single terpenes and mixes).
Is Marijuana Legal in Arkansas?
Arkansas is aligned with federal law when it comes to marijuana. While the state has had a medical marijuana program running since 2016, recreational use remains illegal and is severely punished.
Recreational Marijuana Laws in Arkansas
Marijuana in Arkansas is illegal for recreational use. First-time possession of up to 110 grams (four ounces) is punished with a fine of up to $2,5000 on top of one year in prison and a mandatory six-month driver's license suspension.
If you already have two existing convictions, getting caught with more than one ounce (28 grams) is a Class D felony punishable by six years in prison and a maximum fine of $6,000.
Medical Marijuana Laws in Arkansas
On November 8, 2016, voters approved the Arkansas Medical Marijuana Amendment (AMMA), or Issue 6, with 53% of the voters in favor of the new law.
The new bill allows seriously ill patients to purchase and consume medical marijuana with a doctor's approval and creates a network of licensed cultivation facilities and dispensaries.
That being said, the home cultivation of medical marijuana is illegal in Arkansas.
Who Can Use Medical Marijuana in Arkansas?
You can qualify for the state medical marijuana program if you have one of the following conditions:
Cancer
Persistent nausea
HIV+ status / AIDS
Hepatitis C
Ulcerative Colitis
Crohn's Disease
Alzheimer's Disease
Tourette's Syndrome
Post-traumatic Stress Disorder
Persistent Muscle Spasms
Severe Arthritis
Epilepsy/Seizures
Peripheral Neuropathy
Amyotrophic Lateral Sclerosis (ALS)
Intractable Pain
Fibromyalgia
Glaucoma
Wasting Syndrome
All medical marijuana products must be purchased from medical marijuana dispensaries registered with the state. You'll need to show your medical marijuana ID card to make a purchase. Caregivers can buy medical marijuana for their designated patient, provided they show a legitimate caregiver registry card.
Can You Smoke Marijuana in Public?
No, you can't smoke marijuana in public, even as a registered medical marijuana patient in Arkansas. Marijuana consumption is restricted to private properties.
Traveling with Marijuana in Arkansas
It's illegal to travel with marijuana in Arkansas because the state law prohibits marijuana. You can travel with weed if you're a medical marijuana patient, but even then, you should make sure to carry a valid medical marijuana ID card along with proof of purchase.
What About CBD Hemp Oil in Arkansas?
Hemp was legalized in 2018 by the federal government under the amended Farm Bill. The new law removed the plant from the list of controlled drugs and made it an agricultural commodity once again.
Today, hemp farmers can grow it for any purpose, including food, paper, clothing, biofuel, construction materials, and health supplements like CBD oil.
The only requirement is that such products must contain no more than 0.3% delta 9 THC.
Arkansas is home to many stores that offer hemp-derived CBD products, but since the market is unregulated (a similar scenario to delta 8), the best CBD brands and deals on high-quality products are found online.
Key Takeaways on Marijuana Legal Status in Arkansas
Arkansas has a well-developed medical marijuana program, but weed remains illegal for recreational users.
This may change with the next election, but until then, you have no legal way of buying marijuana in Arkansas.
If you want to enjoy a legal buzz, delta 8 THC is a decent alternative to regular cannabis products. It's less potent than delta 9, comes with a lower risk of anxiety and paranoia, and what's best — it's legal at the federal level.
The best deals on high-quality delta 8 THC products are found online. For a quick recommendation, check out the products from Area 52 and Finest Labs. Both companies make premium-grade extracts at reasonable prices and offer unparalleled transparency.
Do you think marijuana will become legal soon in Arkansas? Let us know what you think in the comments!