Bearly Legal Hemp Review & Coupon Code (2023 Update)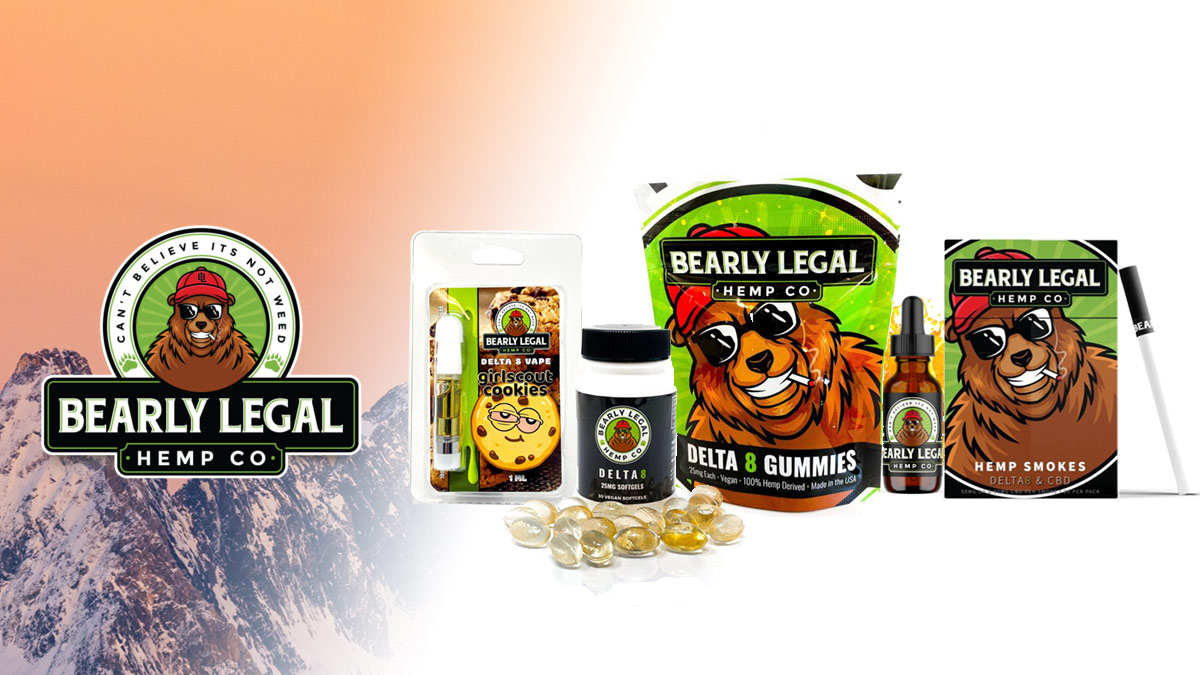 Bearly Legal makes a variety of products containing federally legal, hemp-derived cannabinoids. They focus primarily on delta 8 THC, but they also carry less common options, including THC-O, HHC, and hemp-derived delta 9 THC.
Although they're relatively new to the hemp industry, they've quickly made a name for themselves with enticing marketing and an edgy product lineup.
This review will cover everything you need to know about purchasing hemp products from Bearly Legal.
We'll analyze the products they carry, their best offerings, where they excel, areas where they fall short, and alternative brands to consider instead.
About Bearly Legal
Bearly Legal Hemp Co is located in Binghamton, NY. It was founded in March of 2020 by Liam Burns, who also founded and runs HempWholesaler.com and a slew of other hemp-related companies.
The company's mission statement and brand image aren't clear from its website, but the founder maintains that the company exists to bring awareness to the many benefits of different cannabinoids.
There's just one problem with this business model. Many of the products this company is selling haven't been tested for safety. Some of them don't even have accurate testing parameters yet — such as THC-O, THCP, and HHC. Until researchers are able to develop accurate testing protocols, there's no way of knowing how pure a given product is.
Because of this, even if Bearly Legal listed third-party tests (they usually don't), they wouldn't prove the products you're buying aren't contaminated with byproducts.
Bearly Legal Product Range
Bearly Legal focuses its efforts on delta 8 products, including gummies, disposable vapes, vape cartridges, infused flowers, and more.
The company also carries a selection of THC-O and HHC products, as well as hemp-derived delta 9 THC gummies (remains within legal limits).
1. Featured Product: Bearly Legal Delta 8 THC Gummies
One of Bearly Legal's most popular products is their line of delta 8 gummies. They come in a large variety of flavors, including sour options. Each gummy contains 25mg of delta 8, which might require beginners to take a half or quarter gummy.
The gummies are very reasonably priced and come in different quantities for a one-time purchase or to stock up.
The gummies do have a certificate of analysis posted on the website. Unfortunately, it's often outdated, so you should confirm that it has been updated before purchasing.
Most users give D8 THC edible gummies a high rating for both taste and quality.
Product Specs: 
| | |
| --- | --- |
| Total Delta 8 THC | 200 mg |
| Extract Type | Delta 8 Distillate |
| Delta 8 Potency | 25 mg per gummy |
| Flavors | Blueberry, strawberry, cherry, green apple, watermelon, pineapple |
2. Bearly Legal Delta 8 THC Hemp Cigarettes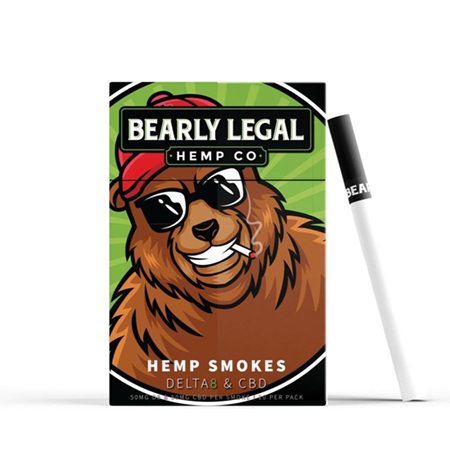 Bearly Legal's delta 8 THC hemp cigarettes are another one of its best sellers. They come in convenient, pre-rolled papers, and they deliver 50 mg of delta 8 THC and 50 mg of CBD each. They're a convenient option if you want access to multiple cannabinoids in one product.
The cigarettes come in packs of 20 and are reasonably priced for the volume of cannabinoids they deliver. They come in a pack of 20 and, without sales, sell for $2 each.
Similar to the gummies, the third-party lab results are often a bit outdated. It's wise to verify recency before purchase.
Product Specs: 
| | |
| --- | --- |
| Total Delta 8 THC | 1000 mg |
| Extract Type | Delta 8 distillate |
| Delta 8 Potency | 50 mg per gummy |
3. Bearly Legal Delta 8 Vape Cart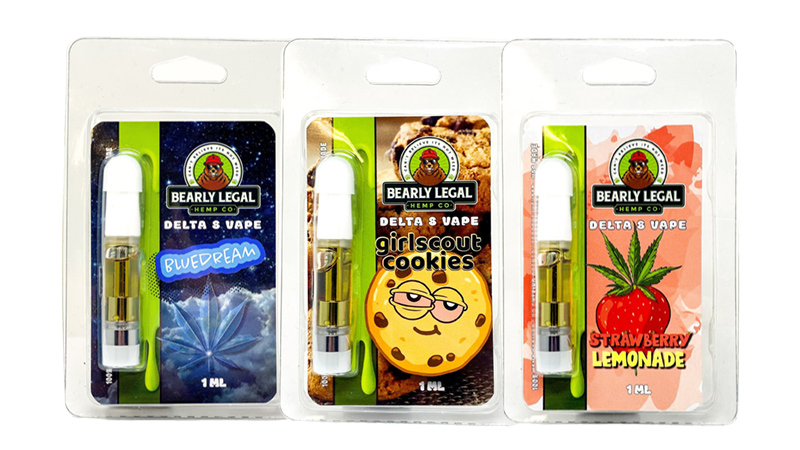 Bearly Legal's delta 8 vape cartridges are enticing to buyers because they're affordable and provide a discreet method for consuming delta 8.
These carts contain pure delta 8 distillate, and they do include a Certificate of Analysis. Unfortunately, the CoAs for these carts are sometimes outdated, so buyers should check for updated lab results before purchasing.
These THC vape cartridges come in original, unflavored options as well as a variety of exciting and alluring flavors. They work with any standardized 510-thread vape batteries, so you won't need any special equipment to use them.
Product Specs: 
| | |
| --- | --- |
| Total Delta 8 THC | 1000 mg |
| Extract Type | Delta 8 distillate |
| Delta 8 Potency | 97% |
| Flavors | Strawberry Lemonade, Girl Scout Cookies, Blue Dream, Purple Haze, Bubba Kush, Gorilla Glue, & 16 more |
4. Bearly Legal Delta 8 THC Softgels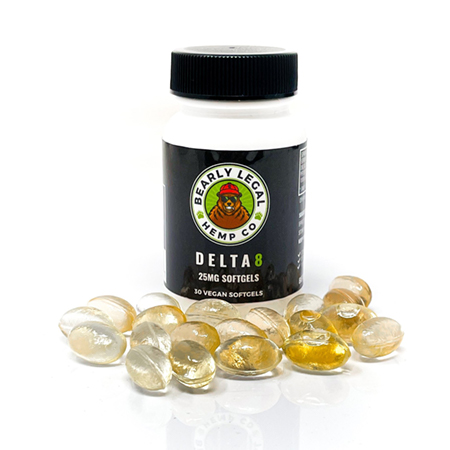 The Delta 8 THC soft gels from Bearly Legal offer users a convenient and low-calorie means of delta 8 consumption. They contain 25 mg of delta 8 each. While dosing is straightforward, beginners might find that the potency is too high without the ability to take just a portion of the soft gel.
These soft gels are reasonably priced and come in large packages so you can stock up. Unfortunately, the lab results for this product are commonly outdated. Use at your own risk
Product Specs:
| | |
| --- | --- |
| Total Delta 8 THC | 1500 mg |
| Extract Type | Delta 8 distillate |
| Delta 8 Potency | 25 mg per soft gel |
5. Other Bearly Legal Products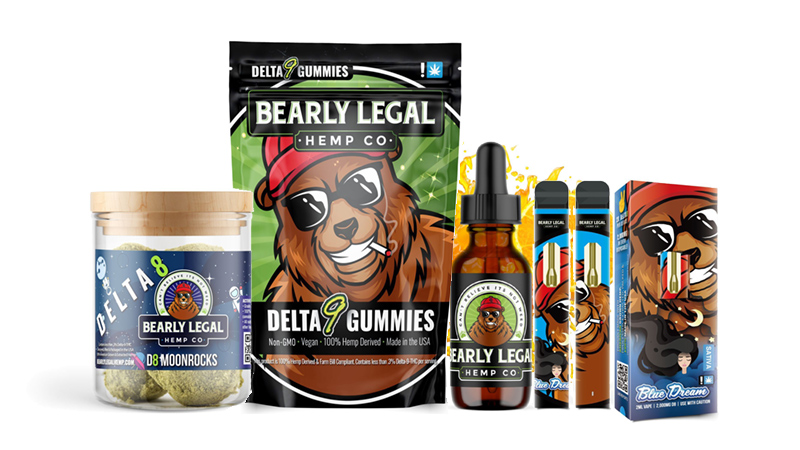 Bearly Legal has expanded its product selection quite rapidly since it entered the hemp scene. They have added HHC and THC-O products to their lineup for additional psychoactive options, and their delta 8 catalog is growing consistently. In addition to the above featured products, Bearly Legal also sells:
Delta 8-Infused Flower
Delta 8 THC Moon Rocks
Delta 8 Pre-Rolls
Delta 8 Dabs
Delta 8 Tinctures
THC-O Vapes & Gummies
HHC Vapes & Gummies
Hemp-Derived Delta 9 THC Gummies
What Bearly Legal Does Well
Bearly Legal has enticing marketing and fun packaging, and the company seems to have a genuine interest in making cannabinoids more readily available for medical and recreational use.
They have a decent product lineup, including many different delivery methods and flavors. They have also branched out to include additional cannabinoids beyond delta 8 THC, including THC-O, HHC, CBD, and delta 9 THC.
Bearly Legal's pricing is fairly competitive in all categories.
Negatives of Bearly Legal
Bearly Legal doesn't have a particularly strong brand image or mission statement, perhaps because the founder is invested in a variety of other hemp-related companies as well. This suggests a clear lack of focus.
Additionally, while the company provides third-party lab results for all of its products, most of them are outdated and need to be updated.
Some of the products the company offers haven't had accurate testing protocols developed yet (mainly HHC, THC-O, and THCP). This means that no matter how much we test these products for purity, we can't rely on the results being accurate. It's possible these products aren't safe for human consumption and may contain harmful byproducts or contaminants.
Finally, the company name suggests that they're toeing the line with the legality of some products, and their delta 9 THC and THC-O products could create legal issues for their customers in the future.
Best Alternative Brands To Check Out
The hemp industry is more prominent now than it ever has been before, so there is no shortage of brands to choose from for delta 8 THC and other hemp-derived cannabinoids. If you're looking for alternatives to Bearly Legal, consider checking out the below companies as well.
1. Area 52 (Best Delta 8 Alternative)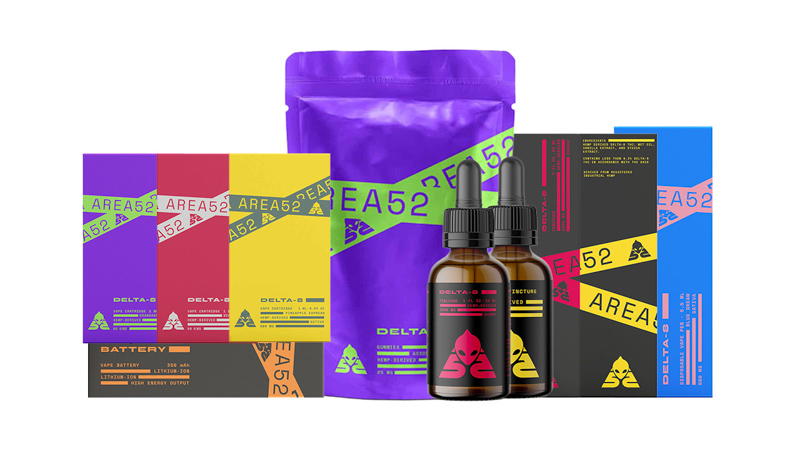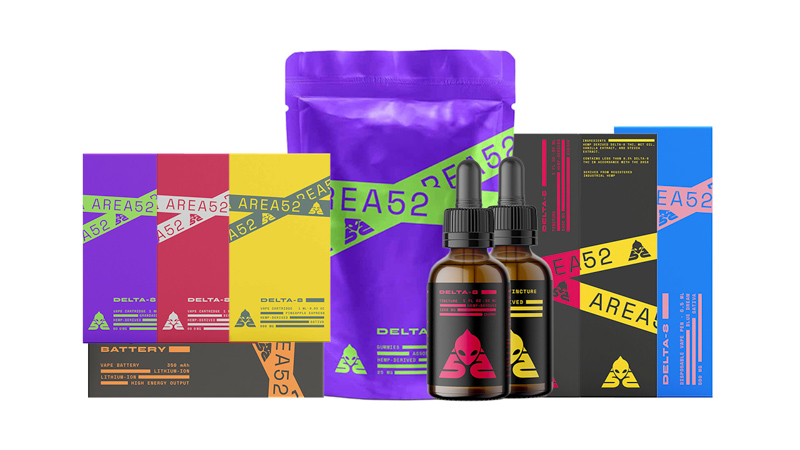 Get 15% off all Area 52 products.  Use code "CFAH" at checkout.
Area 52 is one of the most popular delta 8 companies on the market right now. You'll find this brand mentioned all over the internet among the top-rated companies in their class.
Area 52 puts its products through rigorous third-party testing and posts updated results to their website with every new batch.
This is especially important with delta 8 products because the cannabinoid is largely unregulated right now. Without third-party lab results for each batch, you have no idea what's inside and risk consuming potentially harmful chemicals or additives. Area 52's commitment to updating results for each batch ensures safety and transparency.
Their prices are reasonable, especially for the quality of the products, and they maintain overwhelmingly positive reviews for taste and purity. If you want top-shelf delta 8, look no further than Area 52.
Area 52 product selection includes: 
Delta 8 THC Gummies
Full-Spectrum D9 Gummies
Delta 8 THC Tinctures
Delta 8 THC Honey Sticks
Delta 8 THC Vape Carts
Delta 8 THC Disposable Vapes
CBD Tinctures
Branded Vape Batteries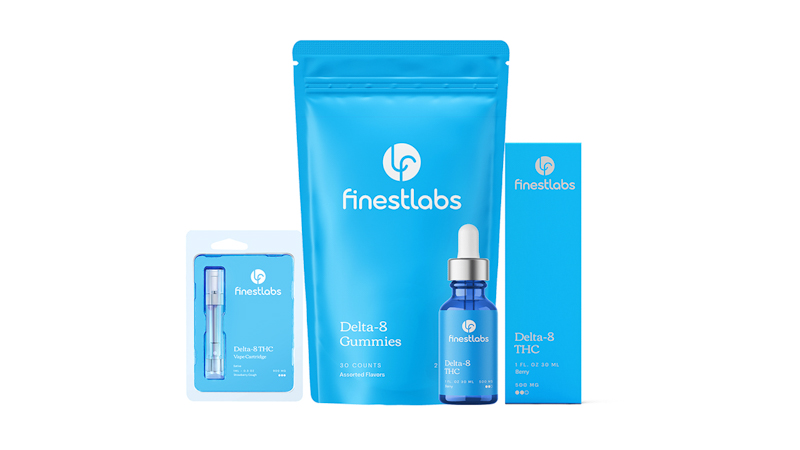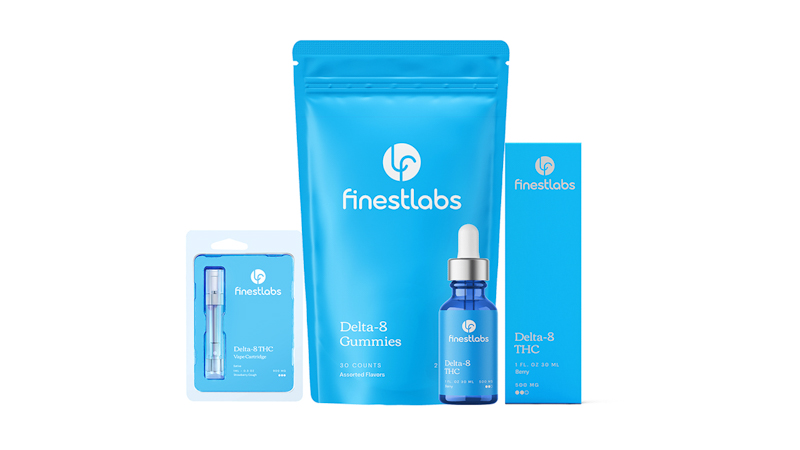 Finest Labs sets itself apart from the competition by infusing its products with an enticing blend of terpenes. The flavors they provide are hailed by customers across all of their products.
Finest Labs provides up-to-date third-party lab results for each product they sell, so you can verify the potency and purity of their most recent batches before purchasing. Some other delta 8 companies may have more enticing prices or product options, but the care Finest Labs puts into guaranteeing the safety of their products for customers puts them ahead of the competition in most buyers' eyes.
Instead of falling short on quality and consistency with countless product options and flavors, Finest Labs goes the extra mile with a relatively limited product selection to ensure the team remains highly focused on producing the best d8 products you can find online and locally.
Finest Labs product lineup includes:
Delta 8 THC Vape Carts
Delta 8 THC Gummies
Delta 8 THC Tinctures
A Large Selection of Terpene Blends
Final Verdict: A Good Source of Rare Cannabinoids, But Buyer Beware
Bearly Legal is a relatively new player in the hemp industry, founded by Liam Burns, a long-time advocate of cannabinoids. Their brand image and mission statement aren't strong. However, their marketing and packaging are enticing, as they maintain a colorful and fun appearance with a name and logo that give off an air of rebellion and non-conformity.
Bearly Legal sells several cannabinoids in a wide variety of products, including delta 8 THC, CBD, THC-O, and HHC. They post third-party lab results for their offerings, but many of them are regularly outdated.
The best alternatives to Bearly Legal are Area 52 (premium brand) and Finest Labs (cost-effective but higher quality).