Best Delta 8 THC Tinctures & Oils Reviews of 2023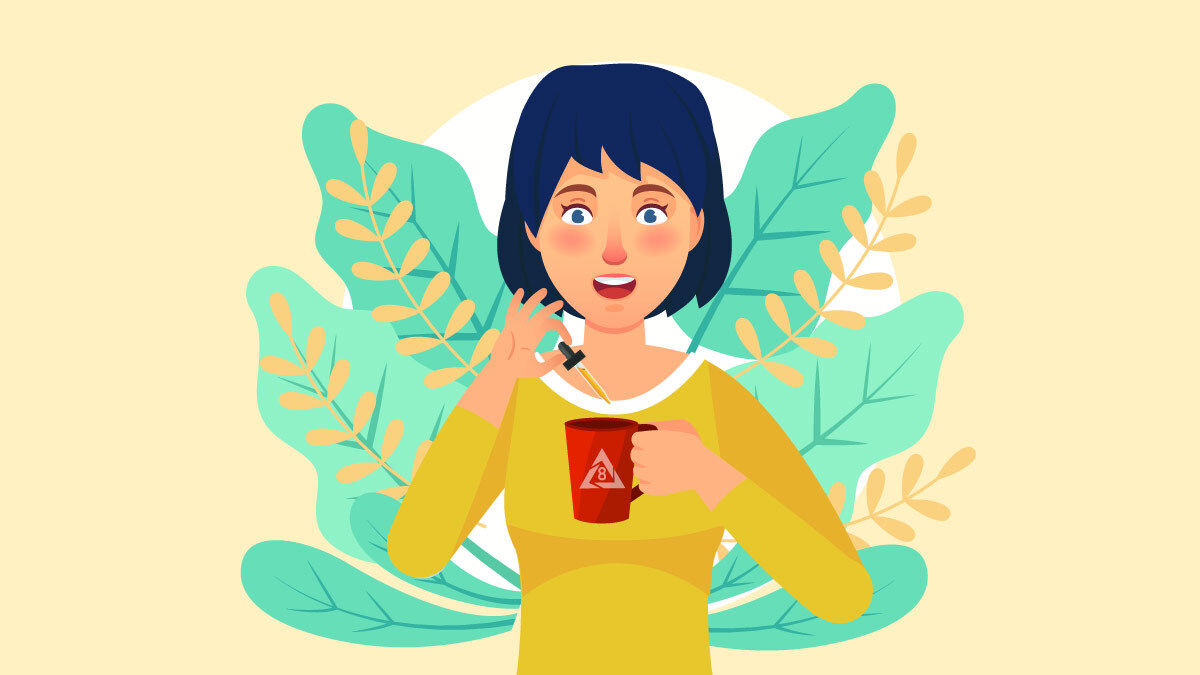 Delta 8 THC has become the next desirable cannabinoid on the cannabis scene, making even bigger noise than CBG, mainly due to its mildly psychoactive properties.
But, since delta 8 is all the rage these days, there's an overwhelming number of products, and not all of them are something you would like to ingest. Finding high-quality delta 8 retailers can be a challenge in this booming market.
The factors that affect the quality of delta 8 THC extracts are even more complicated than with CBD products. Manufacturers must use expensive laboratory equipment and toxic chemicals to convert CBD into delta 9 and then into delta 8 THC, so the product is federally legal.
In this article, we'll share our recommendations on the best delta 8 THC tinctures, along with a buyer's guide for beginners.
Ready to explore this novel cannabinoid?
Best Delta 8 THC Tinctures & Oil: Top Vendors for 2023
Openness and transparency are the most sought-after features in the delta 8 THC space. The market is dynamic and mostly unregulated, with no quality standards regarding the manufacturing and labeling of such products. Many companies selling delta 8 THC are cutting corners in the quality of ingredients and extraction methods, which results in cheap and dangerous products.
We've already done the hard work for you. You can find the best delta 8 THC tinctures based on:
Reading through hundreds of user reviews and testimonies on third-party websites and social media
Analyzing third-party lab reports. The certificate of analysis must list the potency and purity results of the tested sample.
Looking for anything else that could improve or compromise the user experience, including reward programs, shipping times, and return policies.
Following the above steps, we've thinned down our options to the top vendors that you can count on when it comes to delta 8 THC tinctures:
Area 52 (Most Potent Delta 8 THC Tincture)
Finest Labs (Best Delta 8 Tinctures for Beginners)
Charmed Hemp
1. Area 52 (Most Potent)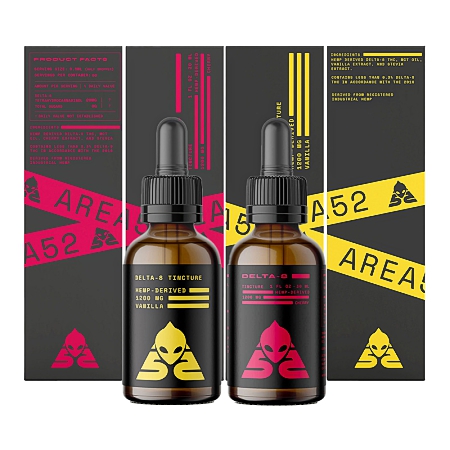 Get 15% off all Area 52 products.  Use code "CFAH" at checkout.
Area 52 specializes in premium delta 8 THC distillates from organic hemp plants. Their most popular product is the delta 8 THC tincture, but the brand also offers THC gummies and vape cartridges — the other two common forms of delta 8.
The Area 52 Delta 8 THC tincture comes with 1200 mg of pure delta 8 THC distillate combined with a blend of terpenes. A single serving of this tincture carries 40 mg of delta 8. The product's sweetness is enhanced by natural stevia so that you can enjoy your delta 8 THC oil without extra calories. You can pick between Cherry or Vanilla flavors.
The product has a batch-specific certificate of analysis with results for potency and purity. The company sends it along with the product, but they also publish it on their website.
2. Finest Labs (Best for Beginners)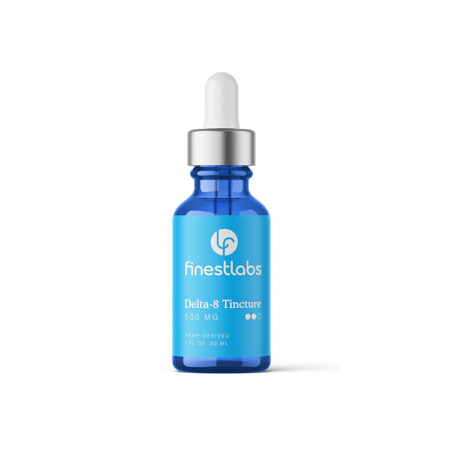 While Area 52 makes the most potent delta 8 THC tinctures, Finest Labs is the go-to choice for beginners and those who benefit from lower doses of delta 8 in their routine. The brand uses pure, unflavored delta 8 THC distillate suspended in MCT oil for improved absorption. The tincture contains 600 mg of delta 8 THC, so if you're looking for a cost-efficient option for microdosing or a product that will help you figure out your optimal dosage, Finest Labs will live up to your expectations.
3. Delta 8 Pro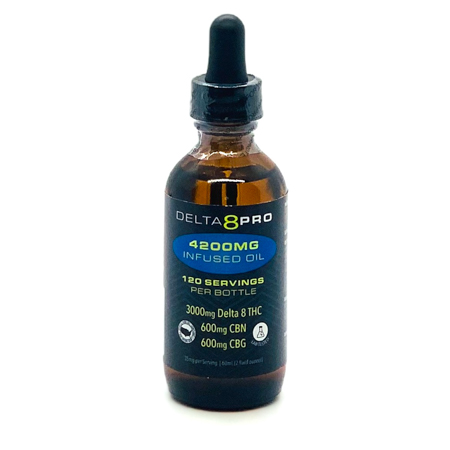 Delta 8 Pro is a company that's been in the cannabis industry for 13 years. The brand has previously specialized in CBD products but recently shifted its focus to delta 8 THC extracts.
This Delta 8 THC oil has a different formula than tinctures offered by Area 52 and Finest Labs. Aside from 3000 mg of delta 8 THC, the extract contains 600 mg of each CBN and CBG. CBN is a sedating cannabinoid, while CBG is thought to accelerate the effects of other cannabinoids on top of providing anti-inflammatory properties.
The Delta 8 Pro D8 oil is a good option for those seeking effective sleep aid, but it's not the best choice for daytime use due to the aforementioned sedating effects of CBN. Don't be confused by such high amounts of delta 8 THC in this product; it comes in a 60 ml bottle, so a single serving actually contains a similar amount of D8 to the two above brands.
4. 3Chi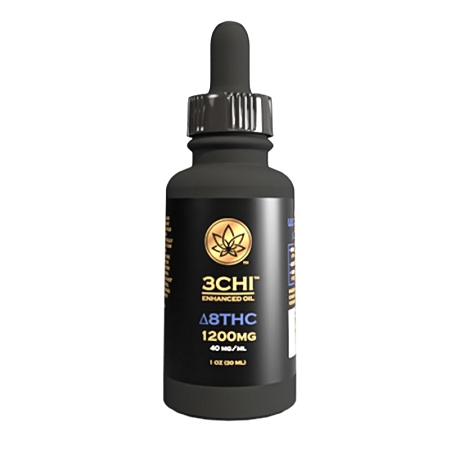 3Chi is one of the first cannabis brands in the USA to enter the delta 8 THC space. The company offers a wide range of delta 8 products, including vape pens, edibles, concentrates, tinctures, and delta 8 focus blends for different health needs.
3Chi's Delta 8 THC tincture contains 1200 mg of delta 8 in a 30 mL bottle, breaking down into 40 mg of CBD in every milliliter. Since the product contains hemp-derived terpenes, it also carries a hempy flavor; fortunately, it is neutralized by MCT coconut oil, so the tincture is actually palatable.
However, once you've opened your product, it can't be returned, so if you're looking for a company that sells high-quality delta 8 extracts but has better return policies, we recommend the two above brands.
5. Diamond CBD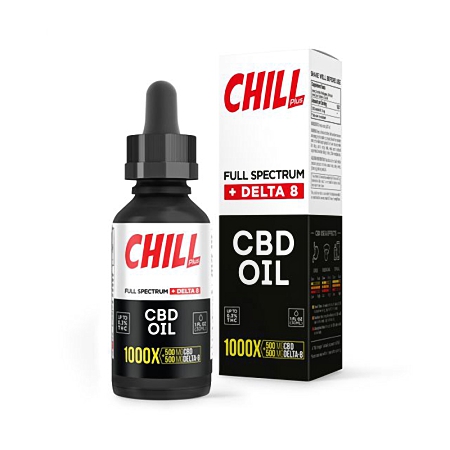 Diamond CBD is one of the pioneer companies in the CBD space that has recently shifted its focus to delta 8 THC products from organic hemp. You can choose from a broad selection of products, including capsules, edibles, vapes, topicals, delta 8-infused flowers, pre-rolled joints, and tinctures.
The company's delta 8 THC tincture combines hemp-derived delta 8 THC with full-spectrum CBD so that you can benefit from both compounds in one product. The Chill Plus Tincture carries a ratio of 1:1 between CBD and D8, with three concentrations to choose from 1000 mg, 1500 mg, and 2000 mg.
Despite an interesting profile of effects — a blend of a relaxed mind and energetic buzz — these tinctures leave a hempy aftertaste due to the presence of CBD. They're also not tested for pesticides or heavy metals, so it's difficult to tell if the hemp is actually organic.
6. Everest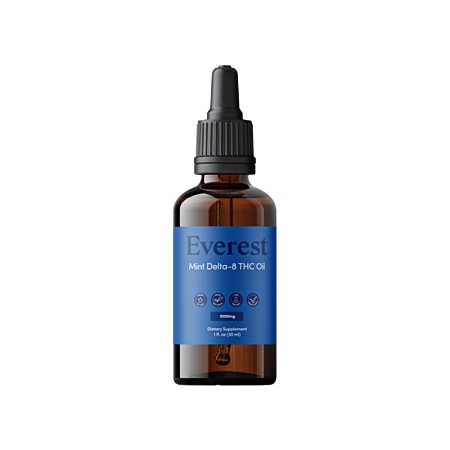 Everest specializes in high-quality delta 8 THC tinctures that leave most of the competition aside with its farming practices and overall quality of ingredients. The company offers batch-specific certificates of analysis for its products, proving CO2 extraction and organic cultivation.
Everest's D8 THC tinctures contain 1000 mg of delta 8 THC flavored with a natural peppermint extract to make the botanical taste of hemp.
If you're new to delta 8 THC, this tincture will be great for you because it offers a moderate amount of d8 per milliliter. However, if you have a higher-than-average tolerance, it may turn out a bit uneconomical.
7. Binoid
Binoid was one of the trailblazers on the delta 8 THC market. This brand offers a great variety of products, from CBD oils to water-soluble drops, pet oils, gummies, creams, as well as delta 8 tinctures, vapes, gummies, and wax dabs.
The hemp used by Binoid comes from organic Colorado farms. The company offers three concentrations of its tincture: 1000 mg, 2500 mg, and 5000 mg. The potency range is undoubtedly impressive — unlike the flavor choice. Binoid offers only an unflavored version, which tastes harsher than the other products we've reviewed for this ranking.
There's also no information on the source of other cannabinoids and terpenes. We don't know if it's a full-spectrum hemp extract or a blend of isolates, which is important for the entourage effect.
8. Delta Effex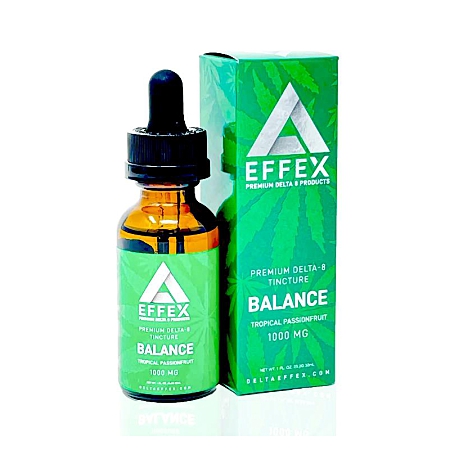 Delta Effex sells three unique Delta 8 tinctures, each containing 1000 mg of delta 8 THC. Despite only one potency variant, the company offers three formulas based on the user's individual needs:
Focus – this tincture is great when you're feeling foggy or sluggish. It offers an energizing buzz and focus-enhancing effects that result from a terpene blend of b-pinene, pulegone, and cedrene.
Chill – this product is made for anyone looking to relax after a hard workday or boost their sleep quality. It is infused with terpenes such as linalool, borneol, and nerolidol; these terpenes have sedative-like effects and deliver a mix of floral and grape flavors.
Balance – the Balance tincture can solve the dilemma for people who can't decide between the two above. This formula has been designed to support general wellness and cognitive functioning at any time of the day. Its tropical flavor resembles passionfruit and mango; it comes from the terpenes in the formulation: terpineol, myrcene, and caryophyllene.
9. Exhale Wellness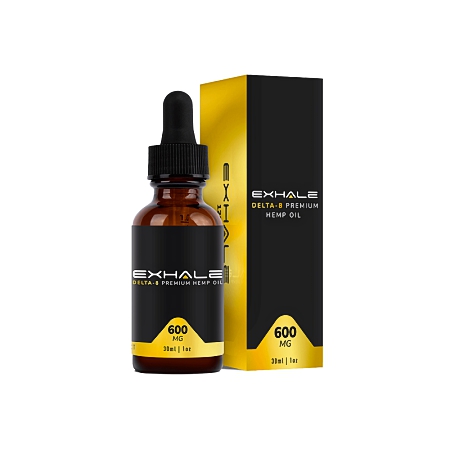 Exhale Wellness is an LA-based company that offers premium delta 8 hemp extracts from non-GMO, organic hemp. The brand has a broad selection of delta 8 extracts, including edibles, cigarettes, pre-rolls, concentrates, vape carts, and tinctures.
Exhale Wellness is a great option for beginners and people who microdose delta 8 due to its relatively low potency. The delta 8 oil, also known as a tincture, contains 600 mg of delta 8 THC per bottle and comes in 60-ml bottles, which provides a small dose of 10 mg of delta 8 per milliliter.
Unfortunately, the company doesn't offer any high-strength options for users with a higher tolerance threshold to delta 8 THC, let alone the lack of flavored versions — that's why we've put them on the last place on our list of the best delta 8 THC tinctures.
What Is Delta 8 THC?
Delta 8 THC stands for delta-8-tetrahydrocannabinol – a type of THC analogous to delta-9-tetrahydrocannabinol, the intoxicating compound in marijuana. As an analog, it has a similar molecular structure, with slight differences in how its atoms are arranged.
This minor difference makes delta 8 THC half as potent as delta 9. If you want to achieve the same intensity of high, you'll need to take twice as much of this cannabinoid. Still, it won't trigger anxiety and paranoia like delta 9 THC — the main reason some people choose to avoid high-THC cannabis.
Since cannabis plants don't naturally synthesize delta 8 THC, it has been challenging to extract sufficient quantities of this cannabinoid for commercial use. However, scientific breakthroughs in extraction technologies have recently allowed manufacturers to produce delta 8 products efficiently.
Delta 8 THC can be extracted not only from marijuana but also from hemp. Although the delta 8 content in hemp is less than 0.1%, it can be extracted by converting CBD into delta 9 THC and then into delta 8 THC.
This is a multi-step process that requires a lot of skill on the lab workers' part, not to mention the expensive equipment required for extraction.
How Does Delta 8 THC Make You Feel? Does It Get You High? 
As mentioned earlier, delta 8 THC is about half as strong as delta 9 THC — but it still gets you high.
You can experience similar psychoactive effects as with taking a weed-infused tincture, but the effects won't be as pronounced and overwhelming as those caused by high doses of delta 9.
Delta 9 THC triggers anxiety and paranoia in sensitive users or when a certain dose is breached. That's the reason why so many people are turning to delta 8 THC these days.
Delta 8 causes fewer side effects overall, making it an appealing alternative for recreational weed users who are looking for a smoother and more clear-headed buzz.
What Are Delta 8 THC Tinctures?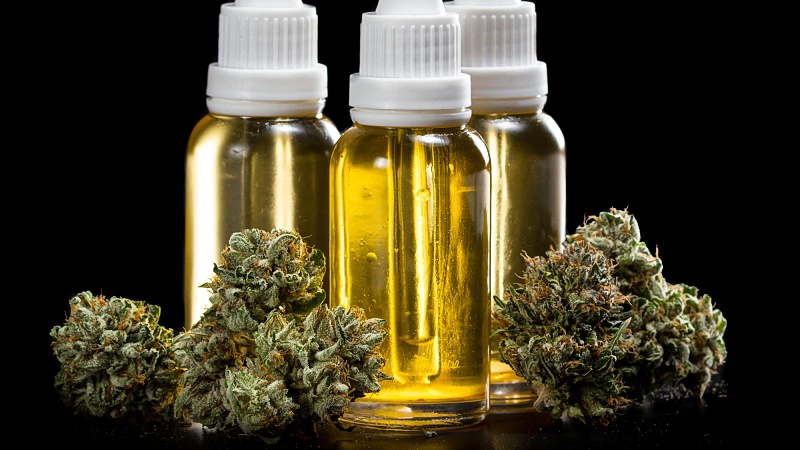 Delta 8 THC tinctures are pretty much like CBD tinctures, except for the main active compound. A delta 8 tincture contains delta 8 THC distillate and a carrier oil, such as MCT oil, hemp seed oil, or vegetable glycerin. D8 tinctures can also be made with alcohol, although it's a less efficient method for large-scale production.
The infusion in fats improves the bioavailability of delta 8 THC because all cannabinoids dissolve in fat-soluble.
How to Use Delta 8 THC Tinctures
Again, similar to how you take CBD tinctures — under the tongue.
Delta 8 THC tinctures come in glass bottles with droppers attached to them. The dropper is there to make dosing easier and more precise.
You need to measure out the desired amount of delta 8 THC, place it under your tongue, and hold it there for about 60 seconds. The tincture will pass through the tiny capillaries in your mouth, which speeds up their onset.
How Long Does It Take for the Effects to Kick In?
Delta 8 THC users generally report a delay in effects compared to CBD tinctures. While the effects of sublingual CBD usually kick in within 15–20 minutes, delta 8 tinctures have a 1-1.5 hour delay. Researchers haven't yet discovered why delta 8 THC needs more time to kick in.
Things to Take Note of while Using Delta 8 THC Tinctures
Delta 8 THC tinctures can get you high. Do not drive any vehicles or operate heavy machinery while using them.
Consult your doctor before buying a delta 8 THC tincture, as it may interact with many medications.
Delta 8 THC is federally legal for people aged 21 and up unless your state law has different regulations surrounding it.
Hemp-derived delta 8 THC tinctures contain less than 0.3% of delta 9 THC. They are allowed in most states, but you should check with your local laws before ordering delta 8 THC online.
As an isomer of THC, delta 8 can cause you to fail drug tests because they aren't designed to distinguish between these two cannabinoids. We recommend abstaining from using delta 8 THC tinctures if you have an upcoming drug test at work.
Store your delta 8 THC tinctures away from a humid environment. When humidity is too high, it may promote the growth of fungi and bacteria. Exposure to heat and light may cause delta 8 THC to degrade, so the best place to store your tincture in a drawer or a closet cabinet.
Delta 8 THC Dosage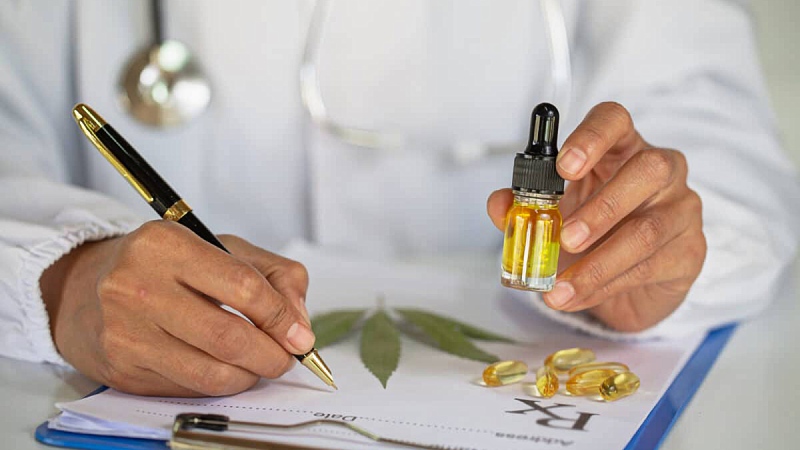 The standard dosage range for delta 8 THC tinctures is between 10–60 mg. Most people use doses like 10 mg to promote mild psychoactive effects.
The best dose for your situation will depend on a few factors, including your age, sex, weight, overall tolerance to delta 8 THC, and whether you're taking it on a full or empty stomach. The best practice is to start at the low end and gradually increase your dosage to the point where you can reap the benefits and enjoy the high without getting drowsy or confused.
You can always take more delta 8 THC if you need — but you can't get off your dose once you've gone overboard. Take your tincture in 5–10 mg increments to avoid the side effects like drowsiness, problems with concentrating, or slight mental discomfort.
Can You Build Tolerance to Delta 8 THC?
Tolerance is a common concept among people who take various supplements and medications. Tolerance begins to build when your body becomes adapted to a certain amount of a particular substance. Unfortunately, delta 8 THC falls into that bracket.
Delta 8 THC even has a higher speed of building tolerance than its delta 9 counterparts. If you take d8 tinctures every day for about a month, you'll witness the tolerance buildup firsthand because you'll need to increase your dose to experience the same intensity of high.
If you want to avoid building tolerance to delta 8 THC, we suggest using them in moderation. You can take lower doses or use the tincture every other day.
Is Delta 8 THC Safe?
There have been no clinical reports of toxic side effects caused by delta 8 THC in humans [1]. No studies have yet found a fatal overdose caused by delta 8 THC tinctures. Even high doses of this cannabinoid are less likely to drive the user anxious or paranoid in a way that delta 9 does. So, delta 8 THC is relatively safe, especially when you use it responsibly.
The main concern regarding delta 8 THC products isn't the cannabinoid itself — but rather synthetic additives or contaminants that the manufacturer has used to reduce its price. This includes mass-produced hemp, bleaches, low-quality solvents, and residual toxic chemicals from improper purging of the end product.
If you see that your delta 8 THC distillate is transparent, it means the extract could be bleached because natural d8 distillates have a pinkish color.
The best way to separate trustworthy brands from fly-by-night vendors is to look for relevant third-party lab reports.
What Are the Side Effects of Delta 8 THC?
One of the best aspects of taking delta 8 THC is the lower potency. The most common side effects of delta 9 THC are anxiety, paranoia, and rapid heart rate, nearly nonexistent among delta 8 users. That's the reason why delta 8 THC has suddenly become so popular.
At the same time, delta 8 THC can reduce pain, relieve stress, and elevate mood — without the trippy character associated with d9.
That being said, there are a few side effects of taking too much delta 8 THC, including:
Dry mouth
Sedation
Dizziness
Huge boost of appetite
Difficulty concentrating
Impairment of motor functions
Is Delta 8 THC Legal?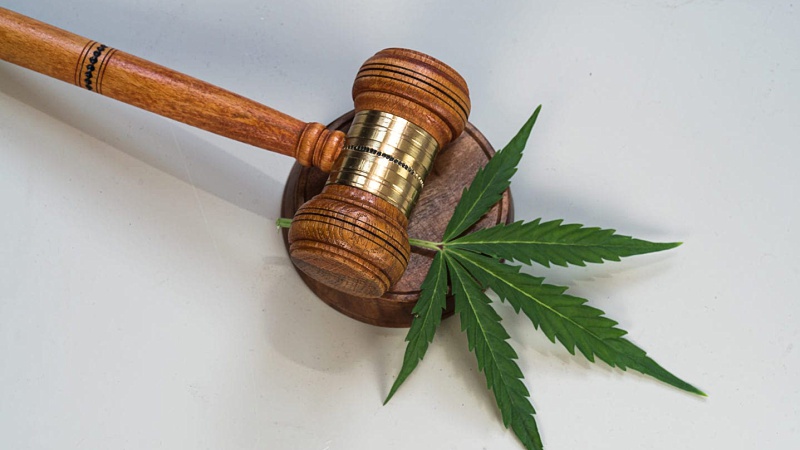 Yes, delta 8 THC is legal (theoretically) on a federal level, thanks to the 2018 Farm Bill. The new law legalized hemp and all hemp-derived products as long as they contain 0.3% of delta 9 THC or less. Since manufacturers can use hemp for extracting delta 8 THC, the end product meets the conditions imposed by the new Farm Bill and thus doesn't fall into the list of controlled substances.
However, the DEA claims all "tetrahydrocannabinol," delta 9 or delta 8 THC, are illegal. The agency uses argumentation that delta 8 THC products are extracted synthetically. But in fact, current extraction methods for delta 8 THC are anything but synthetic, so delta 8 THC remains in a legal grey area unless the federal government officials state otherwise.
Can You Fail a Drug Test for THC when Using Delta 8?
Delta 8 and delta 9 THC have similar molecular structures. Although workplace drug tests look for delta 9 THC and its metabolites, they don't distinguish between different analogs of this compound. Taking delta 8 THC tinctures will likely cause you to fail a drug test.
If you know that the screening is coming soon, it's best to take a T-break from delta 8 THC.
How to Choose the Best Delta 8 THC Tincture
There are many great companies in the delta 8 THC space. Still, since the market is unregulated, many poor-quality manufacturers use cheap ingredients and cut corners on the source of hemp and extraction methods to maximize their profits. Getting a high-quality delta 8 THC tincture is not a walk in the park — but there are a few tips that can make it easier.
When looking for the best delta 8 THC tinctures, keep the following parameters in mind.
Purity
Converting CBD to delta 9 and synthesizing delta 8 THC requires several harsh chemicals that are difficult to purge by unskilled lab workers. Some companies also bleach their distillates to make the final product appear "pure." Always be sure that you're buying from a company that knows how to run delta 8 THC extraction.
Third-Party Testing
Certificates of Analysis from independent laboratories show you that what you're buying is exactly what you're getting. Brands that are confident about the quality of their products aren't afraid of publishing third-party lab reports on their website. The report will show how much delta 8 THC is in your tincture, what other cannabinoids and terpenes are inside it, and whether or not the product is pure. Only purchase from companies that deliver relevant and up-to-date certificates of analysis for their products.
Ingredients
The list of ingredients should be as short as possible — featuring delta 8 THC distillate, a carrier oil, and a natural flavoring (this is optional). Steer clear of any dark-colored products or ones that contain ingredients that you'd never use personally at home. Avoid tinctures with preservatives and synthetic colorings and flavorings.
Color
The tincture's color is a telltale indicator of its quality. Like we said, real delta 8 THC distillate is slightly pink, but it should be mostly transparent. If you get a product that raises doubts about its purity, return it immediately. Strangely looking colors indicate poor filtration after producing a delta 8 THC extract.
Brand Reputation
Reputable manufacturers that have been in the industry for quite some time — such as CBD brands shifting their focus on delta 8 THC — are more likely to sell you a good quality product that has been manufactured according to the industry's gold standards. Such brands are transparent and have plenty of positive reviews all over the internet. Just make sure to check the reviews on third-party websites, such as expert blogs, online rankings, and niche forums. There can be a world of difference between the reviews written on unaffiliated sources and those posted on the company's website.
Price
Making natural delta 8 THC tinctures requires more time, effort, and money than extracting cannabinoids like CBD or CBG directly from hemp. It is a complicated process that requires a lot of skill and expensive laboratory equipment. Considering this, delta 8 THC tinctures are more expensive than other cannabinoid extracts — but this may soon change as the market matures and more competition enters the scene.
Final Thoughts: What Are the Best Delta 8 Tinctures for 2023?
Delta 8 THC is now trending in the cannabis space. It comes with a lot of the same benefits as delta 9 THC — but with a much lower likelihood of triggering anxiety and paranoia. The lack of these negative reactions has generated a boom on products like delta 8 THC tinctures, making them a decent alternative among cannabis users who are sensitive to the high induced by delta 9 THC.
You can find many brands claiming to offer pure delta 8 THC tinctures, but only a few can back these claims with hard evidence. If you want to avoid low-quality products but don't have the time to make an industry overview, we recommend brands like Area 52 and Finest Labs. These two companies are known for making potent, natural delta 8 tinctures that you can safely use to enhance your daily life.
Just remember that despite its general safety and the lack of harmful side effects, irresponsible use can still cause you to form bad habits around delta 8 THC, causing increased tolerance. If you take any medication that could interact with delta 8 THC, consult a doctor before ordering any such product.