6 Best Joint Supplements for Dogs in 2023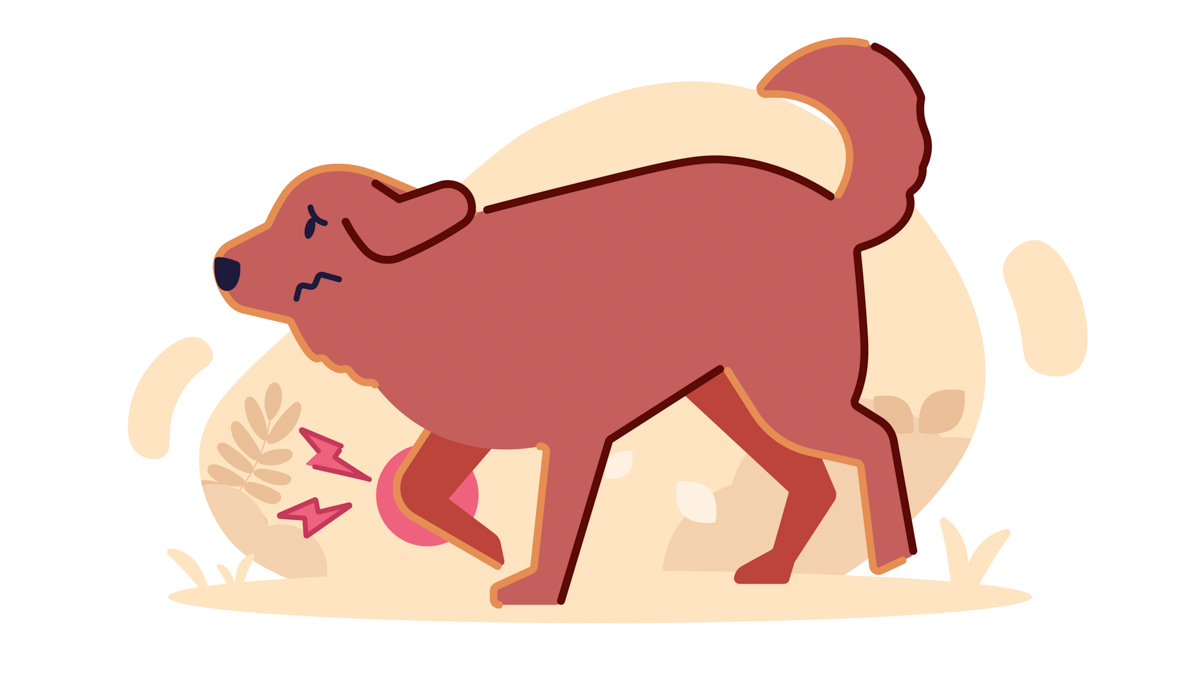 This article covers the list of the best joint supplements for dogs. We highlight the natural anti-inflammatory, antioxidant, and neuroprotective agents that can help relieve joint pain and improve mobility in your canine friend. We also provide our playbook for choosing safe dog supplements based on the ingredients, formula, flavor, and lab tests. You can steal it to create an optimal supplementation plan for your dog with the help of your veterinarian.
Is your dog less springy than it used to be a few years ago? It may be a sign of deteriorating joint health and limited mobility.
Dogs should stay active for as long as possible. They're the descendants of wolves, natural hunters. Their instinct pushes them towards running, playing, sniffing, and searching their territory.
It's in their nature.
Since most dogs don't hunt nowadays, you need to create a simulatory environment that keeps them engaged and ensures sufficient exercise to preserve the cartilage and joint.
Joint pain has many causes, from age-related wear-and-tear to injuries to autoimmune conditions and neurological disorders.
Joint conditions involving pain, such as arthritis, are progressive, but most of the time, you don't have to put your dog on pharmaceutical painkillers.
Here are the best natural joint supplements for dogs.
Best Joint Supplements for Dogs
All senior dogs deserve to live their lives with dignity. Supplements for joints, along with a healthy diet and active lifestyle, can help preserve your dog's mobility and reduce joint pain during the development of degenerative joint diseases.
Encouraging regular exercise and maintaining lean body mass should be your priority. But nutritional supplements can also improve joint health and protect cartilage, the protective layer in joints that prevents bones from rubbing on one another when your dog moves.
Try the following supplements to help your dog with arthritic pain.
Glucosamine Hydrochloride
Glucosamine for dogs spurs new cartilage growth and protects the existing ones in the joint. Healthy cartilage is critical for joints to move without the hassle and without pain.
Unlike most anti-inflammatory medications, glucosamine is a safe joint pain treatment in the long run. Supplements containing glucosamine can be helpful as an early intervention for dogs prone to osteoarthritis, such as large-breed dogs.
You can also give your dog glucosamine for joint damage from an injury, such as hip dysplasia or a broken bone.
The minimum age for dogs to safely take glucosamine supplements is 8 weeks, but only if recommended by your vet.
Chondroitin Sulfate
Chondroitin sulfate belongs to the group of compounds called glycosaminoglycans; it's naturally found in your dog's cartilage.
Chondroitin helps lubricate the joint, sustaining the tissues that surround the joint and inhibiting the destruction of cartilage components. It also stimulates the growth of new ones.
According to studies, chondroitin produces the best results for joint pain when combined with glucosamine. Together, they provide anti-inflammatory effects and help protect the cartilage in the joint against damage.
MSM (Methylsulfonylmethane)
MSM is a naturally derived supplement that comes with antioxidant and anti-inflammatory properties. It also helps the body get rid of the toxins in the cells, reducing the risk of disease and improving joint function.
When the waste is excreted out of cells, it creates room for healthy vitamins and minerals to be absorbed.
Last but not least, MSM has also been touted for its pain-relieving effects, blocking excessive pain signaling in the body.
Omega-3 Fatty Acids
Omega-3 fatty acids can not only promote joint health but also support a dog's heart, skin, coat, and immune systems.
Omega-3 fatty acids are good oils that can be found in meat and animal-derived products. They occur in beef, pork, fish, and venison. They're also available as supplements for regulating joint inflammation and slowing down the enzymes that eat up cartilage.
Green-Lipped Mussels (GLM)
Green-lipped mussels can be processed into an extract that comes with all-natural anti-inflammatory and joint-protective properties.
Supplements containing GLM blended with glucosamine, and chondroitin can help reduce pain and maintain healthy joint function in dogs.
Besides, GLM is a rich source of omega-3 fatty acids, amino acids, vitamins, and trace minerals that contribute to healthy skin and organ function and aid the dog's immune system in preventing diseases.
CBD: A Different Approach to Joint Pain & Mobility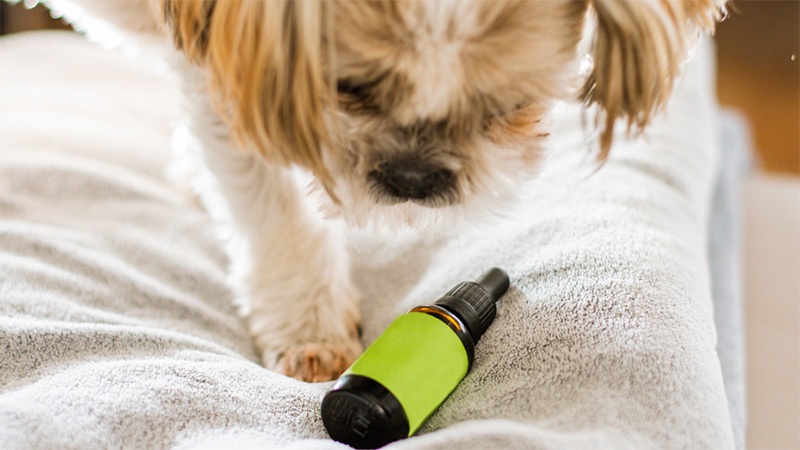 CBD is one of the main active ingredients in cannabis. However, unlike its cousin THC, CBD won't get your dog high because it doesn't bind to the cannabinoid receptors in the brain.
Instead, CBD modulates the activity of the canine endocannabinoid system (ECS) — the master neurochemical network that regulates balance in the other systems and organs in the body.
The ECS controls a wide range of essential processes, including mood, memory, pain perception, immune function, sleep, body temperature, appetite, neurogenesis, etc.
Does CBD Improve Joint Pain and Mobility?
Although the research into CBD in dogs is somewhat limited, we have promising evidence that CBD can be effective in treating arthritis in dogs.
A study conducted by Cornell University found that 2 mg/kg of CBD twice daily helped increase comfort and activity in dogs with osteoarthritis.
The study didn't find any side effects and no indications of any intoxication from the full-spectrum CBD oil, which contains 0.3% or less THC.
Despite limited quantitative studies, there's a myriad of anecdotal reports from pet parents successfully using CBD to treat joint pain in dogs.
Perhaps that's because CBD comes with remarkable anti-inflammatory, pain-killing, and antioxidative properties — all of which help with healthier joints, lesser discomfort, and more energy.
Best CBD Supplements for Dog Joints
Not all CBD products available for dogs are created equal. In fact, there's a large discrepancy between the quality of different formulas.
The best CBD treats for canine joints come from organic hemp and contain all-natural ingredients. They also provide the full spectrum of phytonutrients, including CBD, minor cannabinoids, terpenes, and flavonoids.
Together, these compounds create a unique synergy called the entourage effect. This biological phenomenon increases the efficacy of all cannabis compounds compared to their isolated counterparts (even in high concentrations).
Below I give my recommendations for the two leading brands that make third-party lab-tested CBD supplements for dogs from organic hemp.
1. Royal CBD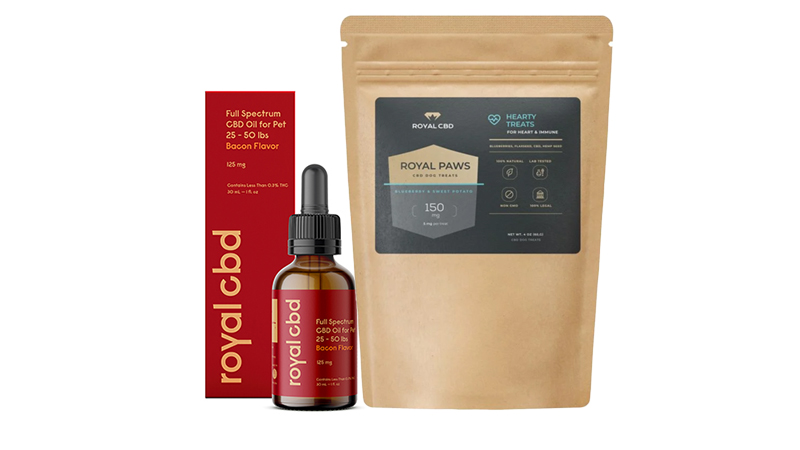 Royal CBD is a Nevada-based manufacturer that boasts a broad range of full-spectrum CBD supplements for humans and pets.
The Royal CBD pet line features two products, both of which are helpful for joint and mobility support.
The Royal Full-Spectrum CBD Pet Oil is a whole-plant extract that packs 500 mg of CBD, minor cannabinoids, and terpenes in a 30-mL bottle. At 15 mg per mL, this CBD oil is a great pick for larger dogs with joint pain, but if you're careful enough, a little will go a long way with a small dog. The bacon flavor is guaranteed to make your buddy lick its lips with pleasure.
And if your dog doesn't like the texture of CBD oil, Royal CBD has a tasty alternative in the form of treats. Royal CBD Paws come in three formulas: Active, Hearty, and Calming. I recommend the Active option because it contains turmeric, a powerful anti-inflammatory agent that works synergistically with CBD.
2. Gold Bee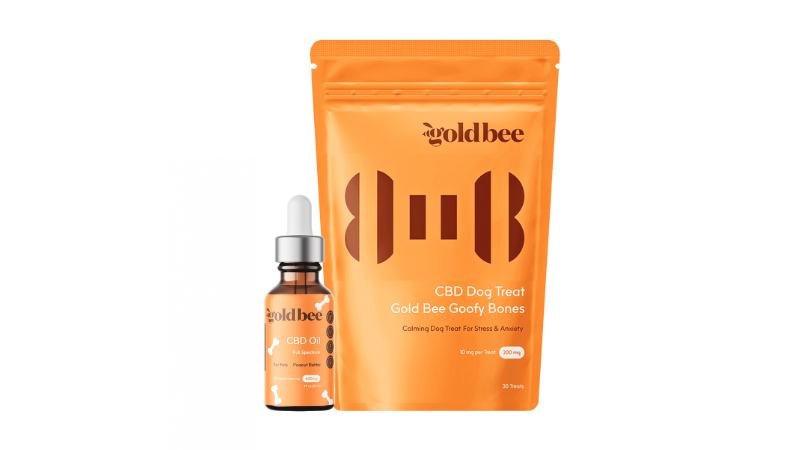 Gold Bee is a former superfoods manufacturer turned CBD brand that offers a unique line of carefully crafted products from terpene-rich hemp strains grown in Colorado. Aside from a broad range of products for humans, it also has a small choice of supplements for dogs.
The Gold Bee CBD pet oil contains 600 mg of full-spectrum CBD oil and comes in a finger-licking peanut butter flavor. It's a good pick against joint pain flare-ups or systemic inflammation.
You can also give CBD Goofy Bones to your dog, each infused with 10 mg of CBD and a natural peanut butter and apple flavoring.
All Gold Bee products are third-party tested for potency and purity, including pesticides, heavy metals, solvents, and mold.
How to Choose Joint Supplements for Dogs
If you've just started checking what to give for dogs' pain or specifically exploring the world of joint supplements for dogs, maneuvering in this space can be troublesome. But knowing a few important factors can help you effectively separate high-quality products from snake oil.
Each product should have a well-thought-out formula that combines ingredients known to reduce inflammation and pain and support joint health in dogs.
These supplements come in chewy bites or oily extracts; others take the form of pills and ointments (ointments are better for localized pain).
Below, we share our tips for choosing the best natural remedies for joint pain in dogs.
Ingredients
As you can see, most of the options mentioned in this article share anti-inflammatory, antioxidative, and pain-killing properties.
Anti-inflammatory compounds can reduce systemic inflammation and prevent damage to the joint and cartilage. Antioxidants protect the joint against free radicals, helping to replenish their natural barrier and reduce physical stress. Painkillers dampen pain signals by altering the receptivity of your dog's receptors in the brain.
Long story short, the best joint supplements for dogs combine synergistic ingredients that reduce discomfort, protect joints, and help rebuild cartilage.
Type
As mentioned above, joint supplements for dogs take various forms, including treats, oils, capsules, creams, and more.
If your dog is picky, it will probably fuss over oily supplements and capsules, but I've seen a few dogs turn their heads away at the sight of peanut butter-flavored chews.
Make sure you adjust the form of supplementation to your dog's preferences so that it has pleasant associations with the routine.
Flavor
The good news is that most supplements for dogs are flavored, so your dog won't tell the difference between something medicinal and something mouth-watering.
The bad news is that some flavorings are downright crappy, and if made from artificial ingredients, they can be dangerous for the dog in the long run.
Always make sure that the flavoring is all-natural. From there, you can adjust the flavor to your dog's taste buds. Whether it's beef, chicken, salmon, or duck, you'll know which options will make your buddy's heart beat faster.
Symptoms of Joint Pain in Dogs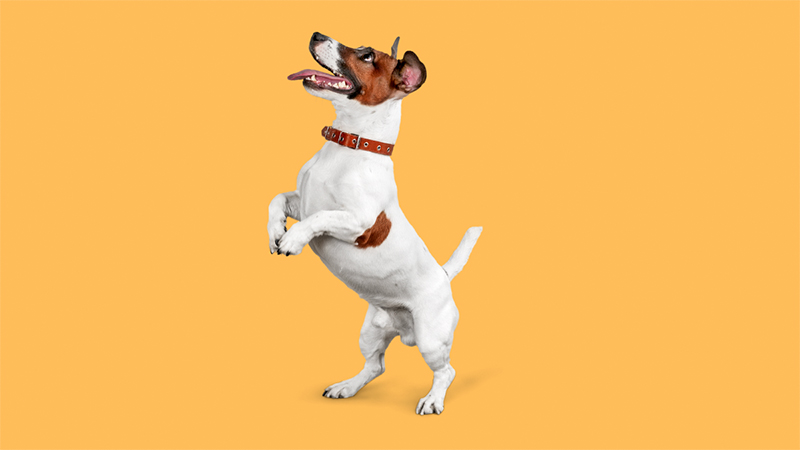 Joint pain may occasionally occur in healthy dogs due to excessive wear and tear, but it can also be the result of aging or developing arthritis or a secondary orthopedic disease.
Common signs that your dog would benefit from joint supplements include:
Reduced mobility
Difficulty getting up or lying down
Inability to jump
Joint swelling
Stiffness
Limping or lameness
Stumbling or drawing the feet along the floor
Behavioral changes, such as low appetite or aggression
Reluctance to physical activity
If you notice any of these symptoms, it's wise to do a check-up at the vet for a complete examination. Your vet will run a physical test, talk with you about observations, and perhaps recommend additional tests to determine the severity of joint pain.
Does My Dog Need Joint Supplements?
The answer to that question depends on many factors. You shouldn't assume right off the bat that your dog needs one; the best way to figure it out is to consult a vet.
Dogs may need joint supplements for several reasons, whether it's hip dysplasia, arthritis, or an accidental injury.
A joint supplement will help relieve pain, reduce inflammation, and support the recovery of the joint and cartilage.
Older dogs are more likely to take supplements, but not every older dog needs them. You should observe your pooch for any signs of discomfort, and as soon as you notice them, take it to the vet for a full diagnosis.
How to Support a Dog with Joint Pain
Supplements — as the name implies — are something meant to support an already-existing set of healthy habits.
For example, the most effective way to manage joint pain and support mobility in your dog is through a nutrient-rich diet that comes with plenty of immune-enhancing ingredients.
If you're feeding your dog the standard commercial diet full of cereals, preservatives, and artificial colorings, cease it immediately because it's the most pro-inflammatory food in existence.
Instead, opt for real food like meat, organs, veggies, and low-carb fruits.
When introducing a new supplement to your dog's regimen, remember to consult your veterinarian first. They will know your dog's medical history and can provide precise guidelines along with the right supplements to support your pup's joints and overall health.
If your dog is struggling with limited mobility, you can consider purchasing a pet ramp. There are plenty of cozy ramps to use indoors next to your bed, couch, or wherever the dog feels the most comfortable.
Finally, you may think about pet insurance. The sooner you get it, the better for your finances. If you have pet insurance, your dog will qualify for any conditions that develop when your policy becomes valid.
FAQs
What's the best dosage of joint supplements for dogs?
Figuring out the best dosage of joint supplements for your dog can be challenging.
What type of supplement is it?
What's the potency of the active ingredient?
Does it have any synergistic ingredients that boost the efficacy of the main one?
What's your dog's metabolism?
Do you give joint supplements with or without food?
Ask yourself these questions and talk to your vet before adding a new supplement to your dog's regime. Veterinarians are experienced with different dog breeds and health supplements, so they will be able to recommend a good starting point.
When to see a veterinarian
As soon as you notice the first symptoms of pain in your dog. Trying to diagnose the dog on your own can be time-consuming, and the condition may deteriorate each day. A consultation with a veterinarian will help you receive an accurate diagnosis, create a treatment and supplementation plan, and get a good grasp of different dosages and timings for taking supplements with other medications to avoid interactions.
What are the side effects of joint supplements for dogs?
Even natural joint supplements come with possible side effects. Fortunately, most of them are mild and not life-threatening.
The most common adverse reactions to joint supplements for dogs include:
Upset stomach
Nausea
Diarrhea
Dry mouth
Reduced blood pressure
Appetite fluctuation
Lethargy
If your dog gets a rash after taking a supplement, discontinue the use and take the dog to the veterinarian. This can be a sign of an allergy to a specific compound.
Summarizing the Best Joint Supplements for Dogs
Joint supplements are one of the most common long-term, safe solutions for inflammation, pain, joint function, and the prevention of joint damage and arthritis.
However, remember they're just a part of a bigger picture. You need to take care of your dog's diet, physical activity, and stress hygiene if you want to prevent and successfully manage joint pain.
Supplements are the frosting on the cake. They can help you step up your game. But if you have no cake — the frosting is just that… a decoration without a purpose.
Ask your veterinarian about the benefits of CBD for joint health. It's one of the safest and most effective joint supplements for dogs. Just make sure to buy it from reputable sources, such as the ones outlined in our guide.
Related: