What Can I Give My Dog for Arthritis?
Arthritis can steal the joy from your dog as they age. Fortunately, you can effectively manage this condition with the help of a holistic veterinarian and natural remedies.
In this article, we point out the most effective home solutions for arthritis and joint pain in our canine friends.
If your dog is celebrating its tenth birthday, it may be just the right time to take care of the right habits and supplementation to prevent arthritis – or slow down its progress when it kicks in.
Arthritis in Dogs: Overview and Symptoms
If you see your dog in pain and suspect he might suffer from arthritis, the first step to effective treatment is to rule out a proper diagnosis.
The telltale symptoms of arthritis in dogs include:
Limited mobility
Difficulty to stand from a lying position
Problems jumping onto a bed or couch
Losing muscle mass in the rear limbs
Above all, you should take your dog to your veterinarian. The vet can diagnose arthritis in dogs by conducting a physical test, interviewing you about symptoms, and taking radiographs (if necessary).
Your veterinarian will draft out a personalized arthritis management plan to relieve pain and improve mobility.
What Can I Give My Dog for Arthritis and Joint Pain?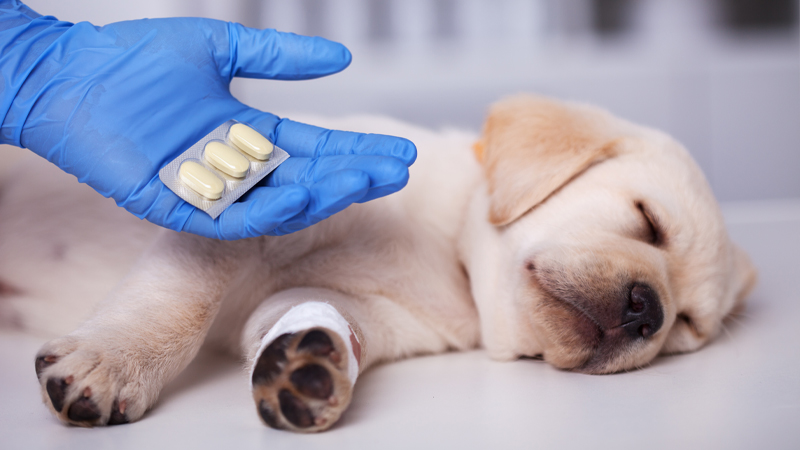 Nothing can replace professional advice from your veterinarian when it comes to managing your dog's arthritis pain. However, the treatment of arthritis like acupuncture or massages are usually given at your vet's office, so you may be looking for alternative ways to treat dog arthritis at home.
Here's what you can give your dog to increase their comfort and bring that broad smile back on their face once again.
Health Supplements for Arthritis and Mobility
There's a wide range of natural health supplements for dogs with joint pain. The condition has many potential causes, from aging to mechanics change due to an injury. When bones are rubbing against each other, the once thick cartilage will become thin, causing inflammation and pain in the joints.
The following ingredients help improve mobility and reduce joint pain in dogs:
Glucosamine and chondroitin sulfate – Glycosaminoglycans (GAGs) are essential ingredients of healthy cartilage, making them one of the most popular health supplements for joints.
Hyaluronic acid – This type of GAG is a primary component of joint fluid and increases cartilage resistance to wear and tear.
Methylsulfonylmethane (MSM) – This ingredient is useful for forming new cartilage and can curb inflammation and joint pain.
Omega-3 fatty acids – these essential fats come with anti-inflammatory properties that can alleviate pain and improve regeneration.
Turmeric (or curcumin) – turmeric is a common supplement for enhancing immune function in humans, but you may just as well give it to your dog to reduce pain and inflammation caused by arthritis.
Licorice
Licorice is a great plant that can be administered for pain relief for dogs with arthritis. It's the same ingredient that you can find in that black candy grandmothers tried to feed their children.
However, little did you know about its potent therapeutic properties.
It's a fast-acting anti-inflammatory; the only obstacle is the flavor, which you can overcome.
See if you can convince your buddy to drink some cold licorice tea. If that fails to work, you can combine 60 drops per 20 pounds of body weight in a cup of water – and give it to your dog twice daily.
Turmeric
This golden superfood is great for both humans and arthritic dogs.
Turmeric contains curcumin, a powerful anti-inflammatory and immunomodulator. It has been used for centuries to relieve inflammatory conditions such as arthritis, and studies have found that turmeric has a broad range of health benefits beyond reducing inflammation.
Health food stores and pharmacies offer a special turmeric paste with high curcumin levels. Give it to your dog, adding ⅓ tsp per day for every 10 pounds of your dog's weight to their food.
Ginger
Ginger is another cooking ingredient that could help your arthritic dog.
This root is known for its ability to improve digestion, but it's also believed to ease inflammation and pain.
Ginger improves blood circulation in senior dogs with compromised ability and limited movement range.
You can use fresh ginger or buy powdered ginger in capsules if your dog doesn't like its spiciness.
Dietary Modifications for Joint Pain
Diet is the cornerstone of your dog's well-being, including joint function. Paying attention to the amount and quality of the dog's food can easily help prevent and manage arthritis.
Keep Track of Your Dog's Food Intake
Dog parents are often tempted to spoil their dogs, including accidental overfeeding episodes. After all, it's difficult to resist those large, begging eyes.
That being said, there are better ways to show your love than through food.
Feeding your dog enough food and maintaining its quality will keep them in good shape for a very long time. This means less pain and improved mobility.
Take Care of the Right Ingredients
It's not only the amount of food but also the quality that may cause obesity in dogs.
Canines are strict carnivores and natural hunters, meaning their diet should consist of meat, organs, and occasional fruits with selected vegetables.
Harsh as it may sound, the vast majority of dog food in supermarkets shouldn't be allowed for sale in the first place.
This food is usually full of processed ingredients, colorings, grains, sugars, and unnecessary fillers that contribute to inflammation and can make arthritis even worse.
Consult your veterinarian or a dog dietician to understand your dog's nutritional needs better.
Provide Moderate Exercise
Dogs with arthritis are less willing to move and play around because the joint pain makes it difficult. Stiff gait results from staying for long periods in one position.
You need to provide a sufficient amount of mild exercise to your dog regardless of their weight.
It's a great way to increase mobility and ease arthritis at home.
You can start with slow walks around the neighborhood so that your buddy stays active and can systematically lose weight.
Swimming is another great low-impact exercise for arthritic dogs and can increase their comfort in the summer.
Clip Your Dog's Toenails Regularly
Your dog's nails should be clipped short. Long nails change the way the foot moves and can create discomfort during walking. Although it may seem challenging at first, it's easy to learn how to clip your dog's toenails at home with confidence.
Create a Comfy Bed
Many dogs enjoy a comfortable bed, although some breeds are particularly attached to cool wood or tile floors.
If your dog is comfy, it's a good idea to create a safe spot that will give them deep rest after exercise.
Dog beds come in a plethora of sizes, shapes, and materials. You can try an orthopedic dog bed with a cooling memory foam mattress. If your dog is having problems getting all the way down to the floor, buy a slightly elevated bed.
If your dog doesn't want to use the bed you've bought, move it to an area it likes, such as the living room. You can also place it next to your bed to increase safety.
Manage Anxiety
Anxiety is an inevitable companion of pain. When your dog suffers from arthritis pain, they may pace, shake, pant, and hide during flare-ups.
It won't be an overstatement to say that arthritic dogs are prone to being anxious dogs.
Consult your vet to find the right strategy for reducing anxiety. Again, herbal supplements, especially CBD oils, are safe and effective anxiolytics.
What About CBD Oil for Dogs with Arthritis?
Regarded as a natural remedy that is derived from hemp plants, people have used CBD oil on dogs with arthritis. Its main ingredient, CBD (cannabidiol) is touted for remarkable anti-inflammatory and analgesic properties.
CBD reduces inflammation in a similar manner to non-steroidal anti-inflammatory drugs (NSAIDs), but without the side effects associated with the latter.
CBD is so versatile because of its interaction with the mammalian endocannabinoid system (ECS). The ECS is a complex neurochemical network that promotes and helps maintain homeostasis — a fancy word for balance throughout the body.
Long story short, the ECS keeps all your other systems and organs in good shape. When it becomes deficient in its natural endocannabinoids, it gives rise to a variety of disorders and diseases.
Here's where CBD comes into play.
CBD signals the ECS to produce more of its endocannabinoids and inhibits enzymes that break them down. This action results in an increased pain threshold and reduces the risk of hyperalgesia (oversensitivity to pain).
On top of that, CBD engages with cannabinoid receptors in your dog's immune system, reducing inflammation by blocking the release of pro-inflammatory cytokines. The cannabinoid can also enhance the communication between the cells in the immune system so that it properly identifies pathogens.
Best CBD Oils for Dogs with Arthritis
As you can see, a little cannabinoid goes a long way.
But how do you choose the right product for your dog's health needs – one that is effective and safe for your pooch?
Here's a useful cheat sheet:
Buy organic products. Hemp absorbs and accumulates both the nutrients and toxins from its environment. The goal is to avoid toxins and maximize the number of nutrients. Organic hemp is the best for the job because it's free from pesticides and heavy metals.
Choose CO2-extracted products. CO2 extraction yields clean and potent products without using high temperatures and harsh solvents.
Read lab reports. Always look for batch-specific certificates of analysis from a third-party laboratory. These documents list all ingredients in the tested sample and verify its potency, including the aforementioned contaminants, such as pesticides, solvents, heavy metals, and mold.
Below we recommend two brands that make premium-grade CBD oils and treats for dogs at reasonable prices.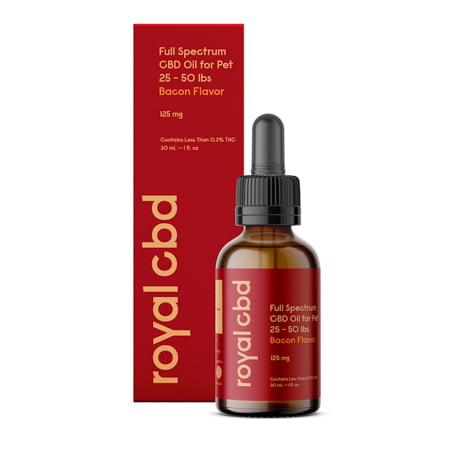 Get 15% off all Royal CBD products.  Use code "CFAH" at checkout.
Pros
Cons

Non-GMO, pesticide-free hemp
CO2 extraction
Full-spectrum CBD
Up to 500 mg of CBD per bottle
Bacon flavor
Available as CBD treats (three different formulas)

Slightly more expensive than competitor brands
Limited flavor options
Royal CBD is a Nevada-based brand specializing in full-spectrum and broad-spectrum CBD extracts. The company uses the same high-quality CBD oil for its dog products as it does for human products.
The Royal CBD pet oil comes in two potencies: 250 mg (small and medium dogs) and 500 mg (large hounds). Both products contain full-spectrum CBD, so your dog can reap the benefits of the whole-plant synergy known as the entourage effect.
In simple terms, the entourage effect allows lower doses to remain effective because the other cannabinoids and terpenes boost the efficacy of CBD.
If your dog doesn't like the flavor of natural CBD oil, Royal CBD has got you covered with the beloved flavor of all carnivores (bacon).
Alternatively, you can choose one of the 3 formulas of CBD dog treats to help with arthritis. The Immune treats will be your best bet for managing arthritis and joint pain.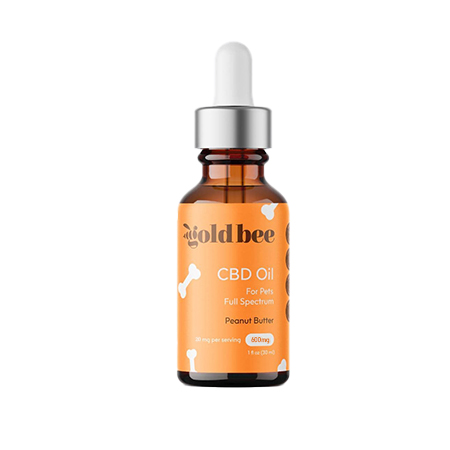 Pros
Cons

Organic hemp
CO2 extraction
Infused with superfoods
600 mg of CBD per bottle
Peanut butter flavor
Full-spectrum CBD
Third-party tested for quality and safety

No low-potency oils for smaller dogs
Only one flavor is available
Gold Bee has remarkable expertise in the superfoods space. When the brand transitioned to the CBD market in 2019, it promised to include its health-conscious philosophy in its line of CBD products for humans and pets.
The Gold Bee CBD oil is available in one strength, featuring 600 mg of full-spectrum CBD per bottle. The earthy notes from the whole-plant extract pair surprisingly well with the natural peanut butter flavoring.
The only problem with this product is that the owners of smaller dogs may find it difficult to dose. However, once you figure out the optimal dosage for your dog, you may end up with a few months' worth of supply.
Similar to Royal CBD, Gold Bee sends each product batch to an independent laboratory for a potency and purity analysis.
Home Modifications for Dogs with Arthritis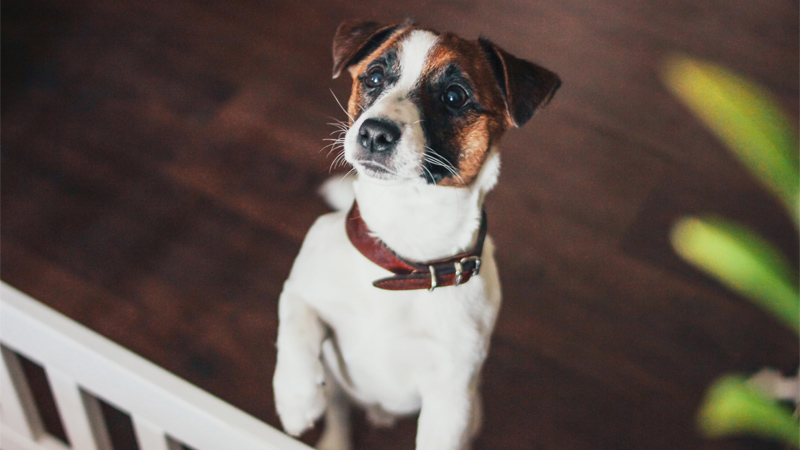 Dogs with arthritis have problems navigating specific areas of the house, such as staircases and slippery floors.
Here are a few creative ideas you can try to modify your house:
Put down area rugs on slippery floors. You can also use runners, rubber mats, or yoga mats. Doing so will help your dog gain traction on slippery floors and other problematic places.
Use an absorbent mat where you feed your dog. Feeding an arthritic dog on a non-slip mat will protect them against slipping and falling if water is spilled on the floor.
Install ramps and steps. This modification can help your dog get up and down from the bed, on and off the couch, or in and out of the car. There are many DIY solutions for dog parents who are naturally born handymen.
When to Call Your Vet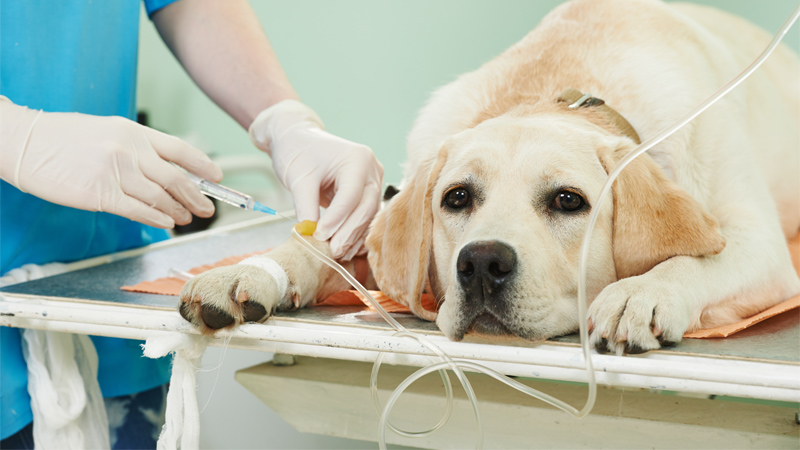 Arthritis is best treated with the help of a holistic veterinarian. Conventional vets may recommend certain dog medications to reduce pain, including:
Muscle relaxants
Medications to reduce nerve pain
Opioid medications
Non-steroidal anti-inflammatory drugs
However, these medications are only good for short-term relief. Long-term use can lead to addiction and tolerance buildup, increasing the risk of an overdose and other side effects, such as bloating, vomiting, headaches, loss of appetite, and lethargy.
Holistic veterinarians will recommend natural remedies for dogs with arthritis combined with lifestyle and diet modifications. They may also point you to an acupuncture specialist or a physiotherapist to provide extra mobility treatment and reduce muscle tension.
Never give any human pain medication to an arthritic dog unless you've been told so by your veterinarian and guided about dosage. These are human medications for a good reason; their serving size is adjusted to average human weight, making them inappropriate for our canine friends.
Key Takeaways on Natural Remedies for Dogs with Arthritis
Although arthritis can occur at any age – be it due to a poor diet and lack of exercise or a mechanical injury – older dogs are more prone to suffer from arthritic pain.
First, have a session with your veterinarian to establish the right strategy for reducing pain and improving mobility.
Follow the vet's instructions and support the treatment with the aforementioned natural remedies. Supplements like CBD oil, licorice, and turmeric are especially useful for treating pain and inflammation – the two common signs of arthritis.
Make sure to prepare your house so that your dog can live through this demanding period with dignity.