1st Person: After Years of Treatment, a Time to Wait
First Person | June 6, 2011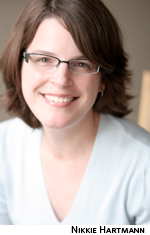 For many freshmen, the first year of college is devoted to classes, work and socializing, with little thought given to health or longevity. But for Nikkie Hartmann, a Chicago-based public relations professional, the start of her college career also marked the start of 14 years of dealing with cancer.
I always had lots of sinus problems and strep throat. I went to the doctor regularly, so I never thought anything of it. But then I had a lymph node pop up on the back of my neck. Thinking it was nothing serious, I went to the doctor and they found a slight nodule.
After a biopsy, her doctors diagnosed her with papillary thyroid cancer in 1997 ' at the age of 18.
I underwent total thyroidectomy with removal of the lymph nodes on the right side of my neck because of metastases. I have undergone several radioactive iodine treatments over the years, but my blood work continues to come back elevated, indicating the cancer remains somewhere in my system. After MRI scans, ultrasounds, chest X-rays, PET scans and more lymph-node biopsies than I can recall, the doctors and I have decided it is time to watch and wait.
Her doctors believe the cancer is hiding out in a lymph node, undetectable in her neck, Nikkie says. If it spreads again they are hopeful that the blood work will show a change in thyroglobulin levels and the lymph nodes will be visible in imaging tests.
I've been to so many doctors. They stopped giving me radioactive iodine because it was hurting rather than helping. At this point, I've been getting an ultrasound done. Last year was the final year that they did biopsies. They saw a few lymph nodes that look suspicious, but rather than continuing to do more tests we're going to wait.
Nikkie says that dealing with cancer at such a young age definitely had an impact on her view of health and wellness.
I think it does give you a different perspective. I take care of myself so much more, compared to many of my friends.