1st Person: Are Doctor Ratings Sites Useful?
First Person | November 15, 2011
When it came time for Jennifer Stevens, an Omaha, Nebraska resident and mother of two, to find an obstetrician for her first baby, she was faced with a dilemma.
I wanted to ask around for a recommendation but I didn't want to tell anyone that I was pregnant yet. My gynecologist suggested a few physicians, but I wanted more information. I ended up on Google, looking at ratings. What I found were a lot of sites that gave stars, but I didn't know what those stars meant. I didn't know if it was just one person, or even the doctor themselves giving four stars or a lot of people. Stars are so subjective. For restaurant ratings, for instance, one person will go on and on about how great a place is and give it three stars, while another person won't like it and will still give it three stars. How can you decide based on that?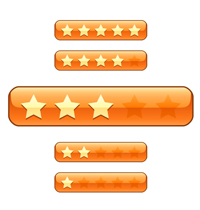 Ratings sites with patient testimonials were more helpful, giving her insight into specific people's experiences.
The patient ratings revealed more about the actual doctors themselves, who people liked and didn't like. But these ratings still didn't answer my questions about what to expect.
One of my main concerns was the degree to which these OBs would let me control how my labor would proceed. It was important to me to find a doctor who would let me go at my own pace and wouldn't push an epidural on me or rush to perform a C-section after three hours of labor because they had somewhere else to be. These ratings didn't tell me that.
Although Jennifer's ultimate experience with her doctor was very positive, there were details she would have included in a review that could have helped.
My doctor was a bit odd at first, but once I got past that, he turned out to be great. If I wrote a review, I would have encouraged others to push through that first impression.
Ultimately, the problem with testimonials and personal recommendations alike is that people want different things. While I didn't want a C-section, other women might prefer it. In the future, I would suggest a friend use a ratings site if it had patient reviews, but I'd let them know there's a lot of information they won't necessarily get until they see the doctor themselves.