1st Person: Hospice, My Husband and Me
First Person | March 10, 2011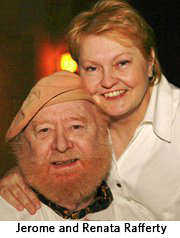 As Jerome Rafferty, diagnosed with a progressive form of dementia and an incurable, antibiotic-resistant infection, became more ill, his wife, Renata Rafferty, used hospice services at home initially to assist her in caring for him.
Once hospice got involved and came to us at home, it was anything we needed. Hospice is not the place where you go to die, but the place you go to celebrate and finish your life, in an environment where that is the sole and only focus.
When we signed on to hospice, the very first visit they brought a booklet about what to expect when someone is dying relative to appetite, demeanor, physical actions and behaviors. When those things started happening, I was very comfortable rather than afraid.
Eventually, Renata realized that having access to the medical equipment and round-the-clock care of a stand-alone hospice facility would help Jerome be more comfortable ' and relieve some of her emotional and physical burden, too. Once she made the choice to transfer Jerome to the hospice facility, she could finally relax in the home-like atmosphere there.
It gave me some relief. From a caregiver's standpoint, it meant that I could leave the room to go to the bathroom or leave to make a phone call to a family member and know that he was cared for.
Five days later, Jerome died in the hospice facility, in October 2009.