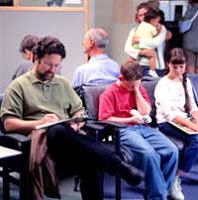 This is a HUGE problem. We have a lot of unnecessary hospital emergency department (ED) use in this country. Stories like this one in which a very ill child was kept waiting dangerously long to see the doctor are a natural consequence of ED overcrowding. You can blame the healthcare workers for not recognizing the severity of her illness. You can blame your doctor for those interminable waits on the phone that cause you to not even want to pick up the phone to request a same day appointment. You can blame other people who don't understand the difference between a situation that can be cared for at your primary care doctor's office and that which requires ED attention.

Turns out, all those factors and others contribute to the problem, leaving us with a spaghetti-like mess of a situation in which we follow the thread of primary care provider access and run into primary care shortages. We follow the thread of patient behavior and run into primary care practice inefficiencies. We follow the thread of ED worker behavior and find a very chaotic environment that's worsened further by billboard signs advertising your local emergency room as the go-to place for all your acute care needs.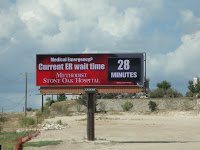 A recent study in the Journal of the American Medical Association regarding ED use between 1997 and 2007 told some frightening statistics:
Visits to the ED increased by 23%. This was double the population growth.
The number of EDs decreased by 5%
The percentage of patients leaving without being seen increased significantly- a dangerous situation.
It's estimated that about 1/3 of visits to the emergency room are non-emergent and could be dealt with at the primary care provider's office. So when should you go to the emergency room versus your primary care provider's office? Here's a simple litmus test: ask yourself, "Am I thinking of going to the emergency room because it's convenient or because it's a true emergency?" If the answer is convenience, please call your primary care provider first.
The Mayo Clinic health information site also offers this good advice:
Have a plan. If you have a chronic condition (like asthma, heart failure, migraines or chronic pain) that condition may flare up from time to time. Your primary care provider can help you develop a plan for noticing the early signs of a flare up so you know the medications and actions you need to take to head it off.
Ask a nurse. Sometimes it's hard to reach your doctor after hours. Find out if your insurer or employer has a 24-hour nurse line that you can call. Have that number ready by posting in on you refrigerator or programming it into your phone.