Patient Navigators: Are They Necessary or Just Nice?
Jessie Gruman | May 4, 2011
Each of the four times I have received a cancer-related diagnosis, I felt like I had been drop-kicked into a foreign country: I didn't know the language, I didn't understand the culture, I didn't have a map and I desperately wanted to find my way home.
Over the years I have listened to hundreds of people describe the same experience following the diagnosis of a serious illness. As the number of physicians, diagnostic test sites and treatment options have grown and the lack of seamless, coordinated care persists, the majority of patients and their loved ones struggle to find the right care and make good' use of it.
It makes sense, then, to add to the collection of health professionals one meets on this particular journey a navigator who can remove barriers to care and help fill gaps in knowledge and skills that anxious patients and their loved ones encounter during this stressful time.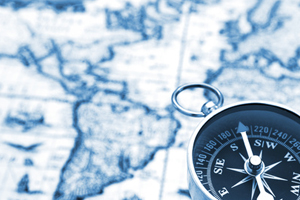 Indeed, it has made so much sense to so many people working in health care that there is now a thriving movement to train and employ patient navigators in a variety of settings.
To quote Butch Cassidy, Who are those guys anyway?
What do patient navigators do?
In 1990, pioneer Dr. Harold Freeman, built the first patient navigator program at Harlem Hospital to help shorten the time between the diagnosis of cancer and beginning treatment. The navigators were former cancer patients and the program was successful in achieving this aim. Since then, the navigator concept has exploded.' You now can find patient navigators deployed to help people make their way through treatment for breast cancer, cancer in general, various tests, and a multitude of chronic conditions and populations (at-risk women, older people).
And what do they do? The descriptions of navigators activities include greeting and concierge-type interactions at hospitals, coordinating appointments, accompanying patients to appointments and tests, explaining tests and treatments, counseling for psychosocial distress and referring to community services.
Training to become a navigator corresponds with these diverse activities. Some patient navigator programs are staffed solely by professionals with extra training: medical social workers or nurses. Others require no background in health, only some training in navigating, which ranges from learning variable content over the course of two hours, two days or two months. Some patient navigators are volunteers, some earn minimum wage and some are paid as professionals. There are some fledgling efforts to certify patient navigators, but the recognition of that certification appears to be mostly local.
How is the effectiveness of patient navigator programs measured? It is difficult to find a description of the expected impact of navigator programs and thus little information is available about whether and how programs and hospitals evaluate whether they are fulfilling their stated functions. There are only a few published articles on this topic. No single list of expected outcomes of patient navigation and metrics to account for them appears to be widely used.
Who pays for patient navigators? Pharmaceutical companies have invested heavily, as have some individual philanthropists. The federal government supports a number of research programs to develop and test models for patient navigators. Navigators play a role in many of the National Cancer Institute Community Cancer Centers and are sponsored by many local units of the American Cancer Society.
And how widespread is patient navigation? Hard to tell. The media has taken a shine to the idea. And it has produced many employment opportunities: early this week, 641 job listings for patient navigators appeared on the Simply Hired Website.
What's wrong with this picture? Well, aside from concerns about quality control, the possibility of patients receiving misleading information, and program instability due to a lack of a sustainable revenue model, I suppose this general 'let a thousand flowers bloom' approach is OK. It sure makes for a lot of nice ancillary support for some patients in some places.
But this is not good enough. Our lack of sufficient skills and knowledge about how to find the right care and make good use of it causes real problems for many of us. We vary in our experience with illness and health literacy, but none of us is prepared to confront the complex information-and-service-seeking requirements of health care today, especially when we are frightened and ill. The consequences of our lack of preparation are delays, poor decisions about providers and treatment, sporadic follow-through and low adherence to recommended tests and treatment. This harms us, contributes to poor outcomes and wastes resources, ours, our employers, and our government.
These are problems that are necessary to solve as part of the effort to improve the quality and effectiveness of our care. They are not ones that it is merely nice to address with auxiliary services.
The current haphazard approach to meeting these needs adds to the fragmentation of our care and deepens our confusion about the roles and responsibilities of our care providers' It pushes technical responsibilities to lower paid non-professionals who lack accountability for outcomes. The informal position of patient navigation within quality measurement/improvement programs allows hospitals to claim they address critical care coordination concerns while abdicating responsibility for them.
In the late 90s, I met with the president of a major disability insurer to ask her if she would be willing to implement a patient-navigator-type program for people with chronic diseases. She said, 'Sure. But to do this, I need a scope of work. I need to know who to hire: what skills they have, what training they need and how their qualifications are certified. I need to know what outcomes I can expect with what level of effort over what time. Give me this information and if it will help beneficiaries without breaking the bank, I'll pay for it.
Can this be done for patient navigators? Agreed-upon aims, evidence about effectiveness, description of required skills, scope of work and well-defined metrics for assessment are necessary so that in this time of evidence-based health care programs can be implemented that ensure we have the guidance and support we need to make the best possible use of the services and treatments available to us.
If this information is not available, what will it take to produce it? And if it doesn't exist, or if there is no commitment to producing it, should patient navigation just continue to meander along?
Giving patient navigation a credible reliable place in health care delivery would mean that some of what currently goes on under the rubric of patient navigation may be spun off and delegated to other providers: health coaching, case management; social work; patient advocacy; care coordination. All of these job titles represent attempts to fill needed gaps patients experience in their care. They, too, should be held to standards of safety and effectiveness.
We need reliable, competent help to find our way through complex health care practices and treatments if we are to fully benefit from the care available to us.
Want to make a real contribution to patient-centered care? Invest in developing evidence-based, reliably delivered patient navigation that will help us do so.