The Formidable Complexity of Making (Some) Health Decisions: Book Review
Jessie Gruman | September 28, 2011
Can we have 'evidence-based' care and 'shared decision making'? Are they in concert or in competition with one another? Drs. Pamela Hartzband and Jerome Groopman, in essays published over the past few years, have argued that an impending collision between these two perspectives stands to decimate the responsiveness of U.S. health care and undermine patient autonomy. ' In their new book, Your Medical Mind: How to Decide What is Right for You, the authors focus their attention on the patient experience in making treatment decisions and in the process, present a rich collection of stories and evidence that strengthen their argument that a crash is indeed imminent.
In Your Medical Mind, Hartzband and Groopman invite us, the public, to understand their concerns by unpacking how scientific evidence ' and the lack thereof ' plays an often limited and sometimes quite unexpected role in treatment decisions made by doctors and patients: 'The effort to reduce medical decision making to numbers is ill-conceived and reductionist, overly simplifying a complex and vexing process that is fraught with conflict and emotion.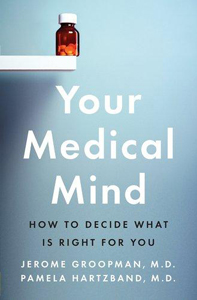 The thesis of the book is that medical decisions are in part driven by established facts and evidence (some spotty and ambiguous), but that personal traits, fluctuating emotions, cognitive biases, health status, personal history and emerging situations also powerfully influence the treatment choices of patients.' To their credit, the authors do not exempt clinicians from being subject to these biases and conditions, but rather describe how sometimes clinician and patient characteristics conflict in shared decision making.
The authors recount stories of people making choices about a range of medical interventions.' They pull from the literatures of health psychology, behavioral medicine, health services research, behavioral economics and decision science to show the patterns through which personal, situational and contextual factors interact over time as these people wrestle with their choices.
There's Omar with Hepatitis B who shares carefully with his wife all the details and considerations of treatment as his health declines while waiting for a liver transplant but who delegates to his clinicians decisions about his care prior to the transplant, asking his wife to follow their lead.
There's Lisa, who took a natural approach to treating her lupus that she later abandoned when she decided to get surgery to correct a painful bone spur and ganglion cyst ' and despite her efforts to gather information and make a choice that leads to the best outcome, the surgery is unsuccessful.
And many others.
The authors are good story-tellers and they stick with their subjects over time. The portrayal of the nuances of each individual's choices what influences them, how their physicians views affect their decisions reflect the reality of many of us who take seriously our participation in decisions about our treatment.' Doing this is hard work. Uncertainty about what the right choice is for a given individual can be excruciating, especially when that choice is different from the one our family or physician would make. The arduousness of the process may be the reason so many of us defer to the certainty of our physician's choice.' We'd prefer not to acquire working knowledge of the complexity or feel the chilly uncertainty that close examination of our options entails. 'When a person actively chooses a treatment and the outcome is poor, he or she can feel a deeper sense of self-blame and persistent regret.
After reading about the deep, thoughtful and sometimes existential deliberations of these individuals, it is hard to imagine that we could be denied the option of participating fully in decisions about our treatment. The reality is, however, that many of us are denied the kind of relationship with our doctors that allow for the exploration of benefits, risks, values, and preferences described in this book. We don't have health insurance. Our insurance doesn't cover our chosen treatment. The FDA hasn't approved the drug we think we need. Our clinicians aren't willing to engage: they don't have time; they don't get paid to do this; this is not how they were trained.
Your Medical Mind is not a how-to manual for making 'good' medical decisions, despite its title If you want guidance on doing that, you'll have to go to this article where you can see the interviewer try to get the authors to extract some snappy advice from the material they have presented. If you are looking for the political and practical implications of a growing patient population that wants to actively deliberate about their treatment, you will be disappointed. Just how can we avoid the impending collision between the blunt instruments of enforced evidence-focused quality improvement initiatives and the expectation that patients can and will engage meaningfully in decisions about our treatments? Perhaps the answers will be found in Hartzband and Groopman's next book or essay.
Your Medical Mind offers an orderly, well-sourced, approachable account of the challenges we and our clinicians face when we are truly engaged in making medical decisions together.
If you are a person who wants to be involved in making decisions about your care, you will see yourself reflected in these stories you may recognize patterns and learn about some of your own quirks. But if you are an advocate for shared decision making, an enthusiast for patient empowerment or a clinician working to implement patient-centered care, this book is required reading. It shows that implementing true shared decision making is not simple, it is not cheap and you can't just supply a decision support tool and say you've done the job. You need to know just how complicated this is, because in the absence of a practice and policy agenda supplied by Drs. Hartzband and Groopman, it's up to you to propose one that will prevent the collision.