Guest Blog: What Can the Health Care System Learn from a Car Dealer?
Neil Mehta | March 27, 2012
A friend just bought a new car and was raving about the experience. This was not a luxury car, just a regular popular model.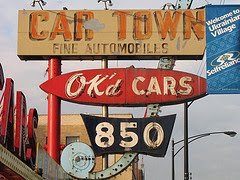 I personally dread the car buying experience for many reasons but one thing that bothers me is the discontinuity. You often see the sales person several times and to some extent the character of your relationship with him/her impacts the decision to purchase the vehicle.
But, the moment you sign on the dotted line, you experience the hand-off. If you have a question or problem with the car, and you try and reach the formerly very responsive sales person, you get shunted off to the voice mail of the service department.
Well, my friend was in a bit of shock because he experienced something quite unique. The sales person spent an hour after the purchase describing every feature of the car and answering numerous questions. In addition, he offered to stop by his home in a day or two to see if there were any questions that came up after he had used the vehicle.
But the real kicker came when he started driving out of the dealership. The sales person gave him his card with his cell phone number and e-mail address and said, "For any questions or problems you call me first and it is my job to ensure that they get resolved. I will arrange for any service needs and for a loaner car."
Compare this experience with that of a hospitalized patient about to be discharged. He gets a huge packet of papers including complicated discharge instructions, phone numbers to call for appointments, changed medication lists, etc., and a message "If you have problems call your primary care provider."
The primary care physician in question often has no idea of what happened in the hospital; even with electronic health records, the discharge summaries and hospital notes are often unhelpful, with critical information lost in a flood of meaningless data. Even if all the information is there, it cannot compare with the knowledge that is created from actually taking care of acutely sick patient in the hospital. It is almost impossible to transfer this "knowledge" using a paper or electronic record.
To make matter worse, the next time the patient gets admitted, he ends up with a different provider and the whole process starts us again.
Have we, in the interest of efficiency and short lengths of stay created silos that are impacting on the patient experience? This has led to the concept of the patient navigator which are being variable implemented/piloted. Based on this anecdote, every hospital needs to have knowledgeable patient navigators. Dare I say that the health care system should learn something from a car dealer who has already implemented this concept?