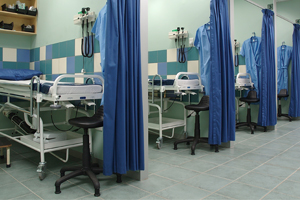 You may have seen the billboards or gotten a message on your smartphone: Come to our emergency room; our waits are short. If you're a mom, it's the middle of the night or weekend, and you have a screaming kid who has a sore throat, you might be tempted to drive to a different or unfamiliar hospital that promised fast service. What you may not have bargained for is that once you get there, you could be charged a fee as high as $200 or $300, if your kid does not really have what the hospital says is an emergency.
Welcome to the brave new world of hospital marketing! Hospitals are places that heal the sick, we all know, but they are also big businesses and getting bigger as consolidation continues apace in the industry. As a business, they must attract customers---in this case patients'and they've hit on an idea competing by promising convenient ER services.
At hospitals owned by HCA, the biggest hospital chain in the country, 314,000 people came to the system's ERs last year who did not have a true emergency. About 80,000 left, but according to Kaiser Health News (KHN), some 230,000 stayed and paid the $150 upfront fee a $35 million revenue stream for the bottom line. Not bad!
An HCA spokesman told KHN, "It has been a successful part of helping to reduce crowding in emergency rooms and to encourage appropriate use of scarce resources." Well, yes. That's the official line. But this marketing effort raises another question. Are these fast care promises, luring patients and caregivers to ERs when they might have waited until their doctor's office opened the next day or discovered that with a little more time and something as simple as taking two aspirin, they were feeling better?
Patients who stayed at HCA emergency rooms last year and paid the fee probably did so for convenience. We buy a lot of things because they are convenient carry out foods come to mind. Convenience costs. If you have insurance with a high deductible, staying at the ER for an ailment that's not an emergency might cost you out-of-pocket, and the fee you pay may or may not count toward satisfying your deductible. That all depends on what your policy fine print says. You might be better off financially to go to your family doc or a practitioner at an urgent care center, which typically have lower prices than hospital emergency rooms.
This all gets back to that still unresolved question. Is health care like other consumer goods? Whether it is or isn't, a huge dose of skepticism is in order as you ponder the wisdom of running off to the ER for minor health problems. That's no different from what consumers do when they buy other products and services. The standard advice still holds despite the attraction of slick advertising for ER waiting times. It's always best to avoid the ER unless you really are having a stroke, a heart attack, or something very serious and try to seek help elsewhere. Unnecessary use of the ER where the prices for care are some of the highest around does boost the cost of health care for everyone.