What's Engagement Now? Expert Patricia Barrett Discusses Emerging Challenges
Patricia Barrett | February 29, 2012
This interview with Patricia Barrett is the fourth in a series of brief chats between CFAH president and founder, Jessie Gruman, and health care experts - among them our CFAH Board of Trustees - who have devoted their careers to helping people find good health care and make the most of it
Embedding Engagement into Quality Measurement
Gruman: I'm interested in learning about how the National Committee for Quality Assurance contributes to individuals abilities to engage knowledgeably in their health care. I know NCQA is generally in the business of setting standards for the quality of health care and then measuring the performance of various players health plans, clinical practices and physicians, for example against those standards.
Patricia Barrett: Yes, one main part of our work involves figuring out what constitutes high quality health care and developing measures that will accurately reflect the extent to which the care in a given setting meets that standard.

The other main part of our work involves using those measures to assess health plans, disease management and behavioral health companies, individual clinicians and practices.
Gruman: And you report the results of your assessments publicly, right?
Patricia Barrett: We do. Information is available on the NCQA Website and we use a number of different strategies to get it directly in the hands of those who can use it, including those clinicians and institutions that were assessed. For example, our public health plan report card tells people how the plan performs in key areas such as keeping people healthy and helping people live well with chronic illness. Health plans and purchasers license the data on clinicians and practices that perform well so they can be identified in provider directories.

We know that those who are being rated 'teach to the test,' that is, they work to improve their ratings if they know that the public and their peers can see how well or poorly they are doing. We also know that in working to improve ratings on specific measures they put systems and processes in place that improve quality overall.
Gruman: It looks like NCQA has real leverage to increase people's abilities to participate positively in their health care.
Patricia Barrett:' We do, using two approaches:

One way we look at patient engagement is in the choice arena, by helping people pick who they'll get their care from. We provide information for people and purchasers to use to make choices about individual clinicians, practices and health plans, for example, based on objective ratings. Our seal of approval and report cards help companies choose the best health plans for their employees and help people find a doctor to help them manage their diabetes or one that can serve as their primary care practice. The idea is that if people know that a nurse practitioner or doctor or practice has been recognized by NCQA as providing high quality diabetes care, for example, it will help them to pick a clinician or practice that meets their needs. We rank health plans every year and license the results to major publishers so it reaches millions of consumers.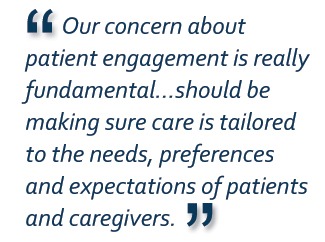 Gruman: And the second approach to leveraging attention to supporting patient engagement'?
Patricia Barrett: Is by defining as 'high quality' the provision of care that facilitates and supports people's engagement in their own health care.' When we are deciding what goes into an evaluation like this, we try to include things that will help make sure that people get the opportunity to be more engaged in their care. Care management, self-management support, patient experience measurement'these are all embedded in many of our recognition, accreditation and certification programs.
Gruman: How does the public learn about these recognition and accreditation programs?
Patricia Barrett:' Many clinicians and organizations use them as part of their credentials; you can often find them noted on their websites, for example.' They are also used by health plans ' you know, published in health plan directories and of course they are listed on NCQA's site.' Health plans may give extra payment to doctors who are recognized.
Gruman: Are there other recognition programs?
Patricia Barrett: Yes.' We have programs to assess the systems in place in outpatient practices to assure high quality care. There is a program for Patient-Centered Medical Homes (primary care practices) and one for specialist practices. We look at how the practice is organized and its attentiveness to access, population health, care management, tailoring to needs of patients, consideration of what community resources need to be brought to bear and quality improvement work.' Practice recognition is not about quantifiable performance measures and whether they hit percentages (unlike the programs for individual clinicians). For this program, we also look at how the practice is using health information technology, for example, how widely and often are they using their electronic health record system capability.

Within Patient-Centered Medical Homes, the practices are required to seek out the patient voice, heed it and include it in their efforts to provide better care. We specifically encourage patient involvement by expecting that those practices will include patients and families in their quality improvement work. They have to gather patient experience data using a patient survey like the standard Consumer Assessment of Healthcare Providers Survey (CAHPS) or something else like the CAHPS survey developed for medical homes.' The practice has to involve patients and families in the qualitative assessment of clinicians and in what they will do to improve.' Patients are also expected to be represented on committees and boards.

Our concern about patient engagement is really fundamental.' We think it should be embedded within care management, case management, health plans, disease management, medical homes or ACOs ' no matter who is doing it, they should be making sure care is tailored to the needs, preferences and expectations of patients and caregivers.
Gruman: That's a pretty demanding list of concerns. How do you actually measure this?
Patricia Barrett: NCQA expects that those entities are getting from the patient or caregiver information about their cultural and linguistic needs and their preferences and goals for care and then tailoring support programs specifically to address those goals.' These are qualitative attributes. The measure is whether there is credible evidence in the chart when the assessors go look at records; whether the patient was asked about these things; whether the patient was involved in the care plan development.

Our current thinking is that it's difficult to really understand the qualitative value of the conversations between clinician and patient, but you can at least see that there is a process in place to encourage practices to elicit and document patient preferences.

We want to measure a collaborative process, not outcomes. It's a trick to measure the right things that get at whether a good conversation is taking place and not create an unintended consequence to push individuals to a particular decision where that might not be a rational, appropriate decision for that person.

But the idea is that if this is done well, you will end up with better health outcomes and better performance on quality outcomes. But this is only true if you know what good care looks like and that it's not preference sensitive.
Gruman: What do you mean by 'preference sensitive' in this context?
Patricia Barrett:' Our aim is to have measures that, no matter what a patient's preferences are, there is a right answer for most patients and the exceptions are seldom enough that it won't adversely affect the overall practice of a doctor or plan.' We need to get better at acknowledging those exceptions.