A Report on Doctor Report Cards
Carol Cronin | December 17, 2013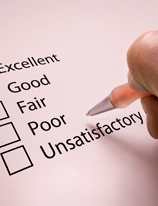 You've recently moved and need to find a new doctor. Or you need to have surgery. Or you've recently been diagnosed and are looking for a specialist for your condition. What's available online to help you learn about the quality of the doctors in your area?
I've recently looked at over 50 doctor report cards as part of my periodic re-review of consumer websites for the Informed Patient Institute. We rate health care report cards on an "A" to "F" scale using a set of criteria that address their content, timeliness and usability.
Report cards on doctors generally provide information on medical education, board certification, location, hospital affiliation, health plan affiliation and licensure. Rarely, you might see information on how often they perform certain procedures (volume), objective quality measures in certain clinical areas or patient ratings.
Where do we stand regarding doctor report cards for consumers, patients and families? There's good news and (mostly) bad news.
The Good News
There are some doctor report cards.
Building on the pioneering work in states like New Jersey, New York and Pennsylvania that have been publishing cardiac surgeon information for years, there are more efforts now to systematically measure and report on doctor performance focusing primarily on asthma, diabetes, heart care and preventive care such as breast cancer screening.
The Robert Wood Johnson Foundation's Aligning Forces for Quality project has prompted public reporting about medical groups in the communities they fund. The Society for Thoracic Surgeons (STS) publishes star ratings for surgical groups that voluntarily release their performance on some types of cardiac surgery. Consumers Union is working with STS and some of the Aligning Forces communities, such as Minnesota Community Measurement and the Wisconsin Collaborative for Healthcare Quality, to present their information in a different format.
Some state government agencies like those in California and Massachusetts publish quality information about medical groups such as how often they prescribe the right medicines for asthma, check for cancer or appropriately treat heart disease patients. State medical boards also generally sponsor websites where the public can look up information about doctors licensed in the state. These sites provide some information about their background, problems with their license and possibly malpractice information.
And increasingly health plans provide report cards to their members that have cost and quality information about the doctors in their networks. Unfortunately, most health plans only see part of a doctor's total patient load, so the information may not be complete.
The Bad News
The Informed Patient Institute has yet to award an "A" rating to any doctor report card sites in the country. Indeed, according to a recent assessment by the Health Care Improvement Initiative, the vast majority of states received a failing grade on physician transparency. Why?
The breadth and depth of available information available to the public is still sparse. You can probably find out where your doctor went to school, figure out how old she is, whether he is board certified and maybe see a picture of her. Hmm...
If you are having certain heart surgeries in New York, you can find out how many surgeries a surgeon has done and their mortality rates (though the information is old and not very consumer-friendly). In Maryland, you can't find that out. You might be able to find out if a doctor is really bad by accessing information about multiple sanctions on a medical licensing board website (and even then, there is much that may not be revealed on these sites).
Many of the doctor report cards report at the medical group level as opposed to reporting on the performance of the individual doctor. However, most patients and families have a relationship with a single doctor and perhaps the team of nurses, aides and other staff that support them. Until it is possible to verify that all of the care given by all the doctors in a group is equivalent, patients and families are going to want information about their own doctor or their potential surgeon. That's who cares for us, who we tell the details of our concerns to, and who lays his hands on us.
There are a number of doctor rating sites (like Angie's List, RateMDs, HealthGrades and Yelp) that encourage people to comment on, or rate, their doctors and other health professionals. In some ways, these sites are simply putting online the way that most of us choose doctors — by asking others' opinions. However, we don't know who these commentors are: Does he bear a grudge? Did this doctor refuse to prescribe pain medication to an addicted rater? Is the rater a member of the doctor's bridge club who he asked to weigh in? And on most of the sites, the number of commentors and raters per doctor is quite low. So while these sites offer a glimpse into what it might be like to be a patient, it would be nice to also have access to more complete information about the actual quality of care delivered and what many patients think through a broad-based survey.
The Take-Away
While there are doctor report cards in the public, nonprofit and commercial worlds, they still are immature and progress is slow. Evaluating health professionals and health organizations isn't easy. The organizer has to focus the inquiry, develop appropriate measures, decide which patients are which doctor's, determine how many patient observations are needed to be meaningful, collect and adjust the data, and design a way to report it in a fair and accessible manner.
Perhaps "all payer claims databases" (large databases that collect medical claims information from a variety of payers), doctor registries and electronic health records will eventually help provide the infrastructure needed to speed up the process. Or the Centers for Medicare and Medicaid Services' work on Physician Compare can help move things along.
One thing that I do feel certain about is that many current and future patients and their advocates are going to look for and want more information about their doctors when deciding to whom to entrust their care to stay well, conduct surgery or treat a newly diagnosed illness.