Five Years Later: Zigzagging Toward Acceptance
Kathi Kolb | October 8, 2013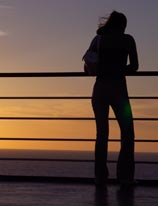 "Your biopsy is positive."
None of us ever forgets when we first heard some version of that phrase. I heard it five years ago today. And I thought it merited my emerging briefly from my blog hiatus to write a post.
Two weeks ago, I saw my primary care doc for my annual physical. Last week, I had a bunch of lab tests, all good. Next week, I'll be confirming the date of my next mammogram. Then I'll be going to get it. And biting my nails till I get the results. A few weeks after that, I'll be seeing my one remaining cancer doc, my surgeon. And hoping we'll be discussing negative results again and not discussing the need for further tests. NED [no evidence of disease], I'm waiting on you.
What hasn't changed...
I still have to be vigilant. I know too much to think that five years of NED means I'm off the hook. I'm still tired. I still find it hard to concentrate. I still have days when I just have to give up and give in and do nothing. I still can't work full time. I still have pain and problems every day with my right side, my right shoulder, arm, elbow and wrist. I still have to be careful not to lean over and reach too quickly so I don't set off a massive muscle spasm from my right collarbone through my chest and down to my waist. The main cause is radiation, which left in its wake a lot of permanent soft tissue damage five years ago this October.
My house still looks more like an archeological dig than a home. The living room and the kitchen and the bathroom are mostly habitable. There are piles of things in other rooms, some in bags, some freeform. My bed looks like a bed, and I manage to keep clean sheets on it. The cats like it. The laundry is never caught up, but the cats like that, too. The main thing is that I still have a home. And the plumbing works. And the roof doesn't leak.
I have managed to mow the front yard more or less regularly this year. The back yard hasn't been mowed all summer. There's a fence around it, a high fence, which is good. Keeps out the larger species of wildlife, and hides my benign neglect from the neighbors. And now there are some wildflowers growing in it, things like black-eyed Susans and wild asters and Queen Anne's lace, poking in around the false indigo and spirea and hostas and columbines I planted before I had cancer. It's become something of a small meadow. Rather pleasant. The bees and butterflies like it. At some point, I'll tidy it up. Just not today. Maybe not this summer.
Thanks to e-banking, most of my bills get paid on time. And I still get a paycheck. And I still have health insurance. And I still have my job, the same job I had when I was diagnosed. I've had to adjust and decrease my hours around cancer's vicissitudes over the years, but nobody seems to mind very much except me.
What also hasn't changed is that I've lost friends to breast and other cancers. And old friends continue to be newly diagnosed with mets. And most of my cyber friends are friends who've been diagnosed with cancer. And I hate doctor appointments. And I guarantee that I will still have the heebie jeebies when I go for my next mammogram.
What has changed...
My social life is a lot more circumscribed. I'm not as spontaneous as I used to be. But I cherish the friends who've stayed the course even more.
Making Art with a capital 'A' has taken a decided nosedive in the last few years. I still make art with a small 'a' now and then. Art with a capital 'A' requires more energy and money and resources than I have these days. I'm not worried, though. I've been at it long enough to know that the river hasn't dried up. It's still there, whenever I'm ready to dive in again.
My life has slowed down. Dramatically. And I've had to let go of a lot. Of necessity. I haven't liked it much. Some of the letting go has been painful — like letting go of friendships and expectations. But I don't feel as angry and resentful about it all. My attitude has changed this year, for the better, I think. I seem finally to have come to some genuine acceptance of where I'm at and how I got here. Doesn't mean I won't try to change and improve things. But I've learned to make small goals, teeny goals, short-term goals, and not to get as discouraged as I used to if I don't meet them. I've learned to stop comparing now with then as much as I used to do. Huge, that one. Now is now. That's all I can deal with. Then is in the past. Tomorrow could change on a dime. I know that very well. And if it does, tomorrow is when I'll deal with it.
What I've learned...
Aside from feeling like I now have an advanced degree in oncology, I've learned that I can't fix everything. In fact, I can't fix most things. I've also learned that it's much easier to do one thing at a time. And that multitasking really is a myth, because I can't really pay attention to more than one thing at a time. Because paying attention at all is often a challenge. And that finishing small things feels just as good as finishing big things. And that the way to finish big things is to subdivide them into small things.
I've learned to be much more forgiving. I've learned that I have to forgive myself and others and the ups and downs of life, sometimes on an almost constant basis. I've learned to expect to forgive, that it's healthy to forgive, that it eliminates a lot of needless disappointment to develop the habit of forgiving. It doesn't mean becoming a doormat or a passive, unfeeling lump. It doesn't mean putting on blinders to what is wrong or cruel in this world. But it does mean learning to step back from what may feel unforgivable. And it means I've learned to pick my battles. I'll fight the ones I need to fight, but I don't have to fight them all. I get to help people for a living. Often that means I get to advocate for them. And when I do, sometimes I get things to change for the better. It's a lot easier to do that for one person at time, and often, it's a lot more meaningful, too.
It helps that I never said 'Why me?' when I was diagnosed. When you work as a health care clinician, you get over that very quickly. Catastrophe happens, unbidden, undeserved, all the time. I hate that I was diagnosed with cancer, but I never took it personally. I've learned to value my passion and skepticism, but to spend them more wisely.
After spending so many months and years feeling not okay, indeed feeling the very opposite of okay, it's great now to feel just okay. In fact, it's brilliant. I don't have to feel spectacular to laugh and love and play and help someone. And when I do, I often end up feeling a lot better than okay.
Here's to the next five years.
This post originally appeared on Kathi Kolb's blog The Accidental Amazon on July 28, 2013.