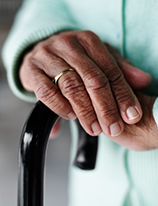 There are about 65.7 million family caregivers in the U.S. and the number is growing.
Unfortunately, research has shown that caring for a loved one that is ill or disabled can put one's own mental and physical health at risk.
A recent Pew survey suggests that more caregivers are going online to get help (in numbers significantly greater than non-caregivers), ranging from gathering information on diagnoses and drugs to getting support from friends, family and others with the same condition. These findings reinforce those of a 2011 survey fielded by the National Alliance for Caregiving that detailed the growing adoption of a range of e-technologies – including the Internet – to buttress the effectiveness of caregivers' efforts.
Jessie Gruman, President of CFAH, recently observed in Health Is Difficult When Solo: Will More e-Caregivers Help?: "If there is one thing of which I am certain, it is that even I, with all my experience using health care, all my education, resources, connections and online search savvy, really struggle to make good use of my care when I have had to do it alone, especially when I'm fatigued and in pain. Any and all approaches that make it easier for my friends and family to help me – whether they are online, at home or right there in the doctor's office with me – are both needed and welcome."
Survival Tips for Family Caregivers, CFAH's latest Be a Prepared Patient feature, reviews some of the challenges faced by family caregivers – like Constance Adampoulos of San Francisco, who found herself caring for both her mother and her uncle. "You don't get a manual when you become a family caregiver," she said.
This new resource from CFAH includes advice for dealing with frustration and stress, practical tips for tasks faced by caregivers, and a number of links to expert online resources including the National Alliance for Caregiving, AARP and the National Institutes of Health's caregiving portal.
To read more, visit Be a Prepared Patient: Survival Tips for Family Caregivers.