I'm Through Feeling Guilty for My Health Problems
Heather Thiessen | June 17, 2013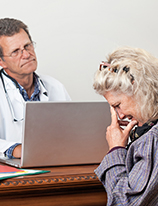 Have you ever felt like you needed to apologize for a health problem you were facing? I have experienced this often over my many years in the healthcare system.
I continue to have serious health issues creep up every few months. Most of them are bigger than what my family physician can deal with, so we need to call on "the specialist."
When these issues arise I find it frustrating enough. But sometimes the reaction from physicians and specialists only makes matters worse.
Most of the time I get "that's not my department," leaving me to wonder who will deal with it. I advocate for myself regularly and because of my repeated serious medical issues regarding my MG and MS diagnosis, I do know more than the average person about my conditions. Not all patients though take as active a role in their care as I do.
I am not sure whether specialists realize that when they can't solve a problem, dumping it back into a patient's lap is not the solution. I get it. I understand that when a patient has a recurring problem, this can be hard on the doctor. But surely working with me to figure out who can help solve the problem IS part of your job. When I get pushed back to my GP, he is often left scratching his head as well.
When I have a new health problem, it's often my loyal nurses where I have treatment who make the first call to a specialist. This is when it becomes tricky. I usually can hear the back and forth telephone conversation and can tell thing are becoming heated. I know what is happening: the dreaded "it's not my department" is surfacing. And if I wasn't already stressed by my latest health problem, I am now even more stressed by what I'm hearing and the thought of what is to come. I try to calm down, but I can feel the tears welling up, not because I have yet another health problem, but because this new problem is making my nurses and doctors so upset.
I am a people pleaser, especially when I have to deal with my doctors so frequently and owe my life to them. When I have a health problem, I worry because I don't want them to be mad at me. I even joked to a friend that I should bring chocolates to my next appointment, to smooth things over.
Then I got to thinking: Why should I bring chocolates? More to the point, why should I be wasting my precious time worrying about upsetting my doctors? I suspect they don't go home at night and spend hours worrying about my health problems. I've decided it's time to stop feeling guilty, and start speaking up when I'm being made to feel that I've done something wrong.
Why is it that I feel like I am a partner with my GP, but not with my specialists? I want to be part of the team with all my healthcare professionals. My specialists may be frustrated by my recurring health problem. But you want to know something? I am too. Let's be frustrated together AND let's work together to find a solution.
What about you? Have you ever felt you needed to apologize for a health issue?