Is "Guaranteed Coverage for Life" in the Cards for Medicare Seniors?
Trudy Lieberman | May 1, 2013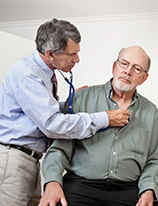 A few days ago, Empire Blue Cross Blue Shield sent me one of those Medigap sales brochures that seniors usually expect to receive during the fall open enrollment season. The brochure advertised premiums as low as $79.14 for a Medigap policy. Since I pay more than $700 a month for supplemental coverage from my former employer, I took a closer look.
"Year after year," it read, "health care costs keep rising and Medicare deductibles continue to increase. Some benefits have changed, and some health plan options are gone for good. Why not try a health plan with guaranteed coverage for life." Hmmm. Guaranteed for life? How can that be, I wondered, knowing that the president and lots of members of Congress want to drastically change Medigap coverage to make seniors and disabled people pay more out of pocket for their care?
A few paragraphs further, Empire told its prospects, "Even if your health changes, your coverage is guaranteed for life!" To me, that message conveyed that my benefits would never change, regardless of the move in Congress to make beneficiaries have more skin-in-the-game.
Some of the latest proposals may have legislative traction. A few under consideration would require seniors to pay higher deductibles and as much as $7,500 out of pocket before a Medigap policy would be allowed to pay any of their expenses. This "skin-in-the-game" approach fits well with the school of medical cost containment that says health care expenditures will come down if people use fewer services, and they may do that if they have to pay more out of pocket.
I was curious and phoned a sales agent at Empire to ask what this "guaranteed for life" statement was all about. "It means if you keep paying the premium, we can't cancel the coverage," the sales agent told me. "All the benefits will be the same." Again I asked if coverage would stay the same. He said they would be the same unless Medicare made changes. I guess that was their escape hatch. If Medicare changed the rules, the policy's coverage could indeed change.
To me, the ad was misleading at best, deceptive at worst. But it probably will be effective for the same reason ads touting lifetime guarantees and low-ball prices are usually effective at getting customers in the door. Not many consumers are likely to press a sales agent on phrases like "guaranteed for life?" After all, most people know someone who has had the same Medicare supplement insurance for decades and had no problems getting the bills paid. It's also fair to say that proposals to change Medigap coverage have not been widely publicized.
Moving past the misleading claim about lifetime coverage, I asked for more information about the low $79.14 price tag for Empire's Medigap policy. It's the high deductible version of Plan F, one of the standardized Medigap plans, the agent said. It was catastrophic coverage, so I would have to pay the first $2,110 in medical expenses myself. The agent advised that the plan might be an option if I were healthy (implying that if I didn't use any medical services) and could pay the 20 percent coinsurance. That's the 20 percent of a medical bill Medicare does not pay, but Medigap policies do.
What about regular Plan F, I asked. There are two versions of Plan F, one with a high deductible that consumers have to pay and a regular one that pays the $147 part b deductible that beneficiaries also have to pay, but Plan F covers that amount. That's the Cadillac Medigap plan that covers just about everything Medicare doesn't. "We're not as competitive there," he explained. The premium was $323 a month. "It's up to you," he said. "As long as you get something."
Buyers may not get the nuances of "guaranteed for life" statements, but they know that paying $2000 out of pocket each year for medical bills is something many can't afford. High deductible Medigap policies have never been popular. Still, in the end, most may have little choice but to buy them. Empire's ad may be signaling what's to come.