Is Health Insurance Sticker Shock for Real?
Trudy Lieberman | April 9, 2013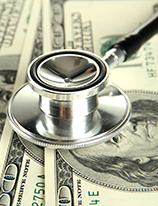 Wherever you turn, there are complaints about health insurance rates. A Pennsylvania woman tells me her monthly premium will soon be $100 more than it used to be. A New Yorker finds the premium for retiree coverage rising 24 percent. A study commissioned by the state of California reveals that premiums could increase 30 percent on average for people who are now insured and who won't qualify for federal subsidies. The Society of Actuaries — those folks who calculate the premiums we all pay — says that the new Affordable Care Act (ACA) will contribute to higher premiums in the next three years.
Insurers themselves are sending out warning signals too. Earlier this year, Aetna CEO Mark Bertolini said that in some markets premiums would rise 100 percent. A few weeks ago, UnitedHealth Group predicted that at the high end of the rate spectrum for individual policies, premiums could rise as much as 116 percent.
But wait a minute. Didn't the president promise that insurance would be affordable if we passed the health reform law? We are finding out there's a big difference between political rhetoric and the real world.
In the real world, insurers are telling their customers that provisions in the ACA are causing premiums to go up. They are writing letters to their policyholders, blaming, for example, the various fees and taxes the law imposes on them to help pay for subsidies so the uninsured can buy coverage. They are also complaining that the law requires them to cover sick people. Sick people do cost more money, and insurers say they need to raise premiums to cover these additional costs (and still maintain their current profitability). The California study also noted that people who are currently insured would experience premium increases because they will be part of a new risk pool that will include sicker people who were excluded from coverage in the past.
Whether premiums will be affordable will depend in part on where you get your insurance coverage. Large and small employers are passing along premium hikes to workers, or they're offering workers cheaper policies that — you guessed it — don't cover as much and have employees paying more for their care out-of-pocket.
If you must buy insurance in the individual market, the one the ACA is supposed to fix, those new subsidies may help, but that doesn't mean insurance will be any more affordable than it is now. Jeremy Engdahl-Johnson, director of media relations for the actuarial firm Milliman, points out that while subsidies may reduce the amount that someone with a low or moderate income will pay for coverage, they do not affect the actual premium.
The premium is still the premium, and if an insurer wants to raise it, for whatever reason, it will. To see how this works, consider a family of four living in a region of the country with average health costs. Their income is $46,850, and their health insurance premium is $12,130—not an unreasonable amount when you consider that last year the average family premium for employer-provided coverage was nearly $16,000.
In this example, their subsidy in the form of a tax credit would be $9,179, so they would have to pay $2,952 for their share, or 6.3 percent of their income. Depending on the family's other expenses, that out-of-pocket amount might still make insurance unaffordable for the family.
The White House is trying to put a smiley face on the premium story, saying that fears of "rate shock" are overblown. Its advice: consumers can choose a more efficient, lower-cost plan. Efficient, however, is often another word for less.