Is Shopping for an Exchange Policy an Impossible Task?
Trudy Lieberman | December 18, 2013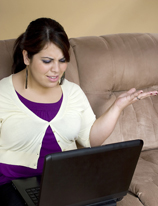 Last week at a New York City meeting of the Association of Health Care Journalists, Elisabeth Benjamin, a vice president of the Community Service Society, tried to explain the New York health insurance exchange to a group of skeptical journalists who had more than a passing familiarity with the topic. In spite of Benjamin's presentation, the complexity of shopping for an exchange policy became all too apparent.
Pro Publica reporter Charlie Ornstein told me afterward, "My overall conclusion is this is too complicated for the pros to understand and therefore way too complicated for the average person."
For the last three months I have been following three women — one in Pennsylvania, one in Nebraska and one in New York — as they've tried to choose a health insurance policy through HealthCare.gov or from New York State of Health, New York's state-run exchange. What I've learned from them is that the policy wonks and lobbyists who designed the shopping exchanges and their coverage requirements needed to do some serious test-driving before unleashing them on the public.
There may be such a thing as too much choice — a point I've made in this space many times — and the intricacies of health insurance may simply be overwhelming for most people. The technical troubles and the on-and-off availability of the websites were one thing, but actually trying to make good choices from sketchy information and unknowledgeable helpers is quite another. It may be impossible to be a model shopper, which contradicts the notion that consumers can shop for insurance and health care like canned peaches.
The jumble of co-insurance and co-pays that apply to some services and not others, the jargon — deciphering the difference between an "embedded" deductible or an "aggregate" deductible — and the added complexity of finding out if not only your doctor, but other providers you want are in the network, make the task difficult for even the most committed shopper.
The 60-year-old Pennsylvania woman was ecstatic the day the exchange opened. At first she thought she was going to pay a lot less than the $704 monthly premium she had been paying. For weeks she ran into problems with the website and resorted to getting information that was not at all clear from Independence Blue Cross. So far she has not made a choice but is leaning toward staying with the individual market plan she has now. Fortunately, she can keep it.
The 59-year-old Nebraska woman, who had a career as a mental health therapist, spent three months doing research, attending educational meetings, talking with agents, reading the fine print, trying to get help from the federal government customer service reps, asking lots of questions and often not getting satisfactory answers. "Some knew more, some knew less," she told me. "But none had a command of the information I needed."
She needed a policy to cover her husband and daughter. (She gets Medicare and is on Social Security disability because of a disabling back injury.) Some four weeks after getting through the website hurdles and actually applying came word from the government that their subsidy which was initially $233 had been reduced to $141. Why? The exchange was making her 16-year-old daughter apply for Medicaid so the subsidy had to be lower.
The woman from Nebraska had enough. She didn't want her daughter on Medicaid and thought the family income was too high to qualify. Last week she withdrew her application and bought a high deductible policy from Blue Cross sold outside the exchange. The meager subsidy, she said, was not worth further hassles.
The New York woman, too, had enough of exchange shopping. For her the worry was lack of out-of-network coverage, which the New York exchange does not require insurers to offer.
She picked a plan but then wanted to find out if her preferred doctors and hospitals were in the network. She says she made at least half a dozen phone calls, but has gotten different answers. "I still don't have full information," she said. "And it's not possible to get it." Since plans are still negotiating with prospective providers over prices for services, determining whether they will be included in networks or not is still evolving. She called some agents who told her to consult insurance company websites. "They are just as uninformed as everyone else." She still has not picked a plan.
In the end, it may be that the Affordable Care Act expected too much from people who were promised tax credits if they bought coverage through a state exchange. All the assurances from Beltway groups and those who had a hand in crafting the law may not be enough to overcome a simple truth — buying a decent policy is just plain hard, and the supports necessary to make it easier are not there.
Ornstein's observation is spot on.