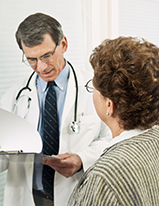 This piece originally appeared on the Disruptive Women in Health Care blog – you can follow them on Twitter at @disruptivewomen.
Not too long ago, I had the misfortune to fall from my bicycle, and within minutes (thanks to the other bicycle riders and the EMTs who quickly came to my aid) my bicycle and I were on our way to the local hospital via ambulance with serious but non-life threatening injuries. As a result of this incident, I got to experience the health care system first hand, up close and personal. I had not been hospitalized since the birth of my children decades earlier. Thus began my unexpected journey as an undercover patient.
My first stop was the emergency department where eventually I was admitted. Over the course of the next two days I was poked, prodded, scanned, tested, evaluated and eventually discharged. I was advised that I needed to be followed up by my primary care physician (PCP) along with the suggestion that I might want to see a few specialists. The first challenge was to find a new PCP since my current PCP practice was only providing care in their respective specialty. Finding a PCP willing to take new patients was not easy, but that is indeed another story.
Next, I needed to find specialists. Within a relatively short amount of time, I was able to locate clinicians within the requisite specialties and all of them happened to be part of ONE medical system…yes they each had their own specialties, offices, locations and staff, but they all were under the umbrella of one organizational entity. I learned that they all used electronic health records (EHRs) and had admitting privileges to the same group of hospitals. I was confident that I was in good hands, and I assumed that my care would be coordinated and that the clinicians would be communicating with me and with one another.
Over the course of the next several weeks/months, I watched in disbelief as numerous clinicians, office personnel and allied health providers, using various versions of electronic health record systems, asked me the same questions over and over and over again. I saw that none of the practices could access each other's records, data or assessments about me. I saw desktop computers wired over and under and across (working) sinks in the patient exam rooms, with BIG notices posted above the screen, stating "THESE COMPUTERS ARE ONLY FOR USE BY YOUR DOCTOR". I listened as one physician asked me to "slow down" as I provided my medical history since he was "typing" onto his laptop with two fingers, and he confided that he was more efficient (faster?) when he had been able to use pen and paper.
I resorted to bringing hard copies of documents, CDs of scans and X-rays to/from the various offices, since they lacked online access to each other's records. I winced when I heard about their experiences (aka complaints) with meaningful use, as I was repeatedly asked about my "smoking status". I cringed when I was informed that insurers REQUIRE clinicians to obtain a patient's height, weight and history at every visit. I argued when I was told that I should have another diagnostic (yet invasive) procedure because the clinician was only 98% confident that he had ruled out a particular problem but he wanted to be "sure". I was defensive when, after learning what I did professionally, I was often subjected to lengthy discussions about the "problems" with today's health care system and specifically with the very EHRs being used to collect and record data about me. I was most frustrated when I was unable to obtain the results of one (ambulatory) test even after 6 weeks and heard excuse after excuse about the status of the test itself, the results, and the clinician's interpretation. And I was relieved when (on my own) I found a specialist who quickly, accurately, successfully diagnosed and treated the cause of my lingering dizziness.
With all due respect to all of the wonderful efforts and accomplishments of all of us (clinicians, allied health professionals, educators, researchers, academicians, scientists, system developers, insurers, payors, evaluators, practitioners, policy analysts, policy makers, and others) at the end of the day we are all likely to be patients or caregivers on behalf of family or friends. Notwithstanding the availability and deployment of tools such as EHRs, mobile apps, medical devices, drugs, protocols, performance measures, robots, implants, and an assortment of other various gadgets and gizmos, I can't help but strongly believe that it's time to get back to the basics: communication, care, and coordination — for, with, and about the patient.