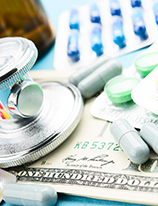 "If you live in the USA, you cannot be an informed consumer of health care," says Toni Brayer, M.D., responding to a new study noting the challenges of obtaining the price of a health care procedure in advance. The study in JAMA Internal Medicine found that only 16 percent of surveyed hospitals could offer an estimate of the total cost of a hip replacement procedure. And, when estimates were available, the costs varied widely – from $11,000 to more than $125,000.
Referencing the same JAMA study, Barbara Bronson Gray, RN, MN, in, To Be a Good Health Consumer, You Need Price Data, notes that the researchers were eventually able to get costs of procedures, if they continued to ask. In addition to pushing for answers, Bronson Gray recommends trying the HealthCare Blue Book website as a starting point to get some prices. "There are gazillions of reasons why this question is so impossible to get answered," she says. "From the vast array of health care policies out there to the differences in co-payment, negotiated rates with providers, deductibles, in-network versus out of network situations, geography, physician specialty involved…and on and on."
Ray Burow and her husband struggled to decipher the hospital bill after their first child was born. Burow says, "There were pages and pages of items that we could not prove or disprove definitely. Everything imaginable was on that list—every single pill, gown, linen, toilet paper whatever." And, not knowing that they had to select a pediatrician before their child was born, they were hit with a large bill when one of the "house doctors" looked over their newborn. The house doctor happened to be a neonatologist (i.e. specialist) who was out of their insurance network, so Burow had to pay out of pocket. Hoping to help others avoid her situation, Burow says, "Since that time, we have made sure to tell every expectant parent we knew."
Jessie Gruman, in How do we know if the price is right (if we can't find out with the price is)?, observes, "Whether we think of ourselves as consumers or not, or believe that health care will ever operate as a real marketplace or not – these lofty considerations are immaterial to our immediate need to find out the price of having the tumor removed from our leg, my pack-a-day smoking brother to get a CT scan of his lungs, or the antibiotics our friend's sick baby needs to sleep through the night." And if we aren't able to, then we delay care, split pills and skip treatments because we can't afford them.
For more information, see our Be a Prepared Patient Pay for Your Health Care resources.