The Language of Health Care
Anne Polta | November 18, 2013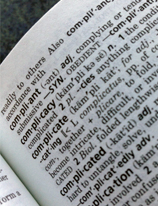 Awhile back, I wandered into an Internet discussion about the use of the word "non-compliant" to describe patients who didn't follow the doctor's instructions or take their medications as directed.
Don't use that word anymore; the correct and less judgmental term is "non-adherent," one person wrote.
A home health nurse shot back: She'd been using the term "non-compliant" for years, there was nothing wrong with it and she wasn't about to change, thankyouverymuch.
Health care has a language of its own. Not just the technical words, although there are plenty of them. No, this language consists of ordinary words used in ways that convey certain shades of meaning. Sometimes patients are confused by it, sometimes they're offended, and sometimes it subtly reinforces the paternalism and power imbalance that have historically existed between health care professionals and their patients.
Were your test results "negative"? Breathe a sigh of relief, because negative results in most cases are positive news for the patient. If the doctor notes that your symptoms are "unimpressive," it's not meant to be denigrating, it just means you're having symptoms that aren't severe or pronounced. That abbreviation in your chart that says "s.o.b." doesn't indicate what you think it does; it just denotes that you're having shortness of breath.
As you venture farther into this terrain, it gets trickier. Why, for instance, do patients "deny" having chest pain or whatever other symptoms they don't have? (One of my newsroom colleagues says that whenever she hears this term, she pictures a conversation that goes something like this: "You have chest pain!" "No, I don't!" "Yes, you do!")
What is an "incompetent" cervix, and what kind of value judgment does this term imply? Does it matter what words we use? Are they just a neutral collection of letters and syllables with no deeper meaning? Or is the language of health care more than this?
As patients become more engaged in their care and the doctor-patient relationship becomes more of a partnership and less of a dictatorship, the language has correspondingly come under greater scrutiny. In this brave new world, do doctors issue "orders," or do they provide "instructions"? Do they talk about collaboration or do they make all the decisions?
The whole debate over the use of the word "compliant" illustrates the extent to which the sands have been shifting. Although the term is still frequently used, critics point to its connotations: obedient, submissive, acquiescent, yielding, docile. In short, not the words many people would like to see associated with the doctor-patient relationship. The term is increasingly being replaced by "adherent," which sounds vaguely like it might have something to do with duct tape, but at least doesn't appear to carry some of the same emotional baggage as its predecessor.
It might seem like political correctness run amok. But words often do matter, and they can influence our thinking in ways we might not realize. For instance, it's common to record the reason for the patient's visit to the doctor as the "chief complaint" – a rather psychologically loaded term, since the patient might not literally be complaining and might in fact be reluctant to complain in the truest sense of the word. Does the use of this word create subtle attitudes about patients and perhaps consign them to an unwanted role?
What about the common practice of referring to the patient's current history of ailments, issues and chronic conditions as a "problem list"? Does this invite doctors and nurses to view patients as a collection of problems in need of fixing? Does the focus on "problems" make them overlook other aspects of the patient's health in which he or she is doing well?
What does it mean when the patient "didn't tolerate the procedure", and whose fault does this imply?
I'm not sure whether these terms ought to be replaced or what we could replace them with. There's no vocabulary police in health care, after all, and no real consensus on what the best words should be. In any case, it's a moving target. The debate over "compliant" vs. "adherent" isn't going to go away any time soon, and within a few more years the favored term could drop out of favor in exchange for something better.
Occasionally, however, attention to language results in real change. At one time, patients who were in pain were said to "complain of pain." It's a phrase that can be freighted with emotion and value judgment, however, and health care providers began to realize that many patients with treatable pain weren't speaking up because they didn't want to appear to be complaining. With heightened awareness of this issue, providers began using the term "reporting pain" instead. This more neutral language is now so widespread that it has become rare, at least in the professional literature, to find references anymore to patients "complaining of pain."
And occasionally patients themselves put the medical community on notice that some language is unacceptable. Karen Parles, executive director of the Lung Cancer Online Foundation, fired off a letter a few years ago to oncology specialists about the commonly used phrase "the patient failed chemotherapy." She wrote:
"Have the patients really 'failed' when chemotherapy drugs do not work? Of course they haven't. So why use a phrase that implies blame? ... This unfortunate convention is used in the medical literature, at professional conferences, and not surprisingly, in the clinic. It is common for oncologists to tell patients that they 'failed drug X.' By telling patients they failed to respond to treatment, doctors may increase the guilt that many patients already struggle with as a result of their cancer diagnoses. For others, like me, it becomes an annoying refrain. At minimum, it puts emotional distance between doctor and patient and undermines the doctor-patient relationship. Just imagine under the same circumstances if the patient said to the doctor, 'You failed to give me the right drug to treat my cancer.' The question isn't who failed, but what failed."
Dr. Bruce Chabner, editor-in-chief of The Oncologist, responded with an apology and a thank-you to Parles for pointing out "the all-important use and impact of our words."
"I assure her that I have expunged 'that phrase' from my vernacular...and I urge my colleagues to do likewise," he said.
This post originally appeared on Anne's blog, HealthBeat, on October 17, 2013.