What Do Patients Need From Clinicians?
Jessie Gruman | March 20, 2013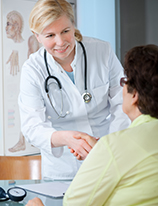 In response to their themed February issue, New Era of Patient Engagement, Health Affairs launched a new Facebook initiative to connect people with patient advocates. I am honored to kick off this Q&A series, speaking both as a person whose undergone treatment for four cancer diagnosis and a serious heart condition and as the President and Founder of the Center for Advancing Health. My essay, An Accidental Tourist Finds Her Way in the Dangerous Land of Serious Illness was the Narrative Matters feature in last month's issue. This post was also published on the Health Affairs Blog March 20, 2013.
Q1: "Jessie, your Engagement Behavior Framework demands a lot of patients as well as caregivers. In my research, I have heard so many people express worry and even fear of retribution if they try, especially in their interactions with clinicians, to ask tough questions and volunteer conflicting opinions. My question for you is this: What is the most crucial support that patients and caregivers have to get from their clinicians to support their engagement with their health care?" – Shoshanna Sofaer, Professor of Health Care Policy, School of Public Affairs, Baruch College
Shoshanna Sofaer notes the heavy burden patients now face in getting the best results from their health care and correctly identifies what for many of us is the fulcrum of our efforts: our relationships (and interactions) with our clinicians, particularly our physicians and nurse practitioners. They serve not only as the gatekeepers to effective treatments, but also as explainers, encouragers, and partners in our efforts to act on our own behalf or on behalf of those for whom we care.

Based on conversations I've had with hundreds of patients about their health care, my sense is that the support many of us need from our clinicians falls into these three categories.

We need to know our participation in our care is important. Both Judy Hibbard, Professor of Health Policy at the University of Oregon and lead author of the Patient Activation Measure (PAM), and I have frequently heard from people that they don't understand how what their doctor directs them to do is supposed to affect their current symptoms or future health. Clinicians no doubt assume that the connection is obvious, but for many of us, the process and the endpoints are not well described. As a result, we struggle to set priorities among the many actions we might take for our health and are less likely to summon the energy needed to take them on, particularly in the long term.

We need to hear clear messages from our clinicians about how the actions they recommend — eating less, getting specific tests, taking prescription medications, resting the sprained ankle — may influence our symptoms and our health.

We need to know that our participation is possible. Not only do we have to be able to afford — in terms of time and money — to act effectively on our own behalf (e.g., purchase medications, take time off work for back pain), but we also need help from our clinicians to set priorities among all the things we must do to manage our symptoms or improve our health. Stories of people leaving primary care appointments with a list of ten things to do that conform to the clinician's pay-for-performance or quality improvement metrics are everywhere these days. Mayo Clinic's Victor Montori's model of minimally invasive health care recognizes the need for careful discussions between us and our clinicians that take into account our strengths, needs and preferences in laying out a plan that we are willing and able to take on.

We need to know that our participation is safe. Safety means feeling that our clinician is on our side and wants to work with us toward the best outcome possible. We should feel that we can ask questions and differ in our opinions without fear of punishment or rejection, that these are part of the mutual project that is our health. Safety also means that our clinicians do their best to help us reduce the risks attendant in following their recommendations, for instance in our use of medications, devices and symptom management.

For example, research has abundantly documented our lax compliance with medication recommendations but has paid almost no attention to the lack of education clinicians receive about how to effectively prescribe medication and their poor performance in doing so. When we discuss our future health actions, our clinicians must help us understand the power of their recommendations to both help and hurt us and how to act wisely on our own behalf.

Our clinicians must convey to us that our participation in our care is important, possible and safe. How those messages are conveyed to us — directly by our clinicians, via teams, in medical homes, through patient portals, or in email messages — are organizational conundrums currently challenging innovators all over the country.

My great hope is that the intense focus on revising the process of communication between us and our clinicians doesn't obscure its critical content.
Q2: "Your story is very inspiring – but in light of all of the work around incorporating patient engagement into health policy, where should we making more of an effort to include 'survivorship care' for post-treatment cancer survivors into programs, mandates, incentives?" – Naveen Rao, LIVESTRONG Foundation
Naveen Rao rightly notes the critical importance of patient engagement in cancer survivorship. Despite the commitment to survivorship planning and care by NCCS, NCI, ACS, ASCO and of course, LIVESTRONG, many people still finish active treatment with no clear direction from their clinicians about whether and how to care for themselves and monitor for recurrences in the future.

I don't know that there is a single thread that can be pulled that will unravel the knotty problem of making sure that people who have finished treatment for cancer get the care they need going forward. The distrust of the skills of primary care providers by oncologists, the self-doubt among many primary care providers about their own competence to deliver survivorship care, the current financial model for oncology practice, and the ongoing burden of evidence monitoring all undermine the efforts of professional and advocacy groups to develop a clear, dependable path.

I am reluctant to lay the responsibility for creating the demand for survivorship care on patients and families. But I hope that the sheer number of us who are living long lives after cancer diagnosis and treatment who know that we are at risk for recurrences or other late effects will poke sufficiently frequently at our clinicians and at primary care and oncology practices, clinics, and cancer centers. I hope that they will finally recognize that they are simply not providing high quality cancer care if they are unwilling to take on the serious tasks of helping us to make the best use of their advice and available medical technologies despite our cancer histories.

In my Narrative Matters essay in Health Affairs' special issue on patient engagement, I shared experiences from my latest cancer diagnosis and called for policies to support patients and families with the increased responsibilities they face to find good health care and make the most of it.

I am grateful for the leadership of Susan Dentzer and Health Affairs in recognizing the centrality of patient engagement to the success of the health care enterprise. And I deeply appreciate the creativity and scholarship that all the authors in this issue have devoted to laying the empirical groundwork that gives the field of patient engagement the scientific stature it must have to serve as the basis for changes in health care policy and practice.

Because it will take a lot of heat, light, scientific evidence and commitment to make sure we can all engage fully in our health care.

That is, that each of us – me, you, your mom and your neighbors, your kids and your co-workers – can act to make use of the tools of health care to meet the aim we all hold in common: to live as well as we can for as long as we can.