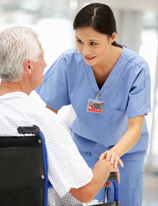 This post was sent to us originally as a letter from Virginia Wepfer, MSN, RN, in response to the late CFAH founder and president Jessie Gruman's article in the July issue of American Journal of Nursing (AJN), Preparing Patients to Care for Themselves After Discharge. Virginia generously agreed to let us post it on our Prepared Patient blog, noting: "This is in memory of Jessie, who had a grand vision for the world of nursing that we should all aim to achieve! My condolences to all who knew her and were close to her. It sounds like she was one of those people who you come in contact with once in a lifetime."
Tributes to Jessie can be found here.
Jessie Gruman's Viewpoint article in the July 2014 issue of AJN reflected many of the thoughts and experiences I have had as a parish nurse. (I was a home health educator for a national agency for 13 years, and have been "retired" as a parish nurse since 1996.)
"Discharge planning should start on the day of admission" is something that every nurse has heard, but I don't think I have seen that in practice at all! It is especially evident when home health nurses go to the home and find that the patient and family know almost nothing about what to do next.
Medications are always interesting: the nurse has a list from the discharge coordinator at the hospital, a list on the discharge papers, a list of medications the patient was taking before they went into the hospital, and a list of what the patient thinks they should be taking! (This is great fun when it is 5 p.m. on Friday and the nurse cannot contact anybody.) The patient and family usually don't even know that they are supposed to call their doctor and make a follow-up appointment.
Another glaring example of poor discharge planning is when the patient actually gets discharged. First, they usually have to wait a while (sometimes hours) for a nurse to come and talk to them. Then the nurse reads the discharge orders, has the patient sign the paper, and as they are signing asks, "Do you have any questions?" How much better it would be if the nurse would ask the patient and family what they will be doing when they get home!
An additional example of discharge planning is when the patient wants to go home and the staff says they can't. I just recently worked with a parishioner who wanted to go home from a skilled nursing facility but was told she had to stay for a procedure first. She called her insurance company who said that wasn't true – that she could go any time. We talked to the nursing supervisor's representative, who said that they would do everything they could to get her home in a couple days. The procedure was to be done that afternoon, but come the following afternoon was still not arranged. The parishioner said she was leaving anyway – and she did. It was an interesting situation, and one that I have had a few times before!
I visited one parishioner who had a heart problem who seemed to be very anxious. He had no other family in the area. I visited with him for a while and could not determine the cause of his anxiety. I just sat for a while, and finally he said he had to go home on the morning because his insurance ran out! He told me a little more about his reasoning. I went to the desk and asked for a social worker to come visit the patient and told them of his concern. I waited for an hour and asked again. I waited for another length of time and finally went and found the social work department in the hospital and told them of his concern, and someone came up to talk to him. (His insurance was not about to run out, it seems.)
Patients and families need to be actively involved in their care from day one! After all, they have been taking care of their family member or themselves at home before they were admitted!
Yours in the spirit of Florence,
Virginia M. Wepfer, MSN, RN