A Patient Responds to What 'Experts' Say About Patient Engagement
Carolyn Thomas | July 14, 2014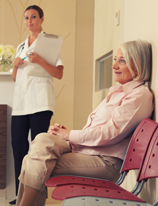 I was one of the patients interviewed for the recently published Center for Advancing Health report called Here to Stay: What Health Care Leaders Say About Patient Engagement. It's an interesting, illuminating and frustrating document to read.
Dr. Jessie Gruman, president and founder of CFAH, wrote in her forward to this report: "What are people talking about when they say 'patient engagement' anyway? That phrase encompasses so many concepts and ideas that it's become meaningless."
As I wrote in 2012, my own concern as a person who's pretty darned engaged in my own health care is not that the phrase is meaningless. It's more that non-patients, business and industry have co-opted the concept of patient engagement for their own purposes. And consider also that even in this impressive, 170-page CFAH document that is all about patient engagement, there were only four patients interviewed – compared to 31 clinicians, employers/purchaser representatives, community health leaders, government organizations, health plans, vendors, health care contractors and consultants.
You don't have to delve too far along into the other interviews here before bumping into big fat differences in how patients and non-patients answer identical interview questions about patient engagement. That's not surprising. Dave de Bronkart (aka "ePatient Dave") – one of the three other patients interviewed for the CFAH report* – once told me about this quotation attributed to Ed Roberts, a leading figure in the international disability rights movement: "If we have learned one thing from the civil rights movement in the U.S., it's that when someone else speaks for you, you lose."
The differences start emerging shortly after the interview question about the CFAH definition of patient engagement, which is: "Actions people take to support their health and benefit from their health care." For example, Alexandra Drane, interviewed in the Vendors/Health Care Contractors/Consultants section of the report, says she wants the word "patient" taken out of the phrase "patient engagement" entirely, preferring this rather wordy terminology instead: "The end result of a collaborative effort whereby the health system makes healthy behavior feel desirable and attainable, and as a result, individuals get fired up about their health."
Also voting to trash the word "patient" is Dr. Arthur Southam (in the Health Plans section) who says that the choice of "patient" in the phrase "patient engagement" may be "off" because it's just "too medical care-centric." Better terms, he suggests, would be "consumer" or "individual." (Perhaps we should be saying "consumer engagement" or "individual engagement"?)
And Dr. Marc Pierson (in the Clinicians section) seems to agree, adding: "Few or no people I have met define or refer to themselves as patients... They understand that a patient is less than a whole person, is less than what they are. I would prefer thinking of 'people' engaged in their health and health care."
First, I'd bet my next snort of nitro spray that many patients would find his condescending description of us ("less than a whole person, less than what they are") as offensive and inappropriate as I did. But there's another glaring mix-up here around such definitions. Pierson's preferred substitute for that pesky word "patient" ("people engaged in their health and health care"), in fact, might actually be a more apt definition of those we call the "worried well," best exemplified in the Quantified Self movement. These extremely engaged non-patients enjoy obsessively self-tracking (and then often sharing) everything remotely trackable in life: their weight, mood, diet, sexual activity, exercise, sleep and any other trackable health indicator because they can, not because they have to, as Real Live Patients must often do. And, really, do we even have to worry that self-absorbed Quantified Selfers need to be more engaged in their health?
Here's a news flash: The reality is that I am a heart patient. I live with a form of heart disease that's debilitating enough to affect most of my waking hours. Every. Single. Day. This reality does not mean (no matter how Marc Pierson may attempt to define me) that I'm "less than a whole person." I may be different than how I used to be, pre-cardiac event, but last time I checked, I was still indeed a "whole person."
I'm guessing that neither Drane nor Southam nor Pierson nor others like them who favor getting rid of that unacceptable word "patient" in the term "patient engagement" spend much time dealing with daily symptoms of chronic and progressive illness as I and millions of other Real Live Patients do. And if they ever have the misfortune one day to learn firsthand what being really sick is really like, we'll see how "fired up about their health" they'll actually be.
I define and refer to myself as a patient only when it's necessary to differentiate myself from non-patients – including those who say inane things like: "After all, we're all patients anyway, at one time or another in life!" (See my post on this topic published in the British Medical Journal: Why Physicians Must Stop Saying: "We Are All Patients").
And just as industries like Big Pharma are co-opting the concept of patient engagement for financial gain, some non-patients are now co-opting patient status by repeatedly insisting that they too can speak for patients, by virtue of the fact that they're being paid to tick boxes about us.
Don't get me wrong, dear readers: this CFAH report is indeed an important and commendable exercise, as explained by Jessie Gruman herself in exploring how the description of "patient engagement" informs the daily efforts of those who use this term. This matters because without the voices of non-patients, the report could be yet another dusty and overlooked patient blog.
Yet when those regarded as experts in their fields want to remove the word "patient" entirely, I feel disheartened. In fact, the report seems to confirm my own initial concerns when I wrote Has Industry Co-Opted Patient Engagement? two years ago.
Unfortunately, the input is ultimately skewed by a lopsided scorecard of contributing voices: 31-4 in favor of non-patients.
*Please read Here to Stay: What Health Care Leaders Say About Patient Engagement and see what you think.
This post originally appeared on Carolyn's Heart Sister blog on July 6, 2014.