Are We Cowboys or Managers of Our Chronic Conditions?
Jessie Gruman | April 23, 2014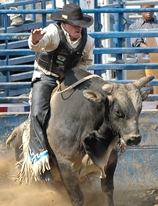 The idea that I should "manage" my chronic disease has always struck me as optimistic daffiness on the part of those who want me to do this. The word "management" raises images of organizational charts and neat project timelines: diagrams of authority, deference and – dare I say it – compliance by that which is being managed.
This bears no relationship to my experience of trying to live a full, rich life with serious chronic disease, and I have heard the same from many of those I've interviewed. My image of having a serious chronic disease is of a cowboy riding a rodeo bull. Take a look. You call that management? No. But it gives you a pretty good idea of what it feels like to have a serious chronic disease. Most of us are just trying not to fall off the damn bull.
Chronic illness is not a narrative that spins out like a story over time. It's a series of discrete events and symptoms, each of which is a problem to be solved today, not necessarily related to yesterday's problem. This is our experience. It is also how our clinicians tend to treat our complaints, and we follow their lead. While the now familiar (to clinicians) Chronic Care Model lays out a framework for helping us to assemble a more coherent notion of our disease, its effects on us and what we can do about them, the model's use among those caring for people with high prevalence chronic conditions like asthma and diabetes remains modest. And for lower prevalence diseases like epilepsy, cancer and Crohn's disease it's pretty low. I believe that the model is based on the assumption that a more nuanced, comprehensive understanding of our disease will lead us to take more measured, effective actions to care for ourselves. I truly hope this is so.
In the meantime, however, health professionals promoting tools designed to help us reduce our symptoms, change our diet, take our drugs and keep our appointments often assume that we already view our disease as a causally related set of events that we need to – and believe we can – control. In other words, "manage" like a boss manages her employees. The thinking goes that with proper attention, each indicator of the disorder will remain within range and each symptom will subside. Does this also mean I can fire my pain when it proves resistant to my interventions?
I understand that the term "management" is used to convey a sense that we can, in fact, better organize our care and, as a result, do better. But I wonder if those who use it have given any thought to the randomness of disease, our uncontrollable physiological processes and the limits of medical intervention that will all too often undermine our confidence in our self-care skills and leave us in the dust, staring up at the bull.