Ask Questions Before Surgery. You May Save Your Own Life.
Heather Thiessen | June 9, 2014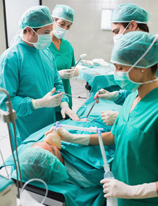 The day of my surgery arrived and I was, of course, feeling very apprehensive. I had worked hard to get this appointment because I needed it*, but I knew there was a lot that could go wrong.
Because I've been on a ventilator many times in the past, and have had two tracheostomies, I don't have the easiest airways to work with. So I have worked with my respiratory doctor to create a plan to deal with any issues that might arise. But when I arrived at the hospital for my surgery, I hadn't spoken to anyone on the surgical team about my plan, or my other unique medical conditions (including several allergies). Not having that discussion prior to surgery was very stressful for me.
I had a lovely nurse in the pre-surgery area who took all my concerns seriously. She filled in six or seven pages with information about my allergies and made special note to put the most serious allergies on the first page.
In the past, I have gone over my list of allergies and concerns during my chats with the pre-admission nurse and the pre-admission team. My family doctor had referred me to the pre-admission clinic for this surgery, but received a letter stating that he was not able to submit the referral. So I was relying on the pre-surgery nurse to take care with my information.
She assured me that she would leave the list of allergies on the front of the chart. She seemed as concerned as I was about the complexity of my care and, going beyond the call of duty, she told the operating room (OR) staff that they would need to be on "allergy alert" with me. Then the manager of the area poked her head in my curtained cubicle. She had been a nurse of mine years ago on one of my many admissions to the intensive care unit (ICU). She said she would also alert staff to my unique situation. I felt a bit better.
Starting to relax, I was wheeled to surgery where I met with the anesthetist. He is someone I know and feel very comfortable with. A good friend who is also an anesthetist had talked to him before my surgery, explaining my allergies and other conditions that put me at high risk for complications. I am lucky to have such people looking out for me, and I know that should have made me feel more at ease, but without knowing if everyone involved in my care knew my concerns and wishes, I was still nervous.
My anesthetist listened carefully to my concerns and told me over and over that I would be fine. I told him I would be watching him closely to make sure he had taken all the tops off the vials of drugs that had rubber on them. Years ago, I ended up in anaphylaxis many times after a doctor or nurse didn't take my allergies to the rubber stoppers seriously. So I am always on high alert, making sure everything is just right.
In the Operating Room
I am wheeled into the OR and walked to the bed. I talk to the anesthetist and watch what he is doing. I scan the room, making note of who is there. As I get to the table I am so cold and nervous, I began to shake. I lay down on the operating table, thinking it seems very narrow, and hoping I don't fall off. I am still shaking and ask my nurse for a warm blanket.
A lovely nurse introduces all the staff in the room to me. There is an anesthesia resident who looks extremely nervous. Two nurses in the corner are going over the instruments the surgeon will be using. My surgeon walks in and starts welcoming the group and doing the surgical checklist. Everyone in the room is listening carefully and responding to questions about the tools that are ready, the medications they'll be using. I hear one of the nurses say, "We have the Heparin ready for the new port." I freeze.
I lift my head. "Heparin?" I say, "I'm allergic to Heparin."
My heart starts racing. The relaxation I was starting to feel is being replaced by fear and panic. All I can think about is what could happen if I get the wrong drug: anaphylaxis, a tracheostomy, a stay in the ICU, maybe worse, the unthinkable. I hear the doctor saying, "Yes that's right, let's get some sodium citrate." The anesthesia I've been given kicks in at that point and I drift off to sleep, hoping things go all right.
The next thing I remember is trying to wake up in the recovery room. I checked my neck to make sure I didn't have a tracheostomy put in and was relieved not to find one. I was anxious to talk to my husband to find out how things had gone. But I fell back to sleep, glad that I had remembered to ask the pre-surgery nurse to phone my husband when my surgery was done. When I was finally moved to the pre-surgery area, I still took some time to wake up. When I did, I could see my husband sitting in the corner of the room. He said he was worried, for it was a longer than normal time in the OR. I asked him what the doctor said, and he told me that no one had called him.
After my surgery I kept thinking about it – it was, as they say, a near-miss. It scared me. It scared my family, and also it reinforced to me that even those in health care can and do make mistakes. Not purposeful errors – mistakes. They are human.
No one got mad at me when I spoke up. They corrected the mistake and got the right medication. I am lucky I was conscious enough to hear them.
I know I am a "high needs" patient. I admit it can be a little trying to take so many precautions because of my allergies and conditions. And I don't like to cause waves in a system I am so highly dependent on. But I am sharing my story to help educate that next patient who could be lying on the operating table or in another health care setting and see or hear something that doesn't seem right.
I went home after my surgery without receiving any information about when to use the port, and my husband didn't get to speak to anyone about the surgery. There are things that could have gone better. But I went home, and I got to be with my family. So I am lucky.
If you are reading my posts, I encourage you to speak up and be an active part of your care team. Know what is going on every step of the way. Ask questions. You just might save your own life.
*Managing my illness includes weekly intravenous immunoglobulin (IVIG) treatments. These treatments, which each take about four hours, help keep me healthy by building my immune system. Years of testing and treatments have left my veins too fragile for intravenous by needle, so I have a port (portacath), which gives my providers easy access for my IVIG. In December 2012, I got a clot in my port, requiring surgery to have a new one put in.
This post originally appeared on the Saskatchewan Health Quality Council's QReview blog on October 24, 2013.