How Much Is a Patient's Peace of Mind Worth?
Anne Polta | May 12, 2014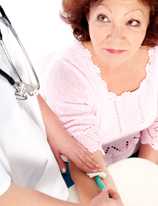 The patient is eight years out from treatment for breast cancer and is doing well, but four times a year she insists on a blood test to check her inflammation levels. The test is pointless and has nothing to do with cancer or its possible recurrence. But what happens when the patient makes the request to the doctor? "To my shame, I must admit, I order it every time," writes her oncologist, Dr. James Salwitz. (If you haven't yet discovered his excellent blog, Sunrise Rounds, head over there and check it out.)
The test may provide temporary reassurance for the patient. At $18, it isn't expensive, and it's considerably less harmful or invasive than other tests. But all the same, it's useless, and it prompts Dr. Salwitz to ask: What can health care do to stem the practice of tests, procedures and other interventions that have no real benefit to the patient?
He writes: "Medicine is full of better-known examples of useless and wasteful testing. PSA and CA125 cancer markers that fail as screening tests. Analysis indicates they cause more harm than benefit. MRIs for muscular back pain, which will go away by itself. Unneeded EKGs, stress tests and cardiac catheterizations, instead of thoughtful conservative medical management. CT scans often take the place of sound clinical analysis and judgment. A 15-year study of 30.9 million radiology imaging exams published recently shows a tripling in the last 15 years."
These unneeded tests do more than waste dollars. If a test is not necessary and has no medical benefit, it can only cause harm. The test itself can cause problems such as excess radiation exposure, allergic reactions and discomfort. In addition, tests find false positive results, which lead to further useless testing or unneeded treatment.
It's been rather remarkable to witness the pulling-away from excess tests and treatment that has taken place in American medicine in the past few years. There's a growing recognition that there's such a thing as too much intervention and that intervention is not automatically good for patients.
Moreover, we're becoming more willing to talk openly about the tradeoff of benefit vs. harm. Not all that long ago, it was considered heresy to even suggest that women in their 40s didn't absolutely need a mammogram every single year. The thinking on this is beginning to change as the evidence accumulates of mammography's limited benefits for younger, low-risk women, and it's showing up in patient decisions. A recent study by the Mayo Clinic found a six percent decline last year in the number of 40-something women who opted to have a mammogram.
It's easy to oversimplify this issue, and indeed, it's not always as straightforward as it seems. Interventions sometimes don't look useless until they're viewed afterwards through the retrospectoscope. At the time, in the heat of battle, they may seem necessary and justified. Nor do patients fit neatly into little diagnostic boxes; what may be unnecessary for one might make sense for someone else.
There's a larger question, though, that we sometimes fail to ask: If something is medically useless, does it still have value if it gives the patient (and perhaps the clinician as well) some peace of mind?
To many patients, this is no small thing. It's an emotional need that's not easily met by science-based, rational discussion about the studies and the actual evidence for the pros and cons. Unfortunately, it's also often abetted by consumer marketing that plays up the peace-of-mind aspect of certain tests while remaining silent about the limited benefit, the possible risk and the clinical complexity that may be part of the larger picture. The message can be sent that it's OK as long as it provides the patient with some reassurance, and who's to say this is entirely wrong?
Should clinicians be tougher about just saying no, then? It may be easier to give in, but does this constitute quality care? An interesting ethics case by the Virtual Mentor program of the American Medical Association explores some of the issues that make this so challenging: the responsibility of the physician to make recommendations and decisions that are clinically appropriate, the importance of respecting the patient's autonomy and values, the balance between patient preferences and wise use of limited health care resources.
You could argue that patients should be allowed to obtain unnecessary care as long as they pay for it themselves, but does this really address the larger question of resources? Regardless of who's paying the bill, unnecessary care comes with a cost. The blood test requested by Dr. Salwitz's patient, for instance, likely would involve the use of equipment such as a disposable needle and lab supplies, as well as staff time to draw the blood, analyze the sample, record the results, report them to the doctor and patient, enter them in the medical record and generate a bill (and I may have skipped a few steps). Yet it's not always easy to make this case to patients when what they're really looking for is that elusive creature known as peace of mind.
Dr. Salwitz writes that he'll be seeing his patient again soon and will try once again to persuade her that the test she's asking for has no medical benefit. "I will try to replace this test crutch with knowledge, reassurance and hope," he writes. "Maybe it will help us to understand each other a little better."
This post originally appeared on Anne's blog on April 18, 2014.