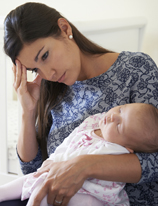 Belief. Information. Shared community.
These items are the beginning tools for a successful recovery from postpartum mood disorder (PPMD). I say this confidently because I believe in recovery being possible. I was once someone who never felt that I'd be normal again nor that I'd ever find my way back to who I used to be. But recovery is made up of small steps that lead us to a successful life of overcoming postpartum mood disorders – these steps toward wellness matter, because being active versus passive about your recovery greatly increases the likelihood of a positive outcome.
For me, a belief in the process, along with an open ear to advice and full engagement in dialogue with your recovery team of your physician and your therapist, possibly a support group, is essential. I used to go to my appointments and sessions with a notebook filled with questions or thoughts that I had had during the week before the appointment. I wrote everything down about the information they gave me so that I could refer to it later. This helped, since it was difficult for me to concentrate and remember during my time of PPD and PPA. It also shows your recovery team that you see yourself as integral to recovery and that you are there to advocate for your mental health.
Life while in postpartum recovery can feel isolating. For that reason, you need a shared community. You can find a group through your area hospital/health clinic, checking out what's offered in a local events calendar or finding one online by searching on Postpartum Progress. To hear others share their current struggles, or by listening to stories of those in recovery or recovered, is a lighthouse during this storm. You can feel encouraged and find ideas on ways to work toward your own eventual recovery. You don't have to be "fully recovered" to participate in any group and you don't have to be fully recovered to start to feel better.
A few nights ago I was talking with some postpartum warrior moms, some that were currently in postpartum phase, some on the way to recovery, some recovered. I asked them for suggestions on how to be active in PPMD recovery. Here's what worked for us...
Continue reading the rest of this post at Postpartum Progress.