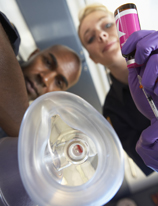 Talk about feeling helpless! I like to pride myself on being organized, in control and on top of (nearly) everything when my husband is ill. He has been hospitalized many times over the years, and I have made an avocation of being his health care advocate. But the tables were turned recently when I had a careless mishap at the gym. Not watching where I was going, I tripped over a knee-high partition separating an area of treadmills and ellipticals. Before I even knew what I had done, I was free-falling in slow motion over the barrier – at once sure I would somehow catch myself and then suddenly splayed awkwardly on the other side.
I didn't think anything was broken, but lots of things hurt: my legs, lower back, one hip, both elbows and – most of all – my pride. The worst part was that I could not catch my breath; I felt dizzy and disoriented, as if I might pass out at any moment. The gym manager, who is also a trained nurse, rushed to my side. He made a quick assessment, took my pulse, checked for any broken bones and repositioned me so I was putting less strain on my aching back. Most importantly, he reassured me by his presence and his care.
Someone called the emergency medical service and, by the time an ambulance arrived, I was in and out of consciousness. Because I am diabetic, they checked my blood sugar, which was low. My heart rate and pulse were normal, but my breathing was fast and uneven. They thought I should go to the emergency room, and I later learned they thought I was having a heart attack.
So off we went. I barely remember the short trip or being wheeled into the hospital. Mostly, I kept fighting the strong urge to pass out. Once in the ER, I was left in the hall because no bays were available. I vaguely remember voices off in the distance, and I kept wondering where my husband was. He had followed the ambulance but had trouble getting past hospital security because I was not yet in the system.
While lying in the hall, feeling hapless and helpless, I understood on a deeply personal level the need for a patient advocate. Though I have written about this important requirement with respect to others, here I was, disoriented and confused, with no one seemingly nearby. I was in no position to find help for myself, so I waited... and waited some more, sometimes alert to my surroundings and sometimes not. At one point I called out, "Is anyone there?" One of the ambulance drivers came to my side and said he would not leave until someone from the hospital took charge of my case. But there was a backlog and nothing more he could do. Eventually my husband arrived; I felt reassured. And, finally, a hospital nurse began an assessment.
My stay at the hospital lasted several hours and included lots of tests to make sure I was okay. In the end, everything turned out to be fine. I was discharged with lots of bumps and bruises and a general set of instructions for follow-up care.
Looking back, I think I had been in a mild state of shock. I was certainly in no position to make any important health decisions, had they been needed, or to remember anything important that might have been said. My experience left me stronger than ever in my conviction that all patients need an advocate. We are not able to do this for ourselves when we are disoriented or confused, sick and weak, or maybe barely conscious. Whatever our condition, we all need a family member or close friend by your side.
A cousin of mine, who was a hospital administrator until becoming seriously ill several years ago, responded to my story by saying, "Scary, isn't it? Things sure look different on the other side of the bed." Truer words were never spoken.