Why I Fired My Doctor and What You Should Look for in Yours
Donna Cryer | August 25, 2014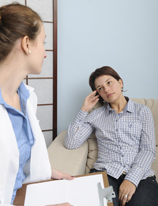 I consider myself an activated (level four on Dr. Judith Hibbard's Patient Activation Measure), engaged (lifetime member of the Society for Participatory Medicine), symptom-tracking, official e-patient. And yet a series of encounters with a primary care physician left me feeling so disempowered, disrespected and disengaged that I felt like one of the hostile witnesses I deposed when I was a practicing attorney, whose answer to everything was "yes," "no" or "I do not recall."
This particular incident underscored the fact that without a patient-provider partnership, there can be no engagement. Sure, I can be activated – ready, willing, and able to learn about and take steps to manage my condition – but without someone to engage with – a doctor, nurse, PA, NP, a health system who wants to have a dialog with me, accept my patient generated data, debate treatment options with me until we negotiate a plan that works in my life context – there is no engagement. That's why I have stopped using the term patient engagement in isolation.
It all started when I let my health system assign me (mistake #1) an internal medicine physician to attempt to provide primary care and play quarterback to my team of specialists.
I assumed (mistake #2) that because I had worked with many of the specialists involved in developing this coordination solution, that they would choose someone who understood the type of patient I am – high health literacy, married to a doctor, work in health care consulting, involved, engaged and experienced.
They did not.
Instead, they chose someone – or maybe he drew the short straw – who, although young in age, had a very old and paternalistic view of the doctor-patient relationship. We clashed in every way. He would not accept my concise written summary of my extensive medical history. (The folks at NIH appreciated it!) I guess I was an unreliable witness as well as an increasingly hostile one. He would not accept my blood pressure readings over the phone, which I found very ironic since, while on the phone, I was editing a report (as part of a technical expert panel on patient-generated health data) for the Office of the National Coordinator for HIT.
He insisted I go to the ER to receive IV fluids, despite my pointing out that the ER is a dangerous place for an immunosuppressed person and not a cost- or time-effective manner to administer fluids. Why not a home nurse or send me over to the infusion center if he could not start a line right there in the office? He was not interested in solution-generation. I could go on.
There were many similar experiences during our short time together and the end of the story is that I refused to return to his office and found a doctor who was a better fit for my "patient style." (The chief of internal medicine who I learned was the pick of all the residents who needed a doctor.)
My new doctor and I have similar philosophies about patient care. I respect his expertise and he respects mine. He takes the time to understand my goals, preferences and values. He coordinates my care to reduce my patient burden, decrease the time it takes to get answers and make clinical decisions that are pertinent to improving my health.
So what can you learn from my experience? First off, here are two questions you should ask yourself:
What is my patient style?
Do I know the questions to ask and the things to look for in a doctor who fits my style?
Taking the time to answer these questions may not only make the difference between frustration and satisfaction, but also between health and hospitalization.
And if you have a great physician-partner, consider sending them a thank you note to let them know that you appreciate their approach to your care.
Thoughts? I'd love to hear how you went about finding the right doctor who fits your style. Please share in the comment box below.
This post originally appeared on Donna's DC Patient blog on May 12, 2014.