Why Low-Income Seniors Fail to Get Help Paying for Health Care
Trudy Lieberman | February 11, 2014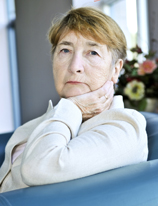 A couple weeks ago, the Medicare Rights Center, a well-known New York-based advocacy group, released a report card showing how well seniors are faring with Medicare. The report is a good barometer of the troubles beneficiaries face when navigating Medicare's very complicated system for getting health care.
One particularly compelling finding popped out: 21 percent of the 14,000 callers to the Center's national help line in 2012 had trouble covering the cost sharing that Medicare requires. This means that almost a fourth of seniors struggle with paying the deductibles for Part B – doctor and outpatient services – and for Part D, the drug benefit. They struggle to pay the coinsurance and co-pays as well, some required by Medicare and some increasingly required by Medicare Advantage plans. That's an amazing statistic for a social insurance program that started out covering nearly all of a senior's medical expenses.
It's easy to dismiss that number thinking that only poor people are affected. Not so, says Center president Joe Baker. "They have traditionally been poor people, but now they are also middle-class folks who are just stretched out." Half of all Medicare beneficiaries live on less than $23,500 a year, and the cost of care and prescriptions are both rising quickly, making it tough to swing those co-pays and coinsurance bills. It's what I often call The Great Cost Shift to patients.
This finding from the Center's report brings up an important question: Why aren't seniors using the variety of state and federal programs that have been set up to help people who can't pay for all their medical care?
These programs – the Qualified Medicare Beneficiary program (QMB) that pays for the Part A and Part B premiums; the Specified Low-Income Medicare Beneficiary (SLMB) program that pays for Part B premiums; the Qualifying Individual Program (QI) that also pays for Part B premiums; the Extra Help program that helps pay most of someone's prescription drug costs – are simply underused. (More information on these programs is available here.)
A few years ago, the Government Accountability Office noted that only about one-third of those eligible for this help through the QMB program and only 13 percent eligible for the SLMB program actually enrolled. Although the government has tried to increase enrollment, eligible beneficiaries still don't sign up.
"Why?" I asked the Center's policy director Stacy Sanders. Lack of awareness and barriers that make it tough to sign up, she answered. In some ways, these programs are like food stamps, Medicaid, the Affordable Care Act, and other means-tested programs – the government makes them difficult to use.
To make matters more confusing, the Medicare assistance programs have different rules for qualifying, and they are strict. For instance, for the QMB program, an individual can have a monthly income no greater than $978 and assets worth no more than $7,080. Someone qualifying for the QI Program can have a monthly income no greater than $1,313, but the assets requirement is the same as the QMB program.
"The question is how can we structure these programs to reach more people," Sanders said. "Do we really need an asset test?" She pointed out that that Congress had eliminated an asset test for people to qualify for coverage under the Medicaid expansion of the Affordable Care Act.
In about half the states that expanded their Medicaid programs, a single person can have an income up to $16,104 – that's 138 percent of the federal poverty level. Similarly, the ACA requires no asset test to qualify for tax subsidies to help pay health insurance exchange premiums. There's a double standard at work here.
Perhaps the biggest barrier of all is the stigma associated with getting help from the government. "Many seniors have a fair amount of shame participating in a federal program," Sanders added. "It's very sad, and it's persistent across programs."
Indeed it is. Late last year, a 59-year-old Nebraska woman shopping on the state's exchange for a policy for her husband and daughter (she was on Medicare because of a disability) was told her daughter had to first apply to Medicaid. The woman said she was fit to be tied. She gave up the small $141 subsidy to which her family was entitled with an exchange policy and bought coverage outside the exchange instead. She wanted no part of a welfare program, she said.