CBD and Melatonin: Better Together for Sleep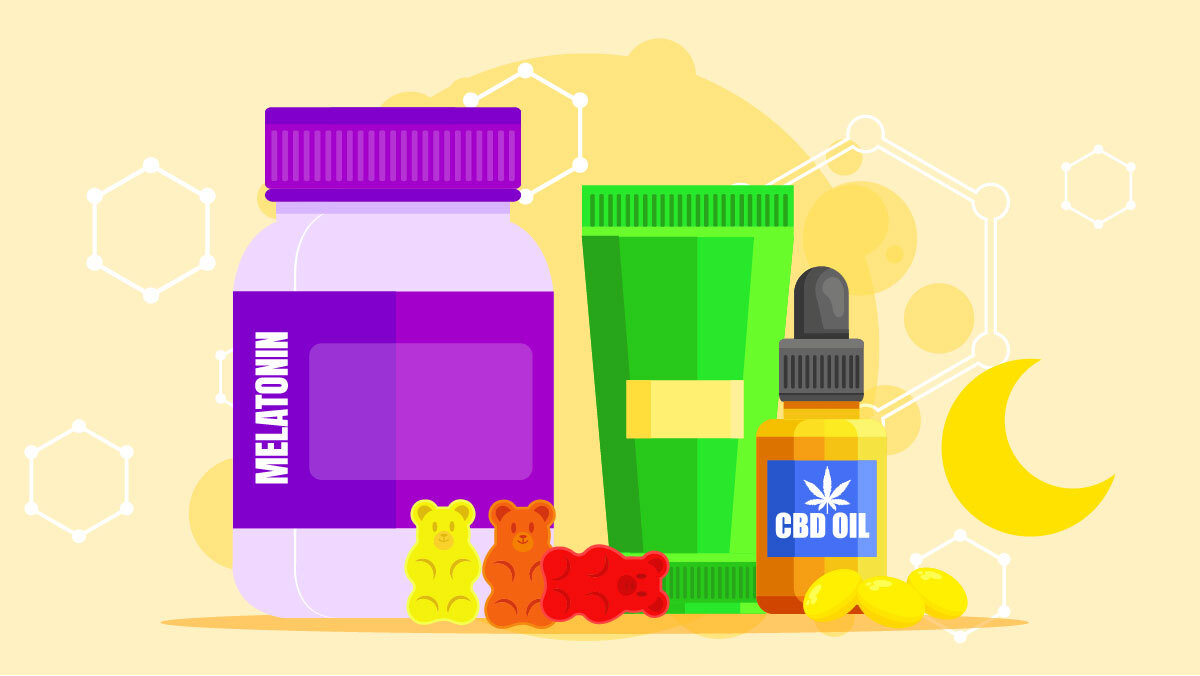 CBD and melatonin supplements have become insanely popular these days. People use both substances to support sleep, but it's important to learn how to use them together effectively — and without disturbing your natural sleep cycles.
In this article, we share everything there is to know about the benefits and risks of taking CBD and melatonin for sleep — including the best CBD edibles infused with melatonin on the market in 2022.
CBD and Melatonin: An Overview
CBD is a major non-intoxicating cannabinoid in cannabis plants. It doesn't get you high, but it offers a plethora of health benefits, including relief from pain, stress, anxiety, depression, and sleep disorders.
While CBD isn't a sleeping pill on its own, it can support healthy sleep cycles through its interaction with the human endocannabinoid system (ECS).
Low doses of CBD promote alertness, while high doses may induce deep relaxation and make you sleepy.
CBD may also improve sleep by easing the symptoms of pain and anxiety — two common triggers of sleep deprivation.
Melatonin is a natural chemical produced in your body. It's called a sleep hormone because it plays a vital role in regulating the natural biological rhythms, including sleep cycles.
Human studies suggest that both melatonin and CBD can contribute to a more restorative sleep — although they use completely different mechanisms to achieve their goals.
Melatonin Benefits
Melatonin is a natural chemical produced by the human brain, also known as a sleep hormone.
The highest levels of melatonin occur in newborns — that's why they sleep so much — and stay high for most people throughout adolescence. After college years, its production starts to diminish, especially with all the environmental pollution with light and noises around us.
There's also a genetic factor to why you may have lower levels of melatonin than others, which would explain why insomnia is common within some families.
Melatonin belongs to the same family of neurotransmitters as serotonin. This is important for the diagnosis of insomnia, as serotonin deficiency may also lead to low levels of melatonin.
In human studies, melatonin demonstrated efficacy in improving healthy sleep by reducing sleep latency, the total amount spent sleeping, and healthy times of awakening.
In one study, melatonin positively affected sleep onset maintenance within one week of therapy compared to a placebo.
Another randomized, double-blind, placebo-controlled study of 33 patients with insomnia showed that supplementation with melatonin helped reduce daytime sleepiness and other effects of sleep deprivation.
How Does Melatonin Work for Sleep?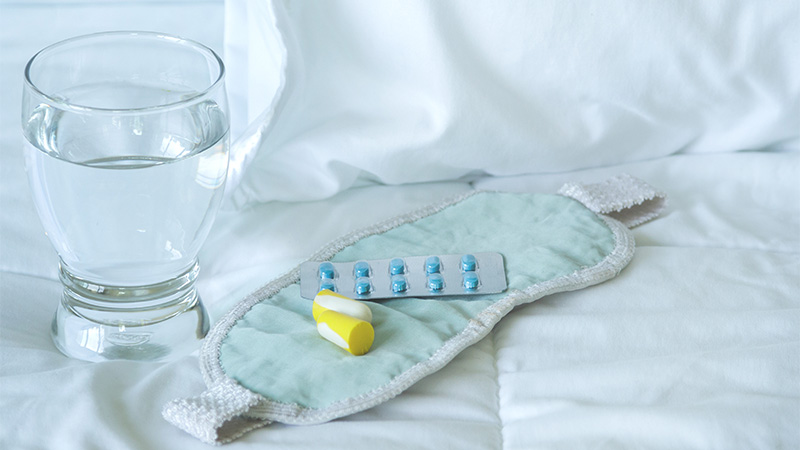 Melatonin levels are dependent on the timing of when you go to bed rather than on keeping us asleep for the whole night. In other words, melatonin may signal your body that it's time to fall asleep, hence its role in the circadian rhythm.
Although melatonin can be secreted in lymphocytes, platelets, gastrointestinal tract, skin, eyes, and bone marrow, it's primarily regulated by the pineal gland. When your brain function is optimized, melatonin levels should significantly increase right before you go to sleep.
However, a few common obstacles may disrupt melatonin production in the body.
The major problem is exposure to artificial light. We evolved to live according to the natural daily rhythm, with the big burst of melatonin occurring shortly after sunset, making you feel sleepy.
For instance, when the sun sets at 8:00 PM, your body will want you to shut your eyes by 11:00 PM.
It's difficult to maintain healthy sleep cycles in winter since the early sunset (7 or 8 PM). Most people don't go to bed that early, and since melatonin effects diminish after 2-3 hours, it's easy to disrupt your natural sleep-wake cycle.
Artificial light further deteriorates your melatonin balance. Even a brief exposure to blue wavelengths at around 9 or 10 PM may disrupt the time of natural melatonin release by a few hours.
How Does CBD Work for Sleep?
Current research on using CBD for sleep has brought mixed results, but that's mostly the quality of those studies to blame.
What we know so far is that low doses of CBD may reduce tiredness, relieve stress, and improve focus. When your brain is productive during the day, it should have no problems slowing down in the evening. On the other hand, if you were slacking for the whole day, you may experience problems falling asleep as your brain will get activated out of 'boredom.'
High doses of CBD can increase GABA levels, slowing down the nervous system. They also help reduce blood pressure, enabling you to breathe slowly. This, in turn, may result in less time needed to fall asleep.
Although no significant effects were observed when it comes to the effects of CBD on non-REM sleep, studies point to CBD extracts as the potential remedy for REM sleep disorders, such as abrupt body movements, tremors, and aggressive vocalization. The REM stage is the phase where you have dreams and experience rapid eye movement.
While not directly related to sleep, CBD's analgesic, anti-inflammatory, and anti-anxiety effects can help you achieve deeper rest if you suffer from a chronic health condition involving these symptoms.
Taking CBD and Melatonin for Sleep Together
CBD may regulate the REM stage of sleep, whereas melatonin reduces the time you need to fall asleep. Using both compounds together may contribute to an overall improvement in sleep quality.
Just make sure not to take low doses of CBD in the evening, as you may experience the biphasic nature of CBD. As mentioned, low doses of cannabidiol can increase alertness without jittery, so you'll be better off using them between the morning and late afternoon.
But, when you combine a high dose of CBD with a small amount of melatonin, it's the best way to maximize the sleep-supporting qualities of both.
Why You Shouldn't Use Melatonin as a Long-term Solution
Melatonin is a decent sleep aid, but it shouldn't be used long-term. A few nights or a few weeks of supplementation may help you regulate your inner clock. When it comes to long-term use, a consultation with a doctor will help you figure out whether or not it's a good idea.
Why isn't melatonin a good long-term solution? Most of the time, your body doesn't need assistance in producing this hormone. However, night shifts, late-night use of electronic devices, jetlags, and other stressful situations may cause melatonin disruption.
Melatonin supplementation can effectively bring your circadian rhythm back to normal shape, but long-term use may result in a rebound of wakefulness as your body gets used to that extra supply.
That's why melatonin works best as an occasional supplement to regulate disruptions in sleep cycles.
CBD Dosage and Use for Sleep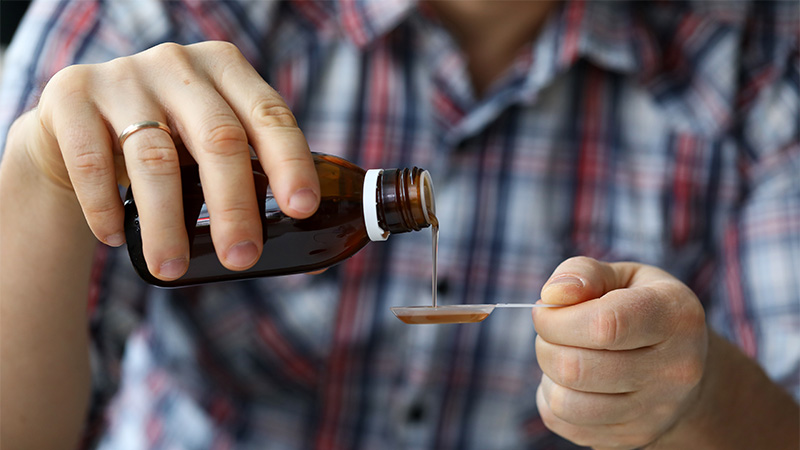 There's no one-size-fits-all dosage for CBD, and individuals may present different reactions to different dosages.
The studies investigating the sedating properties of CBD have tested dosages between 25–300 mg. However, most of the time, the dosage included pure CBD, not whole-plant CBD oils.
A common dosage range of CBD in adults is 15–30 mg. With serious sleep problems, your optimal dosage may range anywhere from 40–160 mg.
The efficacy of your dose depends on the underlying cause of your sleep deprivation. The optimal dosage will be different for pain, anxiety, and depression.
Side Effects of Taking CBD and Melatonin
Both CBD and melatonin are safe and well-tolerated by humans because they're biologically appropriate compounds. However, even natural substances have side effects with wrong patterns of use.
The side effects of CBD and melatonin may include:
Dry mouth
Dizziness and lightheadedness
Fatigue
Fluctuation of appetite
Lowered blood pressure
High doses of CBD and melatonin lead to mild sedation, although that isn't usually a downside for anxiety sufferers. It may also be the desired effect for those with sleep difficulties.
Generally speaking, combining CBD with any other sedative may cause fatigue.
If you take CBD and melatonin for sleep, ask your doctor about potential interactions with other medications. CBD is a potent inhibitor of the CYP450 system — a group of enzymes metabolizing between 60–80% of pharmaceutical drugs.
There's also not enough research on the safety of CBD during pregnancy or while breastfeeding, making them potential contraindications.
Best CBD & Melatonin Supplements for Sleep
It's not easy to find a decent CBD & Melatonin supplement for sleep, especially in the unregulated hemp market. You need to make sure that your product comes from organic farming, has been extracted without toxic solvents, and comes with a batch-specific certificate of analysis confirming its potency and purity.
If you're not feeling experienced enough to run your own research — here are the top 3 foolproof picks from brands that make premium CBD supplements and use 100% natural ingredients in their formulas.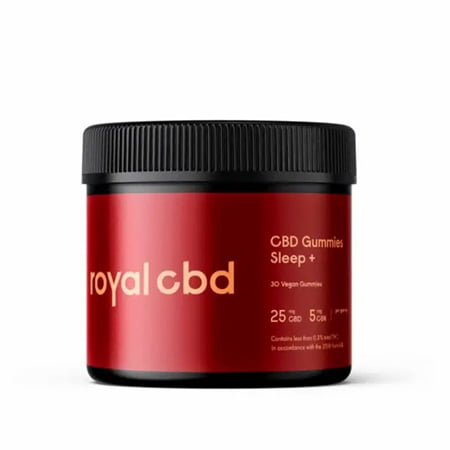 Pros
Cons

Organic hemp
CO2 extraction
Full-spectrum CBD
Contains CBN + melatonin
Third-party tested for potency and purity
Natural fruity flavors

More expensive than competitor brands (but worth the price considering the quality)
Royal CBD is known for its award-winning formulas involving full-spectrum CBD, natural adaptogens, and supportive cannabinoids that leverage the entourage effect in hemp.
The Royal CBD Sleep gummies are the latest addition to the company's line-up, offering a 5:10 ratio between CBD and CBN. Short for cannabinol, CBN is a mild sedative that can enhance the sleep-inducing properties of other cannabinoids and terpenes. The product also contains a humble dose of 2 mg melatonin — contributing to well-rounded effects on sleep.
Like other gummies from its collection, the Royal CBD Sleep gummies are available in an assortment of fruity flavors sweetened with natural fruit juice and concentrates.
Royal CBD sends third-party lab reports to customers with each product via email.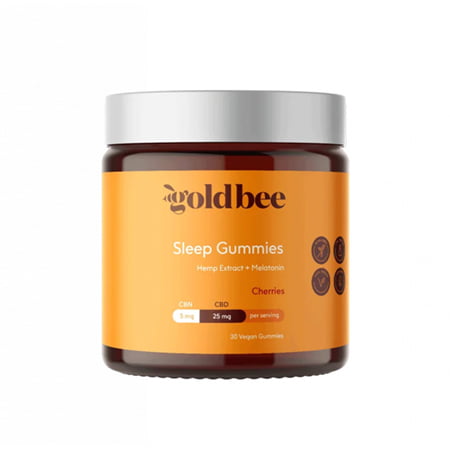 Pros
Cons

Non-GMO, pesticide-free hemp
CO2 extraction
THC-free
25 mg CBD per gummy
Delicious cherry flavor
Lab-tested for potency and purity

Made in small batches (sometimes out of stock)
No low-strength options
Gold Bee is an artisan company known for its expertise in the superfood industry. In 2018, the company transitioned to CBD supplements, including its staple superfoods — raw honey and MCT oil — in hemp extracts.
Unlike Royal CBD, Gold Bee uses a broad-spectrum extract, so you won't find any THC in its gummies. This feature makes them safe for children, but the entourage effect may not be as pronounced as with full-spectrum CBD.
We love the juicy cherry flavor and the chewy texture of these little cubes, although, for some of our team members, they were too sweet.
The formula contains 5 mg of CBN on top of sleep-inducing terpenes such as linalool and myrcene. If you're new to CBD gummies, cut one in half because they pack a punch.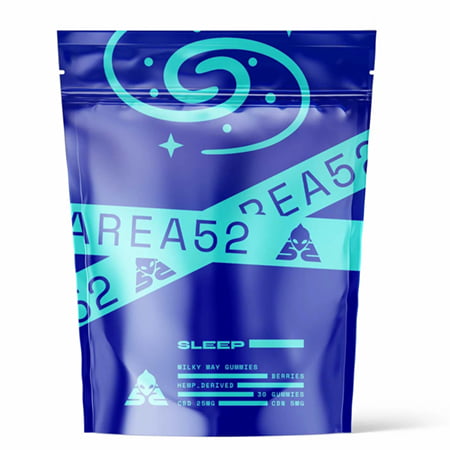 Pros
Cons

Organic hemp
CO2 extraction
Full-spectrum CBD
1:1 ratio of CBD and CBN
Very tasty
Infused with adaptogens

Not as tasty as Royal CBD and Gold Bee
Better suited for experienced users
Area 52 started out making delta 8 THC products, but the brand has quickly expanded its collection with other unique cannabinoids, such as CBG, CBC, CBN, and HHC. Today, Area 52 also features a line of CBD gummies dedicated to different health goals.
The Area 52 Sleep gummies include a 1:1 ratio of CBD to CBN, providing a potent sleep aid. The formula contains other adaptogens, such as lemon balm, 5-HTP, and chamomile — all of which take the edge off your stress and contribute to high-quality sleep throughout the night.
That being said, they might be too strong for new users or those who whey less than 140 pounds. If you're looking for more beginner-friendly CBD & melatonin gummies, check out the two above brands.
Final Thoughts on Taking CBD with Melatonin
The effects of CBD and melatonin on sleep go hand in hand. Although each ingredient uses different mechanisms to achieve its goals, the combined effect is powerful.
CBD improves your stress response, reduces anxiety, and alleviates physical discomfort — the most common roadblocks on your road to deep, restorative sleep.
Different doses of CBD at different times of the day can help you regulate your inner clock, optimizing melatonin production.
Melatonin comes in handy if your lifestyle or work schedule disrupts your sleep-wake cycle. It's a great short-term remedy, but you shouldn't use it in the long run to avoid a rebound effect.
When searching for the best CBD products with melatonin, always check the lab reports and how the hemp was sourced before it turned into a CBD extract. Choosing reputable and transparent brands will protect you against scammers who use the lack of regulation to capitalize on unaware consumers in this booming market.
Sources:
Karasek M. (2004). Melatonin, human aging, and age-related diseases. Experimental gerontology, 39(11-12), 1723–1729. https://doi.org/10.1016/j.exger.2004.04.012
Hublin, C., Partinen, M., Koskenvuo, M., & Kaprio, J. (2011). Heritability and mortality risk of insomnia-related symptoms: a genetic epidemiologic study in a population-based twin cohort. Sleep, 34(7), 957–964. https://doi.org/10.5665/SLEEP.1136
Pagan, C., Goubran-Botros, H., Delorme, R. et al. Disruption of melatonin synthesis is associated with impaired 14-3-3 and miR-451 levels in patients with autism spectrum disorders. Sci Rep 7, 2096 (2017). https://doi.org/10.1038/s41598-017-02152-x
Ferracioli-Oda, E., Qawasmi, A., & Bloch, M. H. (2013). Meta-analysis: melatonin for the treatment of primary sleep disorders. PloS one, 8(5), e63773. https://doi.org/10.1371/journal.pone.0063773 [4]
Brzezinski, A., Vangel, M. G., Wurtman, R. J., Norrie, G., Zhdanova, I., Ben-Shushan, A., & Ford, I. (2005). Effects of exogenous melatonin on sleep: a meta-analysis. Sleep medicine reviews, 9(1), 41–50. https://doi.org/10.1016/j.smrv.2004.06.004
Andrade, C., Srihari, B. S., Reddy, K. P., & Chandramma, L. (2001). Melatonin in medically ill patients with insomnia: a double-blind, placebo-controlled study. The Journal of clinical psychiatry, 62(1), 41–45. https://doi.org/10.4088/jcp.v62n0109
Murillo-Rodríguez, E., Sarro-Ramírez, A., Sánchez, D., Mijangos-Moreno, S., Tejeda-Padrón, A., Poot-Aké, A., Guzmán, K., Pacheco-Pantoja, E., & Arias-Carrión, O. (2014). Potential effects of cannabidiol as a wake-promoting agent. Current neuropharmacology, 12(3), 269–272. https://doi.org/10.2174/1570159X11666131204235805
Pretzsch, C.M., Freyberg, J., Voinescu, B. et al. Effects of cannabidiol on brain excitation and inhibition systems; a randomised placebo-controlled single dose trial during magnetic resonance spectroscopy in adults with and without autism spectrum disorder.Neuropsychopharmacol. 44, 1398–1405 (2019). https://doi.org/10.1038/s41386-019-0333-8
Jadoon, K. A., Tan, G. D., & O'Sullivan, S. E. (2017). A single dose of cannabidiol reduces blood pressure in healthy volunteers in a randomized crossover study. JCI insight, 2(12), e93760. https://doi.org/10.1172/jci.insight.93760 [9]
Chagas, M. H., Eckeli, A. L., Zuardi, A. W., Pena-Pereira, M. A., Sobreira-Neto, M. A., Sobreira, E. T., Camilo, M. R., Bergamaschi, M. M., Schenck, C. H., Hallak, J. E., Tumas, V., & Crippa, J. A. (2014). Cannabidiol can improve complex sleep-related behaviours associated with rapid eye movement sleep behaviour disorder in Parkinson's disease patients: a case series. Journal of clinical pharmacy and therapeutics, 39(5), 564–566. https://doi.org/10.1111/jcpt.12179 [10]
Argueta, D. A., Ventura, C. M., Kiven, S., Sagi, V., & Gupta, K. (2020). A Balanced Approach for Cannabidiol Use in Chronic Pain. Frontiers in pharmacology, 11, 561. https://doi.org/10.3389/fphar.2020.00561 [11]
Nagarkatti, P., Pandey, R., Rieder, S. A., Hegde, V. L., & Nagarkatti, M. (2009). Cannabinoids as novel anti-inflammatory drugs. Future medicinal chemistry, 1(7), 1333–1349. https://doi.org/10.4155/fmc.09.93
Blessing, E. M., Steenkamp, M. M., Manzanares, J., & Marmar, C. R. (2015). Cannabidiol as a Potential Treatment for Anxiety Disorders. Neurotherapeutics : the journal of the American Society for Experimental NeuroTherapeutics, 12(4), 825–836. https://doi.org/10.1007/s13311-015-0387-1 [13]