How Does CBD Affect the Brain? Impact of Cannabidiol on Brain Function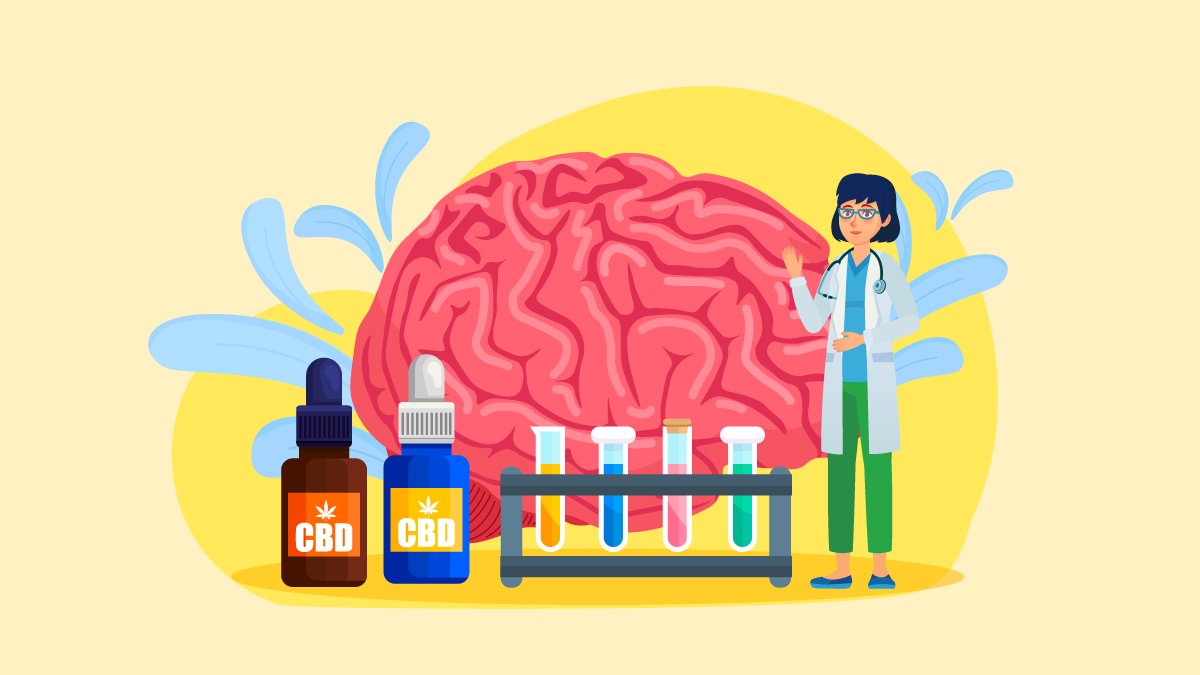 The one-of-a-kind neurological effects of CBD are the main reason why this supplement has grabbed the world of wellness products by the throat. Unlike other cannabinoids present in the cannabis plant, CBD has its own way of interacting with the endocannabinoid system.
Cannabidiol (CBD) is a chemical compound whose largest concentration can be found in hemp, a close relative of marijuana – the two come from the same mother plant (Cannabis Sativa L.). CBD is non-intoxicating; in other words, CBD doesn't make people feel high, but it allows them to draw a myriad of health benefits from this particular cannabinoid.
The list of medical conditions alleviated by CBD includes anxiety, inflammation, pain, lethargy, aging, skin and bones injuries, and other health concerns. When administered, it allows a person to feel relaxed without the mind-altering effects induced by THC.
Why Is CBD Different From THC and Other Cannabinoids?
As we said, there is a notable difference between CBD and other cannabinoids, or chemicals that are found in both hemp and marijuana.
While all other active compounds of the plant interact with two cannabinoid receptors in the nervous system, CB1 and CB2, Cannabidiol has very little effect on both. CB1 receptors are found in different regions of the brain, including those responsible for controlling emotion, pain, cognition, and memory. CB2 receptors, on the other hand, regulate inflammatory responses and bolster the immune system. [1]
Others spread myths about CBD over the internet that it interacts with the cannabinoid receptors, but they are completely mistaken. CBD stimulates the endocannabinoid system to produce more of its own cannabinoids and slows their breakdown. [2] Delta-9-Tetrahydrocannabinol (THC), on the other hand, binds to CB1 and CB2 receptors, activating them and thus changing a person's thinking, memory, pleasure, and pain perception, and concentration. These effects contribute to what we describe as a marijuana high.
Interestingly, CBD may also alter the effects of THC by blocking the CB1 receptors in places where THC taps. In higher doses, THC can induce anxiety and paranoia in some users, which is why many people are afraid to try weed. But strains that are high in CBD tend to mitigate these effects, allowing you to enjoy the benefits of marijuana without a disturbance.
Potential Neurological Effects of CBD Oil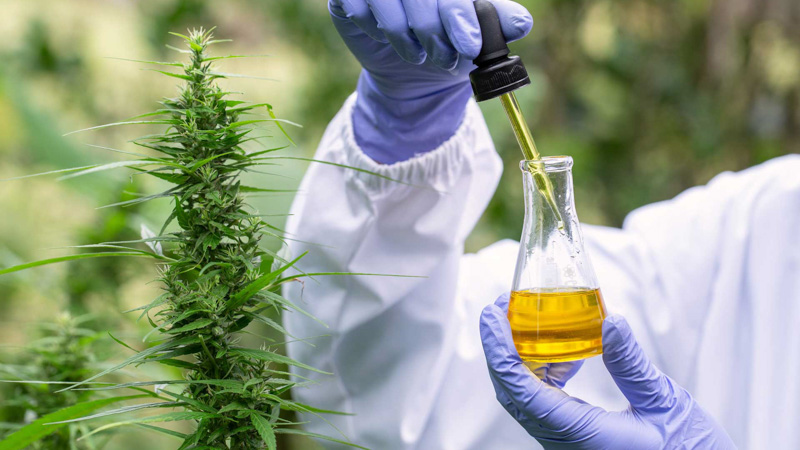 CBD is known to have a tremendous number of medicinal properties, but because the field of marijuana research is in its infancy, we still need more studies to examine the full potential of the plant's compounds.
Below, we list some of the documented neurological effects of CBD oil that may help you put an end to your ailments.
Neuroprotective Effects
CBD could be helpful when it comes to treating neurological diseases due to its neuroprotective properties. In other words, CBD protects neurons from degeneration, which helps a person's brain remain younger. In a study on Alzheimer's Disease, CBD was shown to inhibit the development of Alzheimer's symptoms [3].
Pain-killing Effects
CBD is a natural pain suppressor [4]. It's capable of inhibiting neuronal transmission without causing analgesic tolerance and substance dependence. Because of these qualities, researchers came to the conclusion that CBD and other non-intoxicating cannabinoids can be used as an effective alternative to prescription opioid drugs when it comes to treating chronic pain.
On top of that, the topical use of CBD has been shown by numerous studies to improve joint mobility and speed up the healing process after an injury. Many professional athletes use CBD to fight muscle inflammation and other pain-related issues.
Anti-cancer Effects
As research shows, very high doses of CBD can be used to cease the growth of cancer cells due to its antitumor properties. What's optimistic about the neurological effects of CBD oil is that it has no toxic effects on humans [5]. This study also shows that CBD could even help treat leukemia and similar illnesses.
Anti-anxiety Effects
CBD has long been praised for its anti-anxiety effects. Actually, this is the number one reason why people use CBD oil. When you scan the Internet for positive voices of Cannabidiol, you will come across a sea of success stories of patients that managed to go cold turkey on their drug cocktails thanks to CBD.
As for the scientific evidence, a 2011 study tested 24 patients with social anxiety disorders. 1.5 hours before the test, the patients were administered CBD oil or a placebo. It was found that the anxiety levels, cognitive impairment, and social discomfort in patients who were given CBD had dropped significantly as compared to the placebo subjects [6].
How Does CBD Affect The Brain
Cannabidiol acts through various molecular pathways, which explains the neurological effects of CBD oil. Although CBD doesn't tap into two of the cannabinoid receptors, it stimulates the activity of the endocannabinoid system through several different receptor-independent routes. CBD also strengthens and inhibits the binding action of certain protein-coupled receptors.
Here's a quick breakdown of the receptor systems that are affected by CBD.
1. CBD And The Serotonin System
Serotonin receptors affect a wide range of bodily and brain functions. For example, they affect a person's cognition, mood, appetite, and pain perception, but they are also responsible for our reactions to stress – serotonin receptors regulate the release of hormones that control the above functions.
CBD targets the serotonin 1A receptor, which is why scientists believe Cannabidiol can be so useful in treating pain, anxiety, and obesity. Moreover, the increased activity of serotonin 1A receptors has been linked by researchers to CBD's potential influence on certain issues such as depression, nausea from chemotherapy, neuropathic pain, and schizophrenia.
2. CBD And Vanilloid Receptors
CBD attaches to vanilloid receptors, also known as TRPV1 receptors, to achieve certain therapeutic effects. Because TRPV1 is an ion channel, it helps the body regulate its temperature, control inflammation, and change the perception of pain.
3. CBD And Orphan Receptors
The orphan receptor has got its name because scientists are still unsure if it belongs to a larger receptor family. Also called GPR55, the orphan receptor is responsible for regulating blood pressure, bone density, and bone reabsorption.
When the orphan receptor shows signs of constant overactivity, it may eventually cause osteoporosis and contribute to the multiplication and migration of tumor cells. CBD inhibits GPR55 signaling, which is linked to the ability of this cannabinoid to stop the growth of cancer.
4. CBD And Nuclear Receptors
Nuclear receptors are also referred to PPARs, short for proliferator-activated receptors. Their activity is attributed to antitumor effects. CBD activates PPARs, which are found on the surface of the cell's nucleus. When the PPAR-gamma receptor is stimulated, it triggers an antiproliferative effect that has been shown to cause cancer to regress in lung cancer cell families.
5. CBD As An Anandamide Booster
A 2016 study published in the Frontiers of Pharmacology showed that CBD on the brain inhibits the breakdown of anandamide, which boosts endocannabinoid levels on the brain's synapses. Anandamide is often called the human version of marijuana because anandamide and THC are much alike in their chemical structure. They also produce similar effects; anandamide controls mood, pain perception, body temperature, appetite, and more.
CBD interacts with the same intracellular molecules that transport THC and anandamide to different parts inside the cell. It also has a strong bond with three kinds of fatty acid-binding protein (FABP). Once endocannabinoids get inside the cell, the process of anandamide's breakdown begins. Cannabidiol reduces anandamide's access to transport FABP and thus delays it from entering the cell, slowing its breakdown [7].
Medical Benefits of CBD For the Brain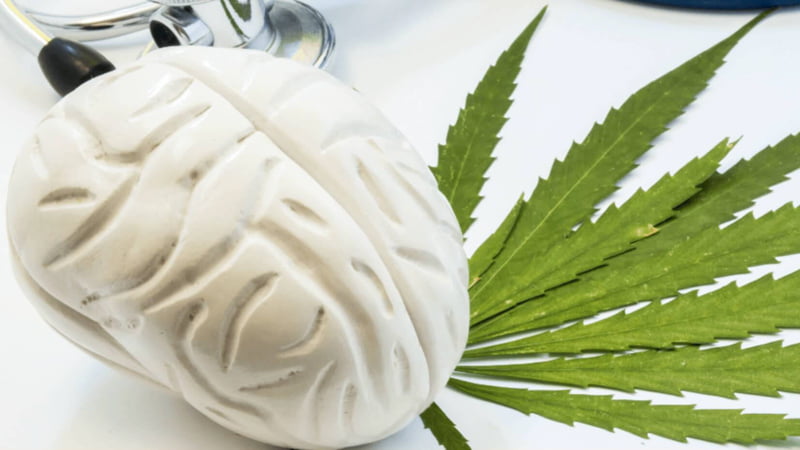 Now, let's sum up some of the most noteworthy therapeutic properties of CBD.
1. Stress, Anxiety, and Depression
While THC can increase anxiety in some people, especially if administered in high doses, a study conducted by Neurotherapeutics has found that CBD can help reduce the anxiety experienced by patients with anxiety disorders. The neurological effects of CBD could lead to the emergence of all-natural anti-anxiety therapies in the nearest future [8].
2. Seizures
According to a study posted in Epilepsia, CBD may treat seizures, epilepsy, and neuropsychiatric disorders. Not only does CBD have a wide range of antiseizure properties, but it also has a low risk of undesired effects on people who already suffer from epilepsy. This particular quality of Cannabidiol has given rise to more and more studies aimed at determining how exactly CBD and other cannabinoids can potentially treat disorders linked to epilepsy, especially neurodegeneration and neuronal injuries.
3. Insomnia
Since CBD can help reduce stress, anxiety, and pain, it may prove an effective natural sleep aid. CBD also controls the sleep-wake cycle; in other words, it induces wakefulness and reduces daytime sleepiness in low doses, but large amounts of these cannabinoids administered a few hours before bedtime can have a sedating effect that often results in a good night's sleep [9].
Unlocking CBD's Unequivocal Potential
While most of the research available today has put its focus on understanding the relationship between humans and THC, CBD on the brain has been recently shown to have great potential with regard to its medical versatility. Once we fully understand all the properties of hemp and marijuana, we will be able to unlock its full power and use it in a way that could benefit us even more than it does now.
Let's hope that scientists will soon find newer ways to improve human health and regeneration with natural resources so that people can have true freedom of choice when it comes to choosing their treatment options.
References:
Battista N., Tomasso D. M., Bari M., Maccarone M. The Endocannabinoid System: An Overview. Frontiers in Behavioral Neuroscience. 2012; 6: 9. Published online in March 2012. Pre-published online in December 2011.

Ahn K., McKinney K. M., and Cravatt B. F. Enzymatic Pathways That Regulate Endocannabinoid Signalling in the Nervous System. Chemical Reviews., 2008, 108 (5), pp 1687 – 1707. Published online in April 2008.

Campbell V. A., Gowran A. Alzheimer's Disease: Taking the Edge Off With Cannabinoids? Department of Physiology and Trinity College Institute of Neuroscience, Trinity College Dublin.British Journal of Pharmacology (2007) 152, 655-622. Published Online in September 2007.

Russo E. Cannabinoids in the Management of Difficult to Treat Pain. Therapeutics and Clinical Risk Management (2008); 4(1): 24-259. Published online in February 2008.

Massi P., Solinas M., Cinquina V., and Parolaro D. Cannabidiol as Potential Anticancer Drug. British Journal of Clinical Pharmacology (2013); 75(2): 303-312. Published online in April 2012.

Beramaschi M. M. et al. Cannabidiol Reduces the Anxiety Induced by Simulated Public Speaking in Treatment-Naive Social Phobia Patients. Neuropsychopharmacology (2011); 36(6): 1219-1226. Published online in February 2011.

Deutsch DG. A Personal Retrospective: Elevating Anandamide (AEA) by Targetting Fatty Acid Amide Hydrolase (FAAH) and the Fatty Acid Binding Proteins (FABPs). Frontier of Pharmacology (2016); 7:370. Published online in 2016.

Blessing E. M., Steenkamp M. M., Manzanares J., and Marmar C. R. Cannabidiol as a Potential Treatment for Anxiety Disorders. Neurotherapeutics (2015); 12(4): 825-836. Published online in September 2015.

Devinsky O. et al. Cannabidiol: Pharmacology and Potential Therapeutic Role in Epilepsy and Other Neuropsychiatric Disorders. Epilepsia (2014); 55(6): 791-802. Published online in May 2014.