CBD and Asthma: Benefits of Cannabis Oil for Asthma Patients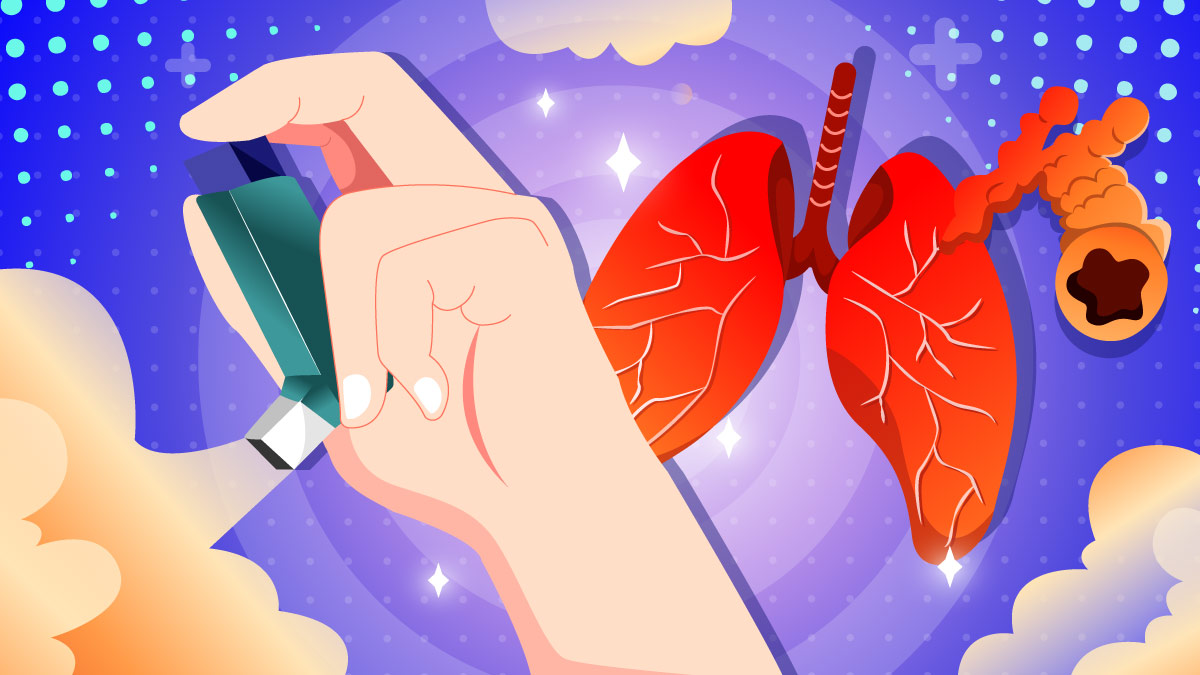 According to the World Health Organization (WHO), around 339 million people suffer from asthma worldwide. Asthma is definitely one of the most prevalent chronic diseases that could use natural, safe, and effective treatment.
CBD is becoming more and more popular, so it's no wonder some asthmatics have decided to choose it as an alternative to conventional remedies. However, many people are still concerned about using CBD for asthma, mostly when it comes to the right form of administration.
CBD is short for cannabidiol, one of the two major cannabinoids found within cannabis plants. It can be extracted from both hemp and marijuana, but the majority of CBD oils available for sale are derived from hemp due to its legal status.
Hemp-derived CBD products are legal in all 50 states. Economists from around the world refer to CBD as the modern gold rush — and for a good reason.
The "why" behind CBD's popularity stems from its high versatility and excellent safety profile. Unlike THC, CBD won't get you high.
But can you actually use CBD oil to relieve asthma and associated symptoms?
Let's shed more light on it!
What You Need to Know About Asthma
Asthma is a common chronic respiratory illness that starts in the lung airways as a result of inflammation and swelling. As these airways become constricted, they get filled with mucus, making it difficult to breathe properly.
Asthma is categorized into several different types.
For example, a person may have allergic asthma, which involves an overactive immune system that causes respiratory problems upon being exposed to the allergen. Common allergens are responsible for causing asthma include dust mite, mold, cold, germ-ridden dirt, pollen, and pet dander.
According to various estimates, Asthmatics make for roughly 8% of the U.S. general population. The Centers for Disease Control and Prevention (CDC) reports that 10 Americans are diagnosed with asthma every day.
The symptoms of asthma include:
Wheezing
Coughing
Shortness of breath
Pain and/or tightness in the chest
Difficulty falling asleep
The symptoms may vary from person to person. They can also manifest at different events, such as during cold weather, when exercising, or being exposed to allergens.
Not all patients have severe asthma; for many people, this is a mild condition. However, others may have serious problems, such as severe asthma attacks, which can be life-threatening.
An asthma attack involves an immediate deterioration of symptoms. Often described as asthma flare-ups, they contribute to around 2 million emergency room visits per year and can have a negative impact on the person's quality of life. Without proper treatment and immediate medical care, an asthma attack can result in death.
Can CBD Oil Help with Asthma?
As mentioned, some people find it very difficult to manage the symptoms of asthma. The treatment calls for taking a multi-angle approach to your lungs' health. While you can use certain prescription medications to relieve the symptoms and stave off asthma flare-ups, many of these drugs have dangerous side effects.
Preventive inhalers can lead to a sore throat, tatty voice, and oral fungal infections when used regularly.
Other medications — leukotriene modifiers like zileuton — may sometimes increase the risk of depression, hallucinations, and suicidal thoughts.
There's a growing body of evidence supporting the efficacy of CBD in respiratory conditions, including asthma. Preclinical findings suggest that CBD can relieve the symptoms of asthma and reduce the frequency and severity of the flare-ups.
Studies on CBD and Asthma
Although CBD isn't a cure for asthma, it can effectively help in the management of its symptoms. The science behind these effects is pretty simple but requires some elaboration. Let's have a look at the most vivid benefits of CBD for asthma.
CBD Oil vs Inflammation
Inflammation in the lungs is the main trigger of asthma flare-ups. When a patient gets exposed to irritants, such as allergens, the immune system brings an inflammatory response.
Inflamed airways may cause muscle spasms and cause the lungs to secrete too much mucus. As a result, the respiratory airways get clogged, making breathing in and out extremely difficult.
This is where CBD could help.
Researchers believe that CBD can produce remarkable anti-inflammatory effects through its interaction with the CB2 cannabinoid receptors within the endocannabinoid system. The activation of this receptor helps lower the concentration of pro-inflammatory cells such as C fibers.
In a 2019 study published in the European Journal of Pharmacology, the authors found that CBD may curb inflammatory responses and speed up the recovery of lung function in patients with allergy-driven asthma (1).
Similar findings were reported by an earlier study, where the research team concluded that CBD and other cannabinoids can be used to help people deal with respiratory conditions, inflammatory pain, and ischemic stroke (2)
CBD Oil vs Spasms
An asthma attack causes individuals to experience spasms that can impact the bronchi and bronchioles as a result of the muscle contraction in the lungs, which causes breathing difficulties and wheezing.
The latest research has shown that CBD has antispasmodic properties. As CBD reduces muscle spasms, it can help open the airways in the respiratory tract, relieving asthma symptoms. This property has also been highlighted in the studies designed to determine the therapeutic potential of CBD for epileptic seizures.
A 2015 study investigated the efficacy of Sativex — an oral spray containing a 1:1 ratio of CBD to THC — on patients with multiple sclerosis. The research team reported significant improvements in muscle spasticity and patients' mobility (3).
Although more longitudinal trials are needed to prove the preclinically established benefits of CBD for asthma, the compound offers potential benefits for people who experience muscle spasms. There's a chance that CBD may also help relax the muscles in the lungs, making it easier for asthma sufferers to breathe.
If you believe that CBD could help you manage the symptoms of asthma, consult a doctor prior to making a purchase for professional advice.
CBD Oil vs Asthma Drug-Induced Anxiety
Earlier in the article, we've mentioned that conventional anti-asthma medications can trigger anxiety in patients. Chronic anxiety can seriously impact a person's daily life and is a risk factor for a wide range of mental disorders, including depression, panic disorder, phobias, bipolar disorder, and more.
CBD has demonstrated strong anxiolytic (anti-anxiety) properties in several experimental studies, so there's a chance you can benefit from using CBD oil in conjunction with your prescribed medication to prevent anxiety (4).
However, since CBD interacts with about 80% of prescription medications, we suggest once again that you visit a doctor before buying CBD oil for asthma.
How to Use CBD for Asthma
CBD for asthma is available in a plethora of forms, including oils, capsules, edibles, vapes, and topicals. The choice of your go-to format depends on the preferred route of administration as well as on your lifestyle. Below we cover the most popular types of CBD products along with their pros and cons.
CBD Oil
CBD oil is the most popular form of CBD. It is sold in dark, glass bottles with a dropper attached for accurate dosing. CBD oil contains a hemp extract infuse into a carrier oil such as MCT oil, hemp seed oil, or olive oil.
CBD oil comes in a wide range of concentrations and flavors. You can take it under the tongue and hold it there for 60 seconds before swallowing — or mix it with food and drinks to mask the strong taste of CBD oil (when taking full-spectrum or broad-spectrum CBD).
When you take CBD oil under the tongue, it absorbs through the many tiny blood vessels, avoiding the first-pass metabolism in the liver. As a result, the first effects are noticeable within 15–30 minutes after consumption.
CBD oil is good for people who can afford the time to take measurements and want their dose to be as accurate as possible. If you have a busy lifestyle, you may want to consider pills or edibles.
CBD Capsules
Capsules are the standard form of most health supplements, including CBD oil. This form of CBD is useful for consistent supplementation with fixed amounts of CBD per serving. However, CBD capsules are subject to the first-pass metabolism in the liver, which lowers its bioavailability. Only 1/5th of the ingested content will enter the bloodstream.
Since capsules need to be processed in the liver, it will usually take up to 90 minutes before you can experience their effects. But on the other hand, they will have a longer duration than oils — even 8–10 hours.
CBD Edibles
CBD edibles have become the next trend on the market. They offer a tasty, discrete, and portable way to consume CBD throughout the day. CBD edibles range from gummies to cookies, truffles, lollipops, protein bars, and chocolates.
Gummies are the most popular edible format. They look and taste just like regular gummy bears, with 5 mg to 50 mg of CBD per piece. Similar to capsules, edibles must pass through the liver before entering the bloodstream, so you may have to wait a bit for the effects to show up.
Related: Best CBD Gummies for COPD
Capsules and edibles are good if you want to use CBD for prevention. However, if you need immediate relief from your symptoms, they are not the best option out there.
How to Inhale CBD Asthma Inhaler
For asthma sufferers, CBD vapes may act as asthma inhalers. If you want to inhale CBD, you'll need a vape pen and some CBD e-liquid, also known as CBD juice.
A vape pen is a device that heats the CBD liquid to the point where it creates CBD-rich vapor. This vapor can be inhaled through the pen's mouthpiece right into the lungs.
Many people confuse CBD oil with CBD vape oil or juice, but these are two different products. CBD vape oil is thinned with vegetable glycerin or propylene glycol (or a mix of both) so it can pass through the vaporizer's chamber. Regular CBD oil is too thick to be vaped. If you tried using CBD oil in a CBD vape pen, you'd probably end up with a clogged device.
Vaping CBD is pretty straightforward. All you need to do is fill the cartridge of your vape pen with CBD liquid. Once done, turn on the pen and wait until it reaches the desired temperature. Most digital pens use a haptic signal (vibrations) to indicate that they're ready for use.
The rest is simple: inhale and exhale, just as you would with an e-cig or CBD joint.
Is It Safe to Vape CBD with Asthma?
Although CBD is generally considered safe for asthma, vaping CBD oil raises some concerns about the safety of this particular method. When you vaporize CBD, you usually inhale cannabidiol along with the aforementioned thinners, which can further irritate your lungs and cause a flare-up. If you are sensitive to these additives (or flavorings), we recommend choosing a different form of CBD. The fastest way to experience relief from your symptoms will be through CBD oil.
How Much CBD to Take for Asthma
Now that we've established that the best type of CBD for asthma is CBD oil, let's discuss the dosage.
This is the most difficult part of taking CBD for any condition.
There is no one-size-fits-all dosage because everybody reacts differently to CBD. Choosing the right dosage involves several factors, including:
Age
Gender
Weight
Metabolism
Unique body chemistry
Previous experience with CBD
The type of your asthma symptoms
Medications for asthma you might be taking
An effective dosage may range from 5 to 300 mg of CBD. Experts in the field recommend starting low and gradually increasing your dose until you experience relief from your symptoms. It's important that you consult your plans to incorporate CBD into your routine with your doctor. A doctor experienced in cannabis may help you establish the right dosage and avoid potential interactions with other medications.
Another thing to consider when trying to figure out how much CBD you should take for asthma is the cannabinoid spectrum of your product.
There are three types of cannabinoid spectra:
Full-Spectrum CBD: full-spectrum products are extracted using the whole hemp plant. They contain CBD on top of other cannabinoids (including traces of THC), terpenes, flavonoids, essential fatty acids, vitamins, and minerals. These compounds work together synergistically to enhance the effects of CBD. This phenomenon is known as the entourage effect and explains why full-spectrum CBD oil is the desired option among consumers.
Broad-Spectrum CBD: this type of CBD oil is much like its full-spectrum counterpart but without any THC inside. The THC has been removed during the later stages of extraction. Broad-spectrum CBD oil evokes some of the entourage effects and is recommended for people who are regularly tested for THC at work.
CBD Isolate: true to its name, CBD isolate is just pure CBD that has been separated from other hemp compounds. The end product takes the form of white crystals or powder and has no odor or flavor. The advantage of isolate-based CBD products is their versatility and a high dose of CBD per servings. However, such products lack the entourage effect because there are no other cannabinoids and terpenes to support the effects of CBD.
Final Thoughts on CBD and Asthma
Asthma is a chronic respiratory disease that — when left neglected — can pose a real threat to one's life. Common symptoms of asthma include shortness of breath, coughing, wheezing, and tightness in the chest.
Asthma doesn't have a cure, meaning you'll need to aim your treatment at the effective management of your symptoms and prevention of flare-ups. With inhalers, pills, and non-steroidal anti-inflammatory drugs (NSAIDs), it's possible to live a normal life.
However, regular use of conventional medications has side effects, such as anxiety, depression, and suicidal thoughts on top of physical reactions including a sore throat and tatty voice from using asthma inhalers.
A growing number of people with asthma take CBD as a safe and effective alternative for dealing with symptoms without the aforementioned side effects. Some patients have experienced decent results of combining asthma medication with CBD oil.
A recent report from the WHO states that CBD is a safe and well-tolerated compound in humans.
Although no studies have been performed specifically on the use of CBD for asthma, there is evidence that CBD has a bronchodilatory effect, which can help relax the lungs and ease muscle spasms. Taking full-spectrum CBD oil may result in improved lung function and easier breathing.
If you're planning to include CBD oil into your routine, we encourage you to make an appointment with your doctor in order to figure out the best dosage for your situation and avoid potential interactions with your anti-asthma medications.
Remember that smoking or vaping CBD isn't recommended for asthma patients, as both methods entail a risk of deteriorating their symptoms.
References:
Vuolo, Francieli et al. "Cannabidiol reduces airway inflammation and fibrosis in experimental allergic asthma." European journal of pharmacology vol. 843 (2019): 251-259. doi:10.1016/j.ejphar.2018.11.029
Pini, Alessandro et al. "The role of cannabinoids in inflammatory modulation of allergic respiratory disorders, inflammatory pain and ischemic stroke." Current drug targets vol. 13,7 (2012): 984-93. doi:10.2174/138945012800675786
Russo, M., Calabro, R.S. and Bramanti, P. "Sativex in the Management of Multiple Sclerosis-Related Spasticity: Role of the Corticospinal Modulation." Neural Plast (2015).
Shannon, S. et al. "Cannabidiol in Anxiety and Sleep: A Large Case Series." The Permanente Journal (2019), 23: 18–041.