Where to Buy CBD Oil in Florida? Hemp Oil Laws & Legality (2022)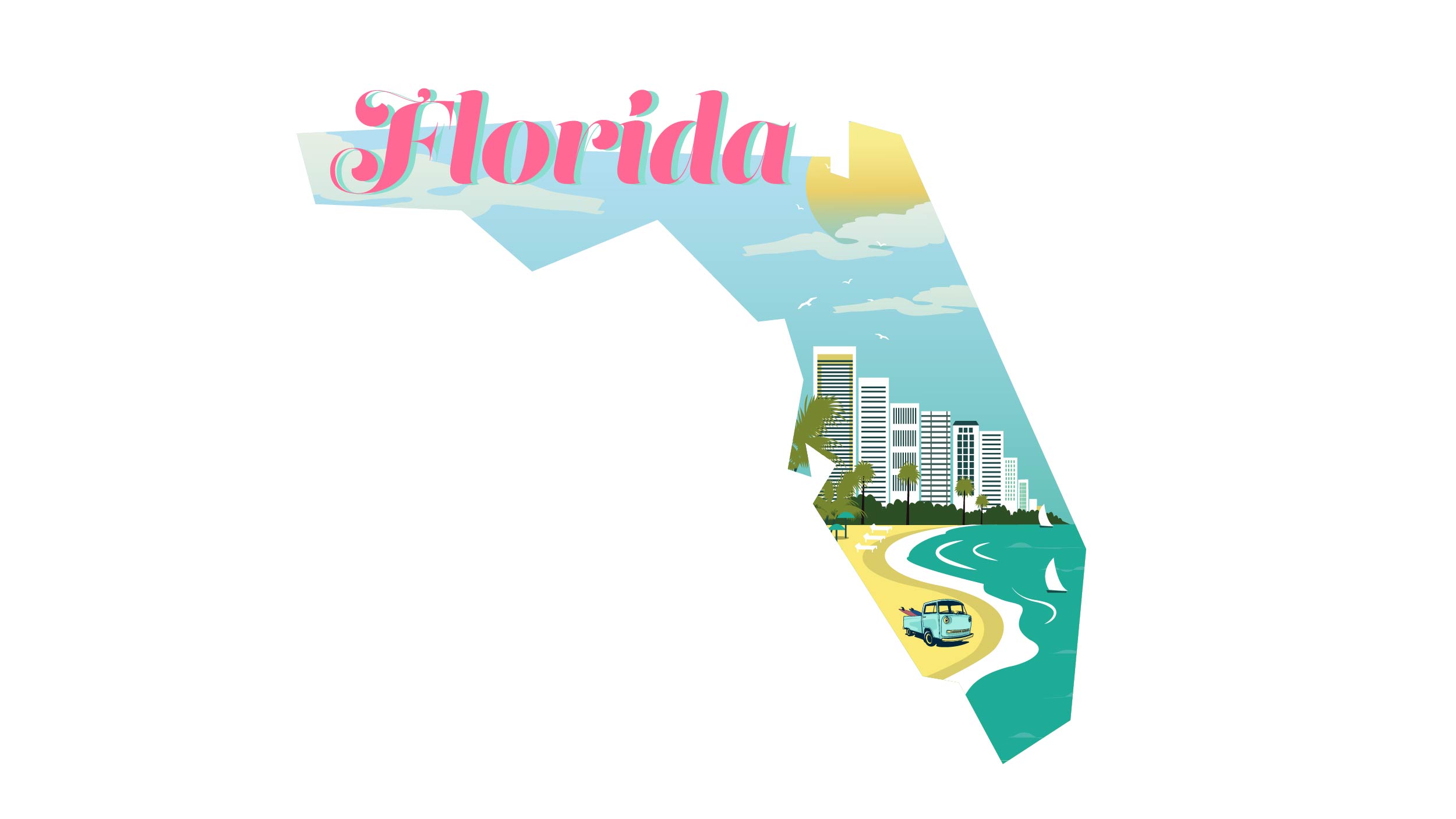 Florida is a quite progressive state when it comes to cannabis laws. Residents with a medical marijuana card can purchase CBD oil that contains considerable amounts of THC if they suffer from one of the eligible conditions. More people than ever in Florida are interested in the health benefits of CBD oil.
But did you know that the state of Florida also allows the sale of hemp-derived CBD products? To make things better, you don't need a prescription to purchase CBD oil from hemp. These products are easily available over the counter in pharmacies, organic food stores, and vape shops as long as they contain 0.3% THC or less.
If you want to buy CBD oil in Florida, you have two options: either shop online or look for a reliable vendor somewhere near you.
In this article, you'll learn about both methods on top of Florida's laws with regard to cannabis and its derivatives.
Let's get started!
Where to Buy CBD Oil in Florida?
Florida is a great place to buy CBD oil thanks to a booming market. CBD products are everywhere, from local organic food stores to vape shops and pharmacies. Today, however, most CBD transactions are made online. It's no wonder that people are choosing to purchase CBD that way. In this section, we explain why finding a reliable online supplier is the best way to get your hands on quality CBD products in Florida.
Reasons to Shop for CBD Online
Buying CBD online offers a few benefits that you won't find in local stores. It's by far the most convenient way to buy CBD oil in Florida.
Online stores generally have a greater variety of products in stock. When buying CBD online, you can browse through products like tinctures, capsules, balms, lotions, edibles, concentrates, vape juice, and even pet products, whereas local vendors typically have one or two forms of CBD from a limited number of companies.
It's just easier to compare products from several brands without wasting time driving around time to find the right CBD oil for your needs.
You can also do a quick research about the products you order. All you need to do is read through a company's website, find their mission statements and CBD sourcing details, read reports from the third-party lab analysis, or reach out to other users on social media groups and forums for detailed advice.
It would be difficult to run thorough research on a brand in a physical store, especially now that many manufacturers are churning out products with less CBD than listed on the bottles. Others use unwanted additives, such as solvents, synthetic flavorings, or pesticides.
Doing your homework before buying CBD oil will help you weed out mediocre companies from high-quality suppliers within minutes.
PRODUCT
DETAILS

Best Overall CBD Oil

Royal CBD – Full Spectrum

Made from locally grown organic hemp
Extracted with supercritical CO2
Infused with full-spectrum CBD
Available in 4 strengths and flavors
Up to 2500 mg of CBD per bottle
3rd-party tested for potency and purity
Great Berry flavor

Click for Best Price

Best Organic Formula

Gold Bee

Sourced from US-grown organic hemp
Contains full-spectrum CBD
Up to 80 mg CBD/mL
Great potency range for beginners
Third-party tested for potency and purity
Great kiwi-honey flavor

Click for Best Price
Local CBD Retailers in Florida
If you still prefer to shop for CBD locally in Florida, this section contains a list of several places that may be able to help you find the right products and answer your questions about your goals with CBD.
See if you can find your city on the list!
CBD Stores in Miami
Trulieve Miami
Miami 420 Marijuana Doctor
Miami Vapor Shop
CBD Stores in Orlando
Trulieve Orlando
KNOX Cannabis Dispensary
Orlando 420 Marijuana Doctor
CBD Stores in Jacksonville
Trulieve Jacksonville
Your CBD Store
Laughing Grass
Is CBD Oil Legal in Florida?
The legality of CBD products varies between states depending on their source.
CBD can be extracted from hemp and marijuana, and although they come from the same family of plants, their chemical profiles are worlds apart — especially when it comes to their cannabinoid ratios.
Marijuana-derived CBD oil will contain higher levels of THC, the intoxicating cannabinoids. Such products are federally illegal under the Controlled Substances Act of 1970, but individual states have the right to introduce their own regulations on marijuana. So far, 11 states have legalized weed for recreational use; unfortunately, Florida isn't one of them.
Wondering where to buy CBD oil in Florida?
Hold your horses, we need to make sure that you know the quality criteria for choosing the right product.
Related: Is Delta 8 Legal in Florida?
How to Buy CBD Oil in Florida?
The CBD market in North America lacks regulation when it comes to manufacturing and labeling CBD products. It's important that you're able to distinguish between a premium product and a poorly manufactured one.
Follow these steps to save time and money on shopping for CBD:
Only buy from companies that can provide lab reports for their products. Third-party laboratories will analyze the CBD content of the product to verify if the amount of CBD matches the one advertised on the bottle. They will also look for contaminants and unwanted additives such as heavy metals, pesticides, solvents, and mycotoxins. If a company doesn't share the lab reports anywhere on its website, or at least on request, you shouldn't trust it.
Choose full-spectrum CBD. If a product is labeled as "full spectrum," this means it was made using the entire hemp plant, so it contains all beneficial compounds from it. This includes CBD, trace cannabinoids, terpenes, and flavonoids, which allow the body to process CBD more efficiently. Full-spectrum extracts are considered more effective than isolates due to that trait.
Opt for CO2-extracted products. CO2 extraction is by far the best method to make CBD products because it doesn't use additional heat or solvents. CO2-extracted products are consistently potent throughout all batches, without toxic solvent residue at the bottom. The equipment necessary for CO2 extraction is also expensive, so it's a sign that the company is ready to invest in quality.
Organic hemp is the best source of CBD oil. Hemp plants are bioaccumulators; in other words, they can absorb both the good and the bad substances from the soil they grow in. The best CBD oils in Florida are made from organic hemp grown in open-air farms without pesticides or growth boosters.
Avoid companies making outrageous claims about CBD. CBD isn't a miracle drug, even though it can help with a wide range of health problems. If you see a company claiming that its CBD oil can cure cancer or something similar manner, you should avoid that company.
Let's quickly cover the legal status of both sources of CBD in Florida.
Hemp CBD Oil in Florida
As mentioned earlier, CBD oil is legal in all 50 states. You can find it in tinctures, capsules, creams, concentrates, vape liquid, and even pet products.
The CBD oil we're talking about comes from mature hemp plants that contain less than 0.3% of THC and therefore can't produce the psychoactive high.
In 2018, the federal government legalized hemp by removing it from the list of controlled substances. Before the new law, hemp had been held in the same category of drugs as LSD and heroin. Today, hemp is an agricultural crop that can be grown for any use, including food, clothing, fuel, housing, and supplements such as CBD oil.
You can buy CBD oil without a doctor's prescription.
Products with a THC content higher than 0.3% are only available for medical marijuana patients in state-licensed dispensaries.
Marijuana CBD Oil in Florida
Florida has a bumpy history with marijuana. In 1933, a young man named Victor Licata mutilated his family members — parents, two brothers, and sisters — with an ax. He had been previously treated for mental illness, but the police attributed his atrocious act to marijuana cigarettes. As it was later shown after the murder, there was no evidence that Licata used marijuana at the time or generally in his life.
Today, marijuana is illegal for recreational use. Possession of fewer than 20 grams of marijuana is punishable with one year in prison and a fine. Any amounts above that number can result in 5 years in jail and a suspended driver's license — even if your charges had nothing to do with driving.
Can Doctors Prescribe CBD Oil in Florida?
In 2014, Governor Rick Scot signed Senate Bill 1071, legalizing a single non-intoxicating hybrid strain of marijuana — Charlotte's Web — as a treatment for those with epilepsy.
Since then, Florida has expanded its medical marijuana program, adding new qualifying conditions and products to the list. In 2016, the state lawmakers approved Amendment 2 in 2016, succeeding with a definite majority of the votes (71.3%).
If you want to apply for a medical marijuana card in Florida, you must have one of the following conditions:
ALS
Cancer
Crohn's disease
Epilepsy
Glaucoma
HIV/AIDS
Multiple Sclerosis
PTSD
Any other condition where a doctor considers marijuana the most beneficial treatment for the patient.
You can obtain a medical marijuana card if you can prove that you have tried other treatments but to no avail.
Unfortunately, Florida residents aren't allowed to grow their own weed. As a patient, you must buy marijuana from one of the state-licensed medical dispensaries.
Summary: What's the Best Way to Buy CBD Oil in Florida?
Florida has recently made progress when it comes to its cannabis laws. The Florida government has established a comprehensive medical marijuana system for its residents, allowing patients with a medical marijuana card to use marijuana and its derivatives as an alternative treatment for their medical conditions.
If you don't have a medical marijuana card, you can purchase hemp-derived CBD oil. Such products are legal in all 50 states and you don't need a prescription for them. There are many places across the state where you can find CBD supplements. However, if you're looking for the best deals on CBD oils in Florida, we recommend that you find a reliable online store. Doing so will save you time and money.
Regardless of your shopping choices, remember to do your research on any company selling CBD out there — and that you base your decision on facts, not marketing slogans.