CBD For Hyper Dogs: Can Hemp Oil Calm Hyper Dogs?
Hyperactivity is a psychological condition that is characterized by short attention spans, lack of self-control, and frantic activity.
Dogs and cats can become hyperactive throughout their lives for a variety of reasons.
Hyperactivity demonstrates visible symptoms, including panting, salivation, rapid heart rate, abnormal urination, and the inability to adapt to the current surroundings.
Veterinarians often prescribe stimulants for hyperactive dogs, including medications such as d-amphetamine or methylphenidate to calm their nervous system down. However, these medications can have dangerous side effects on your dogs.
Parents of hyper dogs are looking for natural alternatives to treat their condition. A survey conducted in 2016 showed that pet owners often use CBD in their furry friends due to the wide range of health benefits it offers.
CBD can reduce anxiety, improve focus, and modulate the activity of the nervous system — contributing to relief from common symptoms of hyperactivity.
Since all mammals have the same endocannabinoid system, it's within reason to assume that you can successfully use CBD for hyper dogs.
In this article, we'll cover the subject from top to bottom.
How to Tell That You Have A Hyper Dog
Hyperactivity is another term for hyperkinesis, a canine condition that involves frantic activity, panting, rapid heart rate, drooling, impulsive behavior, infrequent urination, and behavioral problems.
A 1993 study on hyper dogs concluded that the condition is a rather normal behavior in specific breeds; it can also be conditioned by the owner, but according to the authors, it's not a physiological condition.
The study mentions dopamine, serotonin, and norepinephrine as the main neurotransmitters in the brain involved in hyperactivity.
Hyper dogs manifest attention issues or difficulty remaining in the zone. Vets typically recommend stimulant drugs to tackle these problems in canines.
However, such medications are considered dangerous for dogs by health organizations like the American Society for the Prevention of Cruelty in Animals (ASPCA).
The side effects caused by stimulants in hyper dogs include elevated blood pressure, high body temperature, increased heart rate, and overall activity.
The above risks have made many dog parents turn to holistic remedies such as CBD oil.
CBD for Hyper Dogs: Highlights
There are over 400 active compounds in cannabis plants, of which 115 have been classified as cannabinoids. CBD and THC are the two most abundant cannabinoids. They produce most of the therapeutic benefits of cannabis.
THC is the major intoxicating compound and shouldn't be given to dogs because it may result in toxicity.
On the other hand, CBD is a non-intoxicant, so it won't get your dog high — but it will still deliver many health benefits.
In a 2016 survey, the majority of owners admitted they support CBD because it improved their pets' health on many levels, including health conditions such as anxiety, pain, inflammation, and insomnia. Dogs with anxiety disorders are also more prone to suffer from hyperactivity.
According to the American Kennel Club, canine anxiety is often followed by symptoms such as pacing, barking, aggression, restlessness, compulsivity, and destructive behavior.
These are similar symptoms to hyperactivity in dogs.
CBD has been found to exert calming effects on the brain in many animal and human studies regarding anxiety disorders. Although researchers have yet to fully understand the mechanism of action and effective dosages, they believe that CBD offers the same level of relief as conventional medicines.
The anti-anxiety effects of CBD stem from its interaction with the endocannabinoid system (ECS), which is the major regulatory network in all mammals. It responds to CBD and other cannabinoids, producing a wide range of positive reactions, including reduced anxiety.
Can You Give CBD Oil to Hyper Dogs?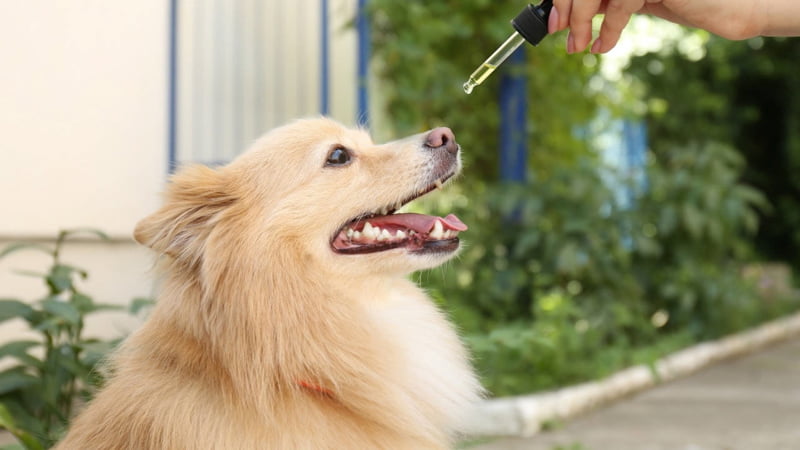 You can give your hyper dog CBD to modulate their ECS. The ECS has its own neurotransmitters called endocannabinoids, enzymes, and two types of receptors (CB1 and CB2).
Research shows that dogs and humans share many of the same disorders and diseases. Scientists can use them for reference to get a more in-depth look into the underlying causes behind these conditions.
These studies show that similar to humans, dogs can benefit from the therapeutic properties of specific cannabinoids such as CBD because their ECS performs similar functions.
A 2019 study elaborated on this concept, concluding that dogs have higher levels of CB1 receptors in their brains than humans do.
Studies on CB1 receptors in humans were launched as early as the 1990s and touched on the effects of CBD on anxiety. Researchers found that a dose o 300 mg of pure CBD was able to reduce anxiety in participants. They also said these effects were nearly as potent as those of benzodiazepines such as Valium.
In one study published by the Neurochemical Research Journal, CBD was shown to inhibit the reuptake of serotonin, making the hormone more available for the body. Serotonin regulates many processes that are linked to feelings of calm, well-being, and happiness.
Since dogs have more CB1 receptors in their brains, it's perfectly possible that CBD oil can provide similar benefits for anxiety in dogs and hyperactivity to the ones observed in humans.
Pros & Cons of Using CBD for Hyper Dogs
The Pros
CBD demonstrated remarkable anxiolytic properties in human studies. Since all mammals share similar endocannabinoid systems, hyperactive dogs could also benefit from such supplementation.
Animal studies showed that CBD can alleviate anxiety in dogs through a series of mechanisms that help it prevent hyperactivity.
CBD is well-tolerated by dogs in doses ranging from 2 to 2.5 mg/kg, according to the Journal of American Holistic Veterinary Medical Association (JAHVMA).
CBD comes in many different forms, including oils, capsules, pet treats, and topical products.
The FDA hasn't received any direct reports about the dangerous effects of CBD in animals.
The Cons
Studies on using CBD for hyper dogs are inconclusive. Researchers haven't yet fully understood the long-term effects of CBD.
Although safe and well-tolerated, CBD still has a few side effects, including dry mouth, drowsiness, changes in appetite, and low blood pressure.
CBD can compromise the liver's ability to metabolize drugs, resulting in negative interactions with many medications.
The FDA doesn't support the use of cannabis products in animals.
CBD vs Other Natural Treatments for Hyper Dogs
When it comes to hyper dogs, herbal products are the top choice of dog parents.
You can try to add the following herbs to your dog's routine:
Chamomile
Lemon balm
Oat
Skullcap
Valerian
These herbs are useful in separation anxiety in dogs that go through severe stress. You can give them to your dog in the form of teas or essential oils. In a similar way, CBD can be added to edibles and beverages. Dog parents also report that CBD oil in their humidifiers helps promote calming vibes at home so their dogs can feel relaxed.
Last but not least, CBD regulates GABA levels in the brain so that the nervous system can slow down by balancing certain chemical messengers. In a similar manner, CBD can increase the availability of serotonin for the brain, further reducing anxiety and stabilizing mood.
How to Choose CBD Oil for Hyper Dogs
There are three main types of CBD products based on their cannabinoid spectrum — full-spectrum CBD, broad-spectrum CBD, and CBD isolate.
Full-spectrum CBD is sourced from the whole plant and contains all of the naturally occurring compounds from hemp. It also comes with essential fatty acids, which act as anti-inflammatory agents when you consume them.
That being said, full-spectrum CBD also contains trace amounts of THC (0.3% or less). THC is an intoxicating cannabinoid that can cause a high in your dog. The good news is that full-spectrum CBD doesn't contain enough CBD to get your dog buzzed.
Still, some dog owners choose to avoid full-spectrum products.
Broad-spectrum CBD oil is similar to its full-spectrum counterpart, except for the THC content. THC has been removed during the later stages of extraction. This way, your dog can benefit from the whole-plant synergy — but without any THC in the product.
You can also purchase CBD oil, which contains CBD isolate. Such products have no odor and flavor and offer the highest dose of CBD per serving. However, since they don't contain other cannabinoids and terpenes, they don't leverage the entourage effect in cannabis.
Things to Consider when Choosing a CBD Product for a Hyper Dog
Ask for certificates of analysis (COA) to confirm the product's CBD content and purity. These certificates will tell you if the product is free of contaminants like solvents, heavy metals, and pesticides. If a company doesn't publish lab reports on its website, you should change your potential vendor.
CBD oil is the most common CBD format — and for a good reason. Many veterinarians recommend this form of CBD due to its relatively easy application and dosage accuracy. Dog parents should follow the dosing instructions outlined by the vet to avoid potential side effects.
The best CBD oils for hyper dogs are made from organically grown hemp. They also contain natural additives, such as calming herbs or essential oils. Avoid any dog treats with synthetic flavorings, colorings, wheat, and preservatives, as they can be dangerous for your dog's digestive health.
Only purchase from reputable manufacturers that provide certificates of analysis and have many positive reviews on social media.
Consult a holistic veterinarian if you need professional advice regarding the purchase and use of CBD for a hyper dog.
CBD Dosage for Hyper Dogs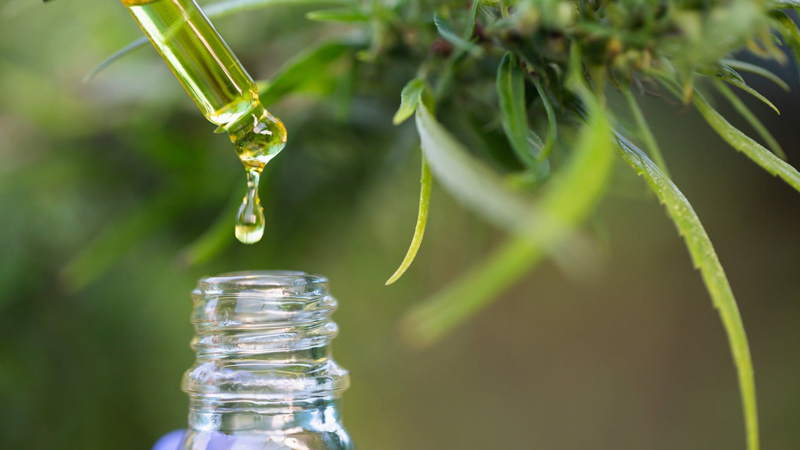 The FDA hasn't yet investigated the efficacy and safety of CBD in animal health conditions, so there are no specific dosage charts or recommendations.
Veterinarians often analyze past studies on dogs that took CBD for anxiety and the symptoms of hyperkinesis. In a 2019 clinical trial, epileptic dogs benefited from a CBD dose of 2.5 mg/kg administered twice a day for 12 weeks — without any dangerous side effects.
However, this study was conducted on dogs with a different medical problem. Hyper dogs may need different doses depending on the severity and frequency of their symptoms.
A good rule of thumb is to start low and gradually increase the dosage until you observe a positive change in your dog's behavior. Veterinarians recommend starting out with 0.5–1 mg of CBD per 10 pounds of the dog's weight.
What CBD Products Are Best for Hyper Dogs?
The choice of the best CBD product for a hyper dog boils down to how your dog prefers to take CBD. Dog owners can choose between two product types:
CBD Oil
In the ideal world, your dog should lick the content of CBD oil through the syringe, allowing it to absorb in the mouth and work its way to its endocannabinoid system.
CBD oil for dogs comes in glass bottles with droppers that allow the owner to accurately measure out the dose of CBD and place it under the dog's tongue. Giving your dog CBD oil this way avoids the first-pass metabolism in the liver, ensuring faster-acting effects and higher bioavailability than other forms of CBD for hyper dogs.
Alas, we don't live in a perfect world, so if your dog fusses over CBD oil, you may want to give them some treats instead.
CBD Treats
CBD dog treats are just hemp edibles for pets, which is perhaps the most enjoyable way to consume CBD by hyper dogs. These treats are made into very appealing shapes — usually resembling a bone — and flavors such as bacon, cheese, or peanut butter.
Although CBD treats take more time to produce their effects and offer lower bioavailability than oils, these effects can last longer — up to 10 hours.
Just make sure that your CBD dog treats contain only biologically appropriate ingredients.
How to Calm A Hyper Dog
Some people are very quick at describing their dogs as hyperactive, while in fact, hyperactivity in dogs is a rare condition, at least according to the book Clinical Behavioral Medicine for Small Animals.
Dogs with high energy levels require a greater amount of physical and behavioral exercise. They also need more social attention on a regular basis. Some breeds are more prone to be hyperactive than others, but most of the time, your dog's behavioral problems may be caused by an insufficient amount of physical activity.
Other physical reasons include a poor diet, lack of stimulation, or genetic burden.
Here are a few steps you can take to naturally calm a hyper dog.
Provide Enough Exercise
This should be your top mark to tick off on your priority list. The dog should always receive a sufficient amount of exercise throughout the day, especially if you own a high-drive breed with a hunting or sporting heritage. Such dogs may even need a special workout plan.
Although there's no universal pattern for dog workouts, dogs that are stimulated throughout the day can rest more efficiently by the end of the day. Playing games that require the dog to stay focused can release some of the excess energy.
If your dog likes running, your exercises can revolve around this kind of activity. Besides, it's an excellent way of burning energy. You can also add different rules to the game to make it more mentally demanding.
You may also consider getting your dog involved in sports such as lure or agility coursing, which should keep hyperactivity at bay by keeping your buddy exhausted.
Keep Their Brain Occupied
Mental exercises are as important as physical ones when it comes to hyper dogs. In fact, they can be even more engaging than physical training.
Most dogs have high energy levels, especially when they're in the puppy stage. However, certain breeds may require more mental exercise to get them tired.
Shaping games or teaching your dog tricks that require focus are a great way to manage its hyperactivity.
The simplest way of engaging your dog's brain is to use games that tap into their senses. Make the dog sniff around by hiding his favorite snacks all over the house. You can also try puzzle games and rewarding the dog with food for winning. This way, you will condition his brain to think that making an effort is something positive.
Work on Their Behavior
Destructive behavior and restlessness are signs that your dog is seeking attention, which can be wrongfully taken as hyperactivity. In fact, these behaviors may simply mean that you haven't trained your dog.
Teaching your dog the right behaviors through behavioral conditioning can improve their social capabilities and help them achieve their goals the right way. Working with a trainer also helps to manage their sensitivity to external stimuli, which is also a common symptom among hyper dogs.
Feed Them the High-Quality Food
While you may be tempted to purchase bulk bags of affordable dry dog food at your local store, keep in mind that doing so will take a toll on your dog's physical and mental health. Dogs aren't machines; they require high-quality biologically appropriate food that will support proper communication between neurotransmitters — it works the same way with all mammals.
Most cheap dog foods are usually filled with unnecessary ingredients, such as wheat, sugar, colorings, preservatives, and byproducts. It's nothing but fast food for pets. Ask your veterinarian about a BARF diet, as it has been recently shown to be beneficial for canines in terms of the long-term effects on their health.
Feeding a dog low-quality food can deteriorate their hyperactivity, so make sure that you take care of high-quality ingredients when you buy their food.
Key Takeaways on CBD And Hyper Dogs
Hyperactivity is a mental condition in animals that involves a short attention span, constant frantic activity, and impulsive behavior. Hyper dogs can also experience such symptoms as panting, infrequent urination, rapid heart rate, salivation, and the inability to get used to environmental stimuli.
Researchers claim that hyperactivity isn't a physiological problem, but it's rather on the dog parent's side. Hyper dogs usually show a whole range of other behavioral symptoms that indicate the lack of attention from the parent.
If your dog suffers from hyperactivity, your vet may recommend stimulants to help with symptom control. However, their short-term benefits are outweighed by their side effects, which is why dog parents are turning to natural remedies, such as CBD oi, for hyper dogs.
CBD can aid your dog's mental health on many levels. Not only does it regulate GABA activity and serotonin levels, but it also modulates cortisol production and promotes a calm state of mind by bolstering your dog's response to stress. The health benefits of CBD are largely attributed to its interaction with the endocannabinoid system — which works similarly among all mammals.
References:
Schier AR, Ribeiro NP, Silva AC, et al. Cannabidiol, a Cannabis sativa constituent, as an anxiolytic drug. Braz J Psychiatry. 2012;34 Suppl 1:S104‐S110. doi:10.1590/s1516-44462012000500008
Luescher, A (June 1993). Hyperkinesis in dogs: Six case reports. Retrieved from: https://www.ncbi.nlm.nih.gov/pmc/articles/PMC1686557/pdf/canvetj00367-0050.pdf
Gamble LJ. et al. op. Cit.
Kriss, R (2019, May 14). Understanding, Preventing, and Treating Dog Anxiety. Retrieved from: https://www.akc.org/expert-advice/health/treating-dog-anxiety/.
Gaetani S, Dipasquale P, Romano A, et al. The endocannabinoid system as a target for novel anxiolytic and antidepressant drugs. Int Rev Neurobiol. 2009;85:57‐72. doi:10.1016/S0074-7742(09)85005-8
Freundt-Revilla J, Kegler K, Baumgärtner W, Tipold A (2017) Spatial distribution of cannabinoid receptor type 1 (CB1) in the normal canine central and peripheral nervous system. PLoS ONE 12(7): e0181064. https://doi.org/10.1371/journal.pone.0181064
Silver RJ. The Endocannabinoid System of Animals. Animals (Basel). 2019;9(9):686. Published 2019 Sep 16. doi:10.3390/ani9090686
Zuardi AW, Cosme RA, Graeff FG, Guimarães FS. Effects of ipsapirone and cannabidiol on human experimental anxiety. J Psychopharmacol. 1993;7(1 Suppl):82‐88. doi:10.1177/026988119300700112
Russo, E.B., Burnett, A., Hall, B. et al. Agonistic Properties of Cannabidiol at 5-HT1a Receptors. Neurochem Res 30, 1037–1043 (2005). https://doi.org/10.1007/s11064-005-6978-1
Journal of the American Holistic Veterinary Medical Association (2018. A Report of Adverse Effects Associated With the Administration of Cannabidiol in Healthy Dogs. Retrieved from: https://www.ahvma.org/wp-content/uploads/AHVMA-2018-V52-CannabisAdverseEffects.pdf.