CBD Oil for Shingles Pain: Effectiveness of Cannabis Oil (from Hemp & Marijuana)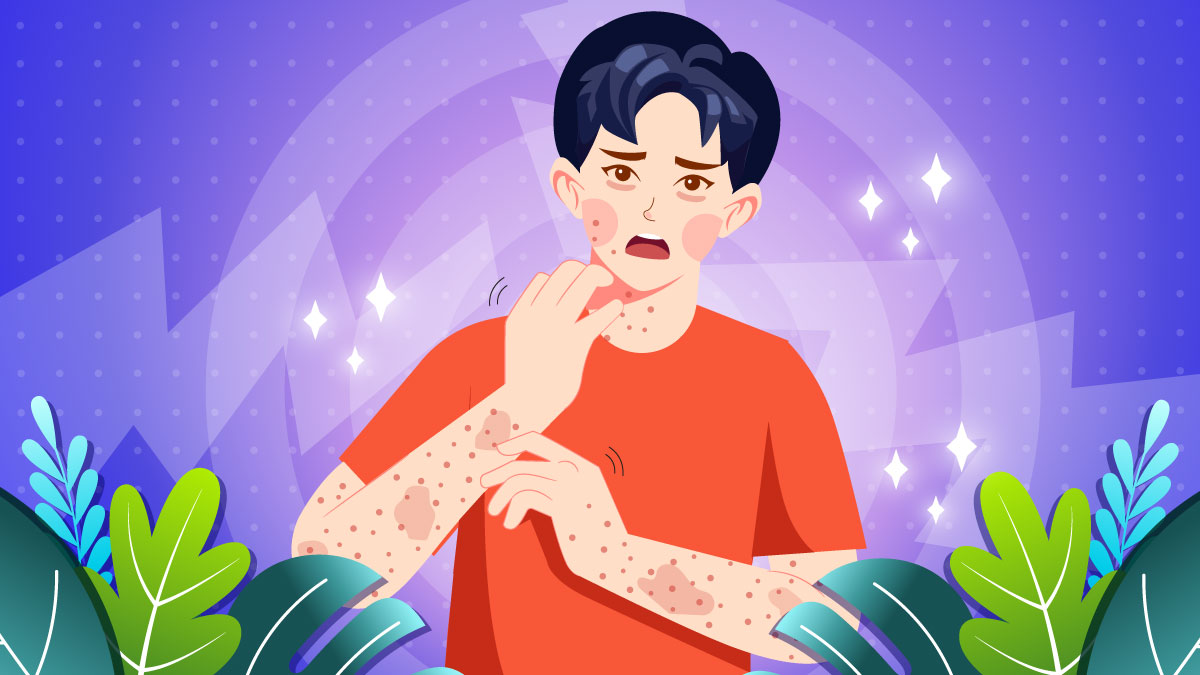 Shingles are a painful condition similar to chickenpox, which is a type of rash on the body that typically affects children.
Many people are probably unaware that they have the shingle virus in its inactive form in their bodies.
Chickenpox is caused by the same virus as shingles — varicella-zoster. The virus stays dormant in the body after the chickenpox has disappeared and can be triggered at any time in your life.
What's worse, doctors don't know what exactly activates the virus.
So, how do you cope with those painful blisters? Pharmaceutical treatments often include a range of side effects, not to mention that a severe form of shingles can be debilitating on its own. That's why people are turning to natural remedies, such as CBD oil.
This article will give you a deeper insight into the problem of shingles and the pain that comes with it.
We'll also discuss the efficacy and safety of CBD for shingles, how to use it to get the most out of your shingle treatment, and whether you can use other natural remedies to relieve this condition.
What You Need to Know About CBD and Shingles?
The telltale symptoms of shingles include a painful, blistery rash that is caused by the virus varicella-zoster and can be mistaken for chickenpox. It typically occurs on one side of the torso, but can actually show up anywhere on the body.
After a person goes through a chickenpox infection, the virus transforms into its inactive form and can get activated several years later to cause shingles — also referred to as herpes zoster.
Shingles can spread to those who haven't had chickenpox yet and are more likely to appear in older people (1).
Shingles outbreak features a tingling sensation under the skin, which can be confused with a slight fever at first. People with shingles suffer from moderate to severe pinching pain in the problematic area, red patches of skin, and itchiness.
Doctors usually prescribe antiviral drugs like acyclovir to tackle shingles. People also try to reduce their duration and severity with over-the-counter painkillers such as lidocaine (2).
Even when a person has successfully treated shingles, they can still experience persistent pain lasting for years. That's because shingles trigger a condition called postherpetic neuralgia, which is an annoying condition that irritates the nerves and skin.
There's a growing body of anecdotal reports from CBD users that have used CBD products to relieve shingles. Despite the lack of shingles-specific studies, CBD is known to have, antiviral, and painkilling properties, all of which can help stop the growth of viruses, including the varicella-zoster virus (3).
Does CBD Help with Shingles?
CBD is one of the two significant cannabinoids in cannabis plants; it occurs both in hemp and marijuana in various concentrations.
This cannabinoid has been touted for its multiple therapeutic effects for various health concerns. Unlike its cousin, THC, CBD doesn't cause intoxication, so you won't get high off of it.
Once ingested, CBD signals the endocannabinoid system (ECS), our master regulatory network, to produce more of its own endocannabinoids. These endogenous molecules modulate the activity of the cannabinoid receptors by exerting certain actions of them. The ultimate role of the ECS is to maintain internal balance (homeostasis) between all biological functions in the body (4).
These functions include mood, memory, emotional processing, cognition, sensory perception, immune response, reproduction, neuroprotection, body temperature, sleep cycles, and more.
A 2009 review of the existing studies on the therapeutic qualities of cannabis suggested that CBD and other cannabinoids are remarkable anti-inflammatory compounds. The authors of the review concluded that these properties can be used in targeting a broad range of health conditions.
When it comes to shingles, CBD signals the CB1 and CB2 receptors in the ECS, reducing inflammation and decreasing one's sensitivity to pain.
Although no study has yet investigated the effectiveness of CBD specifically for shingles, the said interaction between CBD and the ECS can allow it to ease nerve damage caused by the condition.
CBD vs THC for Shingles: Which Is Better?
Both THC and CBD are the primary cannabinoids in cannabis. Similar to CBD, THC also has remarkable anti-inflammatory and painkilling properties. Whether applied through the vapor, sublingual consumption, or in a topical product, cannabis delivers THC and CBD to the rash site, helping alleviate the swelling. Topical cannabis products also offer localized pain relief, so they may come in particularly handy for coping with painful blisters or sores. In addition, THC may prevent these areas from becoming infected.
Another potential benefit of using THC for shingles is the protective effect on the nerves against the damage from the shingle virus. This particular feature can prevent the development of postherpetic neuralgia, the aforementioned condition that causes the patient to experience severe pain in the area of the shingles rash long after it has healed.
However, when you take THC through smoking, vaping, or any sort of internal administration, the compound can get you high, and the higher you get, the higher the chances it will impact your functioning throughout the duration of effects. If you have a low tolerance for THC, it may be better to use hemp-derived CBD products.
Hemp-derived CBD is also more widely available. While marijuana — the primary source of THC — is legal in 17 U.S. states, products sourced from hemp are legal on the federal level under the 2018 Farm Bill.
How to Use CBD for Shingles?
CBD oil comes in many forms; you can choose between sublingual drops, capsules, edibles, vapes, concentrates, and topical products such as salves, balms, and gels.
The two most popular choices when it comes to using CBD for shingles are CBD oil and CBD topicals.
CBD oil is administered sublingually with a dropper that allows for accurate dosing. Once you've squeezed up the desired amount in the dropper, transfer that dose under the tongue, hold it there for up to 60 seconds, and swallow. The CBD will absorb through the tiny blood vessels in your mouth, avoiding the liver and the first-pass metabolism. As a result, the effects of CBD oil take hold faster than with oral forms (e.g. capsules and gummies) and last relatively long, up to 6 hours.
If you dislike the taste of CBD oil and don't mind waiting several extra minutes for the effects, you can try CBD capsules or gummies. These products provide a premeasured dose of CBD per serving and are better suited for people who travel a lot and live a busy lifestyle.
Another way to take CBD oil is through vaping. Vaporization delivers the highest concentrations of CBD to your system and provides the fastest onset, but at the cost of some duration. The effects of vaporized CBD last for up to 4 hours.
The method to target localized problems is through the use of CBD topicals. These products provide relief in areas where they are applied. Using a topical formulation can effectively reduce inflammation and pain associated with red rashes caused by shingles. Using CBD cream is easy; you just need to make sure that the skin stays clean and dry during application. Massage the product gently for a few seconds into the affected area for better absorption.
Should You Use CBD Orally or Topically for Shingles?
From our experience, it's best to take both. Doing so provides an all-around approach to shingles. The condition is triggered by the activation of the varicella-zoster virus, so if you want to benefit from the antiviral properties of CBD and speed up your recovery process, using CBD orally is the best option for the job.
On the other hand, shingles manifest themselves as red swollen rashes on the skin, so the use of topical may provide localized relief and reduce the redness, size, and painfulness of your blister.
In either case, make sure that you always choose high-quality, third-party lab-tested products from a reputable company.
CBD Oil Dosage for Shingles: How Much to Take?
No study has yet tested different CBD doses for shingles, so finding the right dose for your individual situation will require some trial and error. Everyone is different, and so will be their response to a certain amount of cannabidiol. Factors such as age, gender, metabolism, the sensitivity of cannabinoid receptors, and severity of symptoms should be taken into consideration when trying to determine the right dose.
According to anecdotal evidence, an oral dose of 20–25 mg of CBD daily works well to ease the painful symptoms of shingles. We suggest that you start low and gradually work your way up to the point where you feel the desired relief. You can use a ratio of 1–5 mg CBD for every 10 pounds of your weight for starters.
As for the topicals, people usually apply them to the rash once a day or as recommended by their doctor. A consultation with a healthcare professional experienced in cannabis use can help you increase the efficacy of your skin treatment.
Other Natural Remedies for Shingles
If you're among the growing number of people affected by shingles, you may decide to supplement other natural remedies too. Here's a list of natural products that may help alleviate shingles:
Essential oils – people have used essential oils to relieve topical problems for many years. Some essential oils that reduce inflammation, fight bacteria, and improve skin cell regeneration include chamomile oil, eucalyptus oil, and tea tree oil. Those looking to try essential oils for shingles should make sure they are not allergic to them.
Cold compresses – A cool cloth or compress may assist you in relieving pain and reducing inflammation. It's best to lightly soak a natural cotton cloth with cool water and wire it out before placing it on sore, itchy areas. Keep in mind not to expose the skin to extreme temperatures.
Witch hazel – According to researchers, witch hazel is more effective for reducing itchiness and inflammation than chamomile. You can buy witch hazel in different forms, including creams or witch hazel water.
Cool baths – Taking a cool bath or shower every day, with gentle scrubbing, will help to keep the blisters and sores clean, reducing the risk of infection. Cool water also helps relieve sore and itchy spots.
Oat baths – Some studies point to oat extracts as an effective moisturizer and soothing agent for sensitive and inflamed skin. The FDA has approved colloidal oatmeal as a safe and effective treatment. The active ingredients in oath help reduce inflammation, pain, and itchiness.
Gentiana scabra – this purple flower occurring throughout North America has a positive effect on pain perception in shingles and reduces the likelihood of postherpetic neuralgia. By curbing inflammation in the skin, Gentiana scabra minimizes pain and speeds up healing. The plant has been used for many years by Chinese medicine practitioners.
Vitamin supplements – Using supplements is a good idea when a person has a compromised immune system or has passed the age of 50. There's a vivid link between immune function and vitamin D. Individuals with low vitamin D levels have lower immunity than those without deficiencies. Taking vitamin C, selenium, and zinc supplements can also improve immune function in adults.
Foods that Make Shingles Worse
People with shingles should avoid certain foods where possible. The worst type of food, in this case, is the one that contains the amino acid arginine that actually facilitates the spread of the herpes virus.
Here are some of the foods to exclude from your diet if you have shingles:
Nuts
Seeds
Soy products
Oats
Coconut
White and whole-wheat flour
Chocolate
Alcohol
Coffee and other high-caffeine products
Saturated fats (processed foods with empty calories)
Finally, remember that the food should be served not too hot, not too cold — just right. Extreme temperatures in foods, such as scalding soups or icy treats are jarring to the nervous system.
Understanding Shingles: FAQ
What Causes Shingles?
Shingles are caused by the same virus that triggers chickenpox. Usually, people who have had chickenpox early in their lives can develop shingles in the future because the virus gets activated in the nerve tissues near your brain and spinal cord after remaining in a standby mode.
What Are the Symptoms of Shingles?
The symptoms of shingles include raised dots on one side of the body or face that eventually become painful, red blisters. The blisters usually dry out after 7–10 days; their duration is characterized by stabbing pain as well as tingling in the skin after the shingles virus goes into its inactive form again. Singles are often accompanied by chills, fever, and upset stomach.
Who Is More Likely to Suffer from Shingles?
The varicella-zoster virus is more likely to get activated in people with weakened immune systems, such as cancer patients, HIV sufferers, and people in their 50s and up. Chronic, severe stress is another risk factor for developing shingles. If you take immunosuppressants — medicines that weaken the immune system — you're more likely to get shingles too.
Can People Spread Shingles?
People don't spread shingles per se, but they can spread the varicella-zoster virus that triggers the condition. The virus is highly contagious, so individuals that get in contact with people who have shingles can catch the chickenpox virus and get shingles later in their lives.
What Are the Potential Complications of Shingles?
Shingles usually run their course within 4–5 weeks, but there are instances where complications may show up. People with a weakened immune system may need more time to recover from the shingles episode. Also, some individuals may develop postherpetic neuralgia, which includes sleep problems, chronic pain, and depression. Other complications of shingles include eye conditions and skin infections. If you experience the said complications, it's a sign you should seek medical attention as soon as possible.
Final Verdict: Is CBD a Viable Option for Shingles?
Shingles are a viral condition that manifests in painful, red rashes on the body. They are caused by the same virus as chickenpox; most of the time, the virus remains dormant, but it can get reactivated later in life as shingles.
Common risk factors for shingles include a weakened immune system, nerve damage, skin infections, and older age. Before the shingles outbreak, a person may experience symptoms reminiscent of fever aside from a tingling sensation in their skin. Then, the skin becomes inflamed and itchy, developing red, painful blisters.
If you're flirting with the idea of taking CBD for shingles, we have some good and, say, neutral news for you. The good news is that CBD is a potent anti-inflammatory and painkiller whose health benefits are well backed by studies. Since shingles are caused by a compromised immune system, and their symptoms involve inflammation and pain, it only seems within reason to try out CBD oil as a natural remedy for this condition. The neutral news is that no study has yet investigated the effects of CBD specifically for shingles.
Therefore, we suggest that you consult a doctor experienced in cannabis therapies before adding CBD oils and topicals to your routine. Doing so will help you establish the right dosage and regimen. Undertaking necessary lifestyle changes and avoiding certain foods described in the article may also help improve your symptoms and speed up the healing process.
Have you tried taking CBD for shingles? Do you use CBD oil or topicals — or maybe both? Let us know in the comments!
References: